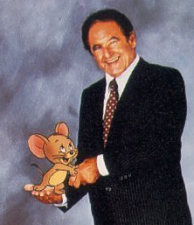 Well we couldn't let today pass without tipping our hat to the great Joe Barbera, who as you'll probably have heard from the many posts sweeping the net, died yesterday, aged 95.
As many kids did, I grew up with the animated series Joe produced with his life-long partner in animation, Bill Hanna (who died March 2001), and they truly were the dominant force in television animation throughout the 1960s and 1970s when such shows and characters as Yogi Bear, Jetsons, Huckleberry Hound (the first animated TV series to receive an Emmy), Top Cat, Jonny Quest, Scooby-Doo and, of course, the groundbreaking Flintstones aired.
I remember being totally wrapped up in the story lines as Wilma was expecting Pebbles and the Rubbles went through the adoption of Bamm-Bamm…it was perhaps at this moment that animation began to truly "grow up" and turn the corner that led to today's sometimes crude but no-less mature family comedies.
Barbera started out with Bill way back in the 1930s, creating the legendary cat 'n' mouse team of Tom & Jerry, who will, for me, be their lasting achievement, with no less than seven Academy Awards for the series – a record for character based shorts.
Jerry also memorably starred with MGM-stablemate Gene Kelly in an animated portion of 1945's
Anchors Aweigh
, still a favorite of mine, and Hanna-Barbera also contributed lengthy animated scenes to Kelly's later directorial vehicles (and much too rarely seen)
Invitation To The Dance
(1956) and
Jack And The Beanstalk
(1967) – hey, WB, how about issuing those as a dandy double-feature disc!?
Hanna and Barbera became figureheads for the fledgling Cartoon Network in the early 1990s before that channel went down town, though their work continues to screen on the classic animation Boomerang channel, where Warners' buying up of the MGM library means that all their characters can mingle together, perhaps as it always should have been.
Joe's passing really does mark the end of the golden age, studio-sponsored, director-driven short film era, where folks like him were truly one of a kind. I just think it was great that he was still working, creating the Tom & Jerry special The Karate Guard as recently as last year! He will be missed.
---
In slightly lighter news, it seems our breaking story that director Chris Sanders had been "removed" from Disney's American Dog turned out to be…true! However, as our second Rumored Rumblings update reveals, the underlying reason that this is the case could be that John Lasseter and Ed Catmull wish to return Disney Feature Animation to strictly hand-animated features. While this is potentially great news, I can't but help feel this is either a way for them to protect the Pixar brand, given that this year has seen a glut of like-minded animated films competing for theater space, and keep things running pretty safe.
Personally, I'd have loved to see WDFA continuing to produce edgier CG fare of the kind Pixar themselves seem to keep away from: apart from The Incredibles we've yet to see the kind of movie from The Lamp that features the kinds of complexities that The Mouse's films have touched on for years. On the other hand, perhaps getting away from the CG approach will be the thing that allows Disney to "be Disney", without the homogenized Pixar feel creeping in. Going back to traditional animation may well be the "risk" that John and Ed want to take, but I feel they could do so much more with the toys they have been given.
---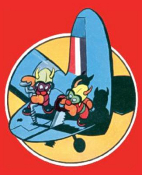 Finally today, I do urge you to check out Rand's review on the recent re-printing of Roald Dahl's first children's story, written while he was still in the Royal Air Force during World War II.
A collaboration between himself and Walt Disney, The Gremlins was an intended feature film that, despite being about airplanes, never got off the ground, leading one to think that perhaps this was a case of the gremlins!
For around ten bucks, you really can't go wrong with this, lavishly illustrated with concept imagery by the artists at the Disney Studios and with a fun story. Hey, how about John and Ed going back and putting this into production? Could be the most original thing seen in animation for years…
Stay tooned! – Ben.