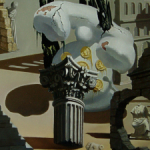 Howdy, howdy, howdy! Hope you all had a great weekend! We got quite a lot done around here with the addition of several reviews, bringing our total up to over 70 and counting, and I just finished the transcript for the Disney Paris feature. The image on the right is a small detail from an original Dali painting for Destino, the abandoned Disney/Dali short that was completed in 2003…more on all that later this week. I think you're going to like it, and I'm working like crazy to get it up as a Christmas treat!
In the meantime, we're back with a new Rumored Rumblings that points to jaw-dropping swing in production for Disney's currently-titled American Dog, though until this is confirmed or denied officially we must naturally consider this a product of the rumor mill for now. And don't forget that if you have a scoop you'd like to share, or even a test screening report, we'd love to hear from you! Please drop Josh a line and, as he says, infamy (or anonymity if you so wish) can be yours!
Our Animated News & Views Forum continues to run overtime since we launched Animated Views last week, and we've gotten a heap of suggestions for the MIA:DVD list, which I will get around to updating as soon as I can! Expect many such updates over the holiday break.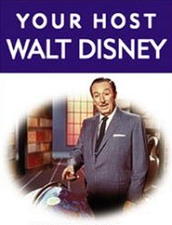 As for new reviews, well, we're pretty excited here: the latest wave of the Walt Disney Treasures turned up late last week and are winging their ways to our reviewers for their customarily in-depth once over. I'm really looking forward to wading through Your Host, Walt Disney, perhaps the most controversial title in the new wave due to a healthy amount of content being previously available within the Treasures series, but sure to surprise and delight with the rest of the selection.
With the recent True Life Adventures launch of the Legacy series and the spectacular success of Cars and Dead Man's Chest, it's really been a turnaround year for the Mouse House in terms of company profile and bountiful booty for hard-core collectors and fans, so we wish them continued good luck into 2007 and their lively theatrical and home entertainment line ups.
And…speaking of next year's movies…I was FINALLY able to open the Shrek The Third teaser over the weekend…was DreamWorks sure they wanted folks to be able to see this!? I have to say that it looks…"like a Shrek movie". And that's not particularly a compliment, nor a put down.
My take? Well, it just looks like "more of the same. Exactly the same", as we had before. Donkey/Shrek arguments…check. Shrek looking funny in a get up that doesn't suit him and he's not happy with…check. Magical body-swapping, this time between Donkey and Puss; the same little lost kitty look from Puss; Kill Bill music…check, check and double check!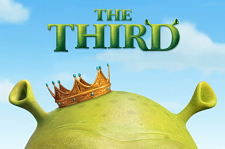 But there were things I liked: the Princesses look foxy enough (and was that blonde in the middle a take on Cameron Diaz herself?), and Shrek's mishaps at being "Royal", especially the final boat-launching shots, were immense fun. But the baby reveal put me in mind of the
Addams Family
sequel with the exact same gag, and
what
was with those tag banners during the voice over? Are our trailers going to become nothing more than longer TV commercials?
Before signing off, I just wanted to shout out a "congratulations" to all our recent contest winners and to let you all know that we're working on new contests for the coming weeks. Stay tooned!
– Ben.