Hey guys! Well, those jingling bells are getting louder and louder and, though we're still lurking around here at Animated News & Views Towers, we'll be signing off for the Christmas break over the weekend and be back with more great stuff next week.
That said, I'm still toiling like crazy to get the now epic Disney Paris exhibition article up on the site, though the reality dawned on me last night that it might not be up in time for the weekend. What with just completing the write up, I need to check names, add tags, and go through my various images to make them fit – and that's going to take…a while!
So, in the meantime, keep an eye on the State Of The Art section on the left here, for a new interview with The Fox And The Hound 2's director Jim Kammerud, who lifts the lid on the thinking behind the Disney video sequels. Read between the lines, and there's a very interesting little discussion here. Look for that to go up later today.
And so…with the the pressure of still having to rush out and find some last minute items for family and friends (not to mention finally picking up that huge Astaire And Rogers Ultimate Collection box set from Warner Brothers, for myself!), I must bid you all Season's Greetings, whatever your creed, color or nationality. After all, we're all animation nuts, right?
As (another) tease for the Disney Paris feature, I'll leave you with this photograph of the actual life size puppet rendering of Pinocchio that the animators used to assist them in the animating of the various awesome scenes throughout that amazing movie.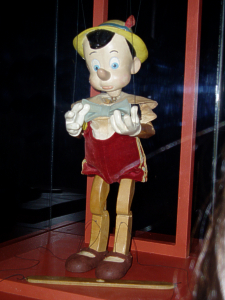 Honestly, seeing that up close is a breathtaking moment, and there's an unbelievable story behind it that you'll just have to wait for! Happy holidays!
– Ben.