Hanna-Barbera (1961), Warner Home Video (December 7, 2004), 4 discs, 780 mins plus supplements, 1.33:1 original full frame ratio, Dolby Digital Mono, Not Rated, Retail: $44.98
Storyboard:
A cagey cat conspires to make life difficult for the local beat cop and better for himself, with help from his feline friends.
The Sweatbox Review:
Quick! Name the second primetime original animated TV show after The Flintstones. You might say The Jetsons— but you'd be wrong. Jonny Quest? Nope. The honor goes to Hanna-Barbera's Top Cat (or, as it was known when it aired on the BBC overseas, Boss Cat). This clever show was an ensemble piece about a group of alley cats carrying out the schemes of their smooth-talking leader in New York City. Although its success was modest when it first appeared in black and white in 1961, its subsequent showings on Saturday mornings proved to be very successful. Saturday mornings also finally saw the show being shown in color, just as it had originally been produced. In the past couple of decades, Top Cat and the gang have become somewhat more obscure to the general public, certainly ranking far back of the Bedrock family or Scooby Doo and the Mystery, Inc. gang in the public consciousness. While other Hanna-Barbera stars have remained familiar to generations of cartoon fans, Top Cat has become a secondary concern. When looking at a collage of Hanna-Barbera characters, many fans might refer to T.C. with a question along the lines of, "Who's that yellow cat standing next to Magilla Gorilla?"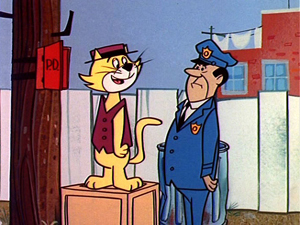 Those that have seen the show will know that such decreasing star power is undeserved. Top Cat is regarded as perhaps Hanna-Barbera's most sophisticatedly scripted series. Unlike many of the H-B shows, there was a smaller focus on visual gags, and more on verbal interchanges. Just as the producers openly admitted that The Flintstones owed much of its conception to The Jackie Gleason Show (i.e. The Honeymooners), Top Cat was heavily influenced by The Phil Silvers Show. In fact, Top Cat could have well succeeded as an old-time radio show— that is meant to be a compliment, by the way. By having the series animated, audiences had (in addition to witty scripts) the joy of seeing some wonderful cartooning work.
On the show, Top Cat is the undisputed leader of a gang of six alley cats in New York City. Top Cat is constantly coming up with new schemes to benefit his friends and especially himself. Among his cohorts are the following: Benny the Ball, and affable fellow with more common sense than intellect; The Brain, whose name was considered ironic; Fancy Fancy, whose Cary Grant-inspired voice and dandy ascot matched his penchant for chasing (and catching) the ladies; Choo Choo, perhaps the "everycat" the audience could relate to the best, was also the cat most likely to catch T.C. in a lie but he still always remained loyal; and Spook, a hipster who nevertheless sported a conservative black tie. Top Cat's adversary was Officer Dibble, a cop who always kept an eye on T.C. but still found himself losing their battle of wits. As much as Dibble and Top Cat were nemeses, most episodes still showed that there was mutual respect and even fondness shared between the two of them.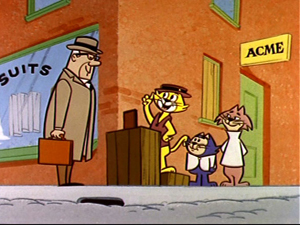 Hardly anything could happen around Top Cat without him turning it into an opportunity. He was a bit of a scoundrel, but a lovable one. His charm ensured that even his victims could not be mad for too long, and usually his plans only met with partial success anyways. However, as with life in general, it is often the journey that is more important that the destination, and Top Cat's antics made for consistently entertaining television. The ensemble cast, although one-dimensional, allowed the stories to unfold in many ways, and the camaraderie between the cats made for warm-hearted interchanges. Never has a street gang been portrayed so friendly with one another, in spite of its leader all too often looking out for his interests ahead of the others.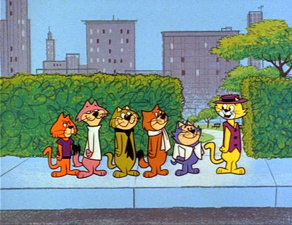 The DVD set contains all 30 episodes from Top Cat's one and only season. The quality is consistent throughout. The writers had a good feel for the characters and how they related to one another immediately, and it is difficult to tell much difference between the earlier and later episodes. Each episode is about Top Cat's latest scheme, which is carried out by his buddies with almost unquestioning enthusiasm. Even Fancy will drop the girl he is courting as soon as the call goes out. As T.C.'s plans are usually just beyond his capacity for pulling them off 100% successfully, part of the fun comes with seeing him carry the plan out and part of it comes with the failed resolution. Somehow, though, it usually turns out for the best.
The episodes appear on four discs, with the fourth one a double-sided affair in order to squeeze in the last few episodes.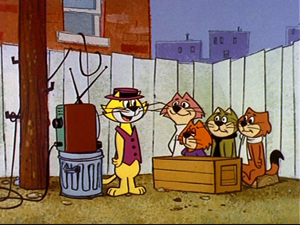 Is This Thing Loaded?
After a poor start on the first Flintstones and Scooby-Doo sets, Warner has done a nice turnaround in providing quality bonus material on their Hanna-Barbera sets. While the early releases had all fluff and no substance, the succeeding waves have just gotten better and better.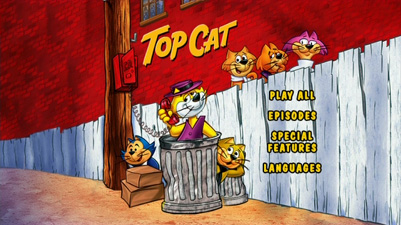 Starting things off is the nicely produced animated main menu, featuring all the characters in their home of Hoagy's Alley. It's not full animation, but at least it does not make you wait forever before making your selection. The episode selection menus reflect a nice ongoing feature of all these H-B sets, showing a scene from the highlighted episode. The same menus also allow you to select a different End Credits sequence; this sequence is all text, and assumedly was used when the show was in syndication. Speaking of end credits, it may be noted here that only a few of the shows have their original end credits, and the rest are repeated, since most of the original ones were lost (and Warner was unable to use ones offered up by collectors for mysterious reasons).
Okay, now to the really good stuff. Disc One has the first of three Audio Commentary Tracks. The tracks are all done with animation historians Earl Kress, Jerry Beck, and Mark Evanier, and well as voice artist Leo de Lyon. The first one is the best, as they cover many aspects of the show's history while viewing Hawaii Here We Come. They particularly enjoy identifying voice actors, but also touch on the show's original title and how it came together. The four gentlemen were all were recorded together, so there's a nice conversational tone to the proceedings. It could have been a little meatier, but it is a pretty good track. Disc One's other bonus is Storyboard Showcase, which has the complete original storyboards used to pitch the J.B. and Co. show to the network and sponsor, shown side-by-side with the resulting Top Cat episode The Missing Heir. Definitely cool.
Disc 2 has the second audio commentary, this time over A Visit From Mother. This track is less interesting than the first, but they do cover a fair bit of ground. The best comment made was about how Top Cat is basically an urban version of Yogi Bear, but with a larger cast. Next, I was quite excited to watch Back To Hoagy's Alley: The Making Of Top Cat (16:40). This featurette is hosted by Leo de Lyon, and does provide a decent overview of the show. Unfortunately, it suffers from including too much superficial stuff, like describing how each character acted and was dressed, as if a viewer cannot see that readily. The better information comes when de Lyon puts the show in context in relation to Hanna-Barbera, as well as the TV schedule for 1961. There is also some interview footage with Bill Hanna and Joe Barbera, from (I'm guessing) the 1980s, where they discuss Top Cat. For a 16-minute featurette, there were 11 or 12 pretty good ones, along with some fluff.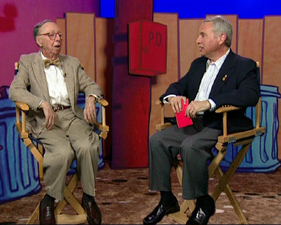 Things get even better with Disc 3, where we get Cool Cats In Interview Alley, which can be viewed as one half-hour piece, or individually as Top Cat Arnold Stang (10:21) and Cool Cats (20:53). Each interview is conducted by Earl Kress. Stang speaks enthusiastically about his involvement on the show, and the contributions of the producers and other actors. It is a wonderful treat to see him still looking and sounding so good. I found myself grateful that Kress had done the interview when he did, as who knows if it could have happened much later. The second featurette in this section has Kress talking to voice artists Leo de Lyon and Marvin Kaplan, and writer Barry Blitzer. They also show great fondness for the show, and share many remembrances of Hanna and Barbera, their co-workers, and the recording sessions, where they all performed together. If only every animation set could have features like this! Great stuff!
Finally, the first side of Disc 4 features the third and final commentary, this time on "The Late T.C.". By this time, the contributors started to run out of steam, even being reduced to "bum-dee-dum" through the theme song. After that, they do manage to keep things going, but it is apparent that they spilled most of their guts on the very first commentary. Still, it worthwhile listening to it for comments on other voice actors and a few other tidbits. Next is the Top Cat Sing-Along (0:51), which merely shows the opening of the show without the singing, and with written music at the bottom of the screen. Things end with a bang, though, with the last two items. Top Cat Collection (6:43) runs through original production artwork from the show, as well as some vintage photos and the original storyboards for the closing sequence. Lastly, Top Cat stars in Kellogg's Commercials (3:04), which has two black and white Corn Flakes spots, as well as the original closing including the Kellogg's tag (in color). Side 4B has no extra features.
All in all, the extras on this set are pretty impressive and a great step up from the first Hanna-Barbera Golden Collection wave.
Case Study:
One thing you have got to enjoy about these Hanna-Barbera sets is the packaging. As with the previous sets, this one comes in a foldout digipack that holds the four discs. The fourth one has no cover art, since it is a double-sided disc. The artwork on the digipack is totally spiffy, utilizing a graphic style reflecting the look of the show and its characters, complete with episode listings and trivia. All this comes in a plastic transparent slipcase that offers alternate cover artwork and completes the cel-like effect. (It looks very cool, but like previous sets the slipcase is a little tricky to remove and to put back on.) Warner finally did away with the "1" on the spine which makes no sense when you are collecting the whole series in one package anyways.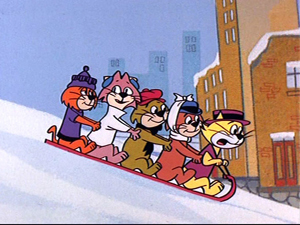 Ink And Paint:
Please remember that this is a television show from 1961, but all things considered it looks very good. I would place it a step ahead of the first Flintstones set, as there are hardly any edge enhancement halos to be seen. There are a few speckles of dirt intermittently, but overall it is a cleaner image than I would have expected. Occasionally, there are some blink-and-you-miss-it combing effects, similar to what has been reported on the Scooby-Doo set, as well as dot crawl, but overall it looks pretty decent.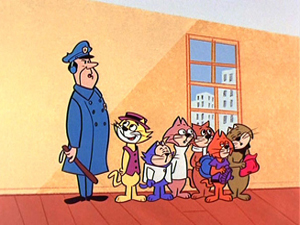 Scratch Tracks:
The soundtrack is presented, as it should be, in its original mono. Naturally, the sound is a bit dated, and simply cannot sound like it was recorded yesterday. However, it is a clean track with no popping or hissing. The jazzy opening score by Hoyt Curtin is just as bouncy as ever, and the fine voice work that is on display is every episode delights just as it did in 1961. Arnold Stang is perfect as the smooth-talking Top Cat, Marvin Kaplan (later on TV's Alice) gives a pleasing warmth to Choo Choo, Leo de Lyon does well with slow-witted Brain and beatnik Spook, John Stephenson does his best Cary Grant and does it well with Fancy, and Maurice Gosfield makes Benny a fully sympathetic character.
French and Spanish tracks are also available, and there are subtitles in the same three languages.
Final Cut:
It is hard to imagine any true Hanna-Barbera fan not wanting to own this set. The episodes are of consistently high quality with some of the best scripts to be found in the H-B library. The voice acting, usually a strength of the H-B productions, shines especially bright in Top Cat. I had minor quibbles with the video quality, but the extra features here are perhaps the best to date in the Hanna-Barbera Golden Collection series. This release was a pleasant surprise to me, as I expected other H-B stars to get their own DVD sets first, but I am grateful to see the complete Top Cat series on DVD in such a fine set.
Animated Classic or Back To The Drawing Board?