Studio Idefix/Buena Vista (1967-1968), CLV, 2 double sided individual discs, 1.33:1 original full-frame ratio, Mono, Not Rated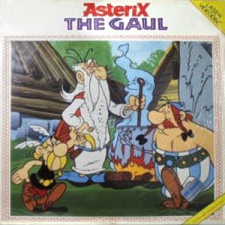 While America, and of course Disney, has taken much credit for the state of mainstream animation (take that how you will!), one does tend to forget that a great deal of quality animation is also produced overseas each year. In recent times the delightful Danish movie Help! I'm A Fish (still without a US distributor) has met with a decent box-office take in Europe, and Les Triplettes De Belleville (AKA Belleville Rendezvous) was an amazing piece of filmmaking, animation or otherwise. Even back in the origins of animation, a leading competitor to the Disneys, Fleischers and Warners of America was Germany, which produced many wonderful shorts, with high quality animation that could easily have been part of Disney's Golden Age of Silly Symphonies.
The coming of World War II affected many areas of production both in the States and Europe, not least because animators were called up for service and some of the animation buildings were bombed. Germany in particular never regained the artistic creativity that fuelled their early shorts and animation became more about graphic arts in many European countries. In America, Disney became the dominant source for animated feature films, and although there were attempts by Warners, United Artists and the UPA Studio, none proved enough to shift Disney from the top spot until the modern wonders of computer-assisted cartooning made production viable. In Europe, animation has had a bumpy ride, with the UK's only productions of note being Animal Farm in 1952 and Watership Down, the original 1978 feature. For a while Don Bluth housed his animation facility in Ireland, producing All Dogs Go To Heaven and Rock-A-Doodle (a shameless re-working of Disney's own failed attempt at the Chanticleer story) at his Studio, but lack of further finance meant he had to pack up and go back to America.
In France, the home of "film art", animation has fared much differently. A country with a strong background in graphic arts, comic books, or "albums" as they are know there, have always been a choice way of passing the time and their home-grown characters are second to none in the popularity stakes. Asterix The Gaul and his friend the mighty Obelix, Lucky Luke the lonesome cowboy (a great throw-back to the old west) and even neighboring Belgium's Tin Tin are among the top selling characters, with cartoon series and live-action films breaking box-office figures in their native countries. In France in 1999, the live-action Asterix film (starring Gérard Depardieu as Obelix) shot straight to number one, with a sequel appearing only a couple of years later. Parc Asterix is the number-one destination theme park for French visitors, easily rivalling Disneyland Paris!
Created by Albert Uderzo and Rene Goscinny, the Asterix series is a wickedly funny take on Roman-conquered France. "The year is 50 B.C.", each album begins, "Gaul is entirely occupied by the Romans. Well, not entirely… One small village of indomitable Gauls still holds out against the invaders. And life is not easy for the Roman legionaries who garrison the fortified camps of Totorum, Aquarium, Laudanum and Compendium…" Making his debut in 1959 in a series of weekly strips that made interesting comparison to the Wartime German occupation of France, the long-format 48-page album was introduced in 1961. Only 6000 copies of the first edition were printed, though that number would soon rise to meet the demand, with each book regularly selling over a million copies.
Uderzo, influenced by the films of Walt Disney, had always wanted to be an animator, so it only seemed right that after success in the comic book field, Asterix's film stardom would beckon. The choice to recreate these characters and stories in animation came naturally, with Goscinny and Uderzo actually opening a facility with Dargaud Films, named the Idefix Studio, to carry out production themselves. The film was released in France to wide acclaim and big box-office success, and an English-language dub was quickly marketed overseas to equal praise. In the late 1980s, Disney's Buena Vista acquired video rights to a few of these titles, which surfaced as bare bones but decent LaserDisc releases.
ASTERIX THE GAUL (1967, 67 mins, CLV, Digital Sound) was the first animated blockbuster to come from France, setting the type of film that we would see from the Dargaud/Idefix studio for the next few years. Based very closely on the first Asterix comic album, the film looks literally like the comic has come to life. The animation is not quite as fluid as Disneys, but is still much better than today's television output. There's lots of fun to be had in the designs and the ever ludicrous names will raise a chuckle for the grown ups in the audience. Interestingly, the Druid known as Getafix in the English translated comics is here referred to by his original French name Panoramix. In future films he would return to being Getafix, falling into line with the English-language printed comic albums.
It helps if you are a fan of the original comic, but even for non-Asterix aficionados the story is fun, following Roman Marcus Sourpuss' attempts to discover the secret of the Gaul's immense strength. As with the book, there is not much action in this first adventure, and it's more about the battle of wits between Asterix and Panoramix and the Romans. However the style does hold it together and the voiced-over Narrator is used to bridge scenes like the captions in a comic book would. The English dub overall is pretty successful and the characters have the kind of voices one would expect, with Asterix a sprightly imp of a fellow and Obelix the good-natured half-wit.
Print-wise things are a little scratchy during the opening titles, but it soon settles down for a fine looking and vibrant presentation, in its original 1.33:1 full-frame ratio. There is not much text on screen save the main titles (necessitated by the fact that this opening sequence has the characters carving crew names into rocks and trees) and these are presented in their original French, except for a video-added "The End" credit, but this does not detract from the enjoyment of the film. The disc itself is as bare bones as LaserDisc can get. Spread to two sides, there is no chapter indexing or ability to skip back or forwards. Basically, as with all of these Buena Vista/Dargaud releases, once you press play you are locked in for the ride, though scanning is always an option and most players have a "go to" time option.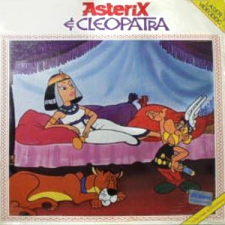 ASTERIX AND CLEOPATRA (1968, 72 mins, CLV, Digital Sound) is preceded by a very amusing prologue that sets up the conventions for the nature of the dubbed material and the fact that lip-sync may be slightly out. The reason given is the obvious difference between ancient Greek and the English language (of course!) and it's a device that pays off in several ways throughout the film. Only having ever seen this in French when I was very young, I can probably say that even the French language dub could have probably done with this prologue as well! The film was in production for less time than the first Asterix film (coming out just over a year later), but the animation is as fully rounded as the earlier film, and contains an ample amount of great gags and some suitably epic-looking backgrounds (that funnily enough recalled The Prince Of Egypt, though they are no-where near that film's complexity) and fans of the first film or of Asterix in general shouldn't be disappointed.
Story-wise, the movie follows the original comic very closely. Looking as slinky as they come, Cleopatra makes a bet to Caesar that she can have built for him the most opulent palace he will ever see. She hires architect Edifice and gives him just three months to finish the task! A bumbling designer, he calls on his friends Asterix and Obelix, and together with Getafix they travel to Egypt to help out with their enormous strength. The Gauls soon find themselves up against rival architect Artifice (shades of Jafar here) who sabotages the building plans…
On this print, titles are this time in English (and nicely illustrated with production storyboards and pencil test animation), and the film's scope has been opened up in both story and its look. The artwork and effects animation is much more intricate than the first film and there are a great many variances in camera angles, which help provide depth, keep interest and move the story forward more dramatically. Sound, although in mono, is amazingly clear throughout, and music displays a nice stereo trick effect and a surprising amount of LFE bass frequency. The titles lead into the film in an imaginative way, with the pencil concept art giving way to the completed background painting. A nice touch also comes at the end of the film, when the camera pulls back to reveal the final page of the original comic album, which closes as a Disney fairy-tale book might have done.
Gags run aplenty (such as the novel way of cutting wood, the Egyptian Santa Claus hieroglyphic and a possible reason for the Sphinx losing its nose) and the Pirates' attempt at boarding Asterix's ship is a terrific example of cartoon-animation staging. Caesar's spy, a chameleon-like creation, is simply superb and one of the film's best elements. The other characters are also well developed. While it is true that there are culturally stereotypical elements, this is in keeping with the comics' original approach to history. Cleopatra herself is delightfully spoilt and certainly looks the part, and we can instantly recognize her character, while there is much more for Obelix to do in this particular story, and even his puppy Dogmatix has plenty of business.
It may be worth catching the first film to get a sense of the development in the films, as this is certainly bigger and more extravagant than its predecessor. Tightly paced, packed with funny sequences and even a couple of amusing music numbers that do not really slow the story as much as they might, Asterix And Cleopatra is another fun adventure with the little Gaul and a good indication as to why the series continued for so long!
After the success of these first two Asterix adventures, the Studio veered off into other territories, albeit still keeping within the confines of animated incarnations of popular French comics. There was one last film, The Twelve Tasks Of Asterix in 1976 (which switched tradition by being an original story that went on to become a comic album after the film had been released), but after that the Asterix series became, for the most part, the victim of too-many cooks. Financing solutions meant farming out the animation to various facilities other than Idefix, with the international dubs handled (often badly) by their own country's investors. By the mid-1990s, the series was limping along, and was no longer even being animated in France, with the most recent entry actually completed in Germany. Happily, the characters have now been revitalised with the release of the live-action films from 1999 onwards, and a third is currently in production. The latest animated outing, Asterix And The Vikings made by the A. Film company in Denmark, has been garnering rave reviews and is still rolling out its international release throughout 2006, with a voice cast including Sean Astin, Paul Giamatti and Evan Rachel Wood among others. Studio Idefix's work lives on, and the little Gaul fights another day!