Hemdale (1989/1992), CLV, 2 sides, 85 mins, 1.85:1 letterboxed widescreen, Dolby Surround, Rated G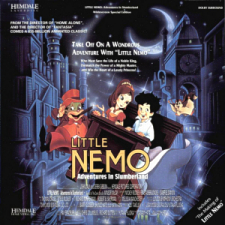 Although fairly recently issued on DVD, the earlier Hemdale LaserDisc incarnation in 1993 of this strange and somewhat experimental feature included a half hour, interview-led press kit piece on the making of the film.
The widescreen print (framed correctly at 1.85:1) looks to be in good condition, although it has to be said that Little Nemo is such a mess of a film that any digital makeover will still never help this story. Based on the comic strip and early silent animation films by cartoonist Winsor McCay, perhaps part of the film's reason that it feels inaccessible is in McCay's original designs. Although they have been updated and made a little more rounded as per the current trend there is still something odd about the characters that Nemo finds on his adventure through Slumberland. Some of the backgrounds are extremely lavish, and there are moments of great animation. An experiment to meld the best of the western artists with Japanese animators, Little Nemo has an odd hybrid appearance that is not quite Disney and not quite Manga-styled Anime.
Most surprising is the amount of talent that was involved in making such an un-engaging movie! Directed by Bill Hurtz (previously of several animated title sequences and episodes of the 1960s George Of The Jungle series), the story was originated by none other than famed sci-fi writer and Disney fan Ray Bradbury, with concept designs by renowned fantasist Mobius. Home Alone and Harry Potter director Chris Columbus did a script polish, while story consultants were three of Walt Disney's original Nine Old Men: Ollie Johnston, Frank Thomas and Ken Anderson, and The Lion King's Roger Allers is credited as an animator. Two other Disney stalwarts, the Sherman Brothers, contributed a handful of songs and the score was written by the team that added themes to such series as The Wuzzles, Gummi Bears and Duck Tales. Singer Melissa Manchester lent her vocals to the title ballad, and a flood of animation favorites provide voices, including Mickey Rooney, Rene Auberjonois, Nancy Cartwright, June Foray, Kathleen Freeman, Michael Gough, Sherry Lynn, Tress MacNeille and Alan Oppenheimer.
So what went wrong? Was it a case of too many cooks? Production on this odd feature seems cloudy, as does the final result. Despite a Dolby Surround track, the LaserDisc's center channel seems muffled, and the mix dips and rises in volume. Cuts between scenes seem a little harsh, and there's a feeling that some important scenes may have been deleted due to time or money conflicts. As a movie, some parts do work, and it's these sequences that I had previously seen that urged me to check out the completed film. The animation has its moments too, especially Nemo's travels on his bed, but character-wise, things leap from 24-frame Disney fluidity to 6 or 12-frame step Manga style animation, often within the same shot.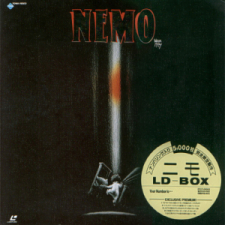 Frustratingly, the details are fantastic, right down to the individual costumes on the huge amount of (hand drawn) crowds at the film's celebratory end. But although the potential is there to look fantastic, Little Nemo's journey from script to screen has been fumbled in the grandest way. Nothing ever really gels, and it remains a quirky little film that is best watched out of curiosity. In Japan, where much of the animation was completed, it is regarded as a masterpiece on par with the earlier works of Miyazaki's Studio Ghibli. It was rewarded in that country with a lavish boxed LaserDisc set that packed in, among other things, a featurette on creator Winsor McCay's pioneering animation work, the original Little Nemo film from 1911, storyboards, model sheets and concept drawings, as well as two "proof of concept" shorts from 1981 and 1984 that included animation and sequences more exhilarating than those found in the finished film, and a behind-the-scenes documentary that revealed how the voices were recorded and live-action routines shot as dance reference.
That Japanese box is the one to look for (a DVD edition that ported many of the extras over is available there too), but is extremely hard to find now. This US edition merely retains the interviews, pretty shoddily pasted together it must be said, and obviously pulled from a time when all the cast and crew were obliged to carry out their promotional duties. For instance, everyone gushes about what a sure-to-be-classic movie they're working on, but I wonder if any of them had actually seen it?