UPA Studios/Warner Bros (October 24 1962), Warner Home Video (May 6 2003), single disc, 85 mins, 1.85:1 anamorphic widescreen, Dolby Digital Mono, Rated G, Retail: $19.99
Storyboard:
Set at the turn of the last century, we find female feline Mewsette stuck on a farm and dreaming of the big city life. When country-bumpkin beau Juane Tom offers her a mouse as a tribute, she takes it the wrong way, insisting on the finer things in life. Realizing that she'll never find what she is looking for on the farm, Mewsette makes for the bright lights of Paris, followed closely by Juane Tom and his little pal Robespierre. On the train into town, Mewsette makes friends with the none-too trustworthy Meowrice, a smooth cat who suggests that Mewsette meets his "sister" Madame Rubens-Chatte and becomes a society cat. Unbeknown to her, Meowrice and his cronies have a plan up their paws to make money off of Mewsette (though quite what a bunch of cats are going to do with it remains a mystery), intending to ship her off to the US of A as a mail-order bride!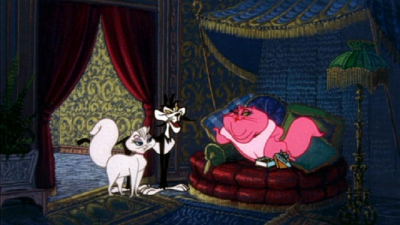 Spotting Juane Tom, Meowrice sees an opportunity for more money in selling him as a ship's cat and invites him to the Mewlon Rouge where he intoxicates the unwitting Juane Tom and Robespierre. When they wake up, the duo literally find themselves being shipped off – on a boat across the ocean! It's only Juane Tom's determination and love for Mewsette that helps him through what looks to be an impossible situation, but when they arrive at their destination he finds it might not be the cat-astrophe he'd imagined. Meanwhile, Madame Rubens-Chatte has transformed Mewsette into a beautiful sophisti-cat ready for sending to Pittsburgh, but she discovers the scam and is able to leave a message for Juane Tom. Once back from his boat trip, he's on the trail of Meowrice, hoping it will lead him to Mewsette before it's too late…!
The Sweatbox Review:
In the grand scheme of things, Chuck Jones will always be remembered chiefly as the instigator behind many of the best Looney Tunes cartoon shorts, and the best animated-cats-in-France-musical feature will always probably be The AristoCats. However 12 years before Thomas O'Malley helped Duchess and her kittens back to safety, another lady cat was roaming the streets of Paris, in Jones' 1962 feature Gay Purr-ee (a pretty lame joke title, we always called it "Gay Purée", as in the sauce, when I was a kid). The "cat-erization" of the many French names and phrases in Gay Purr-ee don't always work, but are fun nonetheless, although the film isn't exactly a laugh a minute, being more of a whimsical musical escapade that breezes along at its own pace rather than the comedy adventure of The AristoCats.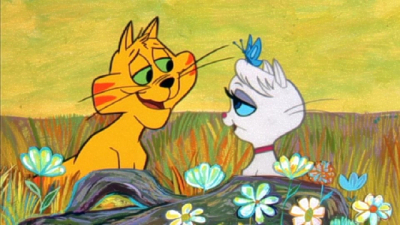 With the Warners studio closing its doors, several staff remained to work on such films as The Incredible Mr Limpet. By this time, animation wasn't actually being produced at the Studio, and the company found itself in the position of working with the UPA Studio on its next animated film. As with Don Bluth's later walk-out from Disney, United Productions of America was set up in the early 1940s by a group of ex-Mouse House animators, many of which found working at the studio after the strikes of '42 a chore. These people felt animation could be more than the set rules that the Disney fairy-tale approach demanded (although ironically Walt himself would break these rules with the Package Features of that decade) and wanted the freedom to develop their own ideas under their own names.
Although the first films from UPA were praised for their stylistic approach, these limited animation techniques can actually be traced back to Disney in the Baby Weems segment of the live-action Studio tour film The Reluctant Dragon. Disney later aped the style themselves, in the theatrical Special Pigs Is Pigs. The animation style was simpler, but the characters developed at UPA still possessed the roundness of characterization found at rivals Disney, MGM and Warners and those such as Mr. Magoo and Dr. Seuss' Gerald McBoing Boing (a close relation to Baby Weems?) appealed to older audiences.
Apart from early political commentary shorts (one of which was directed by Chuck Jones), the majority of UPA's output was distributed by Columbia Pictures, whose own Screen Gems animation studio was never as popular as hoped, especially when they lost the contract to distribute Walt Disney's Mickey Mouse cartoons. Magoo was a hit, not least for actor Jim Backus' hilarious improvisations, a way of working that had done wonders for Max Fleischer's Popeye in those cartoon shorts. The artwork in the UPA films moved away from the fluid and realistic approach that Disney and to an extent MGM and WB were trying to convey, and two subsequent Magoo films, When Magoo Flew and Mr Magoo's Puddle Jumper, won Academy Awards in 1953 and '55, respectively.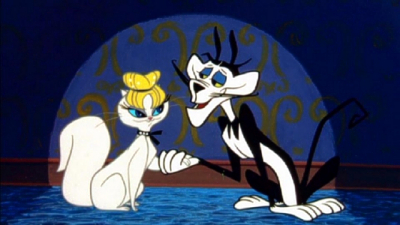 The new style of these cartoons brought about changes in the other animation studios, with roughly drawn backgrounds now in place of the deep, lush canvases of before. "How could UPA make cheaper cartoons and still be successful commercially and creatively?" asked studio heads, and animation units were told to make cutbacks. Disney would even re-invent its own animation techniques to accommodate the Xerox process that cut down on production time and cost, providing a new look to its 1960s output. Unfortunately, the combination of the McCarthy Hollywood "Witch Hunts" of the 1950s and the dawning of television meant that even UPA's freewheeling style proved too expensive, in more ways than one. Many of the top artists at the studio, such as director John Hubley, were blacklisted for being on the edge of innovative, freethinking art, while the new emphasis on producing for television meant lower budgets.
Eventually, the Magoo TV episodes became cheap copies of their former selves and in the end the studio could not keep up the juggling act between the amount of material that was required and the cost with which they had to make them. The major studios, apart from Disney of course, were closing their animation facilities, and a new outfit, the Hanna-Barbera Studio, was becoming the dominant player in limited, low-cost, TV animation. The UPA cartoons were sold off, though producer Henry Saperstein retained the copyrights to the characters, acting as an executive many years later on the dire live-action Magoo film (made by Disney, no less!) starring Leslie Neilson in the 1990s. UPA continued throughout the 1960s, partnering with other studios such as DePatie-Freleng for the show What's New Mr. Magoo? in the 1970s. Three highlights remain: the holiday classic TV staple Mr. Magoo's Christmas Carol, and the feature films Mr. Magoo's 1001 Arabian Nights (directed by another ex-Disney crew member Jack Kinney in 1959) and, of course, Gay Purr-ee in 1962.
In this time of using star names to sell a film (Brad Pitt is Sinbad! Mike Myers is Shrek! Eddie Murphy is a Donkey! Well, not quite, but you get the idea) we are becoming used to seeing the voice talent pushed as poster attractions and reasons for seeing a movie, not that it sometimes seems to help the movie much! The first time Disney did this was with The Jungle Book, with the principle cast names on the poster, and making a big fuss of the names involved by having their pictures taken with their animated counterparts. Gay Purr-ee five years earlier, employed a similar approach, and on some posters for the original advertising on the film, singer Judy Garland's name is bigger than the actual title!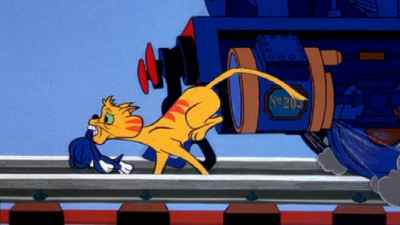 There certainly is a star line up here, for the time, and even now animation fans can have fun picking out the parts as they appear in the film. As Mewsette, Judy Garland almost sleepwalks through her role, obviously coming at a time when things were not looking so rosy for her in her well documented personal life. As one of her final parts, there is a tinge of sadness listening to her fabulously pure stage voice belt out the show tunes on offer here, but she is still great all the same. Performing as Juane Tom (another nod back in character from The AristoCats' Thomas O'Malley) is Robert Goulet, known to animation fans today for his crooning work in Disney's Recess, and from Wheezy's big-band reprise at the end of Toy Story 2. Another Disney alumni, Red Buttons, from Pete's Dragon, is Robespierre, while Ludwig Von Drake himself, Paul Frees is Meowrice. Backing up the main cast are "guest stars" Hermione Gingold as Madame Rubens-Chatte, the amazing Mel Blanc and chorus singers The Mellow Men, who also played on Fess Parker's smash hit Davy Crockett single.
The film made a great deal out of the names of those who provided voices, but not so much was made of its director Abe Levitow. A veteran of the Warner Bros studio, Levitow had worked under Chuck Jones on such classics shorts as Robin Hood Daffy (1958), What's Opera, Doc? (1957), Ali Baba Bunny (1957), One Froggy Evening (1955) and Duck! Rabbit, Duck! (1953). At UPA he had also directed the Magoo Christmas special, as well as serving as animation director on the Magoo Arabian Nights feature. Later in his career, he would go on to continue to work with Jones on his update of the Tom And Jerry series, directing several of the new cartoons, including The Mouse From H.U.N.G.E.R. as well as the 1970 animated feature for Jones and MGM, The Phantom Tollbooth, with The Munsters' Butch Patrick (and still well overdue on disc).
Like The Phantom Tollbooth, Gay Purr-ee is a little too melancholy for it's own good, sharing as it does many of the same crew. Jones wrote both (with his wife Dorothy on Purr-ee), and his slightly meandering style does not sit that well in the field of the long-form animated feature, it has to be said. The songs do try and pep up the overall business a bit, written by Harold Arlen and E.Y. "Yip" Harburg, who had also provided Judy Garland with a number of hits, not least Over the Rainbow in The Wizard Of Oz. Garland and the songwriters are not the only thing Gay Purr-ee has in common with Oz. The story, such as it is, harks back to that classic as well, being basically about a young female dissatisfied with life on the farm and wishing to get away from it all, later to discover that there really is nothing like old friends. But although the story itself may not be that original, elements from it did find their way in to several later films, most obviously The AristoCats and Don Bluth's short, Banjo The Woodpile Cat.
On the film's release, WB and UPA went all out. Disney did not have a film out that year (101 Dalmatians had been and gone in 1961, The Sword In The Stone was not due until 1963) and the studio took advantage of this. They tried to rival the powerhouse Mouse with the marketing and promotion of the picture making available everything from a soundtrack album that was sold on its big musical names, to games, figurines and plush toys. There was even a cat food tie-in exclaiming that all house pet cats would love to eat what Mewsette eats!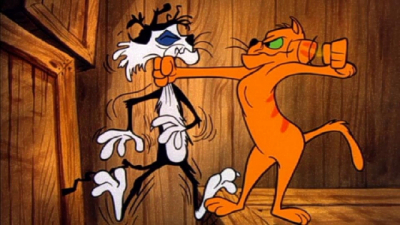 Despite all the hype, the film was not a major success and has until now, as with The Phantom Tollbooth, been a rare find for collectors. UPA withdrew from the feature business and went back to TV. Not that they don't do a good job here – the animation, while not as fluid as the Disney films of the time, has a distinct limited technique approach, something that does take a little time to adjust to in regards to what we expect in feature animation. But it's in the backgrounds that the film really impresses, with art inspired from the great Impressionists such as the Van Gogh sunsets, France's own Monet and his richly detailed paintings, and even those of the Moulin Rouge's Toulouse-Lautrec, though there are many more influences, especially in the surrealistic sequences and in the moment when Mewsette herself has her portrait painted by some of the old masters.
Nowadays the UPA studio retains its license to their original characters and also handles some animated and live-action product from Japan (including the Godzilla epics), but is no longer in active animation production. A slight rarity, Gay Purr-ee will not entertain those looking for the fancy visuals of today's special effects films or even the funky atmosphere of The AristoCats, but this is more than just a curio – children will probably enjoy the breezy nature of the plot and adults may find enjoyment in the voice cast. Even now the film is sold on Garland's name alone, but one must not forget that this is as much Chuck Jones film as well. While this does not reach the comic highs of his other Warner Brothers work, this is a chance for fans to get to know the "other side" of Jones.
Is This Thing Loaded?
While we can all be glad that Warners have chosen to present Gay Purr-ee in its original widescreen ratio, some may not be so forgiving on the extras front.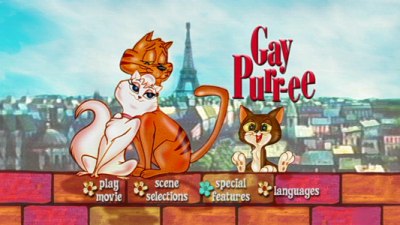 The main bonus available on this release is the ability to Jump To A Song, which merely recycles the chapter index list and omits the dialogue scenes in between. Cast and Crew lists the main talents involved, but with no links to further information, while Musical Notes at least gives a little text background on the film's making.
Scene Access is obviously included, but the only real extra of note is the almost four-minute Theatrical Trailer, presented in 1.33:1, but encoded with black bars along the sides for 16×9. Running through most of the film's songs again, the trailer makes extensive use of the main title footage and is interesting if only to compare the framing between the full-frame and widescreen versions (the widescreen is the more correctly framed).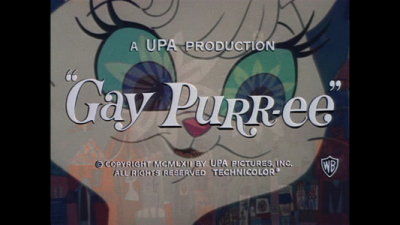 While not a plentiful bounty of bonus materials (no extra WB cartoons? Trailers for other animated offerings? Poster/merchandise stills?), the widescreen print really does make up for it, especially if one is a fan of the film and has not seen it this way before.
Case Study:
A Warners snapper keeps the disc safe inside, even if the outer cardboard is prone to being ripped, torn, bent and drawn on by little'uns. The inside fold contains chapter stop index; the cover art presents airbrushed versions of the central characters amongst some enticing screen stills and promotes the "full-length animated classic – over an hour of family fun" on the front.
Ink And Paint:
In a rare move for a family title from Warner Home Video, Gay Purr-ee is presented in its original 1.85:1 theatrical aspect ratio (both Space Jam and Cats Don't Dance had been previously cropped to fullscreen) – the first time anyone has seen the film in this way since 1962! The print has obviously been remastered and restored to some degree; there are only very, very minor flaws in the transfer, which otherwise looks nice, sharp and clean. The film was shot to a 1.66:1 negative, so full-frame video copies will lose on the edges, but gain a little top and bottom. With this 1.85:1 ratio version, we're seeing the entire left to right frame, with a sliver cropped from the top, but this was intended for theatrical exhibition and never feels cramped. Purr-fect!
Scratch Tracks:
The audio track has not fared as well as the images, sounding a little compressed and stuck in the mid-range. This is mainly due to the way it was originally recorded, although I have found a lot of material from Chuck Jones and DePatie-Freleng's 1960s work has this same trait. Everything sounds fine and there is nothing that can't be heard, but it all seems confined to one place, dynamically. Don't expect a workout from your system on this one, especially as we only get the original mono track, which is appropriate all the same.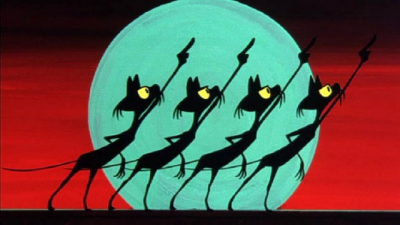 A French language track, which sounds newly recorded, is also included, as are subtitles in French and Spanish, but strangely neither the dub or the subtitles cover the songs, meaning that these moments will be left in English for foreign viewers. Odd for a movie set in France and presumably with a bit of a following in that country!
Final Cut:
It's not an all time classic in the sense that other animated films have aged far more gracefully, bit this is a fairly important work in the Chuck Jones and UPA canon, being their only major feature that did not star a regular character such as Mr. Magoo. It purrs along at its own pace and jump-starts a couple of times, but is definitely more suited to the younger set, who will enjoy the antics of the kitten Robespierre and the bright colored backgrounds (which could also inspire some to go looking for more knowledge of painted art)! Not to everyone's taste, some may find it laborious to sit through, but for fans of Jones' work it is most certainly worth a look.
Animated Classic or Back To The Drawing Board?