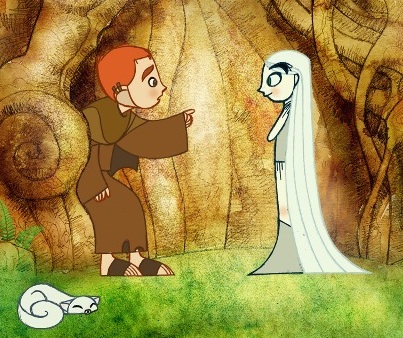 US distributor GKIDS has announced they will be bringing Irish director Tomm Moore's animated film The Secret of Kells to U.S. audiences. Opening March 12, 2010, the film will first get an Oscar qualifying run in LA starting December 4. "Magic, fantasy, and Celtic mythology come together" in the story of young boy who meets a mysterious young wolf-girl while on a dangerous quest to help defend his people from barbarian raids". More info about the movie follows.
FROM THE PRESS RELEASE: GKIDS, a distributor of independent films for family and art-house audiences, and the European sales agent Celluloid Dreams announced today that GKIDS has acquired US distribution rights to The Secret of Kells, the highly anticipated new animated film from Irish director Tomm Moore. The film was an official selection at Berlin, made its US premiere at NY Int'l Children's Film Festival, won the Audience Award at Annecy, and was the first animated feature to win the Audience Award at Edinburgh. The Secret of Kells is a France/Belgium/Ireland co-production of Les Armateurs, Viva Film, Cartoon Saloon and France 2 Cinema and features the voices of Brendan Gleeson (Harry Potter, In Bruges), Evan McGuire and Christen Mooney. The deal for The Secret of Kells was negotiated by Eric Beckman for GKIDS and Hengameh Panahi for Celluloid Dreams.
An Academy qualifying run is set for Dec 4-10 at the AMC Burbank 8 in Los Angeles. Showtimes are 7 PM on weekdays and 2 PM on weekends. The film will be released theatrically in the US in March 2010.
Eric Beckman, President of GKIDS Inc. said, " The Secret of Kells is a visually unique and exciting fantasy adventure that reinvigorates 2D animation as both a peerless art form and viable commercial medium. It is an absolutely stunning film with universal appeal for adults, families, animation fans, and anyone who loves beautiful, meaningful storytelling." GKIDS president Eric Beckman is also founder and director of New York Int'l Children's Film Festival.
Hengameh Panahi, President of Celluloid Dreams said, "Like Celluloid Dreams, GKIDS brings passion, energy, and innovative thinking to promote a new vision of cinema for young people. We are happy to work with them to introduce high-quality independent and foreign film to American family audiences!"
SYNOPSIS:
Magic, fantasy, and Celtic mythology come together in a riot of color and detail that dazzle the eyes, in this sweeping story about the power of imagination and faith to carry humanity through dark times. Young Brendan lives in the Abbey of Kells, a remote medieval outpost, where he works to fortify the abbey walls against barbarian raids. One day a celebrated master illuminator arrives from foreign lands carrying an ancient but unfinished book, brimming with secret wisdom and powers. To help complete the magical book, Brendan has to overcome his deepest fears on a dangerous quest that takes him beyond the abbey's walls and into the enchanted forest, where mythical creatures hide. It is here that he meets the fairy Aisling, a mysterious young wolf-girl, who helps him along the way. But with the barbarians closing in, will Brendan's determination and artistic vision illuminate the darkness and show that enlightenment is the best fortification against evil?