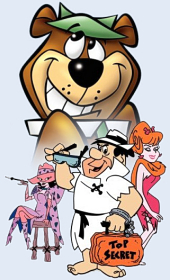 DVD Tuesday is a pretty big one today, not only for the release of Disney's The Chronicles Of Narnia: Prince Caspian, but it's also great to finally be able to see a couple of Hanna-Barbera's first animated features on the format: Hey There! It's Yogi Bear, from 1964, and a 1966 theatrical ending to the original Flintstones series that we recently reviewed in full.
We'll have a review of Yogi up shortly, but Rand's got you covered on Fred's trip to the big screen in The Man Called Flintstone, a very fun secret agent spoof that sees the lovable caveman doubling for yet another doppelganger. The usual shenanigans ensue, though as Rand makes a point of saying, the numerous song sequences can have the effect of stopping the movie dead in parts (the result, perhaps, of trying to create a hit soundtrack as well as a hit movie). It should be pointed out that this is the exact same release as that was released to Canada a couple of years ago: Rand doesn't elaborate much on the sleeve artwork, but my guess is that it still carries the same copyright information as before and that this is simply a 2008 US release for the same 2005 stock, so those that did import that disc are missing nothing new.
Image-wise, I'll confirm too that the picture was created in the open matte process, masking the frame in theaters but keeping future TV showings in mind. While not ideal, blowing up the video to fill a widescreen display will authentically recreate the correct theatrical experience. Also released today, Hey There! It's Yogi Bear will get its own review on the site shortly, but is also recommended.
---
Back to Narnia, and don't forget that you still have a few hours left before our Caspian contest ends! We've also got a little more on the creation of the climax to the film: Prince Caspian's Beruna Bridge sequence. Think that was impressive? Wait until you read Jeremie's exclusive account of how the battle could never have happened without art director Frank Walsh's astonishing amount of work in building the practical set. With many intriguing images of the planning and construction to marvel at, this proves to have been a mammoth undertaking to be sure.
Back soon with a couple of surprise Paramount reviews, so stay tooned! – Ben.