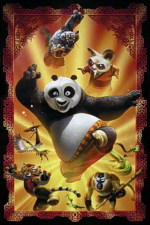 Kung Fu Panda finally strikes as I post my full review of the two-disc edition that bundles in Secrets Of The Furious Five, not the feature-length direct follow-up that "the world premiere of Po's new adventure" sticker may suggest, but essentially just the title's bonus short, admittedly a little longer than usual at just over 22 minutes. But is that extra length worth shelling out quite a few extra bucks? While there is some value in it, you'd have to be quite a big Panda fan to do so and I still don't see how it couldn't simply have been included on the feature disc or as an extra option on the Blu-ray.
As for the feature itself, of course, Kung Fu Panda kicks all the right moves, coming out as DreamWorks' best in years, a vastly enjoyable adventure that should find favor with all members of the family. Jack Black doesn't over play it, Dustin Hoffman makes a perfect Master, and Ian McShane a calm, cool villain in the Shere Kahn mold, with the rest of the cast providing solid backup and not attempting to overshadow the other elements.
The reason it all works so well, and is a departure from the usual DreamWorks fare, is that directors John Stevenson and Mark Osborne take their influences seriously and pay tribute in their gentle mocking with great respect. Our own Jeremie Noyer spoke with the pair to mark the theatrical release of the film, and it's a conversation well worth revisiting!
---
Coming up to date, Jeremie's been interviewing those behind another theatrical release this past week, and we've the final article in our Bolt series for you today, a short and sweet interview with orchestrator John Ashton Thomas, who worked with composer John Powell (another Panda connection for you!) on putting the final touches to Disney's latest movie: an invigorating, exciting musical score.
Don't forget that our Chronicles Of Narnia: Prince Caspian giveaway is still open until midnight tomorrow evening. The title comes to stores tomorrow, and we'll have some more on how the explosive special effects battle sequences were put together too.
Stay tooned! – Ben.