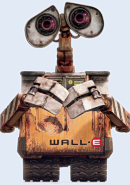 Interesting news in that reports that the Los Angeles Film Critics Association has awarded Pixar's WALL•E its Best Picture of the year, the first time in its history it has honored an animated film in this way (the second choice was the Batman sequel, The Dark Knight, now available on DVD and Blu-ray). This obviously places curiosity in either or both of these films featuring heavily in the awards season to come, culminating with the Academy Awards, where WALL•E has also been mooted for a Best Picture push.
Since Peter Jackson's The Lord Of The Rings: The Return Of The King opened the doors to such fantasy fare, the eventual winners of the big prizes have seen a return to the more somber and introspective films the Oscars usually prefer to walk home with, but this could be a very interesting year.
If WALL•E does make it to the Best Picture group, however, I'm afraid I don't think it would win, leaving the space open for the critically acclaimed animated documentary Waltz With Bashir – which the LAFCA presented with its Best Animated Film award – to take home the honors. This begs the question: is a Best Picture nomination a higher accolade than a Best Animated Feature win? The debate is surely set to continue to rage for a long time to come…
---
In other news, I'm sorry to hear about the death of Oliver Postage at age 83. He's a hitherto unknown name in American animation, but was a genuine legendary pioneer of stop-motion in Britain, famous for his many long-running animated series that would inspire the likes of Nick Park and his Aardman Animation collaborators, including Bagpuss, Ivor The Engine and The Clangers, also narrating these hand-crafted short films.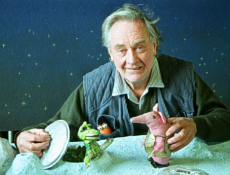 His setting up of Smallfilms with puppeteer Peter Firmin paved the way for many other companies to enter television animation and he remained a go-to name even recently. Ironically he was born only a few minutes drive away from where I used to live, and ended up in a seaside resort that I still often visit, though I sadly never looked him up. A further twist is that Postgate was the cousin of none other than Mrs Potts herself, Angela Lansbury!
In 1957, Postgate found himself at a commercial TV company and reasoned that he could do better with the low budgets, writing Alexander The Mouse as a 26 episode live-to-air program! The Journey Of Master Ho was next, shot on film in pantomimed stop-motion to reduce costs as well as appeal to deaf children. Its success led to Smallfilms, with Firmin producing artwork and models, Postgate writing scripts, providing the stop-motion and many of the voices; Postage produced two-minutes of movement a day, creating the films on a 16mm camera frame by frame with his home made clicker. Ivor The Engine arrived in 1959 (later remade in color in the 1970s), followed by Noggin The Nog and others before the huge success of The Clangers from 1969.
Postage continued to make films and series until 1987, when he then began a long gestating project to remaster and protect the Smallfilms library. This year, Bagpuss was named favorite British character, with the creation and many of Postgate's others being sold to media company Coolabi in a three-quarters of a million dollars deal. As always, the ever reliable Guardian Online has a heap of articles on the man himself, and you'll easily see from the titles and comments how fondly he'll be remembered in the UK. Today's print edition of the paper also includes a g2 supplement remembering Oliver Postgate by a number of leading broadcasters and fans.
---
Finally today, time enough to slip in a mention of the just-announced Sesame Street: Follow That Bird 25th Anniversary Deluxe Edition from Warners. It's about time this overlooked Muppet feature, the first such film to star the Sesame Street characters, came to disc in a decent version, and hopefully this is it. We'll know for sure when it is released on March 24 for $19.97, with extras promising a "new featurette".
James has also just let me know that his animated view on Bolt should be making its way to the Toon Review line-up sometime today, so stay tooned! – Ben.