Jeremie continues his journey under the sea and behind the scenes of Ariel's Beginning today, speaking with the film's co-writer Robert Reece, previously responsible for DisneyToon's alternative Cinderella story A Twist In Time. Here Robert discusses how he writes, uniquely approaching the process from a visual point of view, combining his talent for painting. He sounds like a fun guy, and the interview reveals a lot of insight into the creation of the new film, which we reviewed earlier this week.
Also new in the review stakes is Rand's take on Justice League: Season One. Hey, didn't this already come out some time ago? It did! But in our effort to bring you more and more Blu-ray reviews here at Animated News & Views, Rand's comments refer to the recent hi-def release of the series. Rand has a little grumbling about the video aspects (fullframe instead of the creators' preferred widescreen and an upgrade in quality that's really only perceptible by a direct comparison with the DVD) but suggests that, for those without the DVD and looking to go Blu, the "Justice League looks better in high def, even in their weakest season".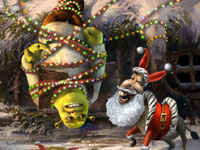 And there are further new DVD-only announcements for the kinds of discs you like to buy and we're likely to review! For those scanning our AN&V Forums, you'll see a release date of November 11 has been set for DreamWorks' Shrek The Halls, the Christmas special from last year. There are a variety of versions, it seems (from cropped fullframe to widescreen, to the disc with a plush toy or Shrek The Third, etc), but it doesn't look yet like fans can simply pick up the widescreen edition on its own. We're working on getting info direct from Paramount to clarify the situation and on what, if any, extras might be in store.
At 22 minutes, even a limited capacity DVD-5 disc could pack in a commentary, featurette and, as Dan says in his forum message, The Madagascar Penguins in A Christmas Caper, which you'd think would be a given seeing that there's an upcoming sequel to be promoted. How about that charming DWs short, First Flight, too? We can hope, but my guess is that it's unfortunately not going to take advantage of all that space on the disc, just featuring the special and not much else, which isn't a lot to tempt people from simply not DVR'ing it when it shows again on ABC. Actually, I've still got mine stored from last year!
What else can we look forward to this fall? Well…
• Rand's got his take on the second volume of classic Popeye cartoons coming up next week, but just confirmed by Warners is the third set, Popeye The Sailor 1941-1943: Volume 3, which has been pushed back a tad (some sites are reporting the fourth but we have it from Warners that it's now due on November 11), at $34.98 for a two disc collection that should complete the cycle of Fleischer Studios' shorts.

• Warners also has a bunch of Classic Sci-Fi double bills on the way (all available October 14 for $19.98 each): Moon Zero Two/When Dinosaurs Ruled The Earth, Battle Beneath The Earth/The Ultimate Warrior and World Without End/Satellite In The Sky.

• Superman: Doomsday is also coming back, in a new 2-disc edition ($24.98, with featurettes and extra episodes of Superman: The Animated Series) and making its debut on Blu-ray ($28.99), both set for November 25.

• The Pink Panther Ultimate Collection from MGM/Fox on November 25 will be an 18-disc DVD set containing nine live-action films (The Pink Panther, A Shot In The Dark, the Peter Sellers-less Alan Arkin curio Inspector Clouseau, still no Return due to rights issues, The Pink Panther Strikes Again, Revenge, Trail, Curse, Son and the 2006 Steve Martin vehicle), nine cartoon volumes (the individual Pink Panther 1-4 collections, plus 5: The Ant And The Aardvark, 6: The Inspector 1, 7: The Inspector 2, 8: Roland & Ratfink and an unspecified ninth cartoon disc), and Jerry Beck's Pink Panther: The Ultimate Guide To The Coolest Cat In Town! encyclopedia, all for a cool couple of hundred bucks.

• The highly derided Space Chimps (but it made a decent $30m!) also comes from Fox on November 25, priced $29.98 for the DVD (with featurette and stills gallery) and $39.99 for the BD, which adds an interactive trivia track on space flight.

• The Simpsons: Complete Eleventh Season will feature all 22 episodes in a four-disc set with deleted scenes, original sketches, featurettes and commentaries, for $49.98 on October 7.

• Finally, the intriguing Giant 600 Cartoons: Special Collector's Edition pack from Mill Creek Entertainment promises "the largest collection of classic cartoons ever assembled in one package. This exciting tin includes an exclusive extra large collector's t-shirt, exclusive collector's poster, and detailed info booklet." One might be expecting all the usual public domain shorts to turn up yet again, especially with the inclusion of cartoons featuring Popeye, Woody Woodpecker, Felix, Casper, The Three Stooges, Baby Huey, Hunky & Spunky and more, but the publicity claims "many of these cartoons have never been released before on VHS or DVD". We can find out on October 14, when the 3720-minute (!) set hits stores for $44.98.
Stay tooned! – Ben