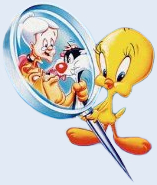 We'll have another bunch of new reviews coming up this week, but getting the ball rolling is Randall with his comments on the first season release for The Sylvester And Tweety Mysteries, Warners' 1990s repurposing of the classic Looney Tunes characters that follows them on some globe-trotting, crime-solving adventures with Granny.
Like myself, Rand didn't catch the show in its original run, and though he calls the mysteries themselves "thin and contrived", he does admit that the show is not "a total loss for classic animation fans. In fact, there is much to appreciate if you are a connoisseur of the cartoons put out by the old Termite Terrace gang", mainly it seems from the plethora of classic character cameos. The so-so transfer aspects and lack of extras loses points, but essentially this is a "pleasant time-waster".
There'll be a new post tomorrow, as we launch our Sleeping Beauty coverage: don't forget that Disney's latest Platinum Edition hits store shelves in just a few hours, and to celebrate Jeremie will be talking to the lady herself, vocalist Mary Costa!
Stay tooned! – Ben.