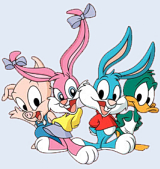 We're back, and just before the weekend too, to bring you a rash of reviews, as promised! We've got tiny toons, teen titans, older titans, old-school art and even a nightmare of an interview, so let's check out our end of week reading…
As posted last night, Randall's added to our recent DC coverage with a review for the fifth and final season of Teen Titans, which Rand describes as being "possibly its strongest" season. "The creators finally delivered a season where they kept the cutesies under control," says Rand, "with lots of old favorite characters showing up and joining in a big, big story. A little more continuity between episodes would have sold the arc better, but overall, this old comic fan found lots to enjoy".
We stay with junior versions of classic characters for my first review in a while, the first volume of Tiny Toon Adventures: Season 1, which sees the much requested debut of Buster and Babs on DVD. The creators would hit their apex with Animaniacs in the next couple of years, but right here where Warner Brothers' television animation unit turned its fortunes around and started making really funny – and ultimately cool, with Batman and the like – shows again. I'd forgotten how funny some of these episodes were, and it was scary how many lines of dialog popped right back into my head. Freaky!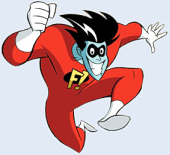 And, speaking of which, joining the little toons on disc is their older comedy cousin, the every so slightly twisted Freakazoid!: Season 1, finally coming back to our screens and hopefully due a resurgence in popularity from fans and newcomers alike. Once again, the WBTV guys outdid themselves and for fans of Animaniacs that didn't think that could be topped, we invite you to step into Freakazoid's cyberspace world for a wake up call. If it ever feels derivative of other projects, it's simply because those others have come along since that fed off this show!
Another review that I've had bubbling away for a while is for the recent American import edition of Once Upon A Time…Walt Disney, the documentary that accompanied the exhibition of artistic sources drawn upon by the Disney artists in the fashioning of their early films. Though the price is hefty at $50 (nope, that's not a typo, and it may be worth trying to hunt down cheaper online via Europe), any seriously self-respecting Disney aficionado should have a copy on their shelves.
Lastly today, as promised, Jeremie Noyer is back with the first of a couple of very cool pieces that highlight the release next Tuesday of Tim Burton's The Nightmare Before Christmas. Today we present a roundtable Q&A that Jeremie was able to sit in on, with director Henry Selick, and it's a bright and breezy peek behind the scenes at this truly unique movie, with some fascinating tidbits on the director's upcoming Coraline! Be sure to check back on Monday, when Jeremie will be posting another interview with one of Nightmare's crew, exclusively to Animated News & Views!
Stay tooned! – Ben.