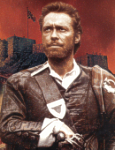 Well, well…last night was pure magic for me! We welcomed none other than Richard Todd to our screening of
The Dam Busters
as part of the
Elstree Film Festival
, and to say the man was as fluid with recollections on making the film as one might hope would be an understatement!
As well as a private, pre-screening dinner I shared with Richard and other members of the Elstree Screen Heritage group that were organising the event, he spoke at length for almost 45 minutes before the film itself, in a Q&A session for our gathered audience, with absolute clarity on his career.
I also managed to speak to him, as I'd hoped, about the three Disney pictures he'd made in the 1950s (The Story Of Robin Hood And His Merrie Men, Rob Roy: The Highland Rogue, pictured right, and The Sword And The Rose/When Knighthood Was In Flower) and was regaled with some terrifically amusing stories about the stunts and his friendship with Walt himself. What a wonderful, wonderful evening, and a wonderful man too.
---

The tradition of those live-action Disney pictures continues to this day, of course, and we're stepping back into the Narnian wardrobe as Jeremie Noyer continues his occasional series on the franchise's newest entry, Prince Caspian. Today he's speaking with Dean Wright and Wendy Rogers, the VFX gurus behind the breathtaking sights in the film, with the details on how many of those shots and sequences were accomplished!
We'll have more from Narnia, and Jeremie himself, over the next few days, including a peek behind the scenes of Pixar's latest blockbuster, so stay tooned! – Ben.