Apologies for the super-cheesy title, but for those interested in visiting this year's massive comic convention in San Diego, we have a very full and very extensive account of our experiences as we found our way around the town, the convention center, and then on to Disneyland for a couple of days of relaxation to get over it all! Although you may not have been able to attend, hopefully our story will give you a flavor of what the atmosphere was like, as well as the pros and cons of the Con itself.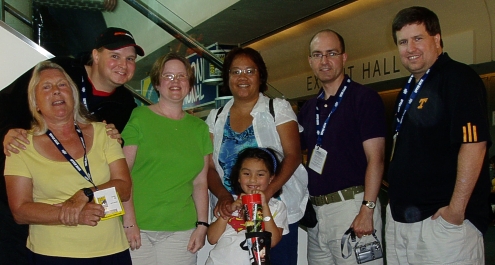 Regular readers will know that this was also the "historic" occasion that the "Three Amigos" behind Animated News & Views (myself, Randall Cyrenne and James R Whitson, above with our families) all actually met up for the first time, after knowing each other as cyberspace chums for a good few years. Our individual accounts on how we fared together "in the flesh" as it were, make up a segment of the Comic-Con report, and there's a bit of coverage on our tour of Disneyland too.
Although we've been back a week, this exhaustive article has taken all that time to pull together, so we're hoping that you'll take some time out to read it, and enjoy our three takes on the world's biggest geek fest event. It was tons of fun, and we're already talking about either re-visiting or how we can top it at Walt Disney World in a few years' time. Orlando here we come!
Stay tooned! – Ben.