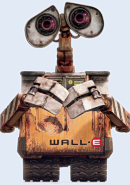 Despite my good intentions, I'm not able to bring you my promised take on the 45th Anniversary
Sword In The Stone
DVD today, because my computer has decided to lock me out of my Office 2000 programs and I can't access any emails! It seems this weekend is going to be spent trying to re-install and recover a lot of files…great!
In the meantime, Jeremie is back with another fine interview, this time with Tim Hauser, author of The Art Of WALL•E, Chronicle Books' latest addition to their excellent series of concept and production artwork tomes.
In addition to Tim's describing how he worked with Pixar on the creation of the book and how the pieces were selected for publication, you'll find a few handy pop-ups that allow for closer viewing of some of those concept works!
The book is out now, as is the film itself, of course, recently reviewed and given an enthusiastic thumbs up by James in our Toon Review.
We'll have more for you next week, including a pretty cool announcement that we're more than a little excited about, so enjoy the weekend and stay tooned! – Ben.