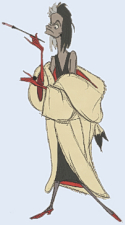 It only seems yesterday that we were excited about the Platinum Edition of The Jungle Book coming to DVD, but the series is back already with the big new release today of One Hundred And One Dalmatians – Walt Disney's tail waggin' classic, and one of my favorites, with a barking mad villain thrown in to boot! Yesterday, we brought you a chat with songwriter Mel (Cruella de Vil) Leven's son Bill, but we promised you more! Continuing the Cruella theme, today Jeremie speaks with legendary Disney animator Marc Davis' wife Alice! Marc, of course, was responsible for visually creating Cruella on the screen, and Alice – herself a Disney Legend – goes into how the villainess came about and quickly became one of the Studio's most loved-to-hate figures! The world was such a wholesome place until…Cruella, Cruella de Vil…
---
Woof woof! That's your final call to say it's nearly time for our Dalmatians giveaway to end – you have until midnight ET tonight to get your entries in to win the new Platinum Edition. While you're in Contest Corner, why not try out your luck on our Archie's Funhouse and Enchanted contests too?
---
Elsewhere on the site, last night I posted my take on the BBC's animated adaptations of The Beatrix Potter Collection stories. These are really sweet tales that have been lovingly brought to the screen, and while there are slight elements of danger and suspense, the fairly slow pace may put off those who don't know the original stories or have become too accustomed to flashy CGI. For everyone else, though, these three discs hold plenty of value and make up a nice little set.
---
Beatrix Potter was of course the subject of the recent animation-tinged Renee Zellweger biopic Miss Potter, a hearty recommend for anyone who was enchanted by Finding Neverland, and another film very much along those same lines (they even share the same cover design!) has just come to disc in the shape of Becoming Jane (Miramax, $17.99 from Amazon).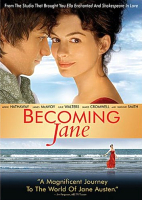 While not as frivolous as Shakespeare In Love, the film still has a bit of fun playing with the young life and loves of a twenty-year-old Jane Austen (Anne Hathaway) on her way to becoming an established author. With her parents leaning on her to marry one suitable groom, Jane's heart is taken with an amorous but penniless lawyer to be (James McAvoy), inspiring her not only to marry for love, but to start writing about it too…
With a pleasingly authentic performance by the always charming Hathaway, as well as jolly turns by solid backups Maggie Smith, James Cromwell (wheeling out his Prince Philip accent from The Queen) and Julie Walters, Julian Jarrold's film treads familiar ground (even heading into somewhat routine bittersweet heartbreak directions) but does so affectionately. I even didn't mind McAvoy too much, who comes off less annoying than usual because he's playing more roguish scoundrel than over earnest Hugh Grant wannabe, though while he has some good moments to get his teeth into, the rather flat chemistry with Hathaway's young writer doesn't quite provide the required sparks.
Miramax's disc provides a good way to catch the film: a 2.35:1 anamorphic transfer looks sharp, while a filmmaker commentary covers a lot of ground in behind the scenes anecdotes, even if it's not a be-all and end-all track. A self-explanatory 17-minute Discovering The Real Jane Austen featurette, pop-up Facts And Footnotes offering background info on the era, and a healthy number of Deleted Scenes (all rightly cut; the film still runs long at two full hours) round out a decent bonus package, all housed in a glossy slipcase. The sound mix is the only thing to belie the lower budget here, and though it looks handsome, the on-set recorded voices are sometimes hard to pick out against the music score. As a romanticised account of Austen's early years, Becoming Jane isn't as frothy as Shakespeare In Love or as fanciful as Finding Neverland, but there are still plenty of knowing nods to Austen's works for those that know them inside and out. As such, it's worth a look on DVD for those so inclined.
---
Back tomorrow with more Dalmatians (and a full review is on the way) so stay tooned! – Ben.