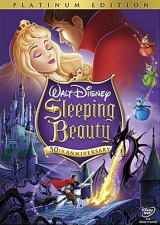 Okay, okay…I promised this for the weekend, but it's taken most of the weekend to complete – our comprehensive review of Disney's Sleeping Beauty: Platinum Edition. As one of the most anticipated releases of the year, we really wanted to go in-depth on the title, and as such I think you'll find my review is the most exhaustive you'll find, looking at the successes and failures of the film itself, informed opinions on the bonus features and the way they have been presented here, as well as extensive coverage of what's actually not been carried over from previous deluxe LaserDisc and DVD Special Edition releases.
If there's anything missing in here, it probably doesn't exist! Having spent much of the last week picking this to bits, and with a whopping thirty-four image selections, I hope you'll appreciate it as the definitive account on this new edition, including remarks on what Blu-ray owners can also expect. For the most part, it's good – really good – but falls well short of being as outstanding as it could quite easily have been.
So…that review caps off our Sleeping Beauty celebrations. Don't forget to check out our other content on the film, including Jeremie's interviews, right here:
Right, now back to my overdue take on Speed Racer…stay tooned! – Ben.