Have we got another kick start to the week full of new stuff for you! First up is the return of our Annual Academy Award Contest, where this year we have a Disney DVD bundle worth over $100 to give away to the lucky entrant who predicts the most correct winners at the the 2008 Oscars. All you need to be is a member of our Forum, and a hot-shot at educated guesswork! You'll find all the details right here, and don't forget that, on the evening of February 24, we'll be right here watching the ceremony and commenting live via the Animated News & Views chat room. Cool, huh?
---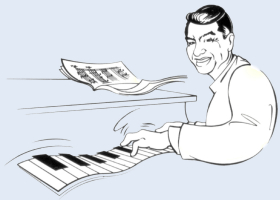 Next up today is something pretty special, an exclusive chat with legendary Disney songwriter Richard M. Sherman – an Oscar winner himself – who with his brother Robert, wrote much of the most memorable music and lyrics in the Disney canon. Today he's speaking with Jeremie about the creation of The AristoCats, fresh on DVD tomorrow in a brand spanking new Special Edition. Naturellement, as they say, we'll have a full review of that coming before week's end.
Of our current reviews, Randall has flown in with his take on the latest All-New Super Friends Hour series to hit DVD. As a sort-of fan of the show back in the day, I never realised that there were so many permutations of the program and that it went through so many changes. Hazarding a guess as to which version of Super Friends I grew up on, I'd think it was this one, and it sounds like it was for Rand too, who seems to have had fun catching up again with this edition – he calls it "a full package of stuff! Yes, most of it is pretty cheesy, but as a kid I thought seeing Wonder Woman warn against the dangers of petting a strange dog was kind of fun. I challenge you to not enjoy it on some level". I think the lad needs to keep his crush on Wonder Twin Jayna in check, though!
As for myself, The Ten Commandments – also out tomorrow – has me thinking that Mel Brooks was right, and there were, in fact, originally fifteen of the things, one of which stated that thou shalt not make terribly bad animated motion pictures such as this. While the script punches in all the required elements, and there are some good vocal performances, the animation is painfully amateur at times, trying its best to hide under some computer generated wow shots that do little to wow. A bonus is the movie's epic-sounding score on CD, which isn't bad for under $20, but otherwise there's nothing commanding about this latest, ultimately redundant version.
---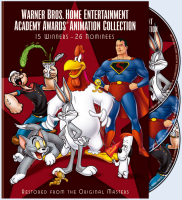 In anticipation on Warners' Academy Award Animation release on February 12, we've been sent a teeny, tiny clip from the end of Knighty Knight Bugs, one of my favorite Bunny cartoons and one of the many first timers to DVD contained within the collection. Just a reminder that The Best of Warner Bros. Academy-Award Winning and Nominated Animation will contain over 40 of the most celebrated cartoons of their time, from studios including Warner Bros, MGM and the Fleischers, and featuring characters such as the Looney Tunes, Tom & Jerry, Droopy, Superman and Popeye, as well as Tex Avery's Little Johnny Jet and Chuck Jones' High Note, plus over an hour of special features! There's also a single-disc collection of just the 15 winners, but the big box is the one to go for, and without a big slate of new year collections and a fair price point, WB should do pretty fine with this one. As for the clip, you'll find that in broadband-sized QuickTime right here!
Staying with Warners, but coming bang up to date with a slap, is their new release of the Aqua Teen Hunger Force: Season 5. For fans of this crazed Cartoon Network's Adult Swim show, head on over to our Contest Corner giveaway to grab a copy.
As always, look for other additions to the side over the coming week, and stay tooned! – Ben.