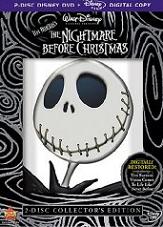 Wow, wow, wow! Are you guys in for a treat! Our review copy of Tim Burton's
The Nightmare Before Christmas
just showed up on my doorstep and I am knocked out by the packaging – and that's just for the standard definition DVD! That supposedly wonky drawn image of Jack's face on the font? Turns out that it's a plastic molded 3D press-out right on the front of the box! And, keeping it safe, it's inside another box, with a transparent slipcase holding it all together. Talk about your classy packaging…this is much better than expected and all the more so when one factors in the asking price for the $180 ultimate collector's set. Sure, you get a talking Jack bust, but I just don't think it's worth the extra bucks when the standard set will still look pretty darn snazzy on the shelf. I haven't seen the Blu-ray edition yet, but here's hoping fans picking up Burton's classic film on that format get just as much excitement from a box as I did!
Don't forget that our own Jeremie Noyer has been speaking to a couple of members of Nightmare's crew: director Henry Selick revealed some of the secrets behind the scenes in a roundtable discussion and, exclusive to Animated News & Views, one of the movie's storyboard artists Mike Cachuela has many amusing stories to share. Both interviews are extremely interesting to boot, and a great way to get your Nightmare experience rolling. The new discs are out in stores…NOW!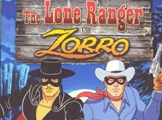 Jumping back a bit in time, and a good while ago we promised you a couple of reviews that, thanks to our Comic-Con break, we're only just getting around to completing now. First up, Rand's posted his take on the recent BCI collection
The New Adventures Of The Lone Ranger And Zorro: Volume 2
, which compiles the remaining episodes from both characters' series in one handy box, or as Rand puts it: "Two icons of the American West pursue evildoers on horseback, bringing justice to the people. Really, you just can't beat the classics, even when done in limited animation. Compared to a lot of the dreck that is out there today, the cartoons in this set are worth their weight in silver." Though some substandard audio and video threaten to sabotage the set, Rand adds that "these are still entertaining adventure stories, presented in classy fashion by Filmation".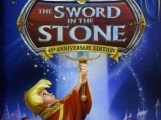 I also promised a review for Disney's recent re-issue of their 1963 animated feature. Is
The Sword In The Stone: 45th Anniversary Edition
worth picking up? In a word, "no". This new edition drops (from the previous Gold Collection) the hugely entertaining
Walt Disney Presents
special
All About Magic
, from 1957, choosing instead to only present Walt's opening introductory scenes from that show in favor of giving space over to a new game, which is ultimately redundant (it's one of those arrow key players where the keys don't actually control anything). So chalk this one up to marketing and hunt down the old Gold edition. For those with that already, there's nothing new to see here – even the transfer is a repeat. Dark magic indeed…
We've more on the way, so stay tooned! – Ben.