No sooner than one is out than the next one comes along! Despite my listing some new disc announcements yesterday, I went and forgot the biggest one of all, already the talk of many discussion boards – including our own AN&V Forum. So, in the interests of keeping my schnoz the same size as it's always been, I'll tell the truth and fill you in on what we know about the Pinocchio: 70th Anniversary Platinum Edition, set for release March 10 2009 on both DVD ($29.99) and Blu-ray Disc ($35.99).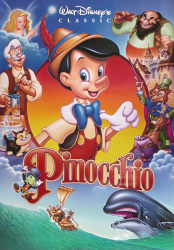 I have to admit that after the Platinums looked to be getting just about somewhat back on track with Sleeping Beauty, this next release in the frustrating line seems to be awfully light once more. Restored for a theatrical and VHS release that never happened in the early 1990s (from where the absolutely gorgeous artwork pictured right comes from), previously available in a movie-only Gold Edition DVD, and then announced for a Special Edition treatment that was released internationally but never materialized in the US, this will be the little wooden boy's second deluxe release, after a wonderful LaserDisc box set put out in the mid-1990s.
On DVD, this newly digitally restored edition will feature a Pinocchio's Matter of Facts trivia track, Audio Commentary (with Leonard Maltin, Eric Goldberg and JB Kaufman) and the usual Disney Song Selection…pretty slim pickings for a disc only holding a 75-minute film. A second disc will add the No Strings Attached: The Making Of Pinocchio documentary, newly discovered Deleted Scenes (The Story Of The Grandfather Tree, In The Belly Of The Whale and an Alternate Ending), The Sweat Box (no, not Trudie Styler's feature film, but a featurette on Walt's projection room critiques, Live Action Reference Footage, Art Galleries, Deleted Songs (an actually pretty cool and unique sounding audio collection of period recordings of songs not used in the final film), and the Pinocchio Puzzles game. The Blu-ray additionally counts the Cine-Explore, BD-Live features and Pinocchio Knows Trivia Challenge as exclusives, as well as the first disc from the standard definition DVD set for those between upgrading their players.
But…where is anything on the film's breakout character, Jiminy Cricket, and his continuing role as a master of ceremonies in Disney's films and TV episodes? He's the only character to have successively shown up as a personality in his own right in additional features (Fun And Fancy Free among them) and was, for a long time, second only to Mickey himself and as important to the Disney brand as Tinkerbell. Where are the handful of Jiminy's much-requested I'm No Fool… educational shorts; a topic of great fascination for collectors, or one or two of the Disneyland programs that he "hosted"? Likewise, where are the three cartoon shorts featuring Geppetto's furry friend Figaro the cat? Surely a natural inclusion even if a small fraction of hard-core fans already own them in the Pluto Treasures set? There's also tons of vintage production Studio footage, all shot around the time of Pinocchio's making, and where are the original theatrical and re-issue trailers?
Hopefully these things are still to be revealed, but I doubt it. Unfortunately it looks like another one of my favorites of the early Disney features is about to be given the short stick again, and although hi-def restorations are nice, we've seen these films a thousand times. It's the extras that hold the gold for many, but Disney continues to deny real collectors the kind of pre-existing, simple to include bonuses that should be no-brainers on packages like these.
Ho-hum…stay tooned! – Ben.