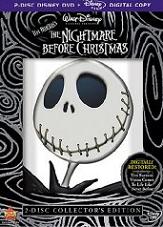 It's a little early in the year, but tomorrow Tim Burton's ultimate bad dream, The Nightmare Before Christmas finally comes to DVD and Blu-ray in the kind of collector's package that the film has always screamed out for. Even fans of that amazing LaserDisc box set that came out in the mid-90s are going to be tempted by the new picture restoration and bonus features found in the set, and you can be sure that a review is on the way from us.
In the meantime, Jeremie Noyer continues his journey behind the scenes of the stop-motion classic, speaking today to Nightmare Before Christmas' storyboard artist Mike Cachuela about his experiences on the film and the career path he's followed since, which has seen a continued collaboration with director Henry Selick and a fair amount of dabbling at Pixar on some of their most successful projects. Jeremie's discussion with Mike reveals some interesting and often amusing anecdotes too!
Also new today is my take on a recent independent animation film, The Chosen One, an on-off satire on religion that could, in all honesty, used a bit more bite. In this day and age when crudity often passes for humor, it's refreshing when a sly comedy can make its points without resorting to profanity or gratuitous imagery, but in this case a little more acid sprinkled throughout could have worked wonders. It's got good notices on Amazon.com, where the DVD is available from tomorrow, but apart from the staccato animation, which I would otherwise take no issues with, it was the script that lacked that all important pulling factor for me.
Back soon with much more, so stay tooned! – Ben.