Meet Madame Tutli-Putli and one of her directors!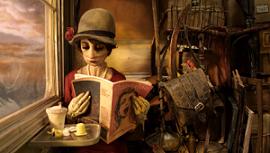 We've a great way to end Oscar week, with Jeremie's latest interview. Today he's speaking with Marciek Szczerbowski, the co-director of Madame Tutli-Putli, nominated for a Best Animated Short at this year's Academy Awards. I've not yet had the pleasure of seeing Marciek and Chris Lavis' film, but it looks wonderful, and hearing Marciek talking about keeping a level of mystery to the film's story and the reasons why is inspirational. I couldn't agree more with the two directors' ethos on movie making, and it's just so refreshing to hear such smart words coming from younger talent – they obviously have a precise vision and will hopefully be able to fulfill their future ambitions. Based on the considerable thought behind their film, which is created in the stop-motion medium that I'm a big fan of and that I hope to see soon, I wish them all the best. I think you'll enjoy meeting them – and Madame Tutli-Putli – too!
Have a great weekend, and we'll be back with more updates – and a lot of Dalmatians – from Monday, so stay tooned! – Ben.

---