After the excitement of Oscar weekend, things get a little bit more routine today, with Rand's latest take on another Warner reissue in their new deluxe line of
Peanuts
animation releases.
It's The Easter Beagle, Charlie Brown: Deluxe Edition comes to disc just in time for annual egg-hunts everywhere, and Mr Cyrenne seems to like the new upgrade, especially the glossy slipcase and new featurette. Calling the two included specials "among the best the Peanuts cartoons had to offer", the only thing that it seems we must not mention is The Wiggles!
---
Also today, I must just make a mention of Film Score Monthly's latest scrumptious box set release, Superman: The Music, 1978-1988. The folks that brought us the terrific collection of Scott Bradley's MGM cartoon music Tom & Jerry And Tex Avery Too have out-done themselves. It's not small (at eight compact discs) and it's not cheap ($120 plus shipping) but it sure looks purdy: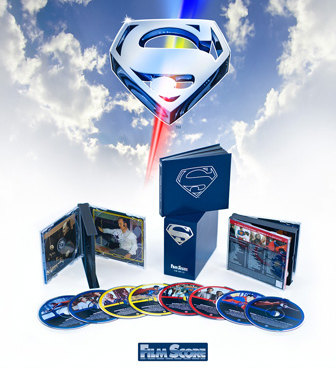 Featuring newly remastered full scores for all the Christopher Reeve movies (yes, including III and IV: The Quest For Peace), plus incidental source music, plus alternate takes and a disc full of cues from the 1988 animated series (can you tell I'm excited yet?) – and a 160-page hardcover book that chronicles the musical productions of all the scores and speaks to the composers involved, with cue-by-cue analysis, this is the "largest collection of Superman music journalism and documentation ever attempted" as the notes confirm. As a little something out of the ordinary, Superman: The Music, 1978-1988 (a direct order from Screen Archives and limited to just 3000 copies) sounds like the audio set of the year for score fans – pretty super!
We'll be back tomorrow, talking to the creators of the Oscar-nominated Madame Tutli-Putli, so stay tooned! – Ben.