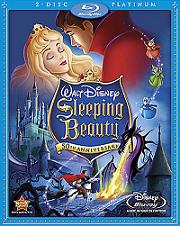 You know, what with having the film on VHS and LaserDisc, and it enjoying a fairly recent DVD release already, I promised myself that I wasn't going to get too excited about Sleeping Beauty's addition to the Platinum Edition line, especially since that collection has gone downhill since the schedule was switched to two and year and because Walt's 1959 film was never supposed to be part of the line-up!
But Disney being what they are hasn't stopped them swapping around releases and making big things of their plans and, like any sucker for this stuff, now that Sleeping Beauty has arrived, I must say the bug has bitten. Our copy came in last week, which means a review is imminent, but in the meantime whatever we say about the release isn't going to stop most of you rushing out today to add it to your collections…Disney is predicting huge sales, and I do expect those numbers will be met, especially in regards to the Blu-ray format: records will be broken, me thinks.
In the meantime, Jeremie Noyer has been busy putting together a trio of celebratory articles in recognition of the new edition, speaking to the creators of the film and those who oversaw the restoration for this release. We'll be adding those during this week, but starting us off is Jeremie's exclusive conversation with none other than Princess Aurora herself, vocal actress Mary Costa. Jeremie's articles are always in-depth, but this one is quite exhausting even for him, and a terrific read for fans of the film! Don't forget that there's more from where this came from, and I must say having had a sneak peek that you're in for a treat!
Stay tooned! – Ben.