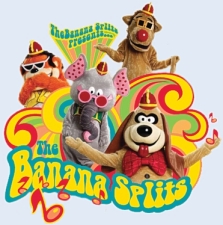 One banana, two banana, three banana, four…The Banana Splits are coming back to TV! Cartoon Network and Boomerang will debut the return of the Splits on Tuesday, September 2, as part of a multi-platform reintroduction to Fleegle, Drooper, Bingo and Snork that will see them pop up in comedy shorts, music videos and live shows. It's all a bit young kid-orientated, but head on over to BananaSplits.com for more, including that infectious theme song! Tra La La…!
It's a great time to be collecting movies of all vintages on DVD and Blu-ray, and as we slowly rack up our reviews of recent releases, here's a quick look to the future for some big upcoming titles.
• Iron Man is about to become a hit all over again on both DVD and BD ($29.99 and $39.99 respectively) from September 30. Extras on the two disc sets will include eleven deleted/extended scenes, a teaser for Armored Adventures, fifteen behind-the-scenes featurettes including two lengthy documentaries on the film's making and the character, Robert Downey Jr's test footage, and a 175-image still gallery. The BD (whose video extras are all hi-def) adds a "Hall Of Armor" 3D option and BD Live features including a trivia option.
• Indiana Jones And The Kingdom Of The Crystal Skull will try to impress again on October 14, in two disc DVD and BD sets, both priced at $39.99. Extras include eight featurettes, the six-part Making Of The Crystal Skull documentary, pre-viz sequences and five galleries, including one marked The Stan Winston Studio. Blu-ray has all this in hi-def, as well as three interactive timelines, covering Story, Production and Historical aspects. I tried the film twice in the theater and both times it failed to capture the magic, so maybe three times the charm? As with TransFormers, I expect the bonus package may outweigh the movie!
• Alvin And The Chipmunks: Special Edition, which comes as no surprise, will hit stores on November 14, including featurettes, deleted scenes, music videos and a digital copy for $29.98. What more can be said?
• The Chronicles Of Narnia: Prince Caspian comes to disc on December 12, with extras still to be announced, but expected to include commentary with cast and crew, behind-the-scenes featurettes, deleted scenes, games and "more". The two disc DVD will set you back $39.99, while the Blu-ray's pricing is slightly more inviting at $35.99.
• The Polar Express: Presented in 3D is just one of Warner's upcoming double-dips. Featuring four sets of 3D glasses (it's not clear which process is being used here), the title will be out on both DVD ($20.97) and BD ($34.99) on September 28. The original flat version is included as well, along with a digital copy and a smattering of what look like new bonuses in addition to the original discs' extras.
And don't forget that next week sees the debut on Blu-ray for Tim Burton's The Nightmare Before Christmas, also finally coming to standard DVD in a decent package too. We'll have some very special content up to celebrate that from the weekend, as well, of course, as a full review coming soon.
So…stay tooned! – Ben.