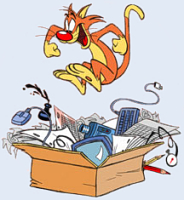 One of the unexpected highlights of our recent trip to the
San Diego Comic-Con
was my bumping into animation legend Eric Goldberg and being able to have him sign a copy of his new animation "how to",
Character Animation Crash Course
. In fact, my mixing up autograph session times almost had me miss him altogether! Luckily, I was in the wrong place at the right time, perusing a second hand book booth and picking up a few finds, when I overheard someone saying that Eric would be along shortly. I already had his book in hand, and to my good fortune, I turned and found him looking around the vintage books himself! Eric's been a good friend to the site, chatting with our own Christian Ziebarth in the past, and he was very complimentary about our efforts, kindly signing my book before the official line started so that I could rush off to another panel. Thanks, Eric!
All of which brings us to today's new and exclusive interview with the man himself, as Christian speaks with Eric Goldberg on Character Animation Crash Course itself: the history of how Eric's years and years of notes finally came to be collated in print, and about what makes this new book different to other animator's guides in the past, as well as Eric's philosophy on animation and his thoughts on the future of the medium. As you'd expect, he has some fascinating things to say!
And that's not all, folks – we have a copy of the book to give away to one lucky reader, thanks to Silman-James Press! Just head on over to our Contest Corner, animated your way down to our entry form and draw your details in (before Sunday September 7 2008) for your chance to win – it's that simple!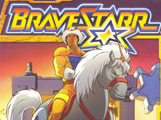 Elsewhere on the site, the reviews just keep on comin', as Rand offers his latest, for Bravestarr: Volume Two, the second and final collection of the futuristic sheriff's adventures. The release is also important, of course, for presenting the final shows in Filmation's legendary history; it wasn't long after these programs aired that the studio closed down. "Bravestarr has an unfortunate history, but it encompasses many of the things that Filmation always tried to achieve", says Rand. "They specialized in American-made animation that sought to entertain as well as instruct, and that shines through. I still find it to be an odd premise for a show, but the series is probably the sharpest-looking thing Filmation ever produced. As someone who prefers sci-fi to fantasy, I'll take Bravestarr over He-Man, thank you".
Have a great weekend, and don't forget to check in from Monday, when we're going under the sea for the first in Jeremie's new Little Mermaid series! We're good to you, right?
Stay tooned! – Ben.