It's one of those "if only" moments in the history of the movies. If only Disney and Spielberg hadn't had a falling out over ownership of the Roger Rabbit character. If only the costs projected to make a sequel to the amazing Who Framed Roger Rabbit hadn't gone through the roof; something I still don't quite understand as, since that film's debut, we've had several similar such films, or varying degrees of success, that didn't seem to be too expensive to produce.
Well, Who Discovered Roger Rabbit never happened, but today we lift the lid on what the movie might have been, as our own Jeremie Noyer speaks with Alan Menken's lyricist Glenn Slater, who was to have co-written the various musical numbers originally conceived for Roger's return to the screen, in a 1930s set Hollywood song and dance prequel. The reason for the return to the public eye of the proposed film is down to Broadway's Kerry Butler's recording of This Only Happens In The Movies, one of the Rabbit prequel's songs, newly completed for her latest album, Faith, Trust And Pixie Dust, a collection of Disney standards and surprises.
It's a great little chat with Slater, that touches on what a fun-filled movie Who Discovered Roger Rabbit might have been. Surely it's still not too late to head into ToonTown again?
---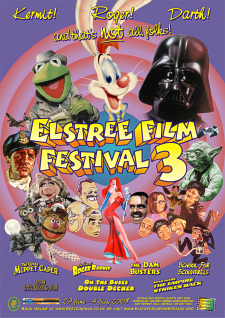 Speaking of Roger Rabbit, I've been looking for a neat association to plug this year's Elstree Film Festival, and this looks like it! Robert Zemeckis' 1988 movie is one of my favorite films, and I'm extremely pleased to have gotten permission from Disney to screen it (in a family matinee double bill with the equally entertaining The Great Muppet Caper!) as part of Elstree Film Festival 3, a week-long celebration of classic movies made at the historic Studio which I'm lucky enough to not only to be based at, but is situated right here in my home town, just outside London in the UK.
Putting a film festival together – even one that only lasts a week – is a pretty heavy proposition, which explains why I've not been as on the ball with these Tooning In columns as of late. Hopefully, with the publicity now up and out there, I'll be a little more free to drop in here more often!
Last year's festival was a sell-out success, and we're hoping this year will be too. I think it's our best line up yet, featuring some solidly good classics. We're especially thrilled to be welcoming none other than Richard Todd to our screening of The Dam Busters, and for any old time Disney movie fans, that name will be familiar to you as the star of Walt's three English-set period pieces from the early 1950s, including the Elstree-shot Rob Roy: The Highland Rogue, which I am excitingly looking forward to speaking to Richard about! Here's what else we have in store:
• Family Features Matinee Double Bill: The Great Muppet Caper and Who Framed Roger Rabbit – Sunday June 29 from 2pm (Muppets at 2pm, Roger Rabbit at 4pm), with a special Family Ticket rate for both movies inclusive!

• The Dam Busters – Monday June 31 from 8pm, with Richard Todd in person!

• School For Scoundrels – Tuesday July 1 from 8pm, the classic 1960s original!

• The Shining – Wednesday July 2 at 8pm, original and uncut, with Q&A guests!

• On The Buses Double Decker – Thursday July 3 from 7:30pm, Mutiny On The Buses and Holiday On The Buses, with writer and producer Q&A between showings!

• The Empire Strikes Back – Friday July 4 from 8pm, with very special guests!
Once again the event is being staged by Elstree Screen Heritage, of which I was a founding member, and we have a number of guests and surprises for the other screenings; each film will be presented with an introduction and a Q&A session after the screening, where appropriate. Tickets for Elstree Film Festival 3 are now on sale both from the Heritage website and the Reel Cinema venue itself, and if any of our UK readers do manage to get along be sure to get one of the volunteers to point you in my direction and say hi!
The inclusion of some animated material this year makes my plug a little less shameless, but as last year, I'll sign off today with a nudge to check out a bigger version of the poster I've put together for the event…follow the "More" link below, and spread the word!
Stay tooned! – Ben.