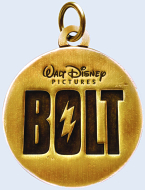 More from the production of Disney's latest today: with the art developed and the characters designed, it's time for the animation to begin! As such, Jeremie exclusively talks to Bolt animator Cinzia Angelini about her fascinating career (including a very brief stint on Toy Story 3 at Disney's doomed sequel lab Circle 7 Animation) and, of course, her new movie. Cinzia, who's now at Warner Bros and hoping for a revival of an animation unit at that Studio, describes Bolt as a real return to form for Disney Animation. I'm very much looking forward to catching up with it soon!
---
Elsewhere on the site, do check back over the weekend for my take on Kung Fu Panda, coupled with its Secrets Of The Furious Five bonus short on DVD, which I can't quite see making to the site by tonight, but will certainly make sure springs up very soon!
In the meantime, we've a new contest for The Chronicles Of Narnia: Prince Caspian, a giveaway for the Special Edition DVD that features the movie, a disc of supplements and an extra digital copy disc for those on the run. Not sure who wants to watch these big screen epics in this tiny way, but it's there if you want it! By the way, celebrating the film's release next week, Jeremie will be back with a little extra on the film's massive Beruna Bridge sequence.
Have a very happy Thanksgiving weekend, and stay tooned! – Ben.