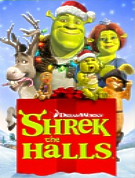 Welcome to a new week! We've official word from DreamWorks this morning, on that stand-alone release of
Shrek The Halls
on DVD, the cover art for which can be seen on the right. Promising "fun and interactive holiday-themed bonus material to get the whole family celebrating, including a sing-along version of
The Twelve Days Of Christmas
starring the entire gang of characters from DreamWorks Animation's
Madagascar
, a unique take on
Deck The Halls
with the hilarious
Madagascar
penguins and sing-along lyrics, a
Gingy Dunking Game
that tests your matching skills, plus a
Shrek Carnival Craze
game demo and cheat codes", the special
will
be available as a single disc in either full screen or widescreen, as well as in a special two-pack with
Shrek The Third
and in limited edition holiday packages featuring Christmas plush figures of Shrek, Puss, Donkey or Gingy.
So…better than nothing, but at just 22 minutes they've decided to fill the disc with space consumers rather than legit extras, such as a commentary, featurette and, as you might reasonably expect, The Madagascar Penguins in A Christmas Caper short. English, French and Spanish Dolby 5.1 and subtitles are bundled in, as well as that old standby, the DreamWorks Animation Video Jukebox, which merely promotes other DWs titles while using other peoples' songs. Shrek The Halls, which is otherwise a funny little Christmas special, comes to disc on November 4…just in time to buy it before most realise it's then playing on ABC again a month or so later…!
---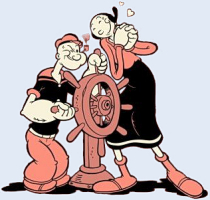 As promised last week, Rand's dropped in with a full review for this summer's release of
Popeye The Sailor: Volume 2 1938-1940
, the second collection of bona-fide classic black and white Max and Dave Fleischer animated cartoons. These
Popeye
s are the real deal, as you all know, and it's great they're finally coming out in very fancy editions, even if this two-disc set only presents half of the four discs we were originally expecting (we'll need to wait for the second half, coming out as
Volume 3
, on November 4). As usual, Rand packs his review with some historical context and, not having had the chance to check out the set myself, has got me itching to do so! He also rightly points out that the Popeye formula could have been in danger of repeating itself over and over, but the Fleischer artists remained adept at creating new and interesting variants on the theme, which is why they've survived so long and continue to entertain. As Rand says, "I simply love these cartoons", and I couldn't agree more!
If you need to catch up, don't forget about Volume 1, reviewed here, in this series, which made number one in our Best Of 2007 listing last year, and we also ran a heap of Popeye articles in celebration of that release, including the sailor man's story, interviews and related reviews! And if you're still waiting to pick up Volume 2, it's currently going cheap at just $25.99 at Amazon. Remember, using our link helps support the site, so it's twice as good a deal!
Stay tooned! – Ben.