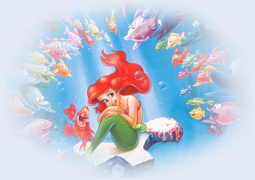 Howdy, howdy, howdy! I guess most of you have been spending the weekend going through those new Disney discs of The Nightmare Before Christmas and Ariel's Beginning! We're going to have reviews for both up real soon (in fact, check back later today when I hope to have the new Mermaid title covered), but in the meantime, we're finally swapping out that banner for our Comic-Con International trip write-up above for one highlighting Jeremie's exclusive new interview series.
He's still beavering away on getting a few of the names in place, so we'll be adding these every couple of days instead of daily, but you can check out the full line-up right here. We're going under the sea and behind the sea-nes (sorry!) for a look at the world of The Little Mermaid, speaking to such names as Jodi Benson about how she brings Ariel to life vocally, as well as some of the writers, artists and composers who created Ariel's Beginning. Then, we're going to take a sneak peek at the new Broadway production of the original animated musical, before speaking with two very special people as we remember the lyricist on those wonderful songs, the inimitable Howard Ashman.
There's a lot coming up, but we begin today with the voice of Ariel herself, Jodi Benson, speaking about how she landed the part for the 1989 classic and how she's acted as Ariel's protector over the years, even helping to steer the new film in the right direction from the little mermaid's point of view. So…take a deep breath, dive under the waves, and become part of her world!
Stay tooned! – Ben.