We're well into the awards season, with both the animation Annie Awards and the British BAFTAS being handed out over the weekend, and Ratatouille the big Feature Animation winner at both. It can only be a matter of time before director Brad Bird adds the ultimate golden statuette – the Oscar, of course – to his growing collection of accolades for his brilliant film. Incidentally, that very same movie is getting the 2-disc DVD treatment after all…but only in the UK. Quite why the US edition, released last , couldn't have included the Building Paris featurette, Character Profiles, Progression Reel, additional Deleted Scenes, trailers and more, is beyond me, since the material was obviously available. For those interested, the UK HMV website has an exclusive edition with four art cards…needless to say that most if not all this material is available on the Blu-Ray release. I'm all for hi-def, but something's not right when perfectly valid stuff like this is being held back.
---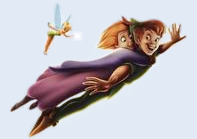 Guess what!? Jeremie's back with another Monday morning interview, and this time he's talking to Return To Neverland composers Jonatha Brooke and Joel McNeely about the spirited music they brought to perhaps Disney's most successful of their recent sequel movies. Whatever else, the discussions with these two composers really does highlight the fact that, while these follow-up films were made with nothing but money-making franchise extensions in mind, there were at least a few folks with their hearts in the right place, trying to do some justice to Walt's originals and their legacies. Return To Neverland remains a bit of a favorite around here, and these two chats come courtesy of the recent Pixie-Powered Edition of the film.
---
Lastly this morning, check back soon when we should have the winner of that Aqua Teen Hunger Force: Season 5 giveaway…head on over to see if you're that guy! Don't forget that this year's edition of our annual Academy Award contest is still open, and we're giving away a Disney DVD bundle worth well over $100 to the lucky person who correctly predicts the most wins!
Hey, more awards – this is about where I came in! Stay tooned! – Ben.