Ariel's Beginning's composers sing, and Open Season 2!?
Jeremie – who has a heap of really cool interviews on the way let me tell you, is back today, continuing his journey under the sea for our Little Mermaid interview exclusives: and what a catch! Just posted are his discussions with two of Ariel's Beginning's most prominent crew members, the musical minds behind the songs and score of the film: songwriter Jeanine Tesori (also of the upcoming Shrek: The Musical and Glen Keane's Rapunzel) and composer James Dooley, formerly a collaborator with Hans Zimmer on many major motion picture scores. For those both for and against the new movie, this is a very insightful read in more ways than one: it seems its strengths and weaknesses are acknowledged by the composing pair and, though I didn't care too much for the overall final result, it's clear they both know and understand their art, and I have great faith in their future projects.
---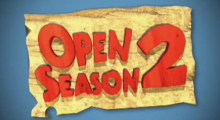 Now…here's a thing: I vaguely knew somewhere in the back of my mind that we were going to be "treated" to another Open Season movie, but I had no idea it was so close to completion and on the brink of release as…a direct to video title. But, yes, Open Season 2 is indeed coming on January 27 2008 to DVD ($28.95), Blu-ray ($39.95) and PSP ($24.94), with the voices of Mike Epps, Jane Krakowski and a returning Billy Connolly (what, Martin Lawrence was too busy?). It's no secret that I was no fan of the first outing, which I simply feel was marketed incorrectly and might have made more impact if the teenage crass comedy it was hadn't been promoted as a cuddly family flick, but this one sounds more fun, about a domesticated dachshund (the same one from the original, I'm assuming) who escapes home to join a group of woodland creatures in the great outdoors. The disc will include bonus featurettes, games, deleted scenes and a music video, with the BD adding an exclusive game and Live features. Let's hope it's more enjoyable in the woods second time around, even if, going by this teaser trailer, the humor remains as potty orientated as before…
Stay tooned! – Ben.

---