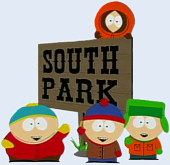 Just a quick update before we see the week out, to point you in the direction of our latest review: my take on the recent release of the South Park: Imaginationland trilogy. This gathering of three episodes from the always outrageous program has been stitched together in a single movie form, presenting about as close as we're likely to get, so far, to a movie sequel. It's not as accomplished as Bigger, Longer And Uncut, of course, but there are some major mouth droppers in here – not least the merciless pokes at the many childhood icons that reside in Imaginationland. The trilogy will of course find its way to disc as a three-parter in a season eleven boxed set, but a clutch of half decent extras might tempt those who wish to see this alternate version sooner.
Also today, we have the winner of that Tom & Jerry Tales giveaway. Apologies for the wait, but the lucky name grabbing a copy of Volume 4 is Jeff Cook of Auckland, New Zealand. Happy cat and mousing, Jeff!
Have a great weekend, and stay tooned! – Ben.