Well it's all over bar the fighting! In a fairly open contest the Academy Awards were presented last night under the watchful gaze of an estimated television audience of three hundred billion trillion (give or take one or two). It was somewhat No Country For Old Men's night (with four wins including Adapted Screenplay, Direction and the biggie, Best Picture), but no one film came away as the kind of truly clear cut winner we usually see each year (though The Bourne Ultimatum came a close second with its three technical nods), which it has to be said was down to the eclectic mix of mostly independent and/or more arty pictures that were in competition. That's not to say the nominated films did not deserve their recognition, but it's doubtful any win is going to boost the box-office of more than a handful of the titles on parade.
It was, as ever, an entertaining show, if a little more deflated than usual. I'm not one for Oscar bashing – I like the spectacle, the on-stage presentations and can even handle the length. You won't find me arguing that it's an overblown ceremony as many people do (though I think they're just faking). Host Jon Stewart returned to make light of recent events in moviedom, though his opening comments were remarkably dry and leaned too close to political winds for a movie show. As for the awards themselves, the Best Animated Feature went, as we all perhaps hoped and predicted, to Brad Bird for the amazing Ratatouille, with Best Animated Short going to Suzie Templeton and Hugh Welchman's Peter And The Wolf. A shocker was the decidedly sub-par Visual Effects of The Golden Compass picking up a win over the seamless CG of Transformers (even if you couldn't see what was happening in that film for most of the time).
It was good to see Javier Bardem deservedly collecting an additional win for his deadly heavy in No Country For Old Men, and Dante Ferretti and Francesca Lo Schiavo grabbing some Art Direction love for Sweeney Todd: The Demon Barber Of Fleet Street, my pick of the year so far. I was also pleased to see Didier Lavergne and Jan Archibald's Make-Up win for the striking Edit Piaf biopic La Vie en Rose, as well as leading actress Marion Cotillard for her portrayal of the French singer – not since Ed Wood has their been a better compliment of prosthetics and performance to capture a personality on screen. As predicted, Enchanted's three nominations for Best Song split the vote, leaving Falling Slowly from Once with the award, while Ratatouille's multi-layered Best Score was robbed by the "trying too hard" Atonement. The Rat also lost out in the Original Screenplay category too, though the eventual winner was the widely favored Juno. All in all it was mostly business as usual, but not a truly memorable banner year for Oscar.
---
Now then, sticking with a Ratatouille Oscar-mode of sorts, we've a couple of treats in the shape of our two new interview articles from Jeremie Noyer. He's been chatting away to two of the Rat's biggest influences: story originator and initial director Jan Pinkava (covering his Pixar career from Geri's Game to Ratatouille) and score composer Michael Giacchino. In an interesting twist, both these gentlemen were involved in the making of the film at opposite ends of production, and hearing about Pinkava's contributions to the storyline and the intentions Giacchino wanted to create with his final score is highly fascinating stuff indeed!
---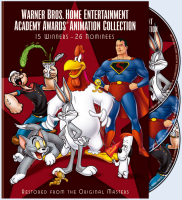 Recently released to coincide with the Oscars of course, was the Warner Bros. Academy Awards Animation Collection, a three-disc set comprising 15 actual winners and 26 nominated cartoon shorts. While image quality isn't as fully restored as the sleeve may indicate, a lot of this is to do with a fire that destroyed many first-generation MGM elements – this is as best as can be done, folks. As my comprehensive review reveals, there are many reasons to pick up the set, not least some new to disc Looney Tunes, new commentaries on previously released cartoons, plus the Bugs classics A Wild Hare and Hiawatha's Rabbit Hunt restored with their original titles. Yep, there's a little double dipping, but I think Warners have priced this well (by the time you grab it online) and the new content – including the exceptional new Drawn For Glory documentary – and unique idea is enough to make this well worthwhile.
---
And the winners are: Daniel Morrell (from Weymouth, MA) and Jeremy Gatesman (Charlottesville, VA), who each win a copy of said Warner Bros. Animation Collection from our contest last week. We've also just launched three new giveaways, for Archie's Funhouse: The Complete Series, Walt Disney's One Hundred And One Dalmatians: Platinum Edition, and their recent box-office hit (and Oscar nominee!) Enchanted. So jump on over to our Contest Corner and try your luck! Finally today, our own Academy Award winner – the lucky reader who gets to grab our Oscar Contest Disney DVD bundle worth over $100 – is forum member MrDy83! Congratulations, and thanks to all who entered and joined us for our live chat commentary. Fun, wasn't it!?
Phew! We'll have more reviews and interviews coming up in the next couple of days, including a conversation with the nominated Short Animated Film creators of Madame Tutli-Putli, so stay tooned! – Ben.