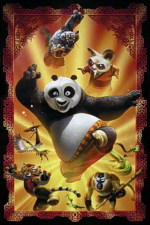 With the Elstree Film Festival behind us (even though we're still clearing up after that event!), I had the opportunity yesterday to catch up on all the movies I've missed over the past three weeks, so sat in at my local for a triple bill of Prince Caspian, Kung Fu Panda and Hancock (I would have added Wanted too, but the schedules clashed so I'm hoping to see that tonight). It's a pretty interesting summer so far, with a handful of franchise pictures but not the glut of sequels we've been flooded with over the past couple of years. I'll jump right out and say that I'm with popular opinion on all three: the early morning screening of Caspian that I caught was full of kids that sat squirming in their seats without enough to interest them on screen and an ultimate final battle that felt like a weaker retread of the original. Simply, nothing really happens in the book, and nothing really happens in the film, unfortunately, and was it me or did the novel's distillation leave at least a couple of plot points confusing?
Kung Fu Panda, on the other hand, was everything our own James R Whitson said it was in his Toon Review – and more! Is it DreamWorks Animation's best movie? Well, for me, not quite. Panda is certainly the best looking cinematically, with a real step up in framing and choice of shots from its directors, but I didn't find it to be the most well written, and therefore not the best overall effort. The lack of pop-culture references was a big plus, and the voices were expertly cast and played, but the story was just a little bit too simple. Yes, that's also one of Panda's messages, but I think they could have added a bit more meat to it. That's not to say that the movie isn't up there with DreamWorks' best, and if you can't get in to WALL-E, it's an excellent recommendation. Don't forget that Jeremie Noyer recently spoke to the film's directors, and a good deal of just why Kung Fu Panda turned out so well can be found in their conversation.
There's more of a mixed bag with Hancock, which swerved from blockbuster thrills to an odd tonal shift in quality and direction, perhaps a result of usually low-budget helmer Peter Berg being given the big-money reigns. After a good opening, Berg almost throws away the high concept premise for a bunch of nonsensical plot diversions, and skips on what could have been something really interesting: instead of having the usual big burly villain coming back for revenge, how about having someone closer to Hancock (and those who have seen it will know who I mean) wanting a fuller revenge? The "twists" were nothing of the sort – it's painfully clear there's something up with Charlize Theron's character from her first shot – and though I didn't mind the dramatic turn mid-way, I'd agree with others that the cinemaphotography is often oddly overwrought throughout, and that everything plays out to tie up way too neatly at the end.
---

Heading back to Narnia, and a couple of genuinely positive notices can be accredited to the visual effects, which we've been covering in several interviews recently, and indeed to the musical score, which more often than not was busy keeping scenes consistent and acting as the very strong glue that held the story together. This was, of course, the work of prolific
composer Harry Gregson-Williams, interviewed today
by Jeremie, and who speaks about the layering of themes from the first film and the introduction of new material. It's unfortunate that he won't be returning to Narnia for the next film, but with a new director on board in the shape of Michael Apted, it will be interesting to see where the franchise heads off.
---
Finally today, Rand's back with another review, this time for The Jungle Book 2: Special Edition. I remember covering the original release way back when, and had a smile on my face while reading through Rand's update since we've pretty much independently written the same comments! Ultimately, the film acts like a "greatest hits" package of the original, leading to an oddly watchable entry in Disney's direct to video sequels, even if it can't (obviously) hold a candle to Walt's 1967 classic.
Stay tooned for more, including my Animated View on the new Sword In The Stone DVD! – Ben.