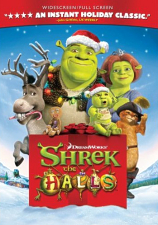 With working on several upcoming reviews (for WALL-E, the new Treasures and Kung Fu Panda among them) this week, it's been a bit spotty on the front page, but hopefully we'll make it up to you right now!
Eagle-eyes will have found James' promised comments on the current theatrical release of DreamWorks' Madagascar: Escape 2 Africa that he posted earlier this week, which he at least seems to have come away entertained by, if not being too impressed overall.
Those Madagascar Penguins turn up again in the extras for Shrek The Halls on DVD, and our latest review looks at the just-released single disc edition of last year's television special. Though those non-feathered birds make a showing in the supplements, the obvious inclusion of their Christmas Caper goes missing, and the lack of anything else even half-decent makes this a bit of a pricey way to catch something you can ultimately see on TV for free.
Rand will be along over the weekend with his remarks on Tinker Bell, John Lasseter's reworking of this long-delayed DisneyToons franchise starter, but in the meantime, and preparing us for those Treasures next week, Rodney adds another animated set's coverage to our line-up, for the original Silly Symphonies collection from way back in the series' debut on disc in 2001. Still one of the best of these wonderful sets, it's well worth trying to find a copy.
---
Also, for one weekend only, we're offering the chance for one lucky winner to grab a copy of Disney/Pixar's latest, in our new WALL-E contest that's just launched for the 3-Disc special edition on DVD. But be quick – the contest closes on release day, November 18, after which we'll announce the winning name – and even if you plan on buying another version you may want to check out the clips we've embedded into the contest page…pretty cool stuff!
---
We'll round out with some new announcements: the $12.1 million-grossing Fly Me To The Moon is due on December 2 for $25.99 on DVD from Summit, and will include a planetarium game and two pairs of 3D glasses. Serious film fans will want to check out The Films Of Michael Powell, from Sony on January 6 2009 for $24.96 on DVD, which is the second release in the Collector's Choice series and includes two of the director's works, Age Of Consent and – one of my all time favorites – A Matter Of Life And Death (also known as Stairway To Heaven), hopefully in the recent restoration version that we've been waiting a good couple of years for. Extras will include introductions by Martin Scorsese, an interview and commentary.
Back to animation, and Hulk Vs… has been set for January 27, when the angry green giant will square off against Marvel's Wolverine and Thor in two films. Bonuses on the $24.98 two-disc DVD and $29.99 Blu-ray will include commentaries, featurettes and gallery. On the other end of the scale, Tom & Jerry Tales: Volume 6 comes to DVD from Warner on February 3, for $14.97 and featuring 15 episodes from the KidsWB show, and The Real Adventures Of Johnny Quest: Season 1, Volume 1 comes February 17, again from WB, in a two-disc set containing 13 episodes for $26.99 on DVD.
---
Finally today, check out this "More…" link at the end of today's post for a look at some fun content from the latest wave of Walt Disney Treasures. Full reviews on all three titles are due next week from the team, but if you haven't picked them up yet, maybe these clips will convince you!
Have a great weekend, and stay tooned! – Ben.
---
WALT DISNEY TREASURES 2008
Trouble Shooter (behind the scenes from The Chronological Donald: Volume 4)
---
Don's Fountain Of Youth (cartoon from The Chronological Donald: Volume 4)
---
Paying The Piper (from The Mickey Mouse Club: Annette)
---
Disc 1 Intro (from Dr Syn, Alias The Scarecrow Of Romney Marsh)
---
Perse Pierce (from Dr Syn, Alias The Scarecrow Of Romney Marsh)
---
The 2008 Walt Disney Treasures are available now!