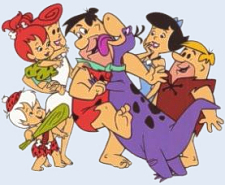 Yabba-dabba-doo! As promised, last night saw the posting of our customary comprehensive comments (try saying that three times fast!) on The Flintstones: The Complete Series collection, the recently released 24 disc set that comes in fancy Bedrock inspired packaging. The review eventually went up very late (at least past Pebbles and Bamm-Bamm's bedtime) and I'm now all Bedrocked out, but it's been a fun trip back to the stone age!
The set is great, with a bunch of bonus features that fans old and new will appreciate – that is, if you haven't collected all six seasons in previously available packages. For those who have yet to add the prehistoric family's adventures to their shelves, this makes for an attractive proposition – even the much derided orange box really isn't that offensive in actuality – but where the collection really drops the bowling ball is in the lack of any new content, a big mistake that I'm sure would have seen many tempted into a double dip. The Man Called Flintstone feature, a 25th Anniversary special or, heck, some old LaserDisc features would have made a nice rounding up to 25 discs and proven to sweeten the deal.
The review's a bit of an epic I'm afraid, with a dino-busting 60+ image selections, but there have been so many questions over the set and what it contains that we needed to be thorough: though it'll probably take a stone age to read, I hope you'll find it as definitive as possible and answers any questions one might have. In short, this is a quick and cheaper way to suddenly find yourself with 166 slices of iconic Hanna-Barbera goodness, but for those with the episodes already and able to skip on some fun moulded plastic, it's probably a case of yabba-dabba-don't.
James is back later today with his animated view of Madagascar: Escape 2 Africa, so stay tooned! – Ben.