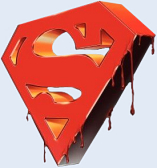 Happy Halloween! Okay, okay…it's not until Wednesday if you want to get technical, but I'll bet a fair few of you spent the past weekend scared out of your wits by hanging out with various ghosts, ghouls and goblins and will no doubt do the same again next weekend! So we're getting into the spirit of things here too, with a review of an older Disney title, Mickey's House Of Villains, the 2002 compilation that sees the rogues' gallery of badduns taking over ToonTown's House Of Mouse nightclub. This was a fun entry in a long line of programs that mixed vintage footage with new, an idea that goes back to Walt's own anthology series' of the 1950s and 60s, and those looking forward to Goofy's return in How To Hook Up Your Home Theater might be tempted to check out his last appearance (it's currently going for a scare-free low price of under $13.50 at Amazon) in How To Haunt A House, a Mickey MouseWorks cartoon included here that was actually animated by the Feature Animation crew at the Florida unit responsible for the Roger Rabbit cartoons and features including Mulan and Lilo & Stitch.
Also newly reviewed is Superman – Doomsday, the first of DC Comics' new DVD premiere features that promise more than the child-orientated fare we've previously been given. Pushing things to a PG-13 rating, our man Randall was hoping for much, much more, and so the main feature comes off as a little disappointing to him, failing "on its promise to adapt a popular storyline and modifying it into a barely recognizable story that portrays neither Superman nor Lois Lane in a very positive light". Making up for things somewhat seems to be the special features, in which comic book geek Rand feels he got his money's worth with a commentary track and nearly an hour of documentary featurettes: "despite my misgivings, the Doomsday fight itself is fairly thrilling… the special features outshine the main feature, so my recommendation is based more on the extras than the movie".
Elswhere on the site today, we've a couple of big giveaways, thanks to Disney Home Video! In stores next week, here's your chance to grab both Ratatouille and The Pixar Shorts Collection on DVD ahead of next Tuesday's release!
As usual, our reviews for both titles are forthcoming, so stay tooned! – Ben.