My thanks to Rand for throwing some comments up here during my absence last week – I noticed he's envious that I'm covering the Woody Woodpecker set for the site…well, all I can say to that is that in return, my highly anticipated Popeye collection lays opened but still without one single disc making it to my player while I also play the review catch up game! Somehow, I don't think Rand would have enjoyed it if we'd swapped on those two titles!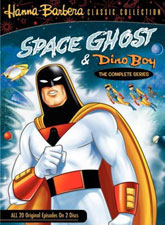 Speaking of which, his review for Popeye: Volume One, the collection of long awaited 1933-1938 animated shorts, is still fresh, and I will have that Woody collection given the once over hopefully for later this week. In the meantime, Rand has added his take on Hanna-Barbera's much loved Space Ghost & Dino Boy: The Complete Series, which he says has "unbeatable charm. For far-flung space adventure, no Saturday morning show can compete". Even better, the extras serve up something quite unusual, which Rand calls "a doozy": an 80-minute "touching and provocative" documentary about renowned artist Alex Toth, whose designs shaped mid-1960s action adventure shows and who passed away just last year. The set sounds like a remarkable tribute, a "must-own for fans of old-fashioned cartoon greatness" as Rand puts it, and yet another worthy addition to our animation collections.
Wow, it's been a terrific summer for classic cartoon and animation fans in general, with a plethora of releases so strong that we are indeed struggling to keep up…and it's only going to get more intense as the holiday giving winter months draw in, when more Looney Tunes and some seriously awesome Disney Treasures content starts trickling in!
I'm happy to point out that my replacement discs for More Silly Symphonies turned up last week too, and though I've yet to check them, I just wanted to mention my thanks again to Disney's home video service department for jumping on these issues, doing the right thing, and getting those corrected discs out for us – great work guys! And don't forget that Warners is doing the same thing with an earlier Looney Tunes disc too, so get contacting!
Back later this week with some more of those promised new reviews! – Ben.