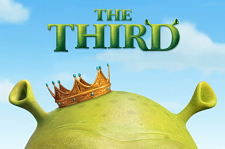 We've got a few cool updates for you today!
It seems, based on Shrek The Third's box office numbers, that you were all good animation fans and all went out and saw the latest installment of the not-so jolly ogre's adventures this weekend. If you enjoyed what you saw, then head on over to our State Of The Art block, where Josh is waiting for you with an exclusive chat with directors Chris Miller and Raman Hui, who explain a lot about the new film's production and what we might expect to see on the eventual DVD. I had a preview of this over the weekend, and I must say that it's a great read!
If you didn't get to Shrek, want to know what all the fuss is about or if it's worth dragging yourself along to the theater to catch the film, James has clocked in with a theatrical review of Shrek The Third, remarking that "fans of the other two will enjoy it", but doesn't give it much praise past that. So-so reviews don't seem to have harmed DreamWorks' box-office though, and they'll be more than happy with the movie's $122 million take this weekend, as reported here. Shrek 4 is on the way!
Next up, Rand has posted his take on Buena Vista's Dinosaurs: Seasons 3 and 4, Jim Henson's pre-hysteric animatronic comedy, which comes as an "easy recommend". Congratulations, also, to Eileen Sheehan of Attlboro, Ma, who just won a copy in our giveaway from last week!
Finally, check back (it might be late!) tonight and I'll hopefully have my review up on the new release of Tex Avery's Droopy: Theatrical Collection. Early preview: this is a stunning collection of brilliant shorts marred only by image quality that surprisingly leaves a lot to be desired. I was actually up last night A-B rolling through this new collection and the original LaserDisc box set from the early 1990s and, better contrast and debatable color improvements aside, it's still in the air as to which is "better". A shame, since this had the ability to become one of the true knock-out releases of the year, but hopefully decent sales will mean WB stays good to its promise to release the remaining Avery – and arguably more classic – cartoons in the future.
So, back with that later! – Ben.