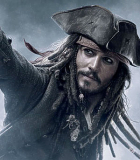 Pirates Of The Caribbean: At World's End continues to sail the international high seas with confirmed figures for this past weekend putting the film at $625.3 million in box office grosses worldwide to date. Apart from other notable records, At World's End has become only the 24th film in movie history to have grossed more than $400 million overseas, but has done so faster than any other title released internationally. It's tracking better than last year's sequel Dead Man's Chest which puts the rumors of a fourth (fifth, sixth?) film to rest. As in, they are rumors no more: if all the cards can land in the right places, Jack Sparrow will be back to swash and buckle his way through more adventures in the coming years.
Likewise, it's been a good summer for Sony's Spider-Man 3, with an $844m tally at last count. Both films are still playing to strong audiences, also confirming that Spideys 4, 5 and 6 are as much as a dead cert as can be guaranteed when dealing with the movie business. Already, though, the previously hesitant Tobey Maguire has been doing the "there's so much more to explore with this character" talk, which presumably means he's now up with Johnny Depp for reprising his star turn.
It's too early in Shrek The Third's life to start talking real numbers since the film has yet to open in key worldwide markets, but this is looking to be a soothing summer for the studios money wise, even if audiences themselves are coming away from these threequels with even more of a feeling of deja vu. Going back to Pirates 3, and The Hollywood Reporter has a pretty nice look, for you tech heads, at colorist Stefan Sonnenfeld's work and how he collaborated with director Gore Verbinski on the grading process for the film.
Our Wait Till Your Father Gets Home giveaway closed last night, but we'll be back soon with a winner and a full review for that one. Stay tooned! – Ben.