Sorry – just couldn't resist!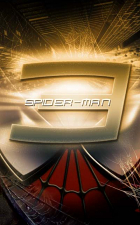 Of course the big news today is that that the long-awaited
Spider-Man 3
is out in theaters…
NOW
! So jump out of your own home set ups and go see a summer blockbuster where it's meant to be seen – on the big screen! Reviews have mostly been positive, though a few place it below the awesome spectacle of the second Sam Raimi-helmed outing for our friendly neighborhood web-slinger. I'm going to see it this weekend, but you can let us know
your views
in the AN&V Forum!
And, talking of Animated News & Views (like the switch there?), don't forget to drop by and check our Help Wanted ads, where we're running a search for people to fill some exciting places here on both sites in preparation for some more expansion!
Finally, if you can't make it to catch Spidey, we have a couple of new reviews for you: Randall Cyrenne checks out the first volume of Jim Henson's Dinosaurs: First And Second Seasons in anticipation of his take on the just-released second set, and there's my look back at the original comedy spook-catching fest The Ghost Busters: Complete Series, which turned out to be much funnier than expected.
My Spidey-Sense is tingling…have a great weekend! – Ben.