Fred Grandinetti: Talking With Popeye's No. 1 Fan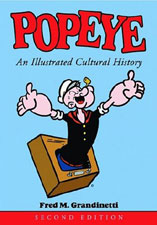 Likely no one is more excited about seeing the Fleischer Popeye cartoons coming to DVD at long last than Fred Grandinetti. Fred is a Popeye historian, author, and founding member of the
Offical Popeye Fan Club
, and his efforts to help bring the cartoons to DVD are well known. With the DVDs now here, Animated Views has taken the opportunity to get Fred's perspective on the release and find out about his next Popeye project.
After reading this new interview, read on for a review of Fred's Popeye book, Popeye: An Illustrated Cultural History and the transcript of a 2005 interview where Fred discusses the Fleischer Popeye's absence from DVD. Years from now, we'll be taking for granted that all of the classic Popeye cartoons are available to own, but it took a long time to get to this official release. Fred reminds us that, while there are larger events in the world, the presence of a spinach-eating sailor does make a difference. Popeye may be over 75 years old, but moral fortitude never goes out of style!
---
A Few Words With Fred On The New Popeye DVD Release:
Animated Views: You campaigned long and hard to get the Fleischer Popeye cartoons out on DVD. Did you have any advance word of the announcement once the deal between Warner Bros. and King Features was finalized? Or were things being kept pretty quiet?
Fred Grandinetti: I always had a pulse on the DVD situation and had a contact with someone who was filling me in on what was happening. People, outside of Warner Brothers and King Features, were very generous with information, which needed to be shared with me.
AV: At the risk of asking a rather obvious question, what was your response when you heard the news that the cartoons were coming to DVD?
FG: I was thrilled to hear the cartoons were being restored and are coming out. The question is, with King Features dragging their corporate feet so long on this issue, is it too late to revive Popeye? Fans have been waiting for over twenty-five years.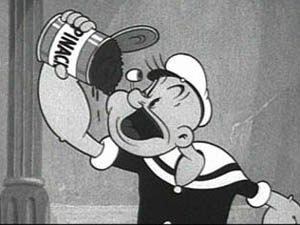 AV: What do you think was the main reason this deal finally happened?
FG: I think the deal happened because King Features' CGI Popeye special in 2004, which was based on the style of the Fleischer cartoons, did not revive the sailor's popularity in the United States. There were no dolls, coloring books or story books based on the special. These kinds of licensed products usually come shortly before or after a special featuring a well known cartoon character. This and the never-ending e-mails to King's public relation's department perhaps made the syndicate realize something had to get done. Warner Bros. did say this DVD release was their most consumer requested property. With all the correspondence I have personally received on this issue for the past several years, I can certainly believe it.
AV: As the foremost authority on Popeye, were you given the opportunity to be involved in the production of the DVDs?
FG: New Wave Entertainment, which produced the extra features, used my 2004 book as source material. They came to my house and taped my commentary and Popeye collection. While my name is on the credits and my collection seen very briefly, my comments were left on the cutting room floor. I'm not going to say I wasn't upset because it took me two and a half weeks to prepare my bedroom housing most of my collection. I had to take out all of my non-Popeye items, try to fit in two chairs and make room for a huge light. Anyone who has seen photos of my room knew I would need more than one can of spinach to prepare. I did contact the people at New Wave and they said they're hoping to have the people who were left out included on Volume 2. The history of Popeye section features a lot of material from my book so perhaps they felt my remarks weren't needed. I'll admit to being confused and friends in the media who know about this said I have been "stung". Well, I guess we'll see if the stinger comes out on the second set.
AV: The announced special features for the first DVD set look marvelous. Can you think of anything they missed putting on there?
FG: I don't believe they missed anything on the first set as far as special features. The challenge will be coming out with special features on the next few volumes, but I have already sent suggestions and am willing to assist. I would like to see a profile on Margie Hines, who provided Olive Oyl's voice on the later Fleischer and early Famous Studios cartoons. The creation of Popeye's nephews, and research into the reasons behind the change in Popeye's sailor uniform would be interesting.
AV: You have had some contact in the past with the Fleischer family. Have you heard of any reactions from them about the new DVDs?
FG: I wrote to Mark Fleischer a few years back urging him to convince the president of King Features to get this deal done. He may have helped but I have no idea if he did. The time span from when I wrote to him and the announcement of this deal was long. Perhaps his interest in preserving Max Fleischer's work only involves Betty Boop? I tried.
AV: With the original Segar strip now being reprinted again by Fantagraphics, and the DVDs on the way, Popeye may be ready for a renaissance. If you were in charge of the character, what would you like to see done with him next?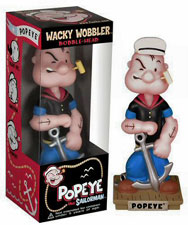 FG: If I were in charge of Popeye, I would stop marketing him as a gambler or street hustler on T-shirts. Check eBay and you will see many different variations. Someone who still works at King told me many years ago, "Popeye is the most raped cartoon character in the licensing business. King will do anything to him to make money." Remember, "Can the spinach I wants me Quaker Oatmeal" a few years ago? "Can the spinach?" Popeye saying that!! Keep Popeye the way Segar/Fleischer portrayed him for the baby-boomer market and re-introduce him all over again for the children. Get the Popeye stories printed in digest comics in Italy and translate them in English. I believe Hearst still has a publishing division. Publish these stories for children and collectors who don't have access to them in Europe. Reprint the Popeye Wonder Books from the 1950s and 1960s with images introducing Popeye to children. Through my years working with children I can tell you they go for Popeye in a big way once they're introduced to him but vehicles are needed to do that.
AV: With the DVDs finally announced, how will you be directing your Popeye-based energies? Any new projects to announce?
FG: I was in touch with Mrs. Virginia Mercer for several years and she authorized me to write about her husband's career in animation. There was very little published on Jack Mercer but I did manage to come up with over 200 pages. It looks as though Bear Manor Media will be the publisher and a book will come out later this year. Jack Mercer was the voice of Popeye for over 40 years but was also involved in many other aspects of the field of animation. As for the sailor himself, when I was in junior high and high school, I was always beat up and verbally abused because I wasn't into sports. I would come home depressed but as soon as I watched a Popeye theatrical on The Uncle Gus Show I managed to make it through another day. For that reason, among many, I will always keep my finger on the pulse of what is or isn't happening with Popeye.
Thanks for your comments, Fred!
---
Popeye: An Illustrated Cultural History
Archive Book Review and Interview
What follows is a look at Fred Grandinetti's book Popeye: An Illustrated Cultural History, plus an interview with Fred from the Spring of 2005. At this time, there had been no word whatsoever of the possibility of Popeye's Fleischer cartoons coming to DVD. Fred was known as a tireless proponent of an official DVD, and this interview shows his perspective on what was holding things up at the time, as well as why he felt it was so important that these cartoons be widely available. Though the new DVD release dates this interview a little, it remains an interesting look at the issues involved in bringing the Fleischer Popeye to home video for the first time in authorized editions. The interview is being reprinted here in full with Fred's permission.
---
Introduction
With the 75th Anniversary of Popeye now having come and gone, Popeye fans are STILL waiting for an announcement concerning a release of the classic Fleischer cartoon shorts. To date, only the same old handful of public domain Fleischer shorts have been released (in numerous editions of varying quality) on DVD. That still leaves most of the over 100 Fleischer Popeyes unreleased. That's not even including the additional 100-plus cartoons made by many of the same people when the Fleischer studio was taken over by Paramount and re-named Famous Studios in 1942. In all, there were well over 200 Fleischer/Famous Popeye cartoons produced from 1933 to 1957— and about 200 remain unreleased on home video! Can that be right? That's a whole lot of Popeye we're not able to enjoy! The reasons for this have been debated between fans for years. To help us wade through some of the issues, as well as to shed light on some other questions surrounding the animated Popeye, we are joined by Fred Grandinetti. Fred is a contributor to the International Popeye Fan Club, and author of Popeye: An Illustrated Cultural History, now in its second edition from McFarland Publishing.
Reviewing The Book
The 343 pages in this book contain a wealth of material about Popeye, from his 1929 beginnings as a supporting player in the comic strip Thimble Theater, to his rising stardom as he took over the strip and emerged as a star of animated cartoons, then going on to conquer the worlds of merchandising, television, and even a live-action film. For the whole story on Popeye you will want to read this book. Facts large and small are explored with equal enthusiasm. There is so much information presented that one cannot help but be impressed. If you like trivia, such as a listing of the stations and their television shows where the theatrical Popeye shows were first shown when they entered syndication (such as Popeye And Janie in Indianapolis), then this book is for you! While one more edit could have tightened up the writing (like I said, there are lots of minor facts in the text), one cannot overstate the significance of what this book contains.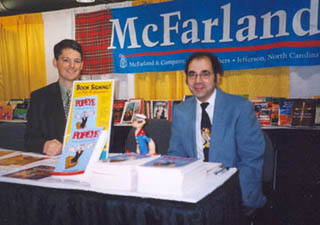 Mr. Grandinetti, a cartoonist himself as well as a television host of Drawing With Fred in Massachusetts, is a lifelong fan of the one-eyed sailor, and has managed to gather more Popeye information in one place than one could hope for. (The picture shown here has Fred on the right, joined by Steve Wilson of McFarland at a book signing.) He covers the various writers and artists on the newspaper strip, introduces us to the cartoon voice actors, has separate chapters for the theatrical and television cartoons, another chapter on other media appearances (a play, a radio show, theme park appearances, etc.), a look at the supporting cast, and many other surprises. One topic of particular significance is why Bluto became Brutus and then Bluto again! An Episode Guide has the complete Popeye filmography (with synopses of the hundreds of individual cartoons), and The Appendices boast scripts for the cartoons and information on the International Popeye Fan Club. Other information presented in the text of the book includes the colorization of the old cartoons and cartoon showings on cable.
The book is also crammed with 201 photos and illustrations (all in black and white), showcasing moments in the strip, various animated cartoon incarnations, and merchandising and advertising. Color photos certainly would have been nice, but then that would have inflated the price tag further past 45 dollars, already high enough for a softcover book. You can even find two indices, one for cartoon titles, and one for other subjects. For the Popeye connoisseur, there is simply no book like it. Just be prepared for some editorializing, as Fred freely discusses his views on a variety of topics to do with Popeye— from Popeye's near-absence in Leonard Maltin's Fleischer special on the A & E network, to (naturally) the current state of affairs with Popeye on home video. Still, the personal style of writing can be endearing, as his obvious affection for Popeye shines through on every page.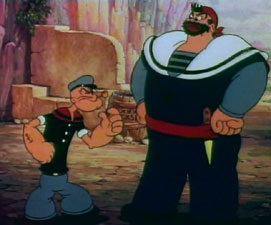 While most cartoon fans point to the Fleischer cartoons of the 1930s as the pinnacle of Popeye's cartoon career, Fred also defends the King Features television cartoons of the 1960s, suggesting that fans judge these efforts by considering their budget restraints as well as the fact that they were produced by several different studios with varying success; he even breaks down the Jack Kinney studio's work by looking at the different directors involved. He also discusses the relative highs and lows of the Hanna-Barbera shows of the 1970s and 1980s. The book went to press before the recent CGI TV special, but it still does get a brief mention.
In short, if Popeye is anywhere near the top of your list of all-time cartoon favorites, you WILL enjoy this book.
---
Speaking With Fred
(From Spring, 2005):
While preparing to interview Fred, I was left with a small problem. The book itself is so informative that it left me with few questions! Fortunately, Fred had plenty to say…
AV: Being in your forties, one would think that you are too young to have seen any of the Fleischer or Famous cartoons theatrically.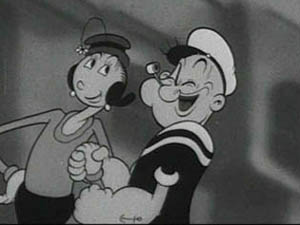 FG: Actually, at one point in the Sixties, Paramount did re-release some of the Famous shorts into theaters that I can remember seeing. For a while I was unsure of this and I always thought that I must have had a delusional fit when I was a kid, but according to Jerry I was right. ["Jerry" refers to Jerry Beck, the cartoon historian, writer of several animation books, and known to the online community for his contributions on the "Cartoon Brew" site.] I actually did have the experience of seeing the theatricals when I was a kid in the 1960s. But as far as the Fleischers, nah.
AV: I am a few years younger than you, and to me it just seemed that Popeye was always around, one way or another. What is your earliest memory of Popeye?
FG: I can tell you that when I was three years old I had to have my tonsils out. I was crying and crying, and my Aunt Kay went out and bought an Olive Oyl doll for me. I actually just found that doll again, not mine but another one, last Christmas and gave it to my mother. It was a Gund Olive Oyl doll.
While in elementary school here in Boston, there was a Providence, Rhode Island channel that showed Popeye And The Three Stooges and they ran the Fleischers the same as the King Features cartoons, and even at that early age, I remembered thinking, "gee, those look a little different."
My biggest memory of growing up in elementary and junior high school— there was a show called the Uncle Gus show which was on WMUR, channel 9. He used to run Dick Tracy, Mr. Magoo, and Popeye. He ran all the World War Two ones, all the racial ones.
AV: In your introduction for the book, you state that Popeye's real appeal lies in how he inspires us with his values and beliefs, his inner strength and not just his outer strength. His inner strength could take him further in some cases than what his muscles could allow. Audiences during the Great Depression certainly found Popeye appealing for those reasons. Do you think these traits are as relatable for today's audience as they were in the 1930s?
FG: Well, let me just tell you a story that happened to me, a true story. In the early 1990s, I had gotten a Popeye doll; and I actually already had the doll, but this particular doll that I bought had the pipe. When I was going to put it on the shelf, I was thinking about what I was going to do with the doll that doesn't have the pipe. So what I did was I took that doll, I found a plastic bag that had the Popeye logo on it, and sent it to a local hospice. I followed up with a phone call to see if the doll got there and a woman at the hospice said yes. They got the doll, and the terminally ill children at the hospice hug the doll for strength. That just totally blew me away. So, the answer to your question is yes. Definitely, Popeye's moral values and what he is to children and adults still carry on to this day.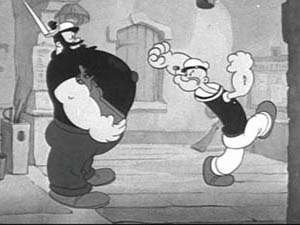 This is one of things that people involved with Popeye are aware: They are aware that I send out Fleischer cartoons on video from my own collection to kids in hospitals. People can call me dogged all they want, but this is one of the reasons why I'm so pushy about getting these things out commercially; because there isn't somebody like me who does what I do in every part of the country— and I'm not trying to paint myself as a saint— it would just be easier to go buy these things off the shelf in multiples and send them out to these hospitals rather than waiting for someone to make a tape and have to send it out. So, the answer to your question in long form is: Oh, definitely.
AV: Another neglected aspect of Popeye merchandising is production of collections of the newspaper strip. Fantagraphics (current publishers of The Complete Peanuts) did a complete reprint of the Segar strip, but those books have been out of print for years. [Note: This began being rectified in 2006 by Fantagraphics.] Do you think that any writer approached Segar's storytelling and comedic genius?
FG: I think Bobby London came very, very close. He took the strip in a more contemporary direction, but some of the storytelling and some of the gags, even though it was set in the 80s and 90s, you could see traces of Segar in there. And it was a shame that he had such a short life on the comic strip, but y'know… as Bobby London said himself, he was a babysitter for the copyright. And that was very true. He was hired to keep the strip going for papers, but the main goal at the time was to sell candy and dolls. The strip seems relegated to— I'm not even going to say secondary— to lower class status. Which is too bad.
AV: One thing I appreciated in your book was how you gave a balanced view of the various animated incarnations of Popeye. After all, the Paramount cartoons largely had the same people working on them as the Fleischer ones, and the King Features TV cartoons were not all bad— although some were plain awful….
FG: Oh, yeah, some are just ghastly. As a five year old you don't notice it but as I started getting older— I can remember one morning when I was 13 I was watching Popeye And The Giant, I said, "This is bad." And I started noticing some of the other ones, and "Ooh, boy." But, you know, a lot of the Paramount (KFS) ones, and a lot of the Jack Kinney ones were well animated, so there's really a mix.
AV: Have you seen the new computer-animated special yet?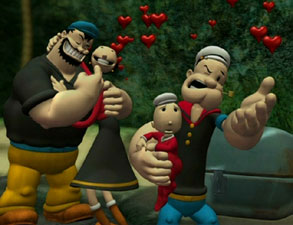 FG: No, I can't. It's too painful for me. I actually had people who were writing reviews for the DVD call me up to answer a question about the "Making of" section. Why, you know, why they didn't bother to show clips from the Fleischer cartoons when they were raving about them. And I had to tell them that I hadn't watched it. And the reason why I hadn't watched it was quite simple. It's not that I was opposed to the special by any means. I understand them wanting to having something new for the kids. I understand them wanting to do a CGI; I don't have a problem with that whatsoever. What I have a concern with is that King Features Syndicate hired a company to produce a special using the versions of the Fleischer characters, trying to make it look and sound like a Fleischer cartoon; yet this is the same company that has been indifferent about releasing the Fleischers on (home video) for over twenty years. There's an equation there that doesn't add up. What they're basically doing is saying to fans of the theatrical Popeye films, "here is something you don't want", and I just couldn't be a party to that.
I've actually had a lot of people agree with me, a lot of people who disagreed with me. The audience is basically split on this CGI thing. Half the audience is just so grateful that something new came out that they embraced it. Yet half the audience was saying, "This isn't what we asked for or what we want. We want the Fleischers and Famous cartoons out there. Why are you giving us this?" So instead of uniting people on the subject, King Features divided them. And as far as getting the kids audience is concerned, I couldn't tell you how effective that was in the United States. I know it did very well in Europe when it premiered.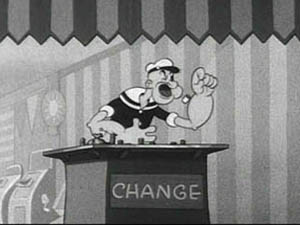 One of the things I wanted to mention to you is, I have a quote here from the president of King Features Syndicate regarding this, and he said in Daily Variety on September 19 (about 2 years ago), "we need to introduce Popeye to the next generation of kids out there." And I agree with him on that.
I have spoken to people in the licensing industry. I often have people call me up, knowing I'm a historian, and they ask me my advice on potential Popeye products, and I'm always positive. But one of the things we discuss is getting Popeye to the next generation of kids. And what we always seem to agree on is that the way to reach the kids today with Popeye is through Mommy and Daddy. Mommy and Daddy wanting to introduce what their version of Popeye, what they remember, to the kids. Then, once you make Mommy and Daddy, who have the MONEY, buy the DVDs— make them happy— then you have the kids.
So, if you make Mommy and Daddy happy, if you give them what they want— and for 21 years they've wanted a release on video or DVD— they in turn will get their kids to watch them. You get the whole family into Popeye, and then Popeye will make his way back to the kids' audience. But it starts with Mom and Dad.
There is far too much competition as far as kiddie characters out there for Popeye to find a niche, I think, in the kids' market, without the help of Mom and Dad. There's just too much distraction, too much stuff out there. You can't just take a Popeye "whatever" and throw it on the toy bin to appeal to a five-year old, without any prior history with the character. That is not the way to get kids attracted to Popeye. Especially if you put it next to, I don't know, The Muppets. You need Mom and Dad. You need that hook. And that is the baby boomer.
A lot of the people that call me up and ask my opinion for Popeye products, the people who run these companies, are my age or a little bit younger or a little bit older. They're baby boomers. And they remember the Fleischer and Famous cartoons. And they're always asking me questions about them, and they say things like "What is Popeye's television visibility?" And I tell them that's been pretty steady. And I tell them that you want to do something that not only appeals to a ten year old; you have to keep in mind that you need to appeal to the 30, 40, and 50 year old. They always forget about the big collectibles market. You just have to look at eBay today to see how big Popeye is. But what usually puts the kibosh on whatever they want to do is when they ask about the DVD and video, and I have to tell them that the television cartoons are out there; but as far as the classic films are concerned Popeye is the only major cartoon character not to have a commercial release of his best work. And I hear this silence on the other side of the phone. And then they ask me why, and I tell them.
Now having said all that, King Features and Warner Brothers could be in a bunker right now working out the best deal ever that is going to make a lot of people happy, but the public relations on this is so poor, people just think the worst. I mean, I haven't gotten any ray of light; nobody has gotten any ray of light.
And why I say the PR is so poor on this is this past December I had a student call me up. He was working on his thesis on certain properties that haven't been released on DVD, and he chose Popeye. He told me that he called King Features Syndicate on this, and they wouldn't talk to him on this. A total blackout on this. They were not allowed to say anything on this issue. And I'm thinking to myself, this doesn't help the situation. You know, if you're in negotiations no one expects you to divulge what's going on, but you can make some sort of a statement: That you love the films as much as the audience does. That we're trying to rectify the situation. Something.
We're all looking for a ray of light, and because we're not getting this the assumption is that they don't care, and they don't want to deal with it, and they don't care what the audience thinks. And there again, what I've said to you may be totally off base, it may be totally wrong. But here is where public relations comes in. You've got to let us know.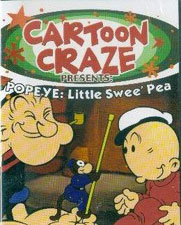 I don't consider (the public domain releases) to be legitimate by any means. And when I heard that they were coming out with the television cartoons last year on DVD and calling it the 75th Anniversary Collection I got a lot of flack from people like, "How dare they call it the 75th Anniversary Collection because that makes people think that they're going to get a little Fleischer, a little Famous, a little King and Hanna-Barbera," and it turned out to be all the King Features cartoons, not exactly the best selection. Some of the worst were on it; some of the best were on it, but some of the worst were on it. You know, a five year-old today can pick up on the mistakes in a cartoon much more easily today than when I was a kid. Because kids today are much more sophisticated. And instead of laughing with Popeye, they're going to be laughing at him, because his pipe keeps disappearing in every other scene. So, to just throw those on the market without having the really best work as a complement to it, I thought was a bad idea.
I think King Features felt, since they paid for the CGI special— again, this is just my opinion, I don't have any confirmation of this— but I think what they felt was that if they got the Fleischers out at the same time they wouldn't see it as a complement or as an enhancement, they saw it as a competition.
AV: The current understanding of the home video issue is that any releases are being held up by negotiations between the character's trademark owner, King Features Syndicate/Hearst Corporation, and the company that owns the rights to the cartoons themselves, Warner Home Video (via Time-Warner's buying of the rights from the previous owner, Ted Turner's company). According to your book, King Features has never held any rights for the theatrical Popeye cartoons. They have no ownership of the Fleischer/Famous series at all. Therefore, they do not really have any right to withhold distribution of the older Popeye cartoons.
It is your contention that the confusion over home video rights stems from an incident in 1983, when the then-current rights owner (United Artists) planned to release videos of the Famous Popeye cartoons. King Features/Hearst Corporation notified them that Hearst held the rights. UA not only failed to challenge that claim, they actually sent a letter stating they agreed with Hearst's position!
So, are you saying that the negotiations that have been occurring between Warner Home Video and King Features are not even necessary?
FG: All I can say is, if King Features and Warner Brothers— God forbid— can't come to terms, then a copyright attorney or somebody in the legal realm has to take this on and look at it from the very beginning and say, "You know, King Features, legally you don't have any rights to these films. Warner Brothers can do what they want," basically. That's the truth of the matter. Basically, and research will back me up on this, what's happened over the years is that the legal stuff has gotten so mucked and mired that King Features really believes that they really have to be involved in this. But really, the only involvement that King Features has ever had in these films was in 1932 when they licensed the rights to Paramount to use their characters in the films. The agreement was not about who owns the actual films. Here's "X" amount of dollars to use the characters in the films, but nothing was ever signed to give King Features any custody of those films. So when they were released on television, and became such a success, King never saw any money, and that's the reason why they decided to do some television cartoons, so they could get some money of their own off the animated Popeye. And nothing has changed since then.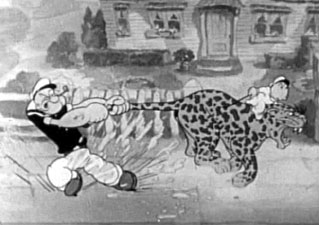 The only thing that threw the monkey wrench in it is when United Artists wanted to start releasing them on video in 1983 and King Features found out and sent them a very strong cease and desist letter. United Artists didn't bother to check to see who was right and who was wrong, and they just went along with it. And now we have Warner Brothers, who's just going along with it. I give Warner Brothers a lot of credit; they want to try to do things right. They want to work with King Features. I have a lot of praise for them, but the bottom line is if they can't, they still can (release the films).
But the big question is why would King say "no"? Popeye isn't exactly all over the place now. Why would they not take advantage of getting these films out, and getting all the wonderful public relations that would go along with them? Because that in turn would generate more licensing for them.
King Features has everything to benefit with getting these films out there.
Now, I should really preface this by telling you that I've met the people at King Features, and they're all very nice people. I understand that they think I'm a pain in the butt. I just question what's happening, or what is not happening. They tend to be quite shortsighted about Popeye. It's like that Quaker Oats commercial where Popeye said, "Can the spinach." Stuff like that just makes fans upset, because it's not true to Popeye. Or when Hanna-Barbera did Popeye And Son, and instead of Swee'Pea, they have Popeye and Olive married with another little boy. You need to be in touch with your audience, and that's what I'm questioning.
AV: Is there anything that you think Popeye fans can do to help the cause of getting classic Popeye on DVD?
FG: Well, you know, there again, Warner Brothers has restored them, and they want to distribute them… and King Features is just giving sound bytes basically saying "We're talking to Warner Brothers". If I thought that fans e-mailing King Features would get a response, I'd say sure, go for it. But past experience tells me that they don't respond to it, they're being very quiet about it.
As far as going to Warner Brothers, they want to do it, so I don't think they're the problem. However, the best bet would be to contact someone in public relations at Warner Home Video.
AV: What is so important about getting these films out on DVD?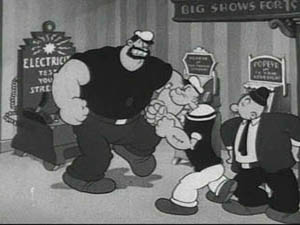 FG: One thing I'm concerned about personally is that VHS is on the way out. Everything is DVD now. Pretty soon, kids won't be able to play VHS tapes anymore, and they won't even want the tapes I send out. A friend suggested to me that I could send out the King Features cartoons (on DVD) instead, but I can't do that. I want to send quality stuff out there to kids. Two things qualify as quality when it comes to Popeye: Segar's strip, and the Fleischer cartoons.
And, as I said, the way to get Popeye viable again is to appeal to the baby boomers. You have to put the Fleischer films out on nice collectors sets that appeal to adults, and then they will get their kids interested. King Features needs to remember that when the strip was created, and when the theatrical cartoons were created, kids were only the secondary audience. Even a lot of the Famous cartoons were geared towards adults, like when a horse was shown with Adolph Hitler's face painted on the butt. Kids wouldn't get that; that was for the adults in the audience. So we need to get to the roots of the issue: get the cartoons back into the hands of adults, the parents.
It often feels like I'm just one hand clapping, but every once in a while, I find out I'm not alone. A little while back, when I was in a comic shop, a man came up and shook my hand. He appreciated how I'm trying to get the word out.
I'm also very proud of my efforts to get The Popeye Show on the air. The Popeye Show was the 1st time the Fleischer and Famous Studios cartoons aired on television as they did in the theaters. It aired without a break from Oct 2001 through Mar 2004 on the Cartoon Network. One hundred and thirty five "Popeye" cartoon were restored for this half-hour series. Really, Cartoon Network should set aside a block of time, even if it's in the wee hours of the morning, to show all the classic cartoons— not just the Popeyes, but Avery, Clampett, they should alternate all of those. Unfortunately, they're steering away from classic cartoons.
It's getting so that television is no longer the place to watch classic cartoons. This really concerns me. Kids now who are into animation can't check out the Fleischers on TV. That means that there's no source of study for animation scholars or young animators. So, the only way that people will be available to see these is if they come out on DVD. That's why I donate cartoons to the library in Chester (Illinois, home of Popeye's creator E.C. Segar). These cartoons need to be made available.
Right now, Popeye is the only major cartoon star to not have an official release of his best work. I find it distressing that everything is coming out now on DVD except for Popeye; and he's the longest-running cartoon character in the history of film and television.
Again, I hope that King Features and Warner Brothers are in the deepest bunker somewhere and are hashing it out. Maybe they are. With all of the tragedy going on in this world, if someone or some company has the ability to make people happy, they should just do it. If Popeye were flesh and blood and with the value system he has, the sailor would certainly want it that way.
---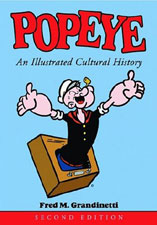 Fred Grandinetti's book Popeye: An Illustrated Cultural History
is available to buy now from Amazon.com

---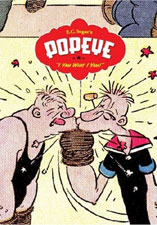 The first volume of the original comic strip Popeye, E.C. Segar's
Popeye: I Yam What I Yam is available to buy now from Amazon.com

---
---
Our gratitude and sincere appreciation go out to Fred for allowing us to reprint this conversation and for updating us on Popeye's DVD progress!!
Read our own condensed history of Popeye in Popeye: A Sailor's Story, right here!