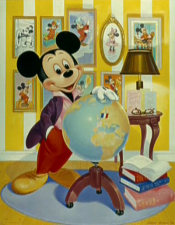 With just hours to go before the first day of 2007 is at an end, I've finally dotted every I and crossed every T (so to speak!) to bring you an exclusive tour of Il était une fois, Walt Disney (Once Upon A Time…Walt Disney), the current exhibition running at the prestigious Grand Palais in Paris!
For those crazy enough to drop what they're doing, you have a couple of weeks left before the show transfers to Canada for a Spring run, but wherever you manage to see it, I recommend it extremely highly for animation buffs and certainly propose a purchase of the exhibition catalog, which lists and visually represents every item in the collection…it's a true "must-have"!
The show looks at the many and varied sources of European inspiration, from books to cinema, that the Disney artists of the Golden Age of animation drew upon to come up with such classic works of their own art as Snow White And The Seven Dwarfs, Pinocchio and the many sequences in Fantasia and later films such as Alice In Wonderland, Peter Pan and Sleeping Beauty.
In the article, you'll see rare examples of both Disney and European art, and meet Bruno Girveau, the Frenchman who has worked for years to pull the event together as a personal goal, and with whom I had a very in-depth discussion on the exhibition and the many wonders on show.
With over 60 exclusive images, I have to say that I'm very proud of what I've managed to achieve here, especially during this typically frantic time of year (the main reason this has been delayed since our site launch in early December). Once you see it, I hope you'll understand why it took so long!
Anyway…it's up now…and I very much hope you enjoy it. Man, my heart and soul are tired!
-Ben.