It was that time of the year again. When over 125,000 people would travel from all over the world and gather together in San Diego, California for the mecca of all things pop culture: the San Diego Comic Con. From July 19 through 23, 2023, all eyes interested in entertainment were fixed upon the happenings at the San Diego Convention Center and beyond where everything from comic books to movies to animation to television to video games and everything else in-between would be celebrated. All while there were concerns that this year would not be as exuberant.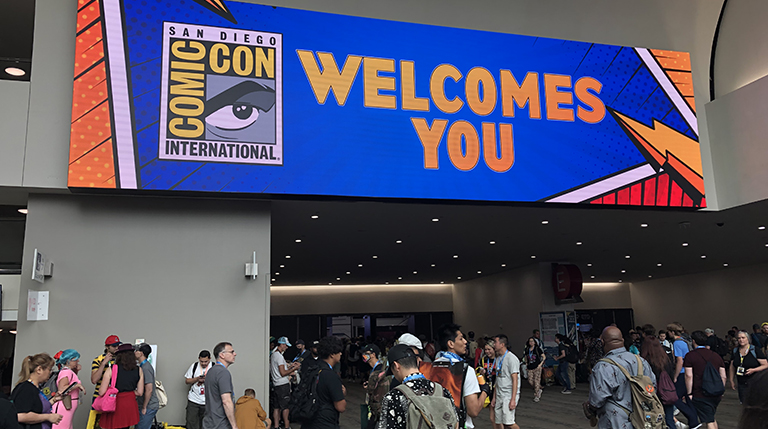 You see, with roughly a month before the convention, the Writers Guild of America went on strike. With the screen writers pulling out, that would cause issues with trying to set up panels to promote various film and television programs with many not willing to go out of solidarity. And just as the programming schedule went live two weeks ahead of the convention, the Screen Actors Guild went on strike. That, for sure, was going to disrupt all sorts of plans as the Hollywood presence that dominated Comic Con the last couple decades had diminished immensely.
Programs were getting altered or getting cancelled outright. Marvel Studios and Warner Bros. pulled out, The Walking Dead presentation would be without actors or writers, My Adventures with Superman and Twisted Metal became simply screenings. With these kinds of changes, could Comic Con be the pop culture juggernaut it had been for so long? Well, given some of the things I was interested in, it still managed to thrive as strongly as ever. Fan presence was still huge and some programs got a chance to a shine without Hollywood in the way.
---
The Owl House: Us Weirdos Have to Stick Together
---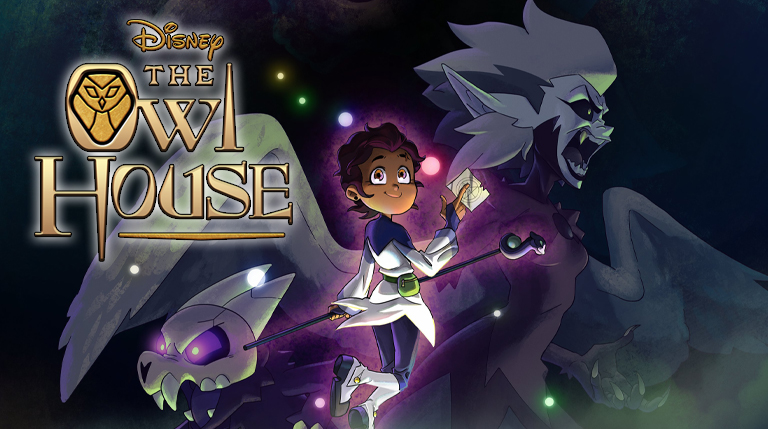 To say The Owl House became a pop culture phenomenon since its premiere on January 10, 2020 would be an understatement. The Disney fantasy about a teen venturing into the Demon Realm and fulfill her dreams of being a witch had become the equivalent of a revolution. It would build a global fanbase that grew and strengthened even after the finale aired on April 8, 2023. So any presence of The Owl House would see its legion of fans flock in overwhelming numbers in support. And there's no greater stage for such a gathering than Comic Con.
The fans were willing to sit through the presentation that occurred beforehand, in this case World Wrestling Entertainment, to ensure their spot in The Owl House panel. I didn't get into the WWE panel, but I managed to get a fairly good spot before the room completely filled up minutes later. Serving as moderator would be production associate Rebecca Bozza, aka Rebecca Rose, and she was joined by cast members Avi Roque (Raine), Cissy Jones (Lilith), and Sarah-Nicole Robles (Luz) as they looked back in celebration on the Peabody Award winning series.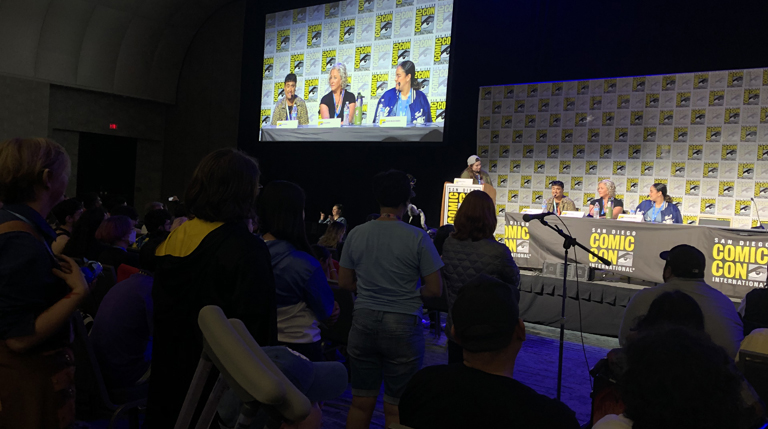 Attendees hung onto every word that was spoken, listening in as the panel told stories about making the series and what it was like looking back on the results. Jones brought up the more than one year gap between when she auditioned to when she officially got cast. Robles noted that, while she got to see the full episode scripts, she was still surprised with how scenes came out. Roque stated that the show "came at a time when my voice had settled" and were truly able to be themselves as a performer. There happened to be a lot that fans were discovering.
Having sat through numerous panels for My Little Pony: Friendship is Magic and Miraculous: Tales of Ladybug & Cat Noir, there was little question that the atmosphere would be similar for The Owl House. Perhaps what made The Owl House presentation an absolute joy in comparison to the previous two would be how the fandom relished every second that the panel spoke and absorbed all that was discussed and revealed. It was definitely celebratory in nature and it was a delight to be in the middle of it. Nothing was wasted and everything was pure fun.
Watch exclusive footage of The Owl House: Us Weirdos Have to Stick Together panel below.
---
---
Watch exclusive footage of Dan asking The Owl House: Us Weirdos Have to Stick Together panel a question below.
---
Fleischer Cartoons: The Art and Inventions of Max Fleischer
---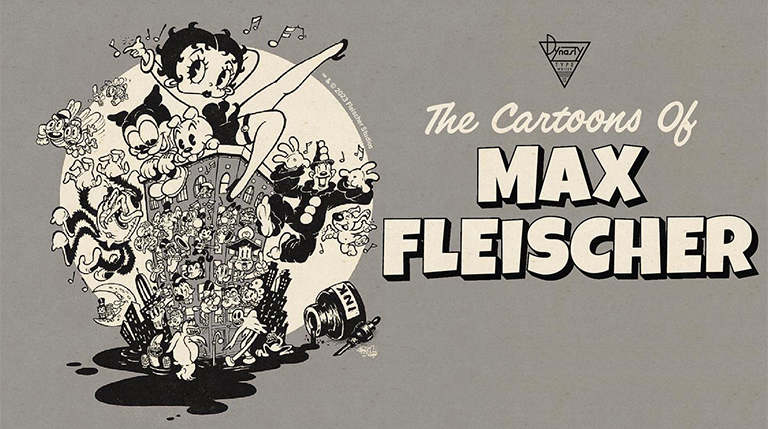 The legacy of Fleischer Studios, headed by Max and Dave Fleischer, would be that of a pioneering enterprise that challenged Walt Disney in the 1930s. The library of cartoons starring Koko the Clown, Betty Boop, Popeye the Sailor, and Superman made it a viable animation house. Financial difficulties and the brothers falling out led the studio to be lost within legal rights conundrums for decades. Now, Max's granddaughter Jane was leading an effort to restore the cartoons and Comic Con was the latest stop to bring attention to the ongoing project.
Joining Jane would be her partners Rocking Pins CEO Mauricio Alvarado and historian Ray Pointer, author of The Art and Inventions of Max Fleischer. In a way, the three let the animation do the talking for them, showing off clips from a documentary Pointer had done, restoration comparisons, and screening in full the restored Betty Boop in Snow-White and The Cobweb Hotel. It should go without saying that the restoration work on the cartoons was nothing short of heroic and really made these some of the best looking animation I've seen even against today's offerings.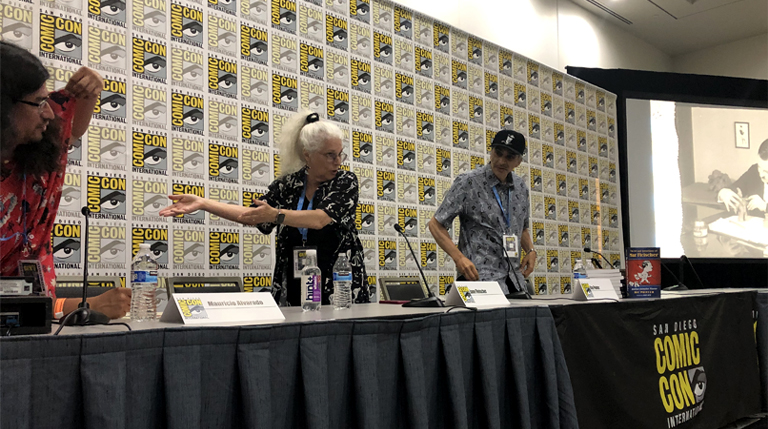 It was brought up that the day prior to the panel was what would have been Max's 140th birthday and the week before was the 90th anniversary of the original Popeye the Sailor cartoon. Alvarado noted that they had restored around 10-20 cartoons, about 50 were in progress, and another 160-200 still in the works. Prior to answering my question about the recent Warner Bros. blu-ray of the Superman cartoons, Pointer and Jane brought up a sad story regarding what some of Jane's relatives had done to some of the original studio materials.
The panel was a lovely presentation, made all the more enjoyable knowing that there were so many of us that nearly filled the room in adoration. We liked it so much that we quickly followed Pointer out of the room so we could buy what copies of his book he had on hand. I was among the first to get a copy and have it signed by all three. The attendees even went about continuing discussions with them expressing their admiration for the work being done. A fantastic panel for animation fans and a wonderful way to rediscover some excellent cartoons.
Watch exclusive footage of the Fleischer Cartoons: The Art and Inventions of Max Fleischer panel below.
---
Watch exclusive footage of Dan asking the Fleischer Cartoons: The Art and Inventions of Max Fleischer panel a question below.
---
Tiny Toons Looniversity
---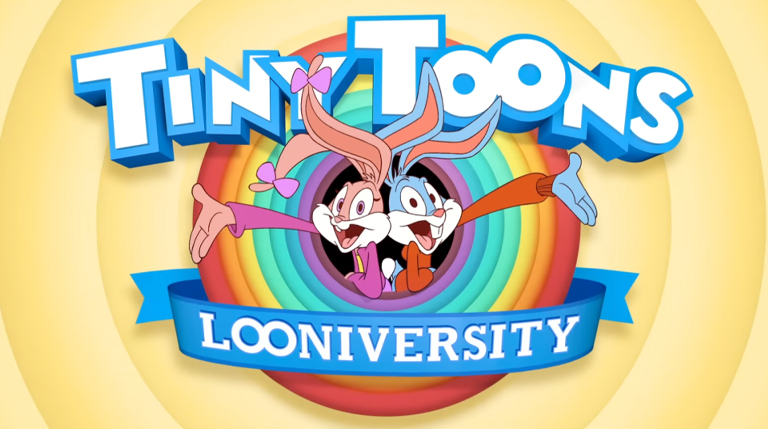 On September 14, 1990, Warner Bros. and the legendary Steven Spielberg presented Tiny Toon Adventures. Following the numerous, wacky escapades of young cartoon characters inspired by the classic Looney Tunes, Tiny Toons was a tremendous success and would be at the forefront of reinvigorating Warner Bros. animation at the dawn of a new century. The show would find itself overshadowed in time by later titles it had helped usher. But now, Warner Bros. is giving the over 30-year-old classic series a reboot with Tiny Toons Looniversity.
No doubt there were plans for the Tiny Toons Looniversity presentation aside from a screening. I recall catching it under the "Updated" tag quite early in the lead up to the convention, going as far as to merely note that it would provide a sneak preview screening as well as trailers for other programs related to Looney Tunes. In the end, they ended up having Sam Armour, production manager at Cartoon Network and adult swim, do a very brief introduction to what would be the screening of two episodes months in advance of the show's fall debut.
Dan's Review: Tiny Toon Adventures is one of my all-time favorite shows. I tried to keep my excitement regarding Looniversity in check, given how a few recent reboots went. In the end, I rather enjoyed the two episodes screened. Moreover, I was surprised with how each episode managed to maintain some semblance of coherence with multiple plots going on in chaotic fashion before all were tied up in a satisfactory climax. The episodes were hilarious, nicely made, and the positive reaction was promising enough that this series just might work out.
A Conversation with the Creator of Prime Video's Invincible
---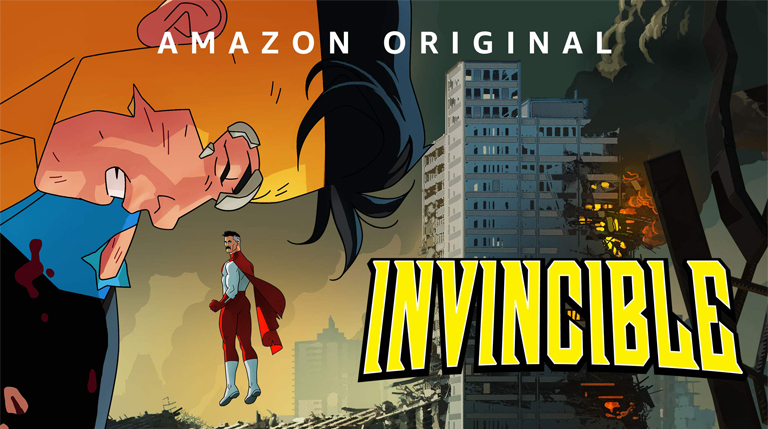 When Robert Kirkman got his first major shot in creating a comic book for Image Comics, he and artist Cory Walker created a superhero title called Invincible. First published on January 22, 2003, it was after Kirkman's popularity boomed with The Walking Dead and Marvel Zombies did Invincible start to garner interest. It was enough that an animated series was developed and began streaming on Amazon Prime on March 25, 2021. The first season was a major success, helping boost the streamer's profile. Viewers were salivating for the second season.
I didn't think I'd be getting in given I was arriving shortly after the start time, the program was very popular, and it was the second of a double-panel with a 20th anniversary celebration of the comic. Nevertheless, I got in right as they screened the trailer for the second season, with fans excited for the massive roster of guest stars that included Sterling K. Brown, Daveed Diggs, Tatiana Maslany, Chloe Bennet, and Peter Cullen. They later screened a scene from one of the upcoming episodes and a scene from the Atom Eve special that premiered that same day.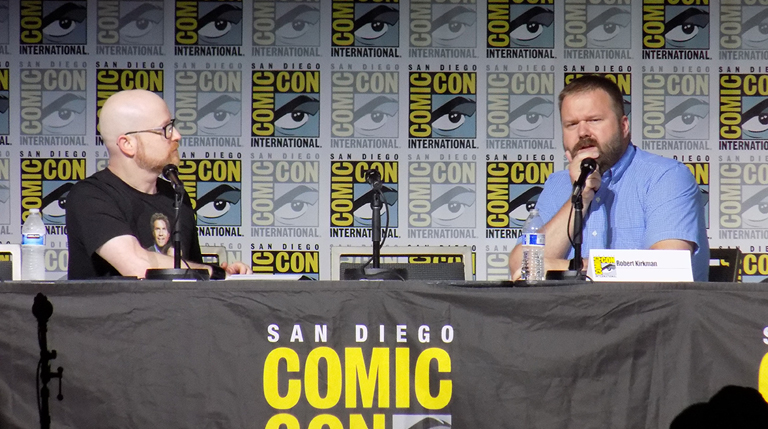 The panel was originally set to include cast members. While the strikes technically did not affect animated shows, the actors did not participate out of solidarity and Kirkman encouraged support for the strikes. Otherwise, he kept quiet about details of the second season and what from the comic would be adapted to avoid spoilers. Instead, he engaged in a rappaport with the moderator, Collider editor in chief Steve Weintraub, as they merely hinted at what could be happening as the show progressed. It was fun to hear, actually.
This was probably the first panel I attended that was affected by the strikes to a greater degree with the cast not participating. Nevertheless, it was kind of nice to sit through as Kirkman and Weintraub got to play around with their discussions so that it didn't come off as filler and kept the fans in anticipation for the second season without revealing all that many details. Not even the sudden ringing of the fire alarm going off for a second dampened the fun. Given what could be done under the circumstances, I thought it turned out pretty well.
Sharknado 10th Anniversary
---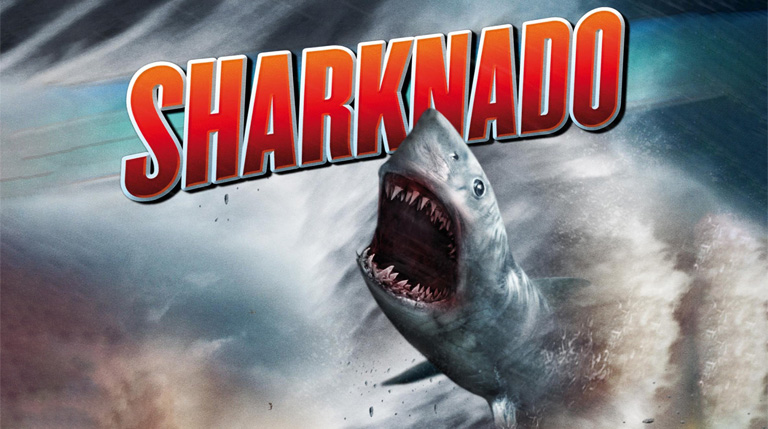 When Sharknado premiered on the Syfy Channel on July 11, 2013, it was initially seen as just another low budget B-movie flick in the channel's library. But the silliness of the premise of mixing tornadoes and man-eating sharks suddenly caused it to blow up in popularity. It became a cult phenomenon no one saw coming, as it spawned five sequels, spin-offs, a video game, and a whole lot of meme and parody material utilized. So what better place to look back and celebrate the wonder of one of the finest "so bad it's good" movies than at Comic Con.
Several minutes before the panel started, the fire alarm in the convention center went off again along with a PA message for everyone to evacuate. This turned out to be a false alarm, but it delayed the panel 15 minutes. When the panel finally got going, director Anthony C. Ferrante performed the theme song with local band Manual Scan. Joining Ferrante for the panel proper would be producers David Rimawi and David Latt, writer Thunder Levin, and star Ian Ziering (Fin) with Yahoo Entertainment senior correspondent Kevin Polowy serving as moderator.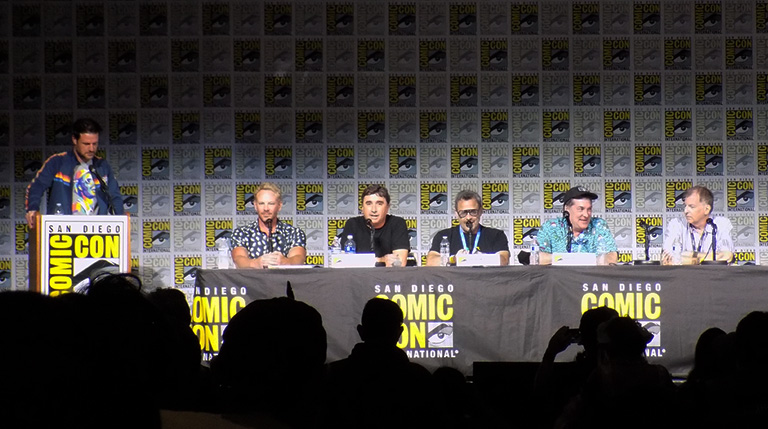 Ferrante talked about how they had to make due with what they had given it was a typical made-for-TV movie. Ziering added that he was told doing the film would kill his career, but he needed to do it so he and his family could qualify for SAG's health insurance. Latt detailed the live Tweeting process helped the film's popularity boom. For special effects, a nifty breakdown of a shark eating scene was shown. Ziering noted from the second film onward he got to make special effect suggestions for shots and how cool it was when they were utilized.
The Sharknado panel was plagued by technical issues that seemed to happen every ten minutes, from the wrong footage playing to no sound happening. Yet it sort of made it that much more charming of a presentation to attend. Everyone was just as taken aback that the film managed to develop a successful legacy to be able to have an anniversary celebration and there were some neat interactions, like when Ferrante and Ziering had differing accounts over how the cast found out what the title was. It turned out to be quite a fun experience overall.
Sand Land World Premiere Screening
---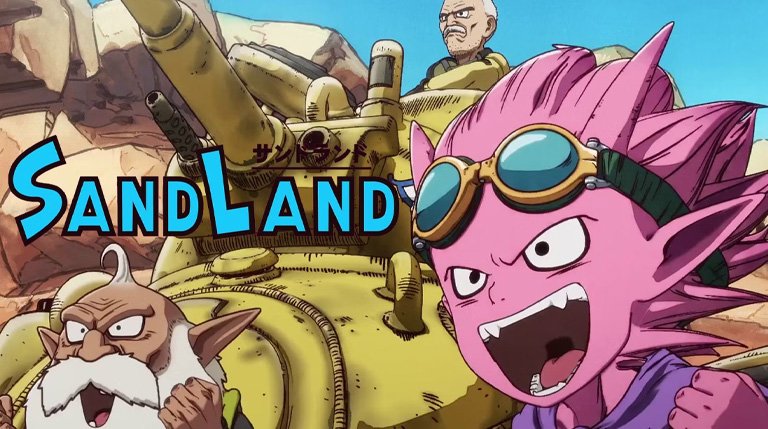 From May to August 2000, Sand Land by Akira Toriyama was serialized in Weekly Shōnen Jump Magazine. A short story made merely for Toriyama's own enjoyment, it was praised for its unique artwork and characters with some calling it superior to his legendary creation Dragon Ball. Over 20 years later, Bandai Namco began franchising the manga about a sheriff and a couple demons searching for water within the endless desert riding a tank. Chief among these projects was an animated feature and it was decided to hold its world premiere at Comic Con.
World premiere screenings were nothing new for Comic Con. The world premiere of Sand Land, though, was seen as a big deal. It was a major anime title premiering on American soil weeks ahead of its debut in Japan and Japanese media were on hand to cover the event. The screening was being done in the third largest room at the convention center and excited fans filled it up instantly. They even showed the trailer for the accompanying video game ten minutes before the actual start time and filled the rest of the time playing some of the film's soundtrack.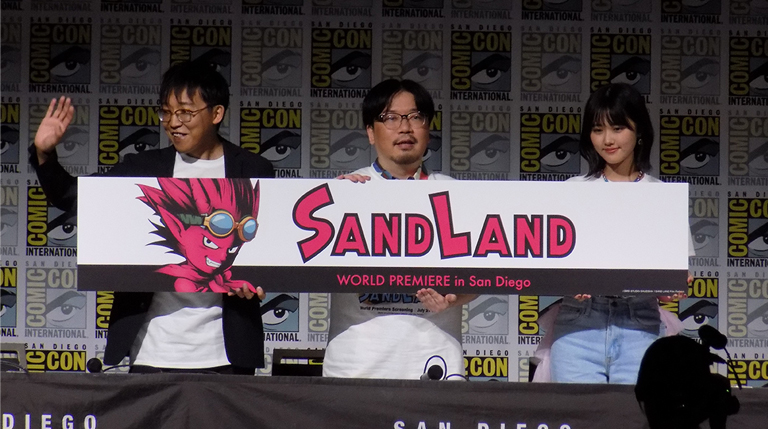 The pre-screening panel consisted of director Toshihisa Yokoshima, Toriyama's editor in charge Akio Iyoku, and actress Nanoka Hara, serving as the event's "special reporter". Yokoshima commented about fulfilling his childhood fantasy of bringing to life Toriyama's work, Iyoku noted the uniqueness of the film and how it worked in adapting the manga, and Hara showed off the sweet swag all attendees received. Moderating was an executive named Mike, conducting the panel like a press conference and translating what was being said for the audience.
Dan's Review: I really wasn't sure what I was getting myself into, even with the small research I did beforehand. I found myself being absorbed into an incredible world that was populated with delightful characters. The mixture of hand-drawn and computer generated imagery allowed for the animation to be smooth and richly defined. The story was nicely told, a hilarious romp with cool action sequences and some genuinely touching moments. The reaction was extremely high throughout with everyone agreeing that they had watched an excellent film.
Dungeons & Dragons: An Animated Anniversary
---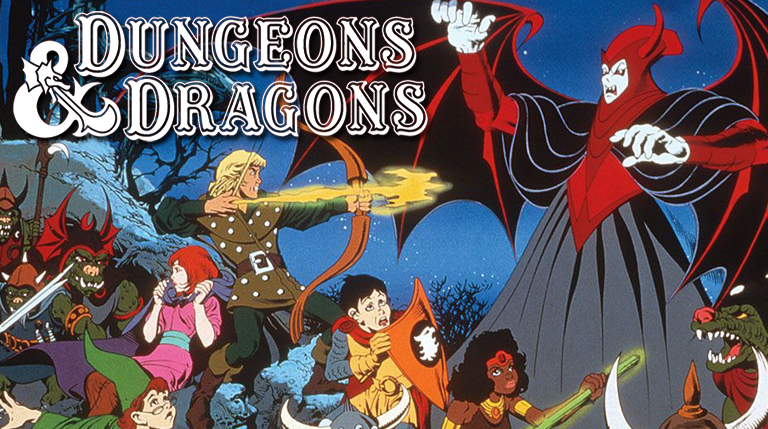 The popularity of Dungeons & Dragons was growing by the early 1980s. To take advantage, original publisher TSR, Inc. partnered with Marvel Productions to develop a Saturday morning cartoon for CBS. First broadcast on September 17, 1983, it would be one of the most daring and beloved programs at the time in telling the tale of six teens on a seemingly never-ending journey to escape The Realm and return home. Now, in the midst of a renaissance for the role-playing game, a celebration of the show's 40th anniversary would be held.
A lot happened before the presentation started. Katie Leigh (voice of Sheila) was cosplaying for the first time ever and took part in photo ops. The panel also decorated the table with toys, books, and the game's Starter Set. TJ Shevlin (Uppder Deck product development coordinator) served as moderator that featured Leigh, Mark Evanier (series developer), Luke Gygax (son of game co-creator Gary Gygax), Frank Todaro (voice actor on The Cuphead Show), and David M. Booher (writer of the Dungeons & Dragons: Saturday Morning Adventures comic book).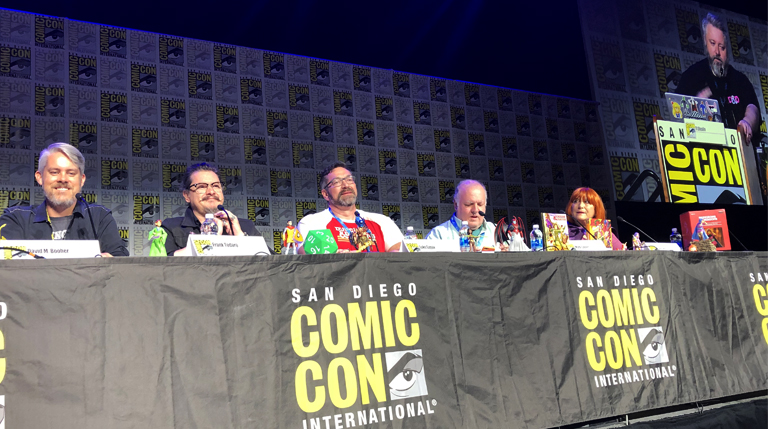 This turned into a fun panel with all sorts of interesting stories and comments about the show. Evanier had a lot to say about the behind-the-scenes process. Leigh noted her awe at being part of what was subtly an ensemble cast when she was relatively new. Gygax got to tell interesting tidbits he remembered growing up around his dad. Todaro and Shevlin provided a fan's perspective on how much more mature the show was. Booher explained ideas he hoped to explore in the comic that he had thought about since watching when he was a kid.
In a way, there was a calm, quiet atmosphere hanging in the air in that everyone in the packed room paid attention and allowed themselves to be absorbed into the discussions that were taking place. There was absolute affection for the show, be it in presentation, the memories shared by the panel, and certainly from some of the fan interactions. This was definitely a presentation in which the nostalgia factor played a great part in which made this a thoroughly enjoyable program, even before it properly started. This was truly a panel for the fans from start to finish.
Watch exclusive footage of the Dungeons & Dragons: An Animated Anniversary panel below.
---
---
Watch exclusive footage of Dan asking the Dungeons & Dragons: An Animated Anniversary panel a question below.
---
Futurama
---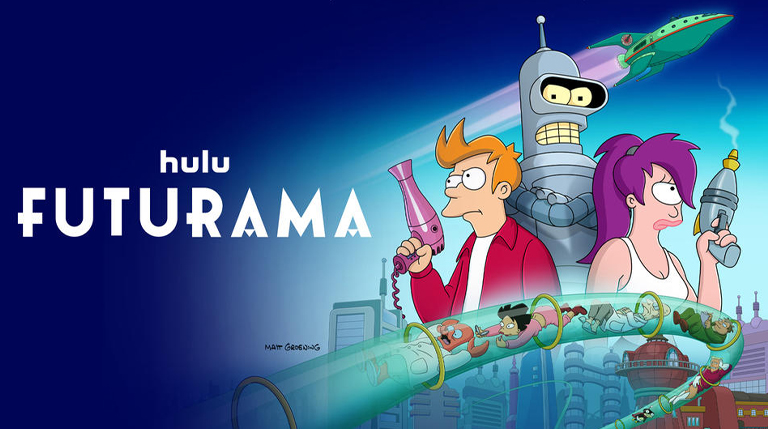 If there was one animated series that could never seem to ride off into the sunset, it would be Matt Groening's Futurama. The science fiction comedy of a time-displaced slacker that started broadcasting on March 28, 1999 went from being cancelled by Fox in 2003 to having direct-to-video features released in 2008 and 2009 to a revival on Comedy Central from 2010 to 2013. Now, ten years after it last aired, Futurama was coming back again courtesy this time of Hulu. And there frankly was no better place to celebrate the show's latest return than at Comic Con.
I made it just in time, not only for the start of the presentation, but also for the screening of "The Impossible Stream", the first episode of the revival. Attendees got a chance to see it days ahead of its Hulu debut, which was more than enough reason for fans to completely fill Ballroom 20. The episode was very warmly received, with many seemingly falling out of their seats they were laughing so hard from the all-too relevant humor coming at them hard and fast. It sure did prove that the show was still a quality program even after a ten year hiatus.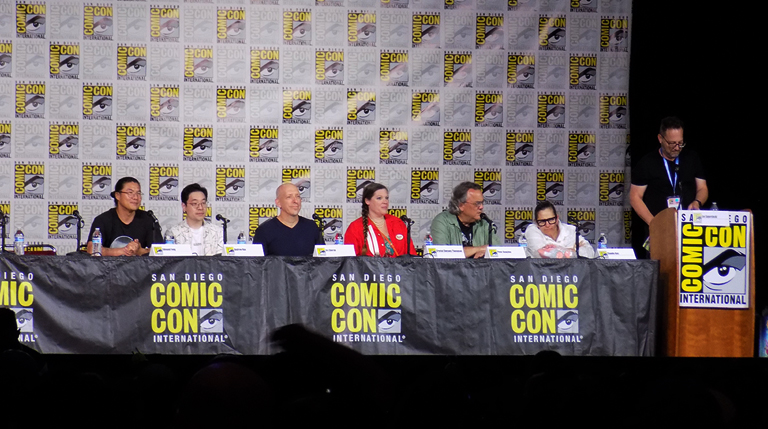 The screening was followed by a panel with producers Lee Supercinski and Claudia Katz, directors Peter Avanzino, Crystal Chesney Thompson, and Edmund Fong, and storyboard artists Ira Sherak and Andrew Han. They talked about how they were forward to the plethora of new hot topics to tackle, such as cancel culture and the pandemic, and noted side characters they were interested in revisiting. A fan question regarding possible crossovers with other Groening shows received an answer from Katz of "right now, we're trying to focus on our show."
Futurama remained a favorite of mine for quality content that had managed to hold up over the course of time. Its presence at Comic Con showed that its return was gladly welcomed with open arms. The episode screening was top notch and the panel provided just enough hints of the fun that was in store for audiences to discover. But what really made this an enjoyable experience was the positive atmosphere that was maintained throughout. Attendees were excited and they were not disappointed in the slightest. A promising start for the returning show.
American Dad!/Family Guy
---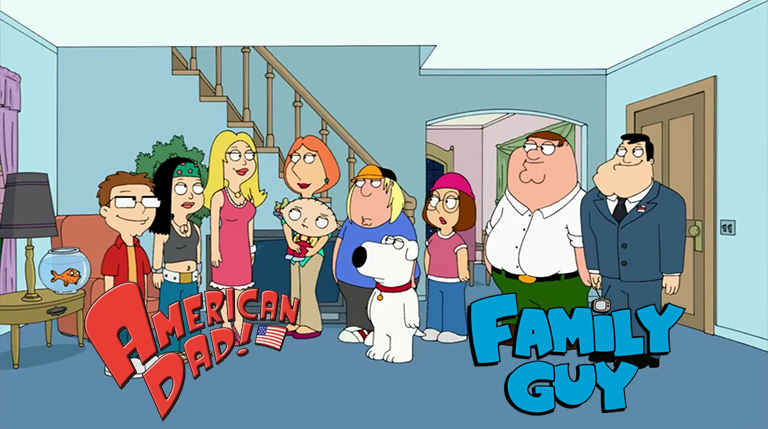 For over a decade, Seth MacFarlane's prime time animated ventures have had a major presence at Comic Con. So much so that they would be staples in Ballroom 20 on Day Three, often packing the second largest room in the convention center with fans eager to check out what both American Dad! and Family Guy had to offer. While this year was no different, it wasn't going to be a typical presentation. This would be due to MacFarlane himself and some of the other executives temporarily exiting their creative roles on both shows in support of the strikes.
To fill the space, both shows would screen episodes ahead of their respective fall broadcasts as well as a small American Dad! panel with some of the directors sandwiched in-between. For American Dad!, they screened "Frantastic Voyage", which would serve to bring the season back from hiatus, while for Family Guy they screened "Supermarket Pete", which would air later in the show's season. Both episode screenings were followed by five-minute trailers that showed off what audiences can expect as the shows progressed through their respective seasons.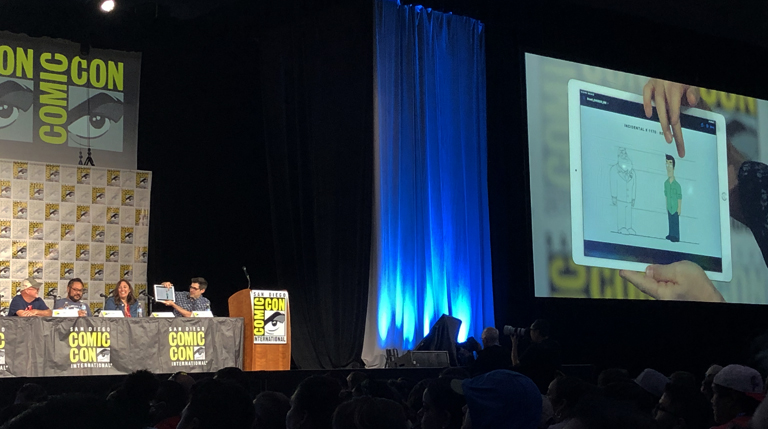 Serving on the panel for American Dad! were directors Brent Woods, Jennifer Graves, and Ron Hughart and production manager Aldrin Cornejo. Woods was the moderator and at one point showed off the model sheets of all four of them as background characters on the show. Graves teased an intriguing episode that would supposedly include "a visual position" they clearly could not show and were figuring ways to make it work. There was also talk about which alter ego of Roger's everyone liked and how they helped better develop the character over time.
To be honest, I didn't sit through the entirety of either screenings. I missed a middle chunk of American Dad! while I nearly missed out Family Guy completely. Which was just as well as I wasn't too keen on Family Guy and the okay reception seemed to confirm that. American Dad! looked like fun and I would consider checking out the full episode later. The panel was a nice opportunity for the directors to talk about what was in store for American Dad! and were able to leave us interested. Not bad for what they could make do with under the circumstances.
Spike & Mike's All Ages Festival of Animation
---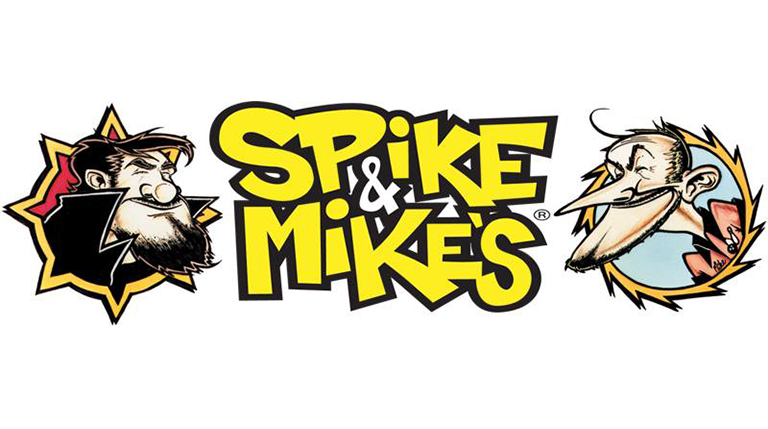 Since 1977, the San Diego-based Spike and Mike's Festival of Animation had become a renowned and invaluable institution. It was the premiere touring exhibition and promotion of animation as art and not just a medium or genre. Prominent figures within the industry such as Nick Park, Pete Docter, Andrew Stanton, Mike Judge, Trey Parker and Matt Stone, Craig McCracken, and many others got their start through their early shorts being showcased at the festival. And one of the more prominent stops for the festival had been an annual presence at Comic Con.
An "all ages" showcase was added for this year in addition to the regular presentation of the Sick and Twisted Festival with surviving co-founder Craig "Spike" Decker doing a very brief introduction. The selections for this hour-long sample exhibition were two No Neck Joe shorts by McCracken, Grandma's Hero by Corentin Monnier and Ben Ozeri, The Bookworm by Richard Wiley, Cavallette (Grasshoppers) by Bruno Bozzetto, Life Smartphone by Chenglin Xie, Captain Awesome by Ercan Bozdogan, Key Lime Pie by Trevor Jimenez, and The Missing Scarf by Eoin Duffy.
Dan's Review: Admittedly, I can only take strange and bizarre animation in small doses. This sample of Spike and Mike had tempted me to try sitting through the full experience once at some point, but it also reiterated why I prefer small doses. That these were the best selections for an "all ages" showcase had me concerned about how totally out-there the proper exhibition would be. That's not to say the shorts were bad. I rather liked what I saw, showing off some great animation in different forms and a couple having some interesting narratives.
Critical Role
---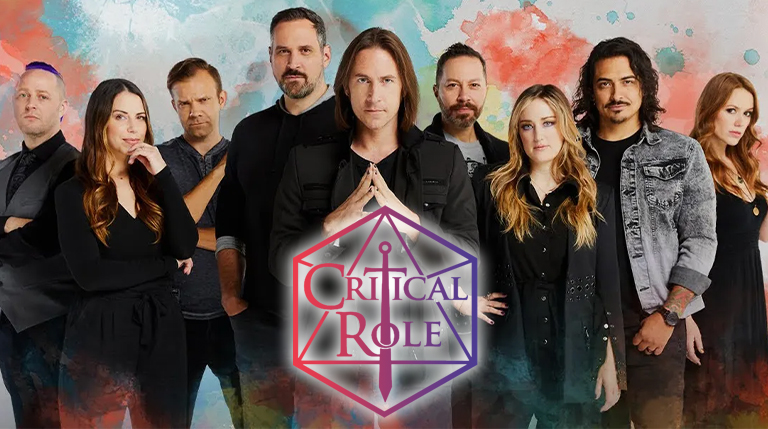 Since first broadcasting on Geek and Sundry in 2015, Critical Role had become a pop culture phenomenon the likes of which no one had ever thought possible. The weekly broadcast of a group of well known animation voice actors playing Dungeons & Dragons had reached a level of popularity that rivaled the other film and television programs that had a presence at Comic Con. Spawning comic books, novels, and an animated series, Critical Role had truly taken the world by storm and it was only growing with each progressive year.
2023 saw a great representation of how Critical Role was getting bigger and bigger. This year, they had not one, but two panels. The first would be their proper presentation in Ballroom 20, this time around called the Fireside Chat and Cast Q&A. The second would take place an hour afterward in another room, this one being Making Candela Obscura. It spoke volumes to the dedication of the fandom as they were able to fill Ballroom 20 for the first panel and many immediately made their way over to the other room and packed that to capacity as well.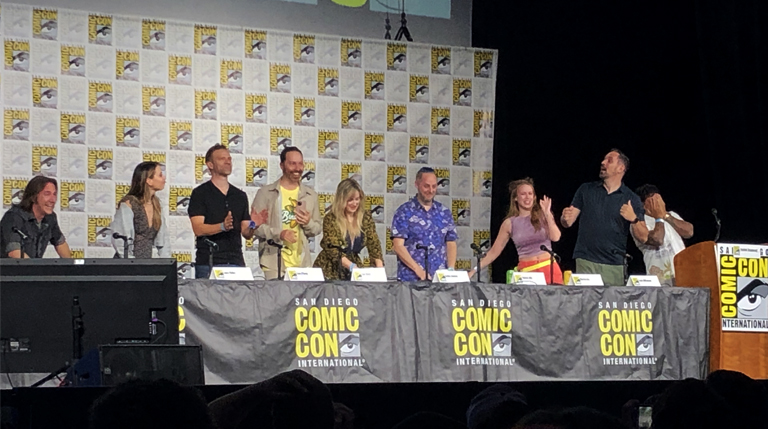 For the Fireside Chat [right], all eight members of the core cast were present: Matthew Mercer, Laura Bailey, Liam O'Brien, Sam Riegel, Ashley Johnson, Taliesin Jaffe, Marisha Ray, and Travis Willingham. Moderating was Robbie Daymond, who in recent years had become a part of the family in having played in numerous games and doing the audiobook readings of the novels. Much of the discussion was based around events that had happened to date in the current 3rd campaign, although they did their best to not spoil too much of the more recent occurrences.
Of course, the real fun was when it opened to fan interactions. This included a suggestion for Willingham to delve deeper into figuring which positions the Critical Role characters would play in football, an appreciation for Riegel's sponsorship ads, and further interest in the way Mercer runs games. Fan interactions like these were a big part of why the Critical Role panels over the years would always be a highlight for me. The sheer joy everyone had was infectious and a real treat. So imagine getting to have a second panel to go to and experience shortly afterward.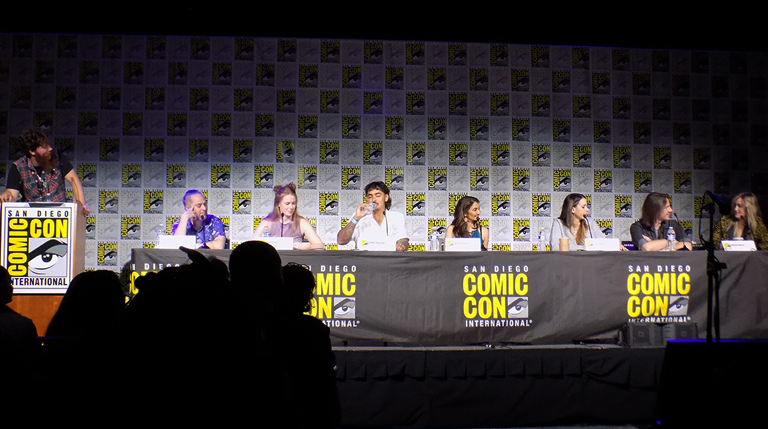 Candela Obscura [right] was the recently launched monthly program utilizing a new game system the group created. Serving as moderator was Ivan Van Norman, who was head of the Darrington Press division. The panel consisted of Jaffe, Ray, Daymond, Bailey, Mercer, and Johnson along with voice actress Anjali Bhimani. Jaffe and Ray spoke about crafting the game around Jaffe's interest in cosmic horror that wasn't in the vein of H.P. Lovecraft. Mercer, Daymond, Bailey, Johnson, and Bhimani explained trying to play a new system and their approach to role-playing.
There wasn't much with regards to fan interaction, outside of Bhimani recording the audience to singing "Happy Birthday" to her brother at the end. Yet it was still a delightful presentation as it explored the process of creating a new gaming system almost from scratch and refining it while broadcasting games. It was actually a nice counter-balance to the first panel, which was light in tone and presentation whereas the second was dark in atmosphere. These panels together further illustrated what a wonderful brand Critical Role had become.
The Critical Role: Fireside Chat and Cast Q&A presentation is available to watch below courtesy of Critical Role.
---
The Critical Role: Making Candela Obscura presentation is available to watch below courtesy of Critical Role.
D23 Presents X-MEN Hellfire Gala
---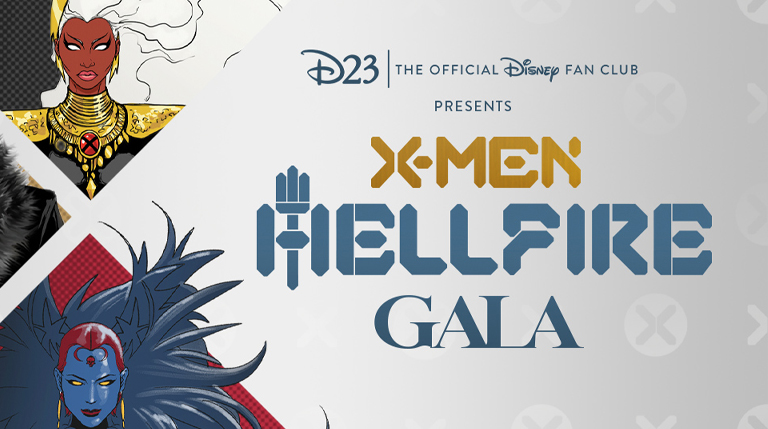 Introduced in 2021, The Hellfire Gala was a state dinner event within the X-Men comic books. Modeled after the real-life Met Gala, it was a fancy soiree in which the mutant nation of Krakoa opened it gates to non-mutants to celebrate mutant culture and served as the platform to unveil a new X-Men team. The concept was well received and it turned into an annual occurrence within the comics. Disney decided to take it further this year by hosting a real-life Hellfire Gala during Comic Con. Needless to say, curious costumed fans wanted in on this unique event.
The Hellfire Gala took place offsite, specifically at the PARQ Nightclub a way's north of the convention center. While one didn't need to have a Comic Con badge, they needed a ticket and they were sold only to D23 members. It managed to sell out weeks ahead of the event. As the concept was that it would be a fancy soiree, many definitely dressed up, whether it was in just standard formal wear or in elegantly designed cosplay. Most of the costumes were definitely X-Men related, but there were other types from within the Marvel universe and beyond about.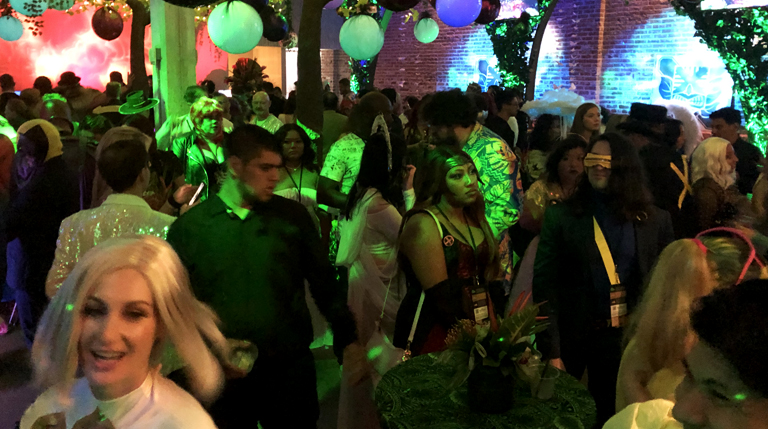 PARQ Nightclub was far bigger than expected, allowing for three distinct areas. The Green Lagoon acted as the entry area in which folks could gather and have some drinks. The Hellfire Ballroom was where the main discotheque dance floor was found. And Lair X housed some of the activities that could be done like playing the old-school X-Men arcade machines and checking out various photo op displays. All attendees received tickets at the entrance, one for a free drink and one to pick up a gift bag that included pins, X-Men books, and other goodies.
I would say that the Hellfire Gala was a very impressive set-up. It was quite a sight to behold, allowing for moments in which I was just standing around to take it all in. But it was just so crowded! So much so that it made the atmosphere extremely warm, and this was in the middle of summer. Furthermore, I really couldn't try out any of the photo op displays because the lines were just so packed. I didn't regret going to the event and it was fun enough just to be in the middle of it all. But I probably wouldn't do another one given how crowded it was.
Other Panels
---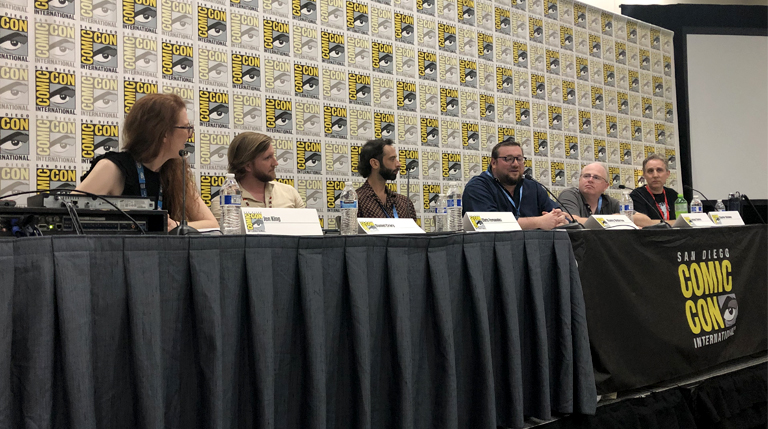 On Day One, I had been standing for several hours straight and my feet were hurting for some relief. So much so that I decided to sit in on the panel that was ahead of Fleischer Cartoons. This would be What's New in Independent Comics [right]. A few independent comic book creators came to discuss where things were going for them and how the strove to stay afloat against the ever shifting landscape of how the industry ran. A very interesting panel to listen to and offered a unique look at the challenges faced being a comic book creator these days.
A number of entertainment-based panels would indeed be greatly affected by the strikes. Among them was TV Guide Magazine's Fan Favorites 2023. This panel would normally spotlight actors that popular at the moment and explore their career paths up to that point. That would clearly not be the case this year. So they instead brought in notable online columnists to discuss the concept of fandom and what it means to be one. It could've been something uniquely interesting, but it couldn't escape it's ultimate fate of being filler between programs.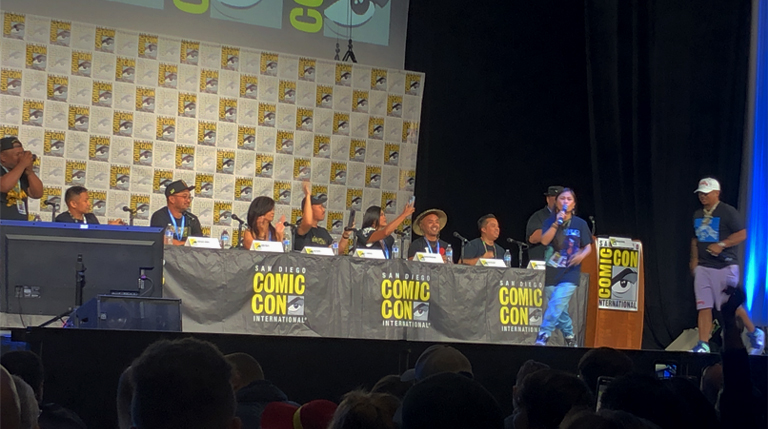 Scheduled ahead of Critical Role was Anne Rice's Interview with the Vampire. However, the strikes caused that to get cancelled and its spot was empty for several days. At literally the last minute, they added The Sights and Sounds of Lumpia, The Deep Fried Universe, and Beyond [right], celebrating an expanding crowdfunded Filipino-American film franchise. Having been at Comic Con for years promoting their brand, getting into Ballroom 20 was a big deal for them and they took advantage with a thoroughly entertaining panel that was energetic and fun.
With the two Critical Role panels taking place in separate rooms, the vast majority of fans made an immediate rush to get to the next room and sit in on whatever was happening ahead of Candela Obscura. This would be Developing TV/Film for Streamers, one of the few active programs not necessary affected by the strikes as it discussed the Tubi series Underdeveloped. It was a fairly big panel that included actor/producer Thomas Ian Nicholas and star Tom Arnold, whose presence was definitely welcomed due to the hilarious Hollywood stories he told.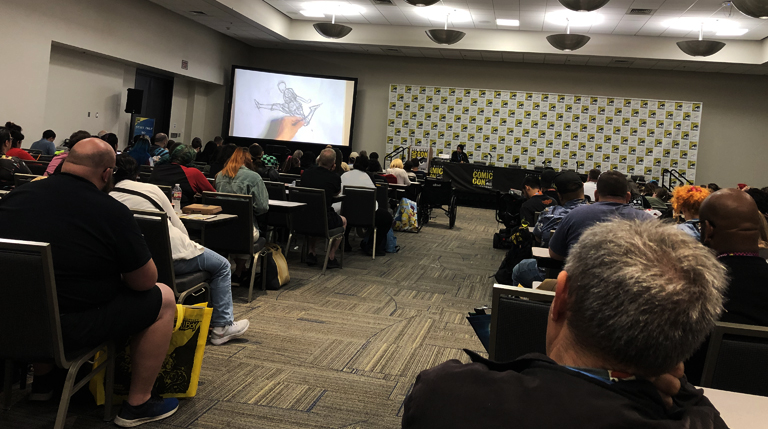 There wasn't much of interest on the last day, with a couple panels that could have been worth checking out getting cancelled as a result of the strike. It's also my big shopping day as I made a final go at picking up things. Nevertheless, I found myself sitting in on the room that was use for drawing lessons throughout the weekend. The first program I sat through was Figure Drawing for Comics, Storyboards, and Illustration [right]. Less actual life drawing lessons and more about its utilization in graphic illustrations, it was still a nice program.
Following that was Draw Me Like One of Your Disney Girls. It was presented by a group who would get hired by Disney and other studios to serve as life drawing models on occasion. There were three on hand, dressed as Disney characters such as Ariel and Esmeralda. They each took turns to pose for five minutes, allowing any one in the room who wanted to draw to do so, while talking about what they did and providing some interesting tidbits. It was a nice little program as their anecdotes were fascinating and it was fun to draw along with everyone else.
Cosplay
---
You couldn't have any convention, be it Comic Con or any other major social gathering, and not see hundreds of folks roaming about in Cosplay. Be it in the halls of the convention center or out on the streets of downtown San Diego, fans from all walks of life dressed up as characters from across every possible corner of the pop culture spectrum. And one couldn't help but to stop and admire the work that went into creating such wonderful and unique costumes being worn. Some would say that the cosplay was the highlight of the convention.
There was a great deal of cosplay that I got to see this year. Interestingly, I noticed that there were a lot of groups in costumes, not just individuals or pairs. At one point, there just happened to be a dozen people dressed as various Batman characters of different eras gathered in one spot just because. But I'm of the opinion that the fandom with the most cosplayers was The Owl House [above right]. There were just so many costumes from the Disney series out and about, they were not confined to just the panel or to the many the group autograph signings.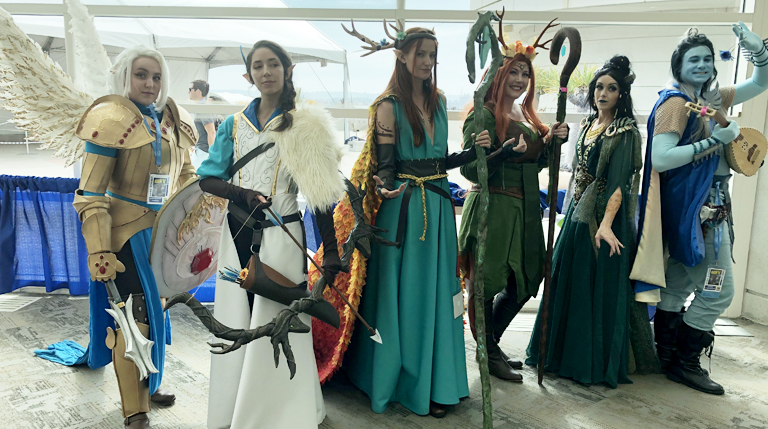 Another one in which there were a lot of costumes was for Critical Role [right]. Further proving that it was growing, I found all sorts of fans dressed up as characters from all three campaigns to date and they were located in various places throughout the convention, not just in the panels. Probably one of my favorite groups, though, were some fine fellows who dressed up as various characters from Monty Python and the Holy Grail. They got stopped often as fans wanted pictures of or with them seemingly every ten seconds they were a delightful set.
A popular solo costume was of Peter B. Parker with a baby Mayday from Spider-Man: Across the Spider-Verse. There was quite a number of them seen throughout the convention center and I even caught one getting interviewed for FX Movie Channel. One of the funniest costumes was taking Kratos from the God of War video games and making him a Mormon elder in the vein of The Book of Mormon. I could not stop smiling upon seeing that. Another favorite were two little girls, one dressed as Powder and the other dressed as Jinx from Arcane. It was adorable.
Autograph Signings
---
The autograph signing for the cast and crew of the Spider-Man 2 video game [right] would undoubtedly be one of the biggest. But for some reason, the Marvel booth didn't do a lottery drawing first thing in the morning on Day One like they usually did. So hundreds of fans crowded the booth 90 minutes before the signing. They sealed off those lucky enough to be crushed against the right spot as getting in and I was among them. It almost killed me, but it was ultimately a great moment as I got to meet the folks behind the game series I greatly admired.
Being a wrestling fan, I would consider meeting wrestlers who appeared at the convention when I could. One name that caught my attention was El Hijo del Vikingo. One of the most spectacular wrestlers ever, I really wanted to meet him and had a chance at the Headlocked Comics booth on Day One. Also there were delightful comedy wrestler Danhausen and powerhouse brute Brody King, though I've met King before. Vikingo was great to meet, allowing me to hold his championship belt for our photo and even photo-bombing my picture with Danhausen.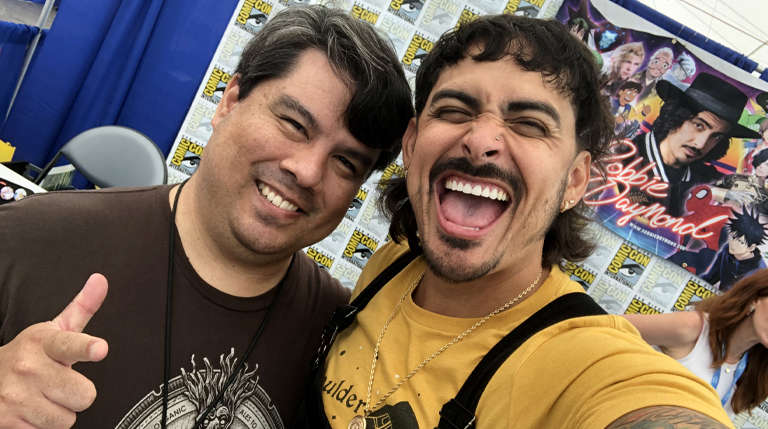 I've met Robbie Daymond [right] years before when he did a Sailor Moon group signing at the Viz Media booth. I wanted to meet him again as he had since voiced Spider-Man and became part of the Critical Role family. The latter being the cause for his lines in the Autograph Area in the Sails Pavilion to be very long, with the wait time being an hour. He seemed to remember me from the Sailor Moon signing and geeked out when I showed him the panel in Amazing Spider-Man: Renew Your Vows revealing Peter and Mary Jane's daughter being a Critical Role fan.
Having a table next to Daymond on Day Two was Zeno Robinson. Robinson was part of an emerging generation of voice actors who had quickly garnered popularity. Among his best known work include voicing Keigo "Hawks" Takami in My Hero Academia, Goh in the Pokémon franchise, and Genya Shinazugawa in Demon Slayer: Kimetsu no Yaiba. He recently experienced a boost in fan interest voicing Hunter in The Owl House. As a result, Robinson would have hefty lines himself, though in sporadic periods. He was a cool guy to meet and was fun to hang out with.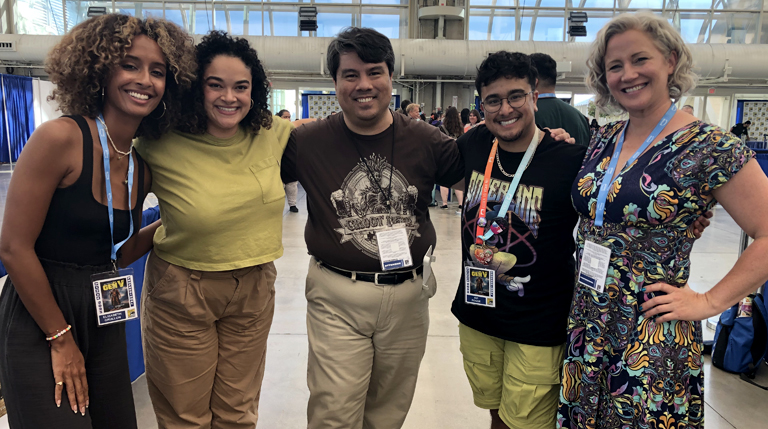 Because of commitments to other programs, Robinson couldn't participate in any of the group signings for The Owl House panelists [right]. And what massive lines these had, to the point that they went outside the convention center with the wait time going over four hours. It's a testament to the incredible fandom of The Owl House. In the middle of Day Two, Robles, Jones, and Roque were joined by Elizabeth Grullon, who voiced Camila, adding more excitement to the affair. All four were a pleasure to meet and offered a great experience to everyone.
I let Jones know I was going to see her at another signing, this time with Ashly Burch. This was a must for me as I was a fan of the Life is Strange video game where Burch voiced deuteragonist Chloe Price and Jones voiced her mother Joyce. The signing was in conjunction with a panel they did called AI in Entertainment – The Performers' Perspective. Burch was touched by my fandom, and while she didn't have anything in particular to sign, they liked my suggestion of her signing Jones' Joyce promo to play up Chloe being a rebel and invading her mom's space.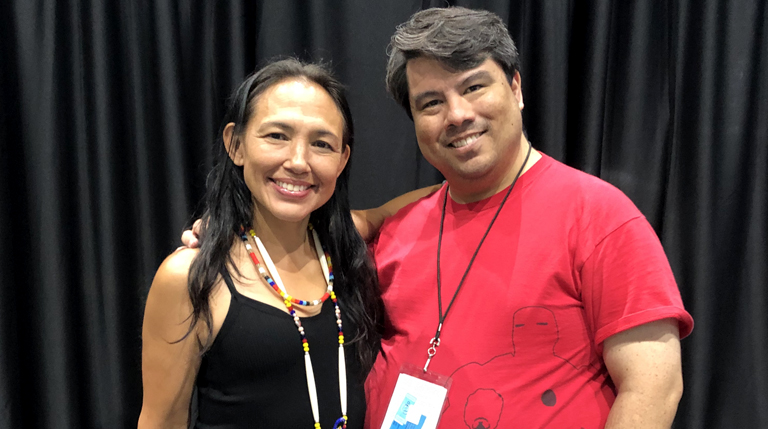 Funko had a few booths this year, a couple under the 7 Bucks A Pop brand served as stations for autograph sessions. On the last day, one of the booths would host Irene Bedard [right], the voice of Disney's Pocahontas. She was scheduled to spend the entire day there, but her flight got delayed and was a couple hours late. While she did have some Pocahontas promos available, I had her sign an art piece I did 20 years ago. That it was 20-years-old led her to give a great comment about the enduring legacy of the character. A delightful woman to meet, really.
In comic book related signings, I paid a visit to Jody Houser at her table in Artists' Alley on the last day to chat with and she sign a copy of a Critical Role comic book I had forgotten I had put aside specifically for her years back. Afterward, I swung over to Adam Hughes' booth during the last time period in which he would do sketches. I was always game to add sketches to my artists' sketchbook and getting something from a respected illustrator like Hughes was too good of an opportunity to pass up. It was a joy to watch him illustrate Mary Jane Watson for me.
Watch exclusive footage of the cast and crew of the Spider-Man 2 video game being introduced for their autograph signing at the Marvel Booth below.
---
Watch exclusive footage of Adam Hughes illustrating Mary Jane Watson at his booth below.
---
Our Twitter post with video showing the lengthy line for The Owl House group autograph signing garnered enough attention that it was retweeted by Rebecca Rose and Cissy Jones as they expressed their thanks and appreciation to fans who waited to meet them.
To everyone who waited in line the past two days, THANK YOU! Some of you waited OVER FOUR HOURS to come by the table. This video doesn't even show that the line had to be redirected outside the con at one point. You guys are the best and the cast loved meeting you all! 💜🦉🏠💜 https://t.co/9XWokUI8UD

— Rebecca Rose🍁🍂 (@HeyRebeccaRose) July 22, 2023
I am floored by you all! Thank you thank you for being here, and for your patience so that we got to speak with everyone 🫶 https://t.co/OBLJnHqt3v

— Cissy Jones (@cissyspeaks) July 23, 2023
---
Below are exclusive pictures from the 2023 San Diego Comic Con.
Hundreds of attendees lining to get into the Exhibit Hall on Day One.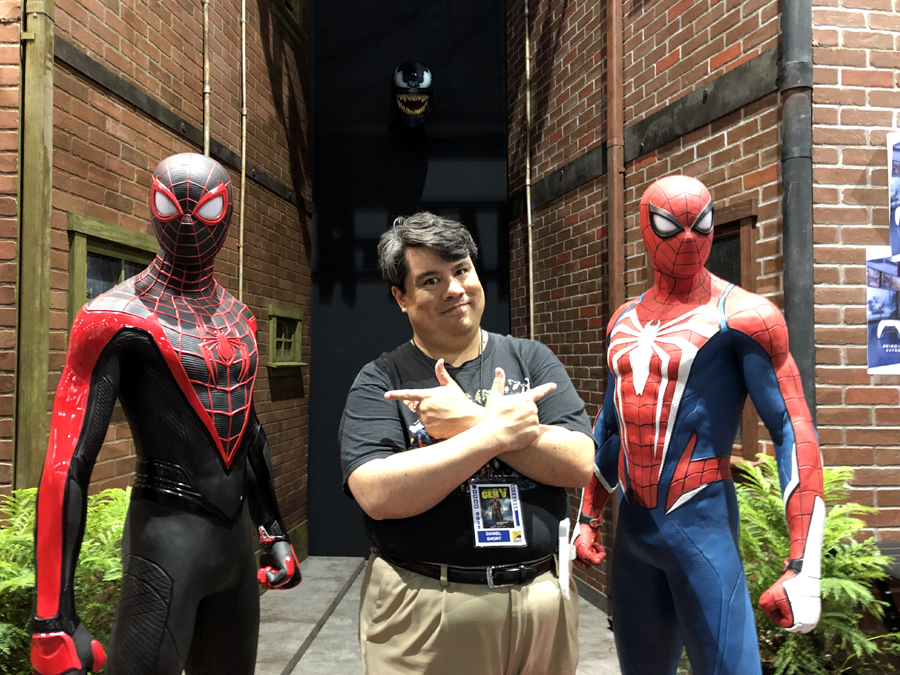 There may be something behind Dan…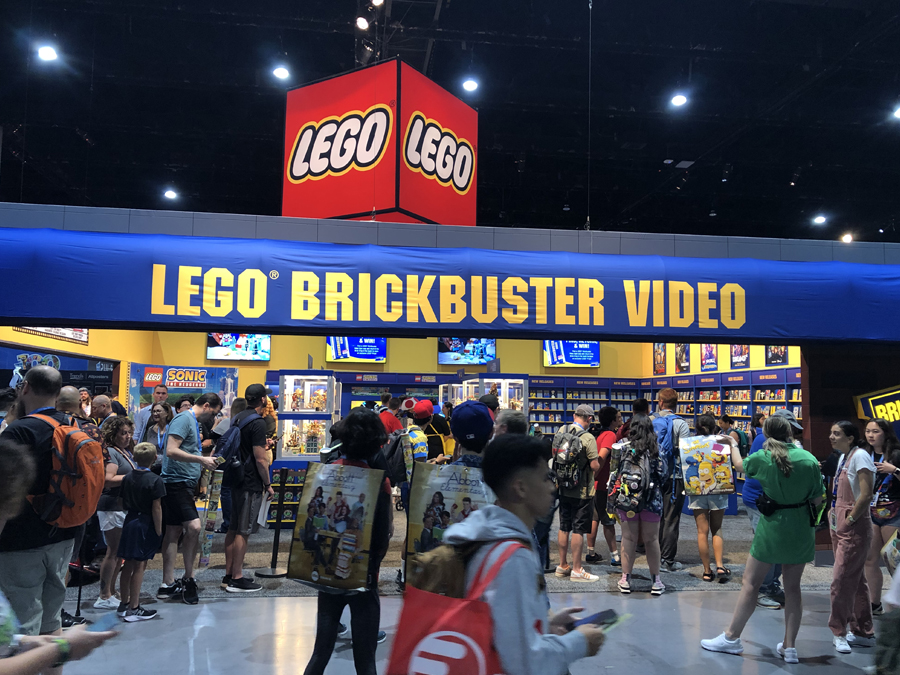 The LEGO "Brickbuster" was among the popular booths this year.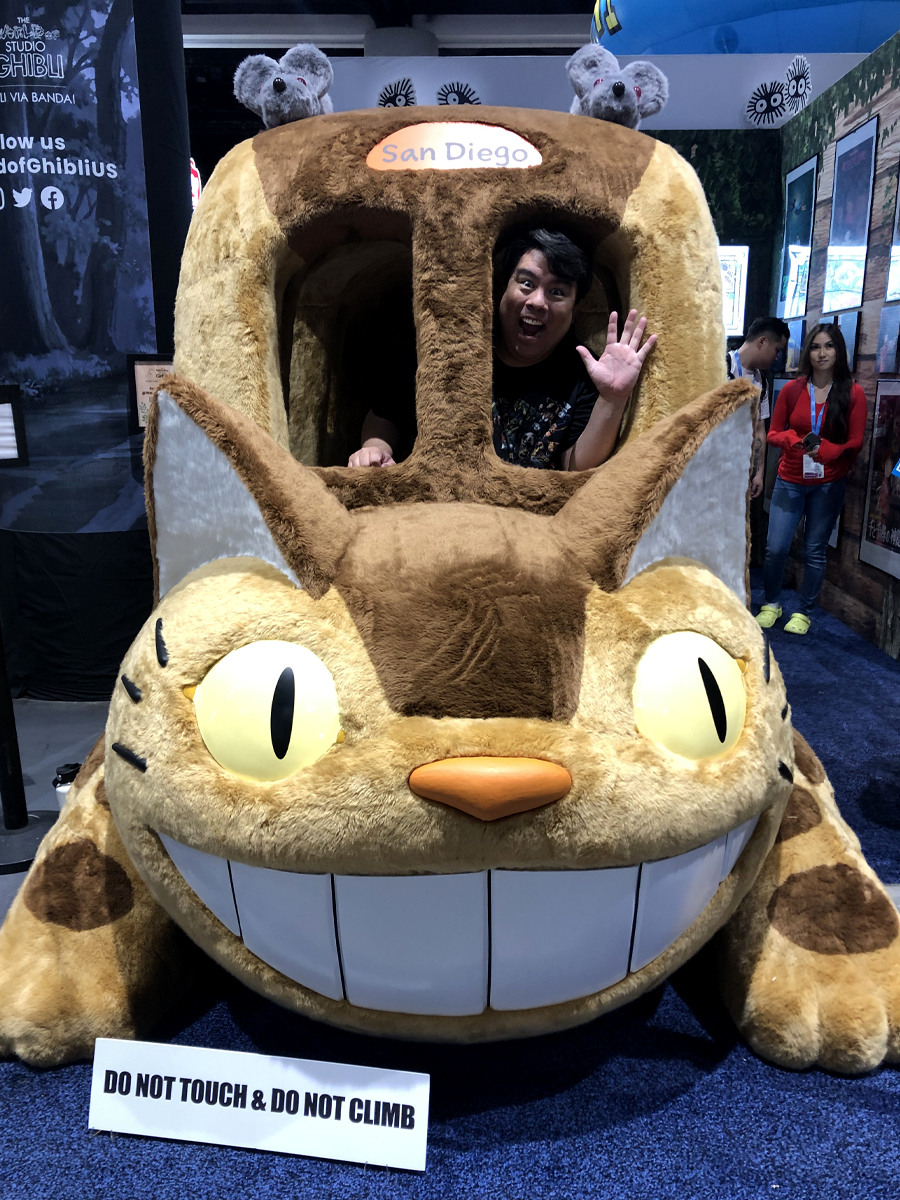 This is why Dan liked taking the shuttle buses to Comic Con.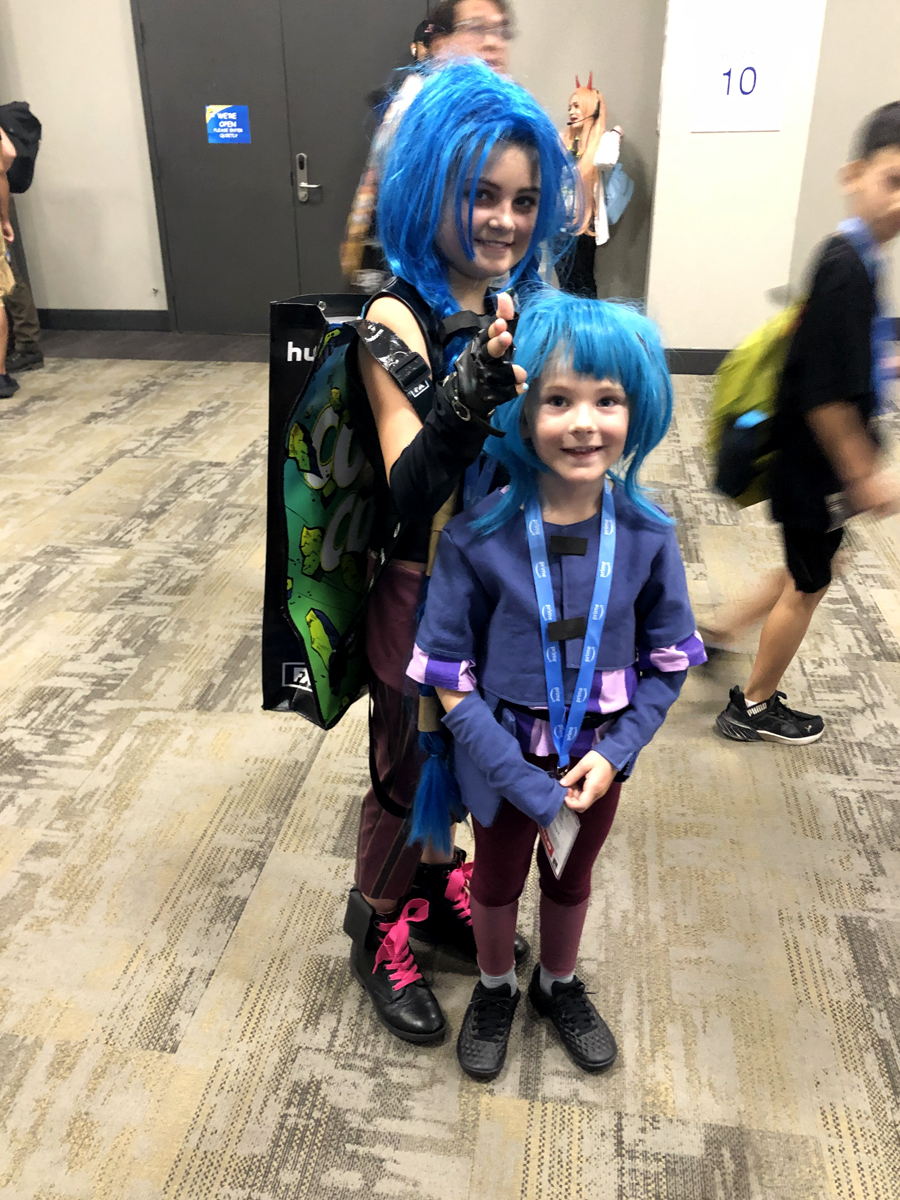 "Oh the misery, Everybody wants to be my enemy." (Jinx and Powder, Arcane)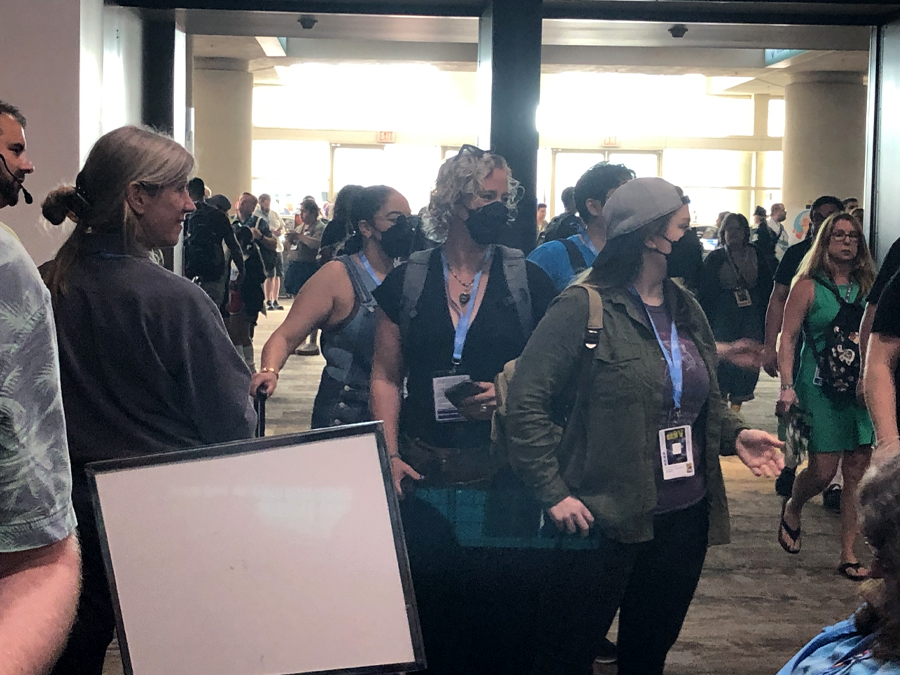 It took fans a minute to realize The Owl House panelists had arrived ahead of time before the cheering started.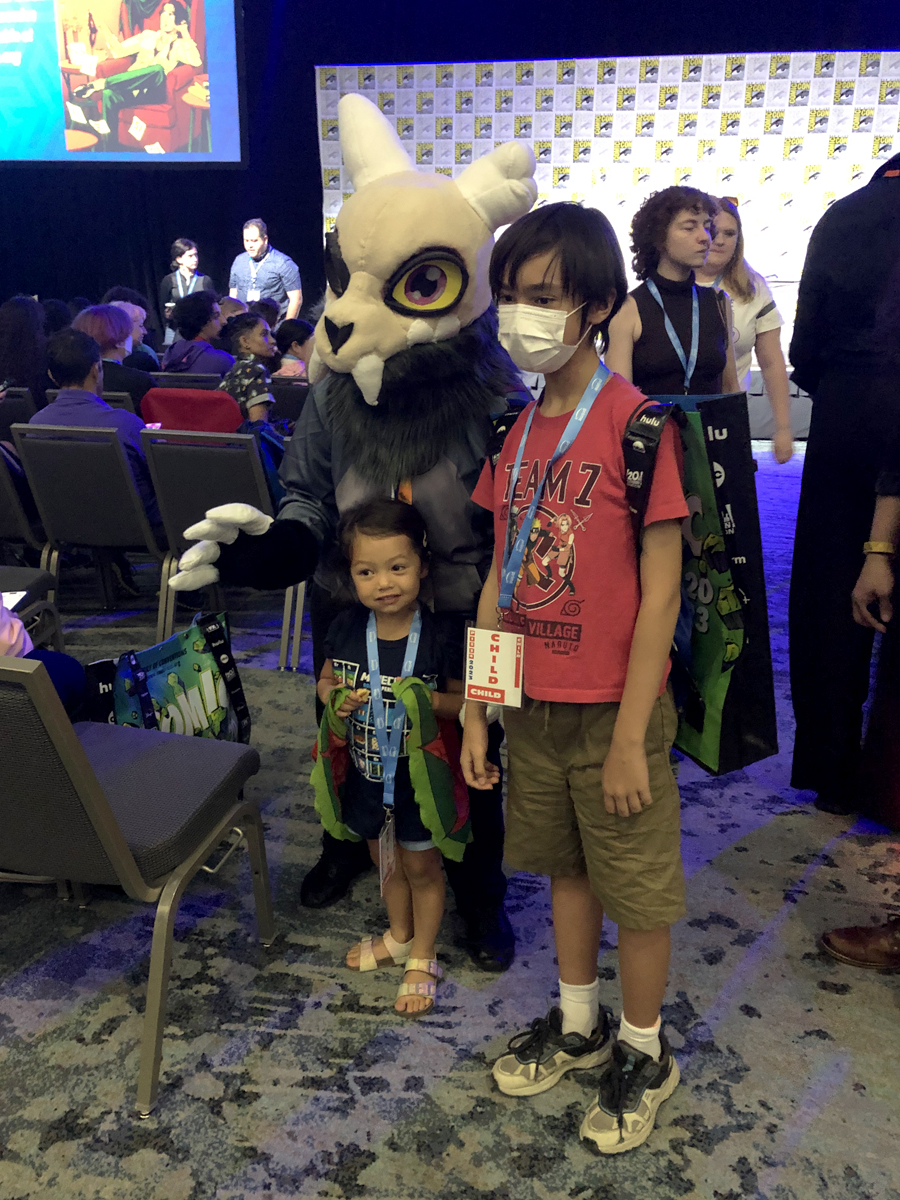 Fans were so impressed with this King (The Owl House) costume they wanted a picture with them.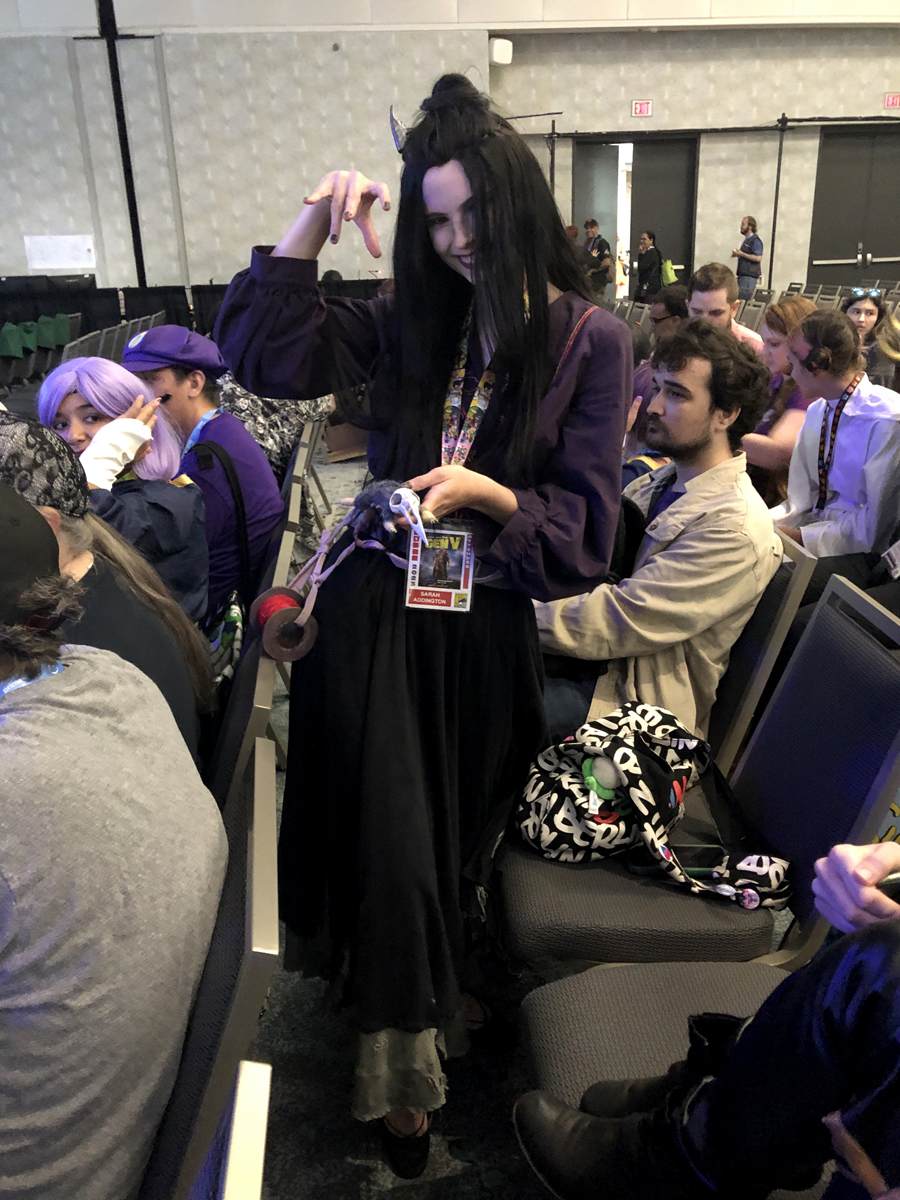 "I was alive, but then I was dead, and now I'm alive again. I'm originally from Whitestone and this is Pâté, my pet rat." (Lauda, Critical Role)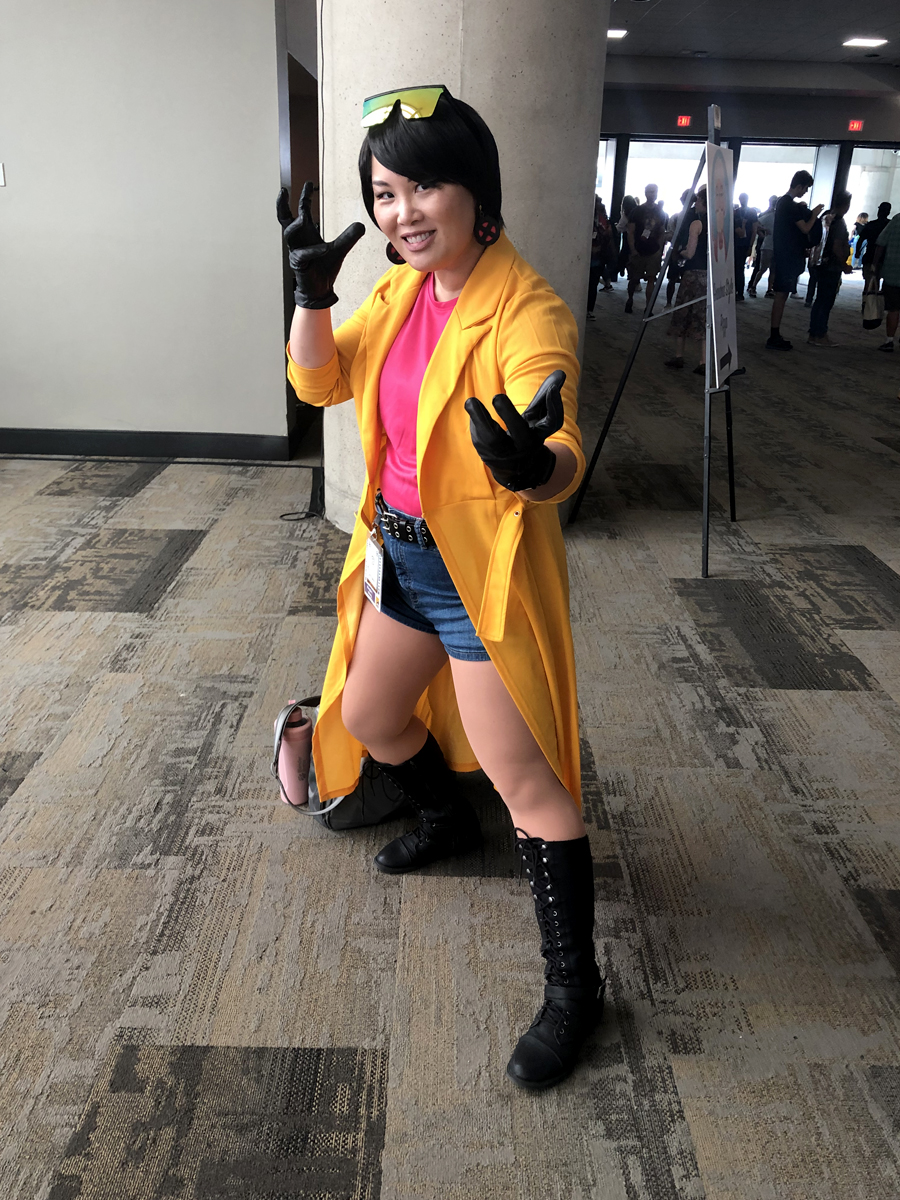 "Eat my atom bomb, eternal dork!" (Jubilee, X-Men)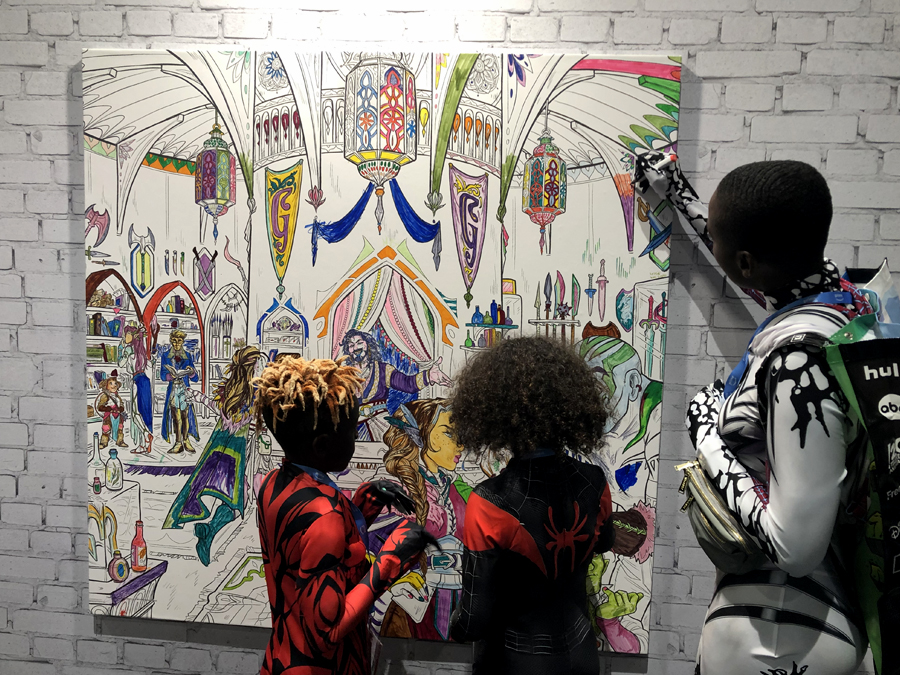 Fans coloring a Critical Role comic book panel at the Dark Horse Comics booth.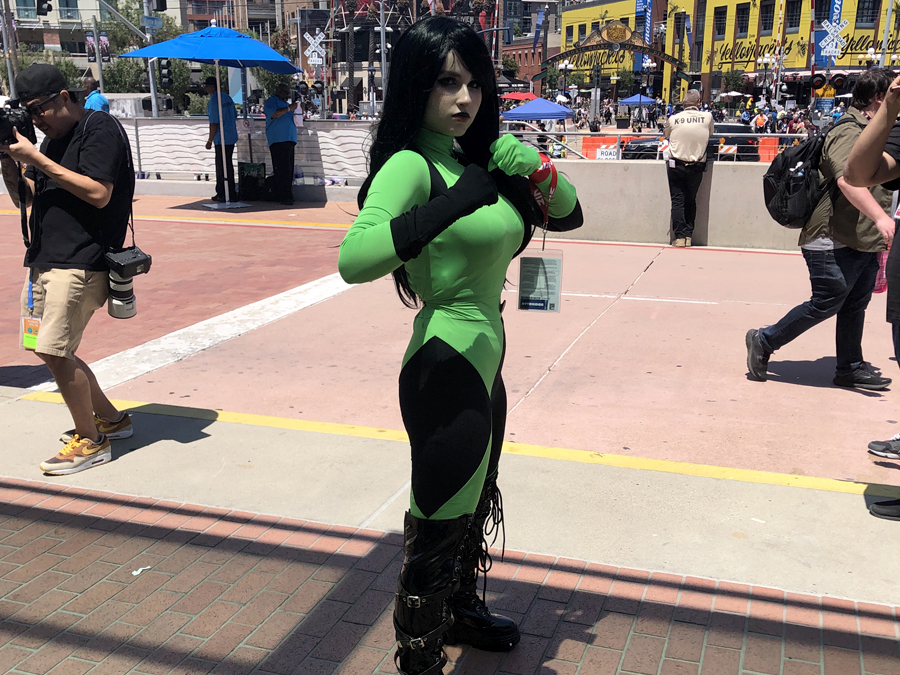 "Today's forecast: 100% chance of pain!" (Shego, Kim Possible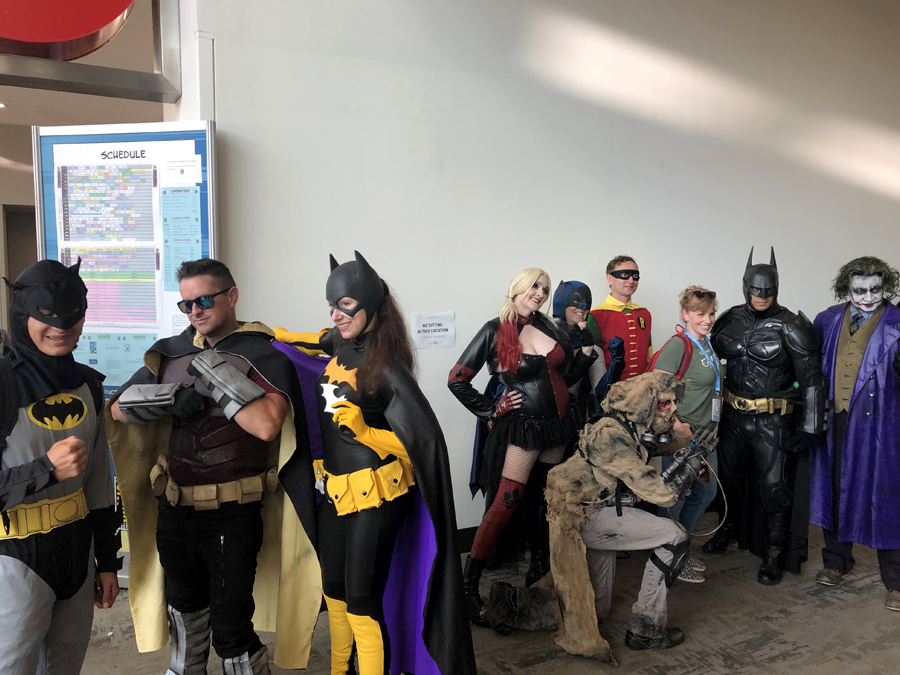 So many different Batman characters from different eras gathered in one spot just outside the Exhibit Hall.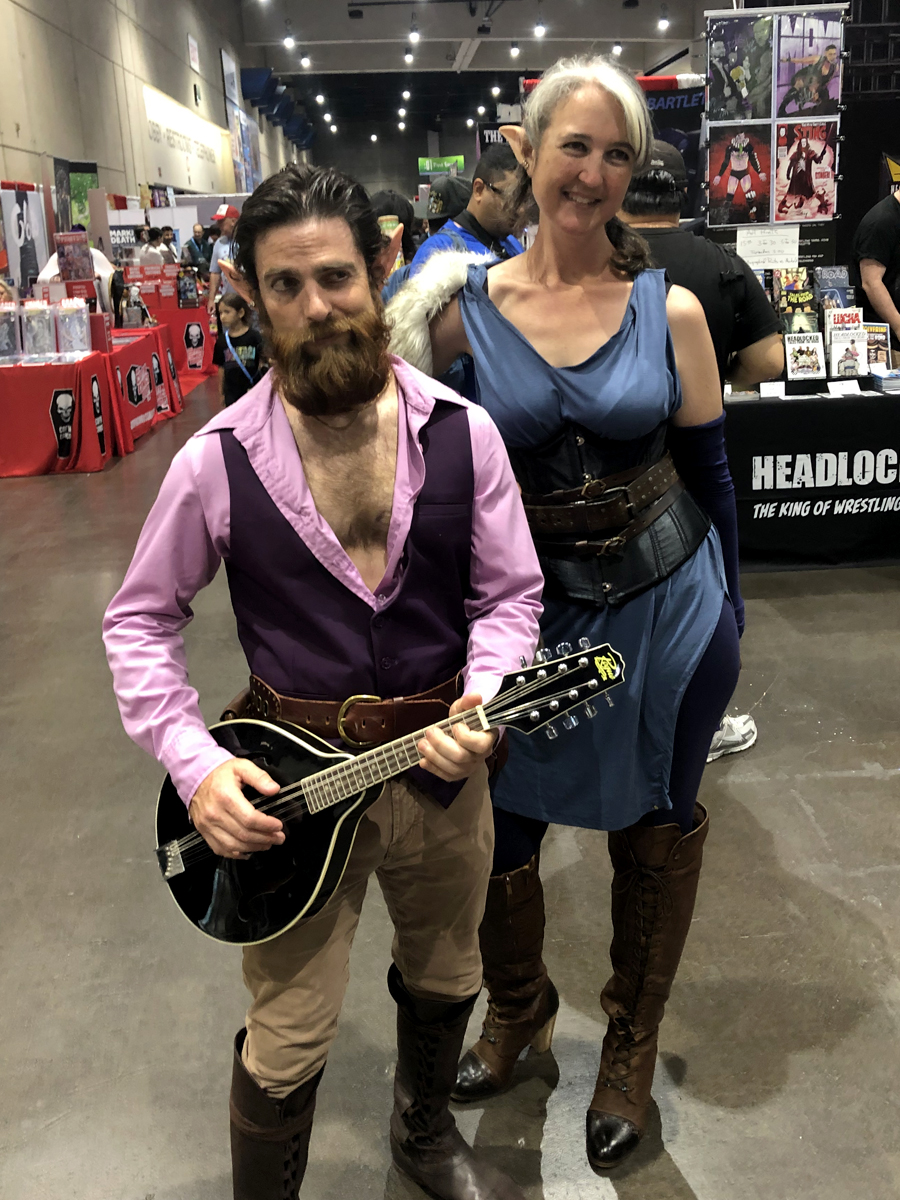 Scanlan and Vex'ahlia appearing to have started to get up there in age (Critical Role).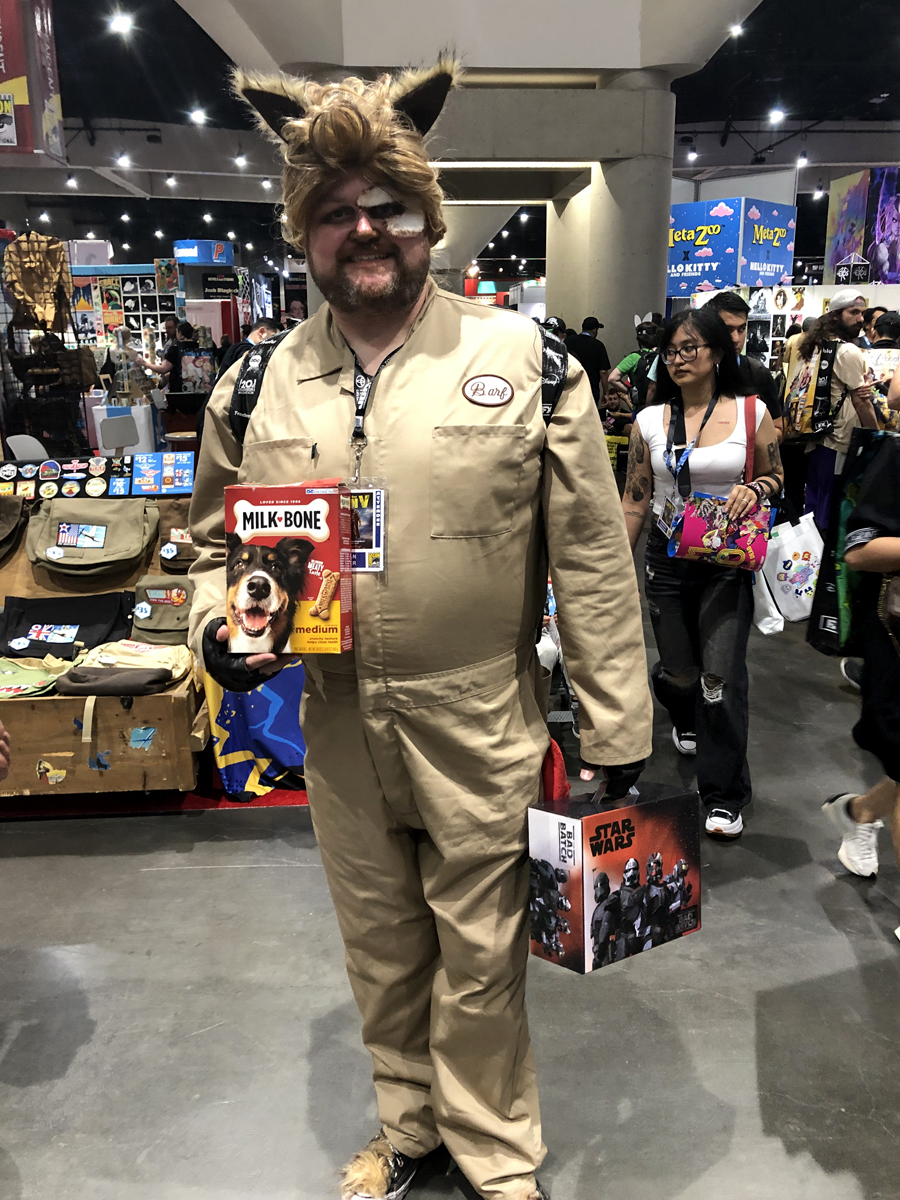 "I'm a Mawg. Half-man, half-dag. I'm my own best friend." (Barf, Spaceballs)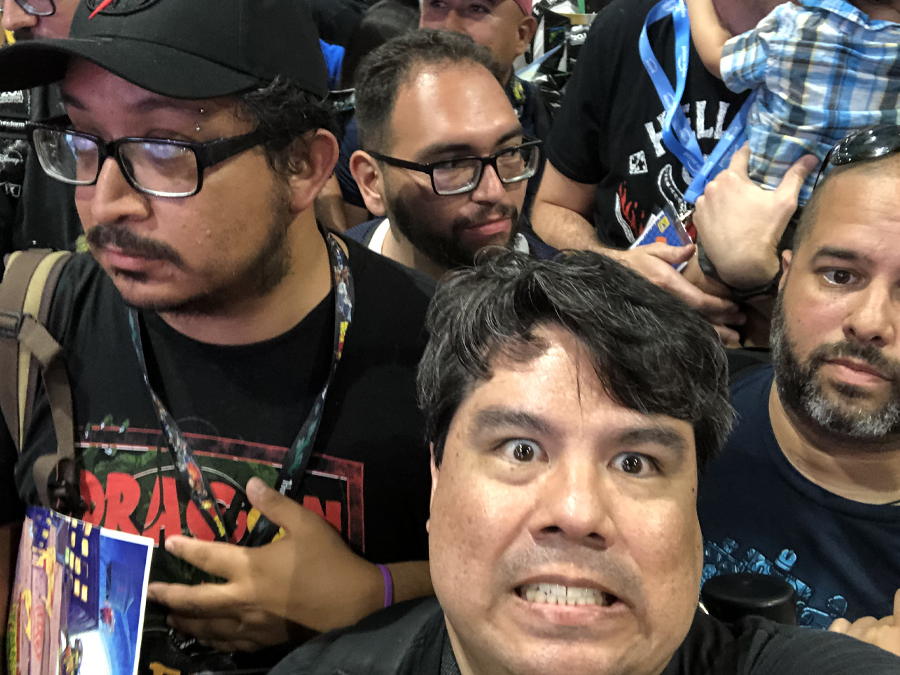 Dan getting trapped in a sea of humanity trying to get into the Spider-Man 2 signing at the Marvel Booth.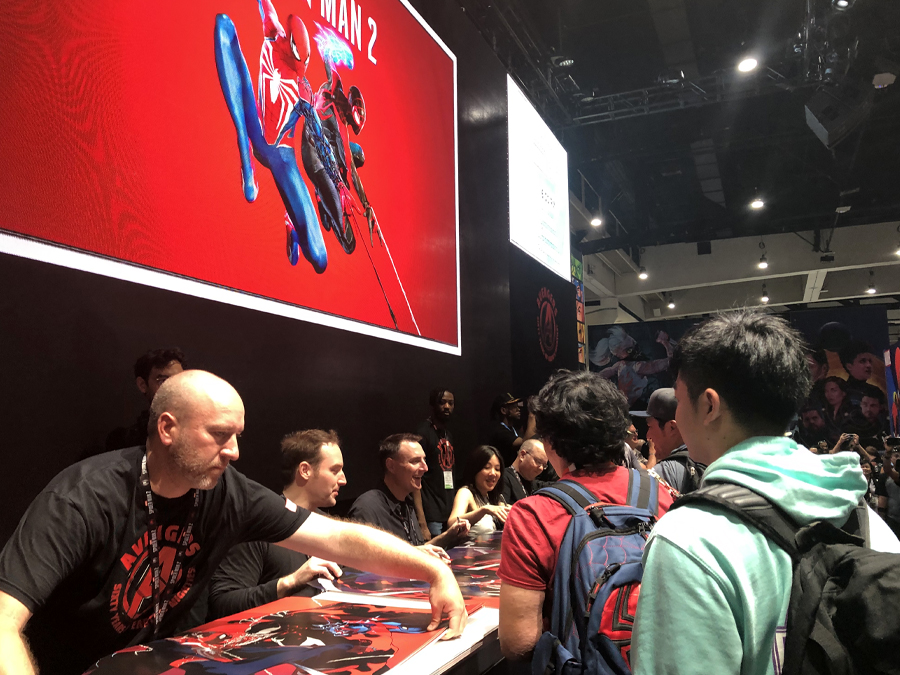 There would only be 250 lucky fans who would get into the Spider-Man 2 signing at the Marvel booth.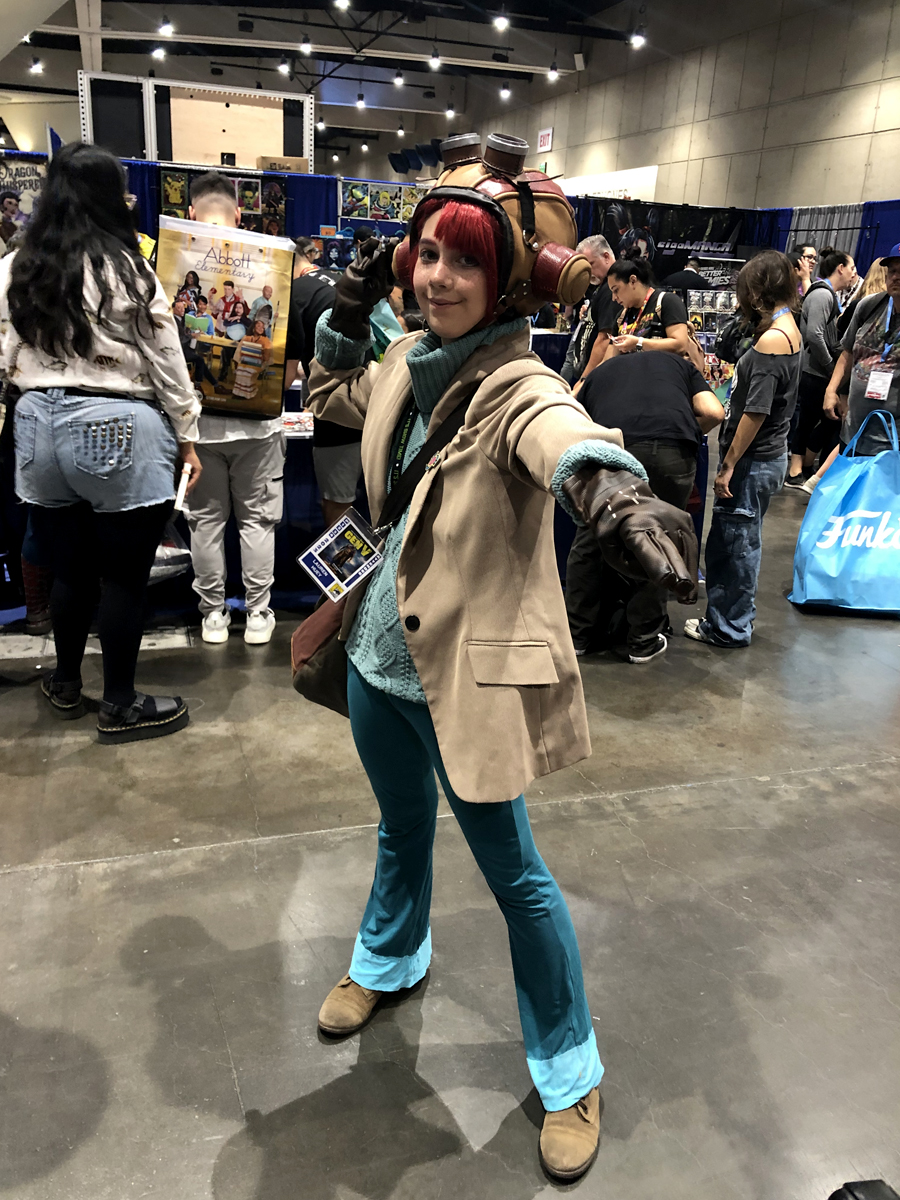 "Okay, I'm off to the Forgetful Forest to find a bee for Agent Boole. This is a serious mission, no matter how adorable it sounds." (Raz, Psychonauts)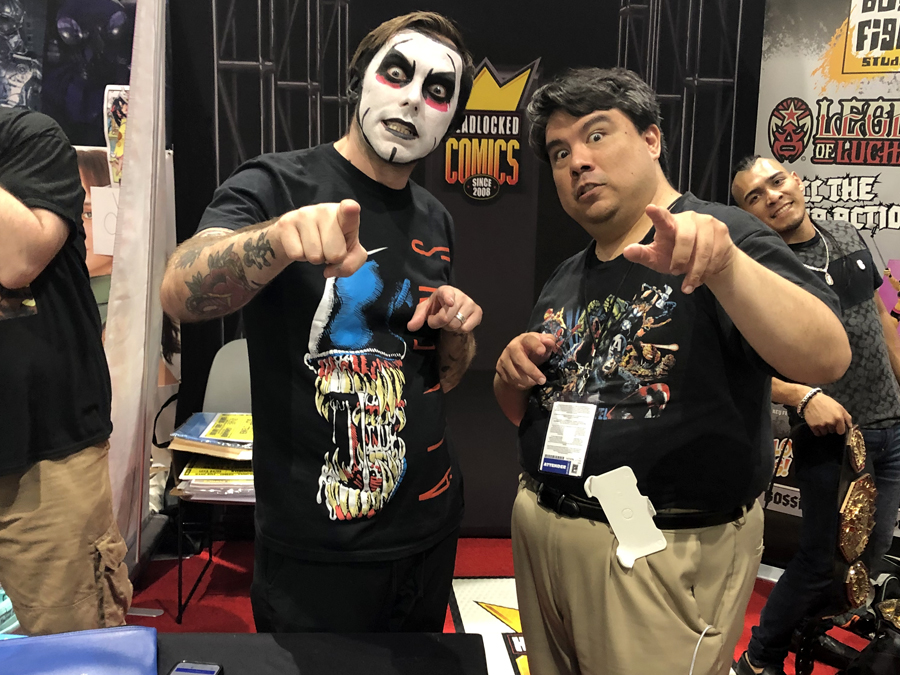 El Hijo del Vikingo photobombing Dan's picture with Danhausen.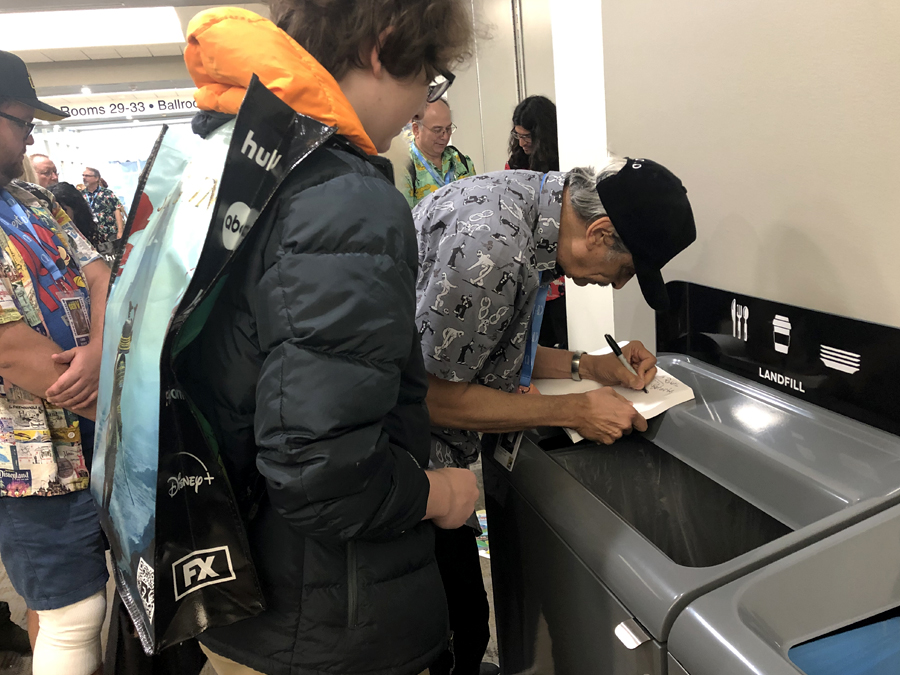 Fans purchased The Art and Inventions of Max Fleischer directly from Ray Pointer that he would sign immediately after the Fleischer Cartoons panel.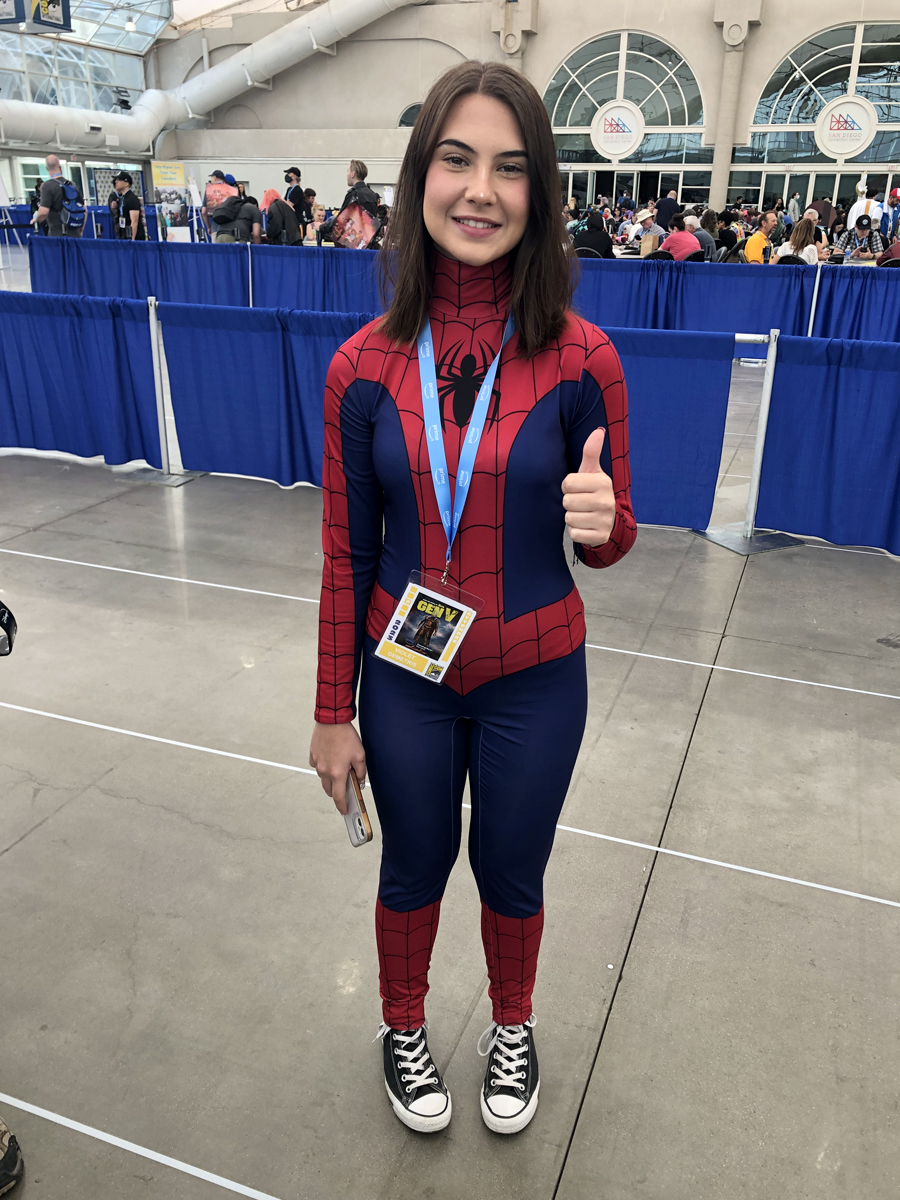 "Let me guess, my dad used to beat up your dad?" (Spider-Girl)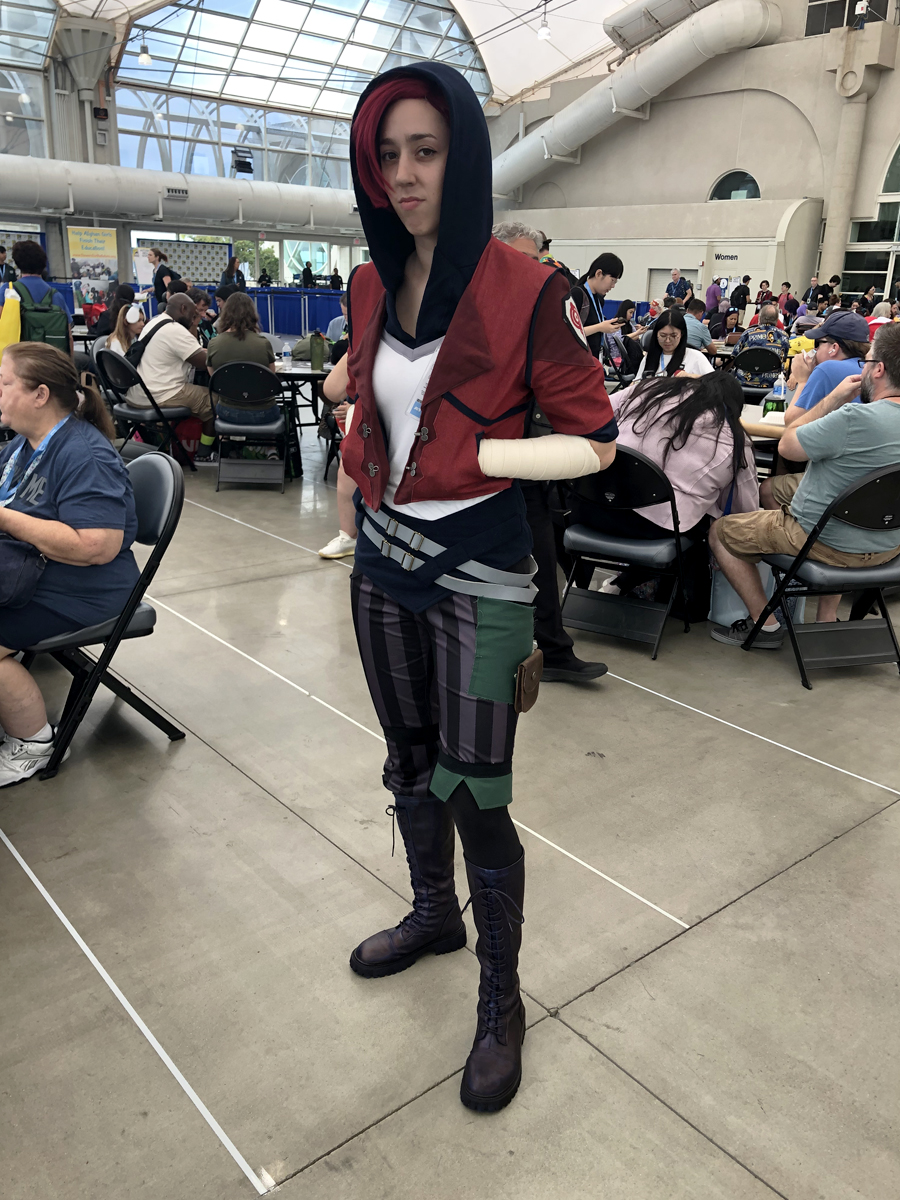 "You're hot, cupcake." (Vi, Arcane)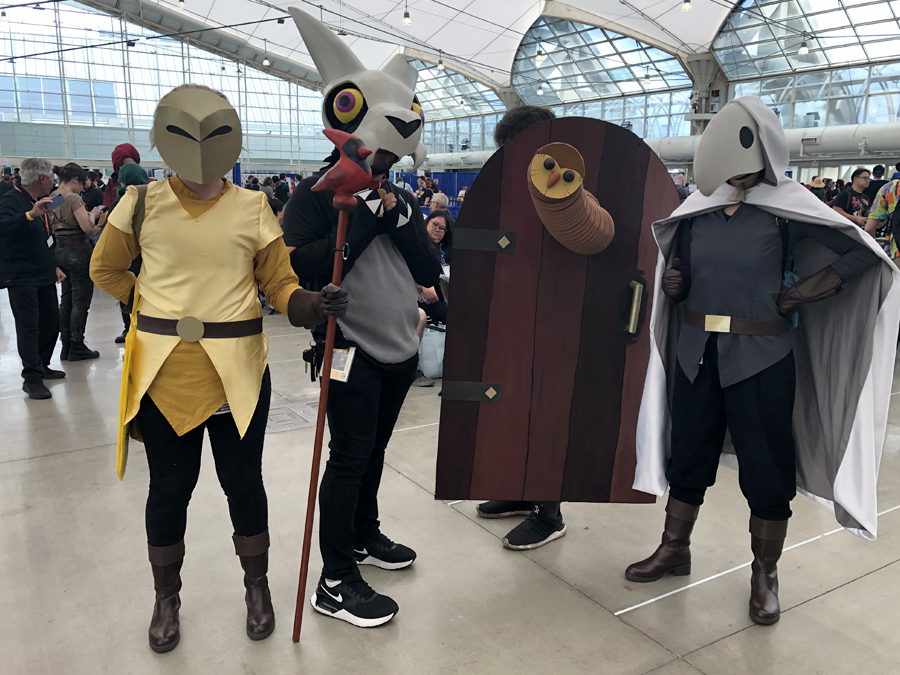 There were so many costumes of The Owl House this year that it seemed like you'd run into at least one every few minutes.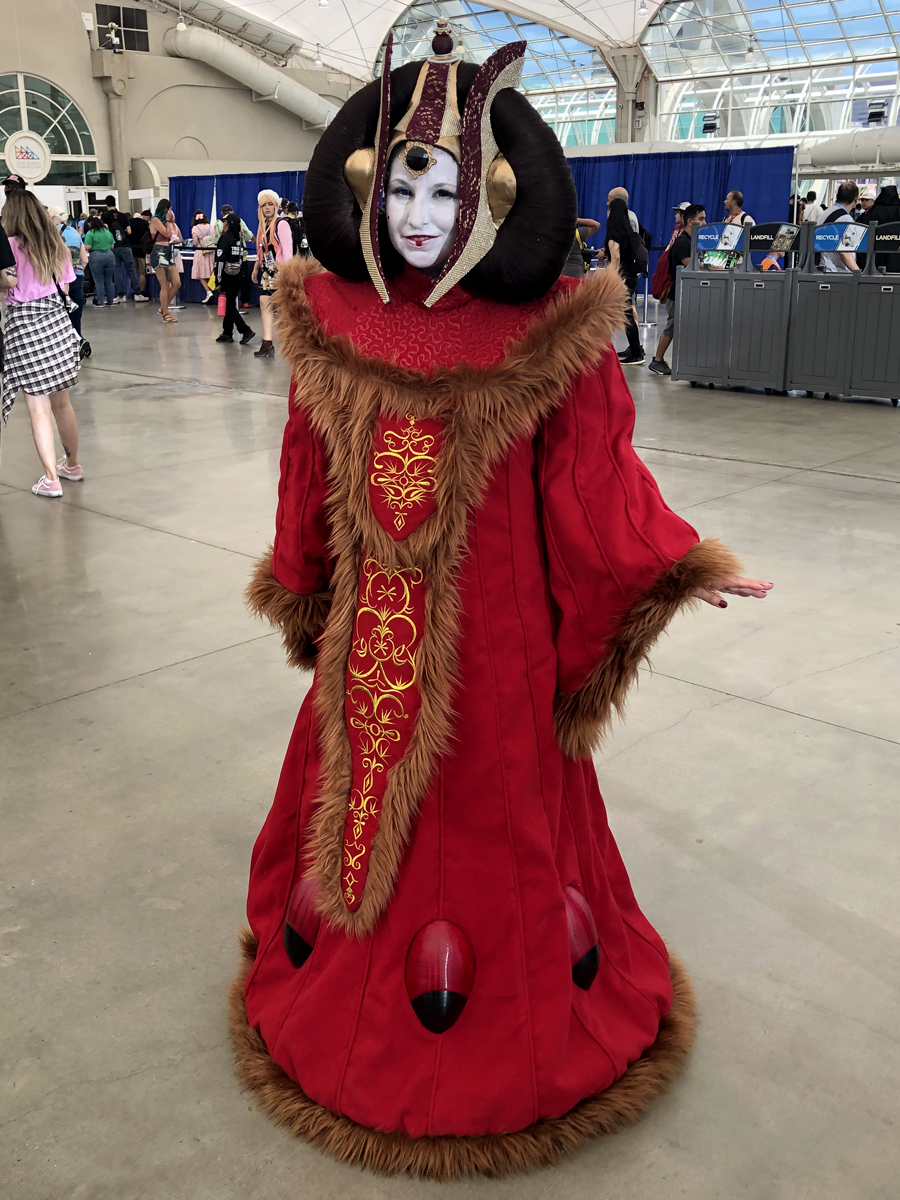 "I made a vow to the people of Naboo when I became queen. I will not back down." (Padmé Amidala, Star Wars)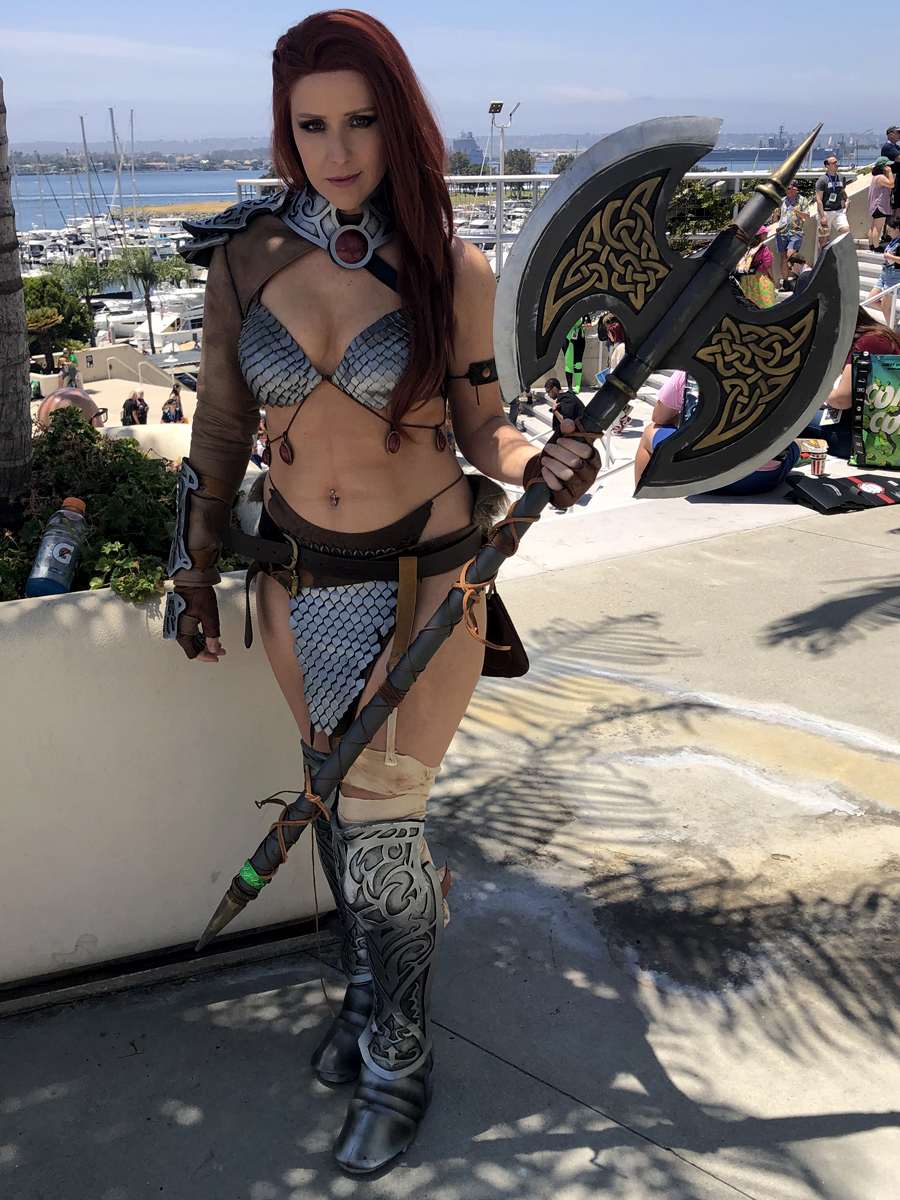 "If you claim to be a man, stand your ground and fight like one!" (Red Sonja)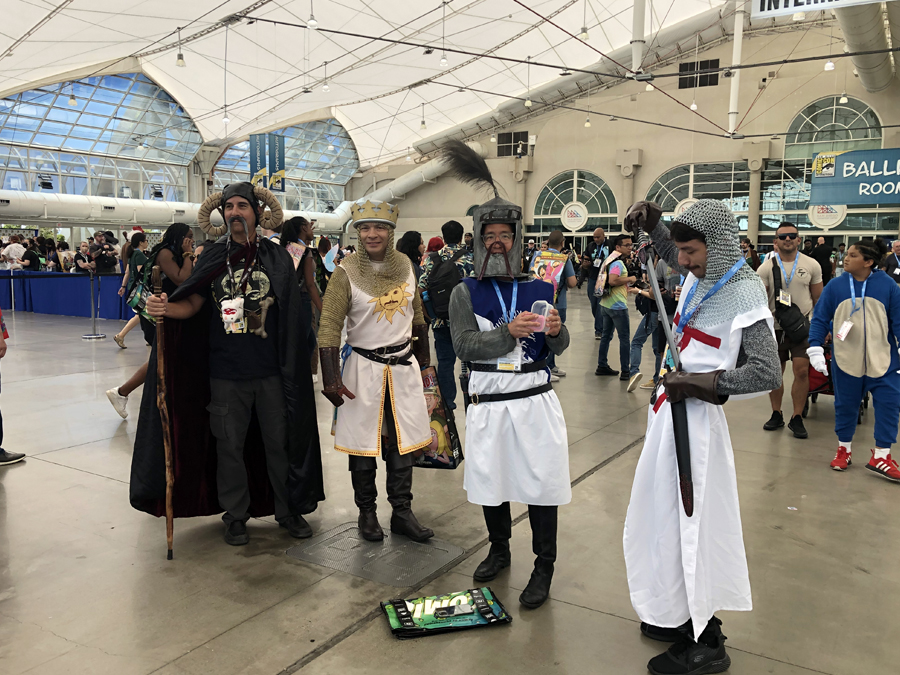 There was no greater obstacle for these Monty Python and the Holy Grail cosplayers than to be stopped every ten seconds for pictures.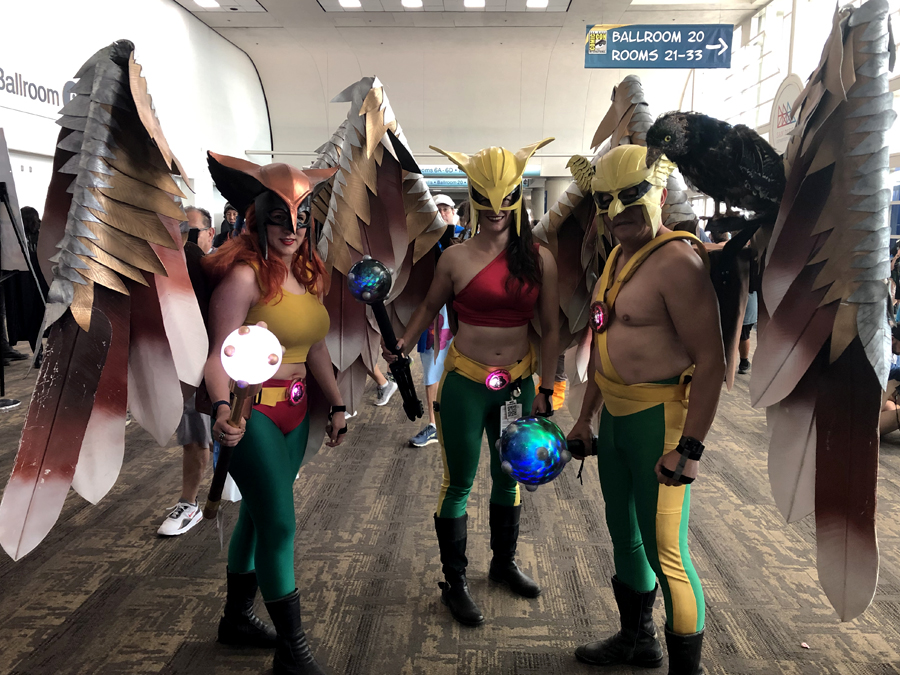 A very impressive set of Hawkgirl, Hawkwoman, and Hawkman costumes.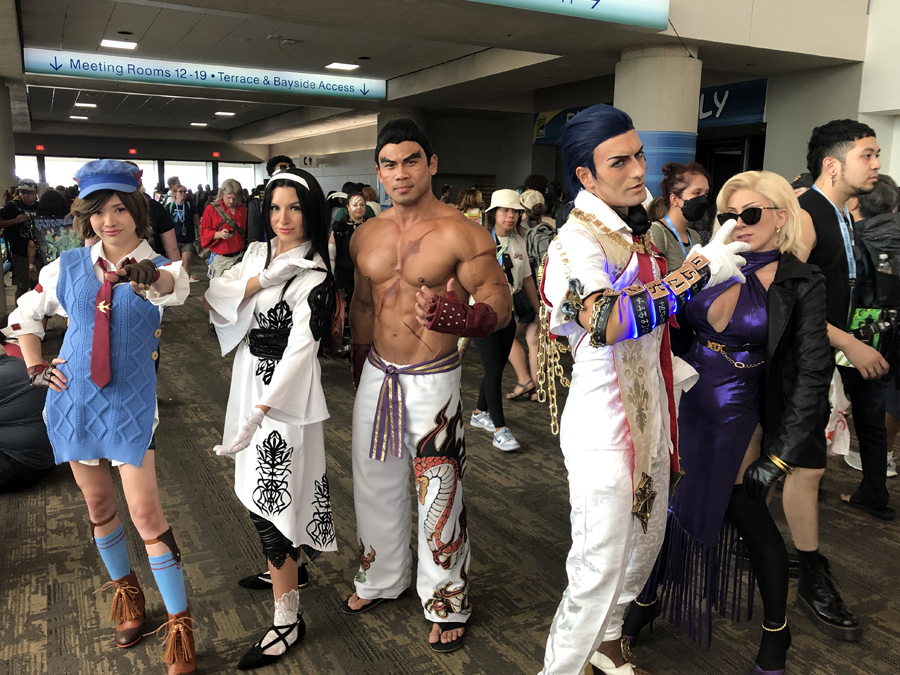 These Tekken fighters were ready to go another round.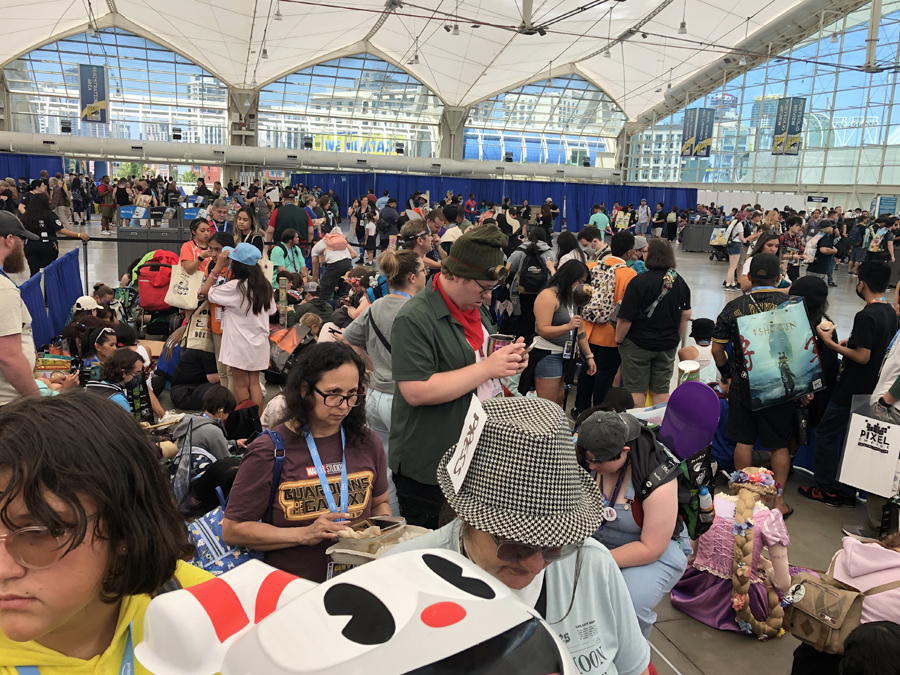 The "front" of the line for one of The Owl House autograph signings was already packed more than an hour before the scheduled start time.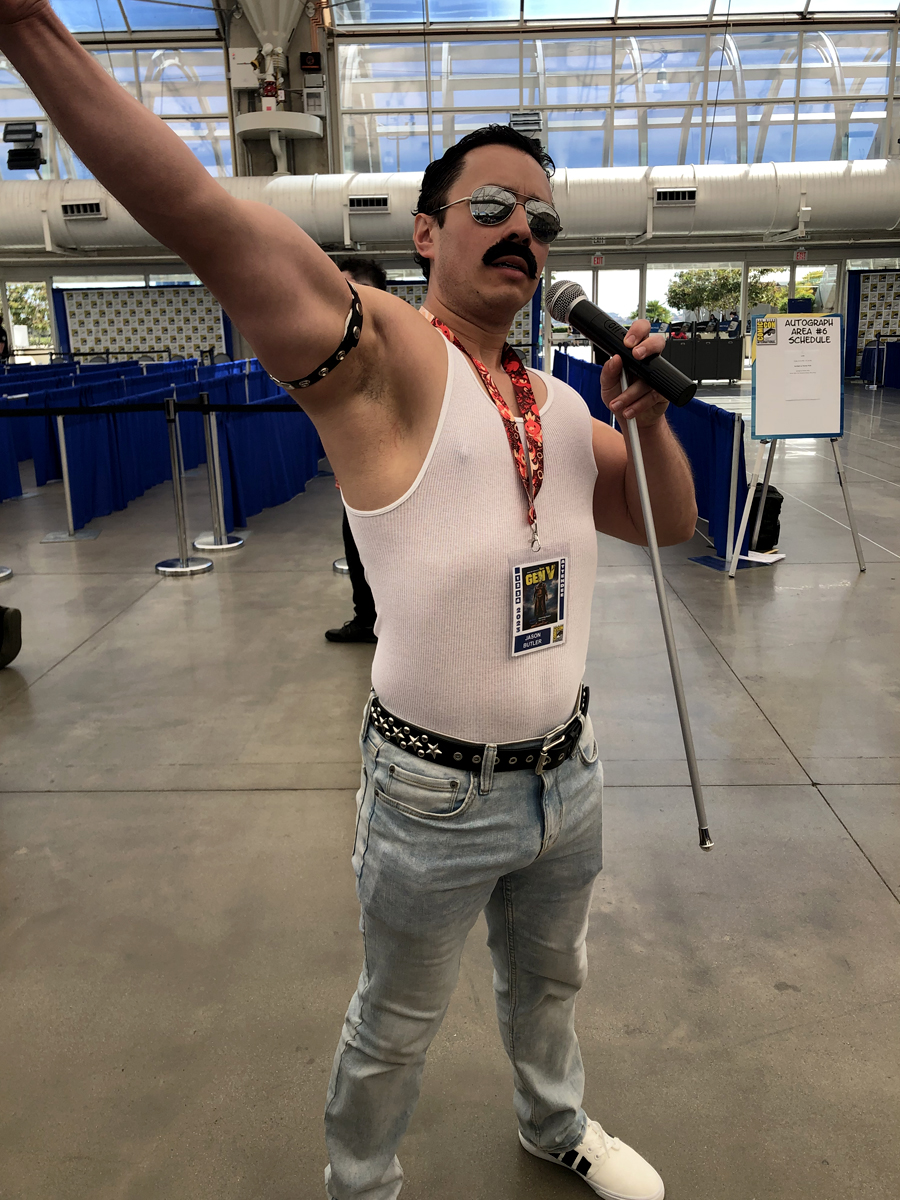 "Here we are! Born to be Kings, we're the Princes of the Universe!" (Freddie Mercury)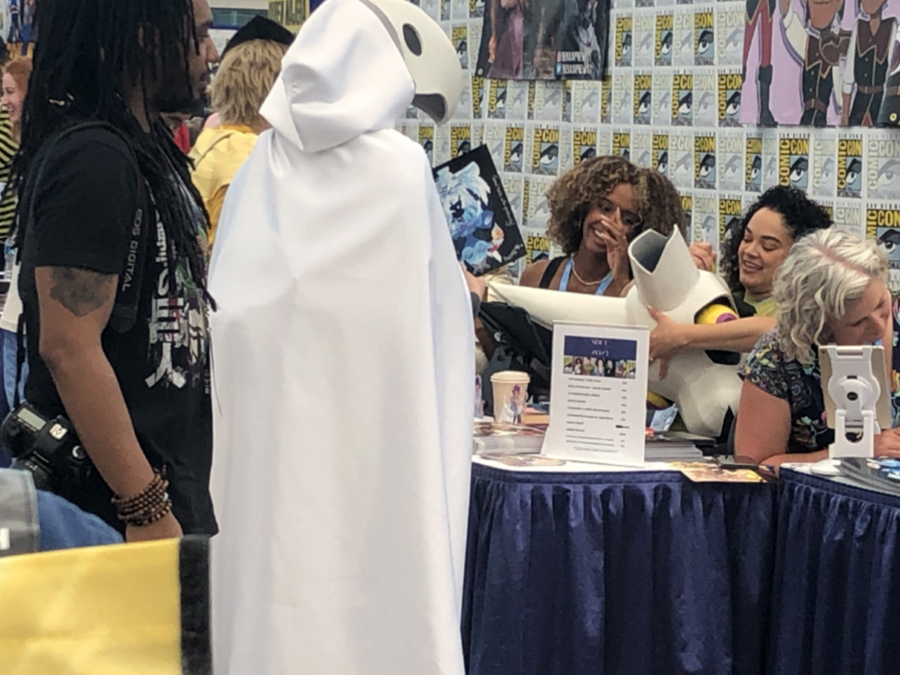 The Owl House cast were game to sign just about anything fans offered, including the headpiece to a King costume.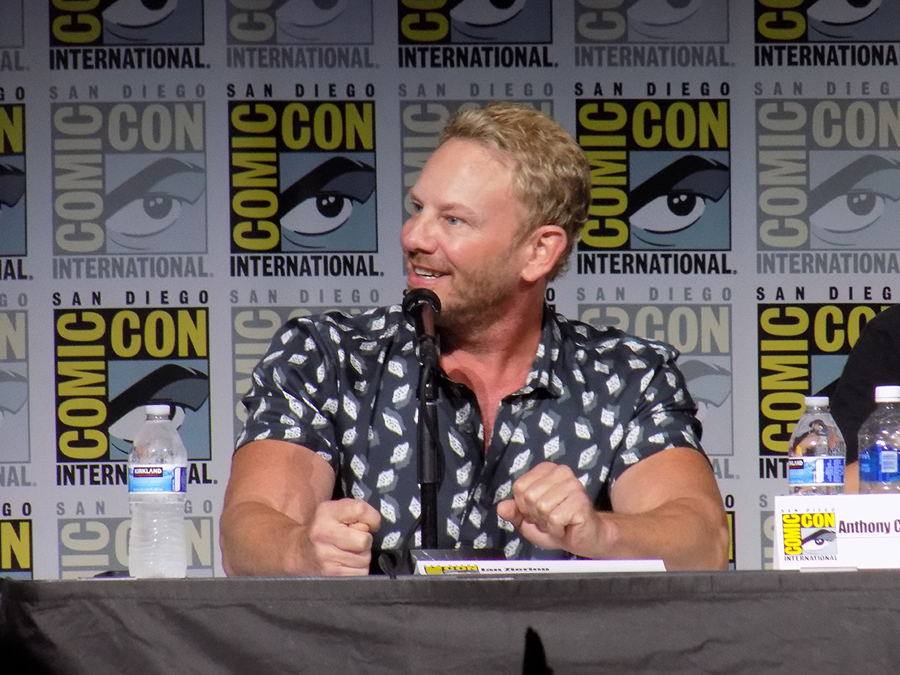 "I'm a journeyman actor. This was just a moment in time that happened to be global… Six movies later, I'm very proud to be part of a project that entertains so many people. Kids have pictures of Fin Shepard [on their lunchboxes] — it's cool!" (Ian Ziering, Sharknado)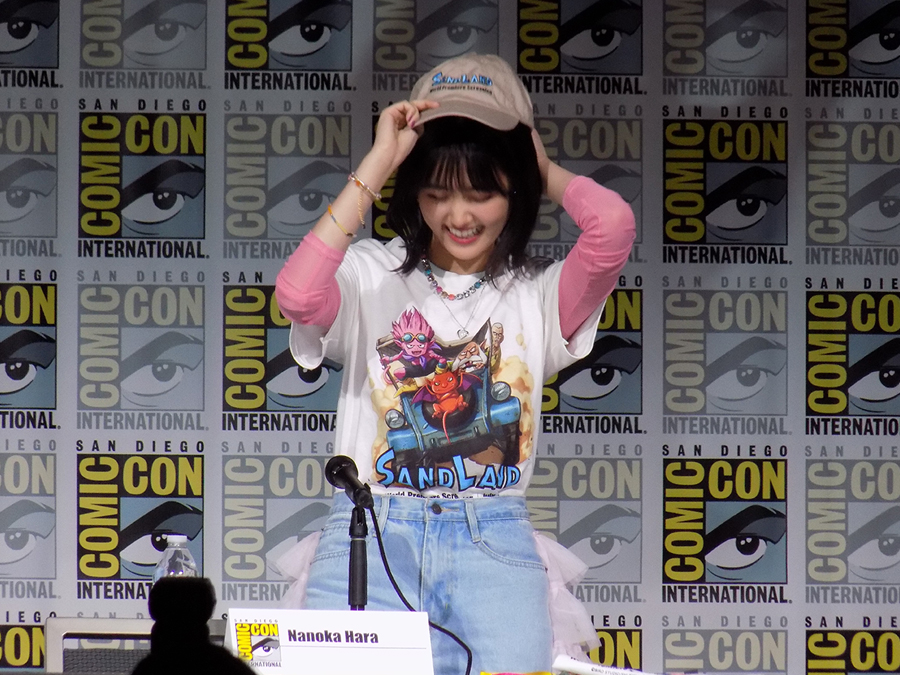 "Special Reporter" Nanoka Hara showed off the sweet swag all attendees of the Sand Land world premiere would receive.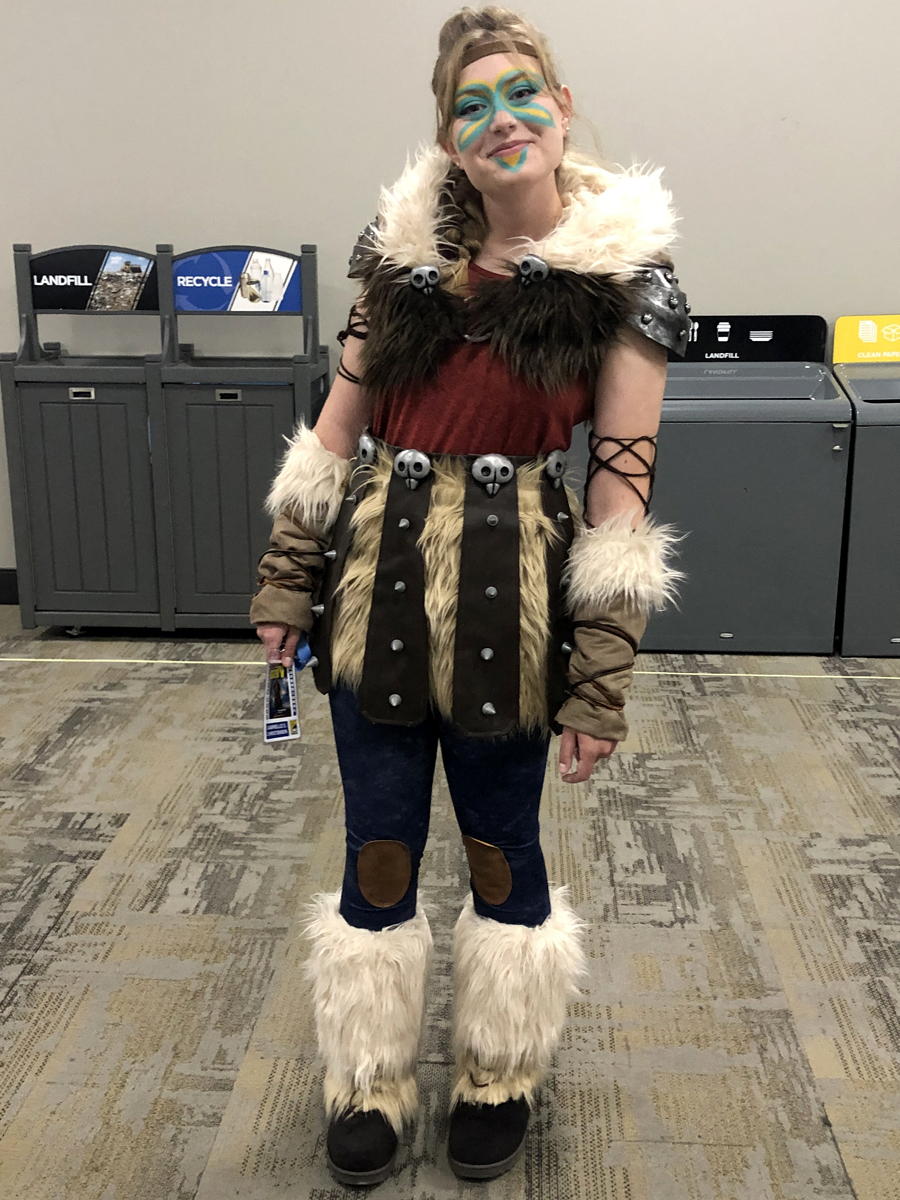 "Here I am, ungodly beast – Fearless Astrid Hofferson! Come and get me, if you dare!" (Astrid Hofferson, How to Train Your Dragon)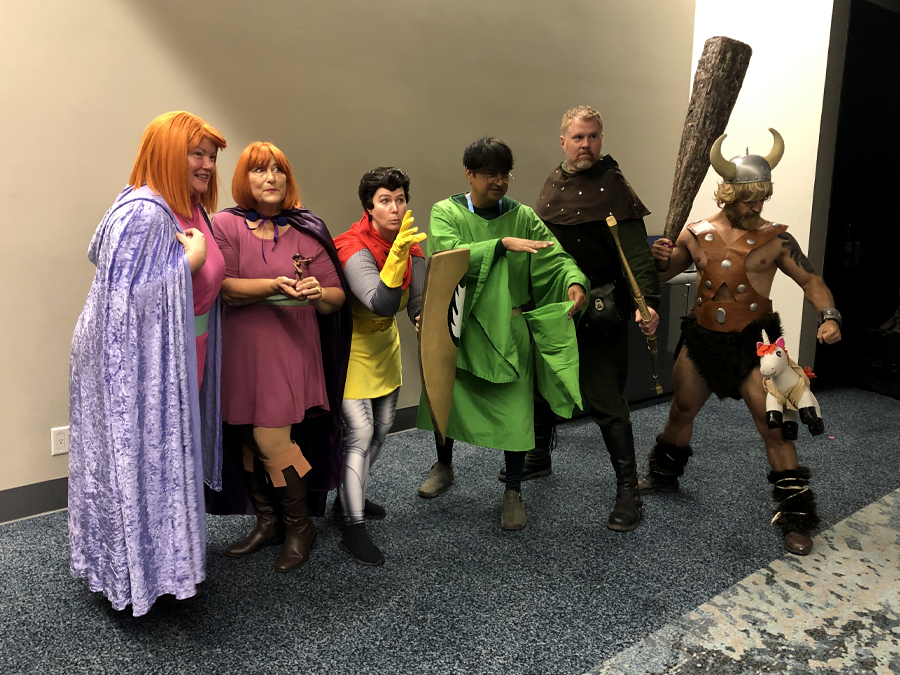 Katie Leigh (Sheila) dressed up in costume for the first time and joined fellow Dungeons & Dragons cosplayers for a unique photo op.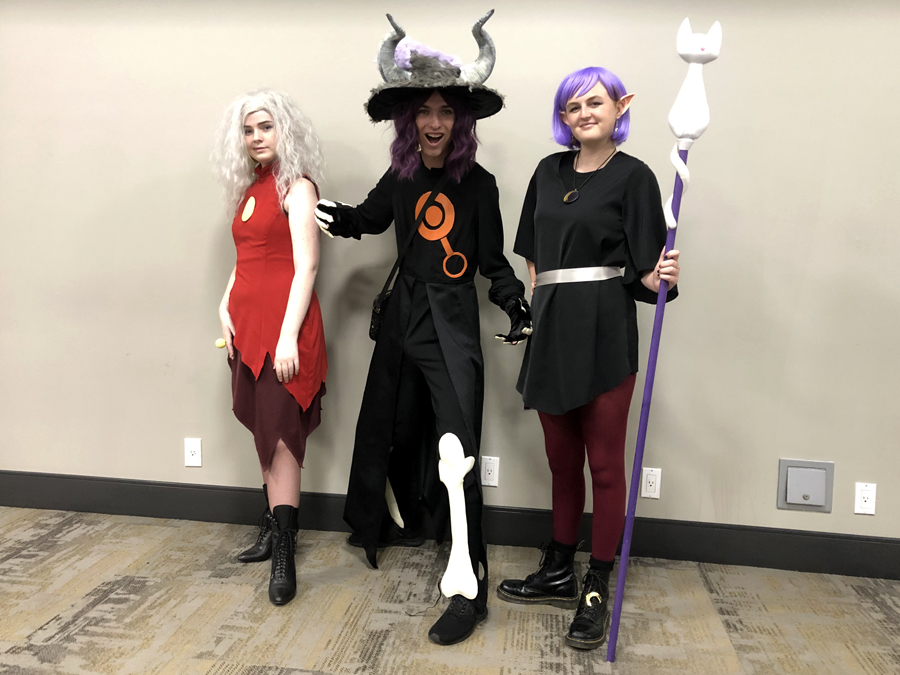 Seriously, you couldn't go more than ten feet without running into The Owl House cosplayers.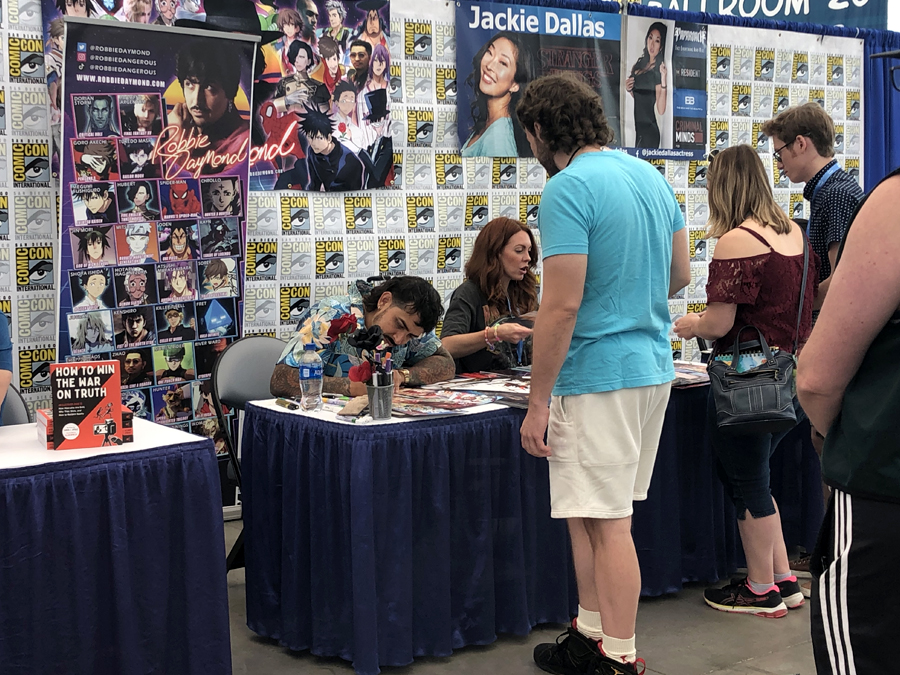 Robbie Daymond (Critical Role, Spider-Man, Sailor Moon)'s autograph signings were very popular and had long lines the entire weekend.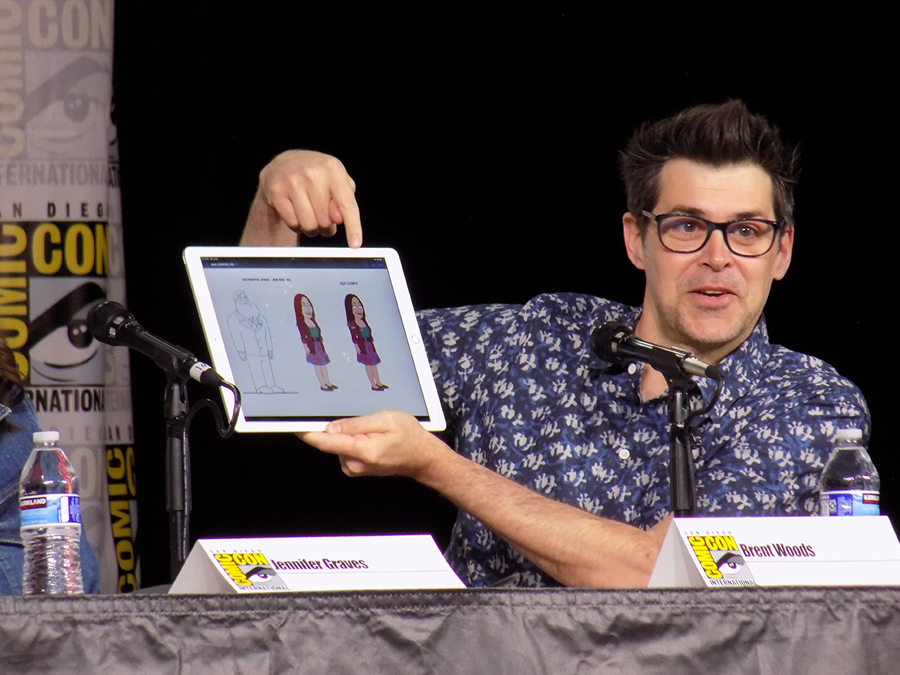 Brent Woods showed off the character model of fellow American Dad! director Jennifer Graves as a background character.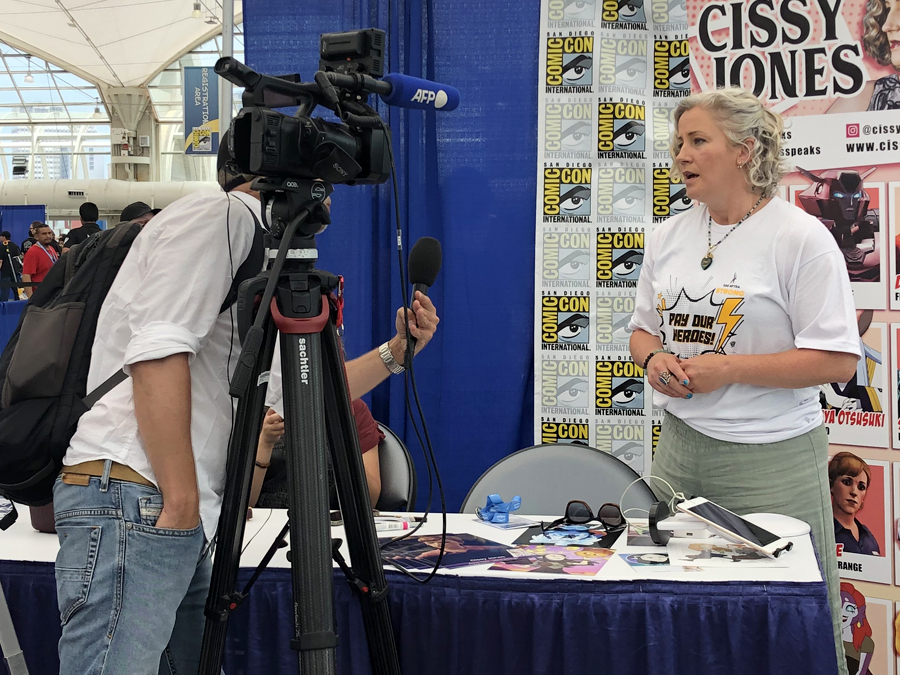 Cissy Jones (The Owl House) being interviewed to further discuss a performer's perspective on AI in entertainment.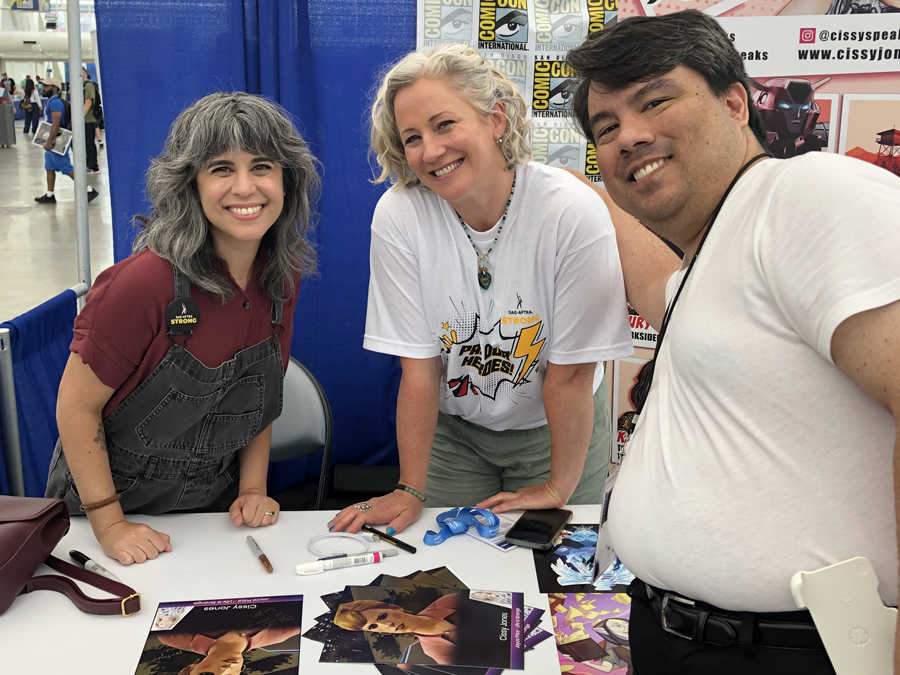 Dan with Life is Strange daughter and mother duo Ashly Burch (Chloe Price) and Cissy Jones (Joyce Price).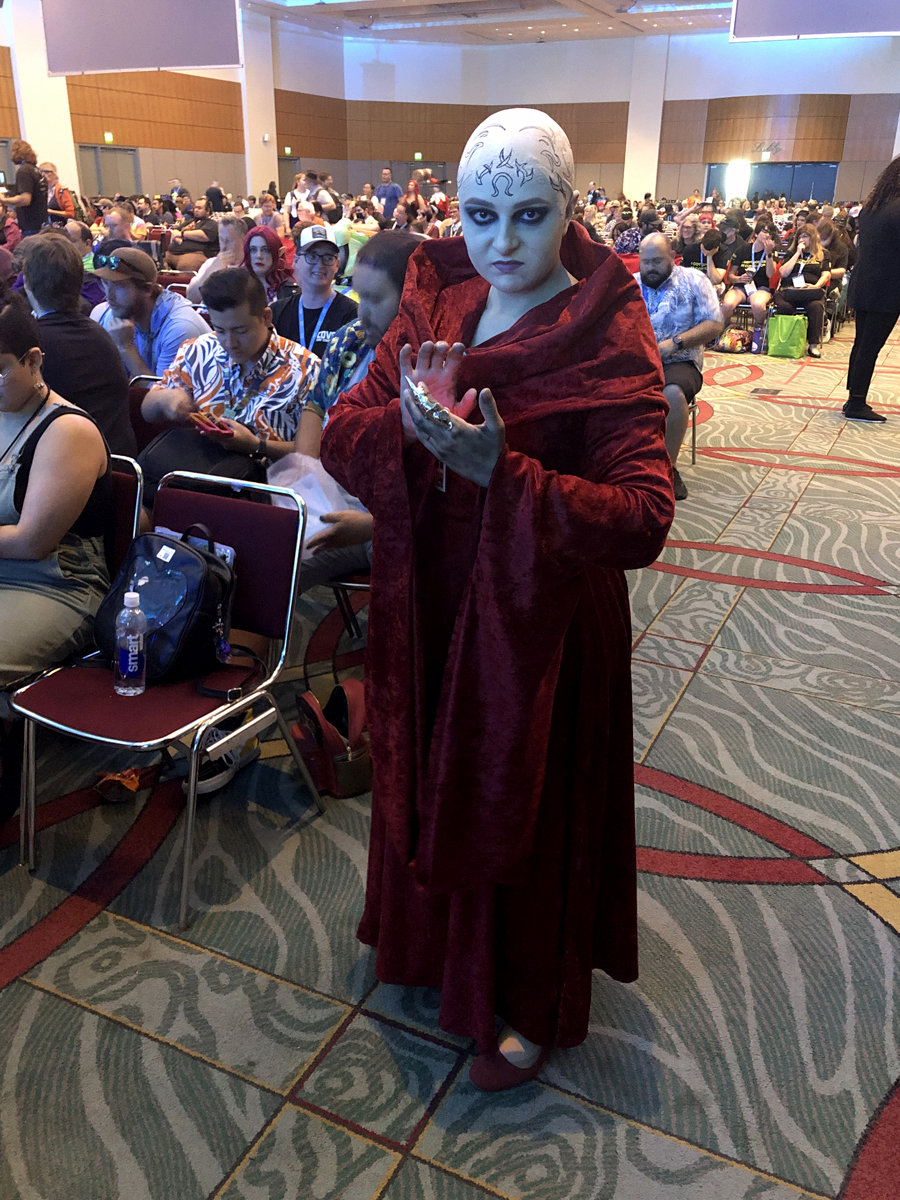 "Now, as you die, rest assured it will not be the end, for you will forever suffer." (Sofina, Dungeons & Dragons: Honor Among Thieves)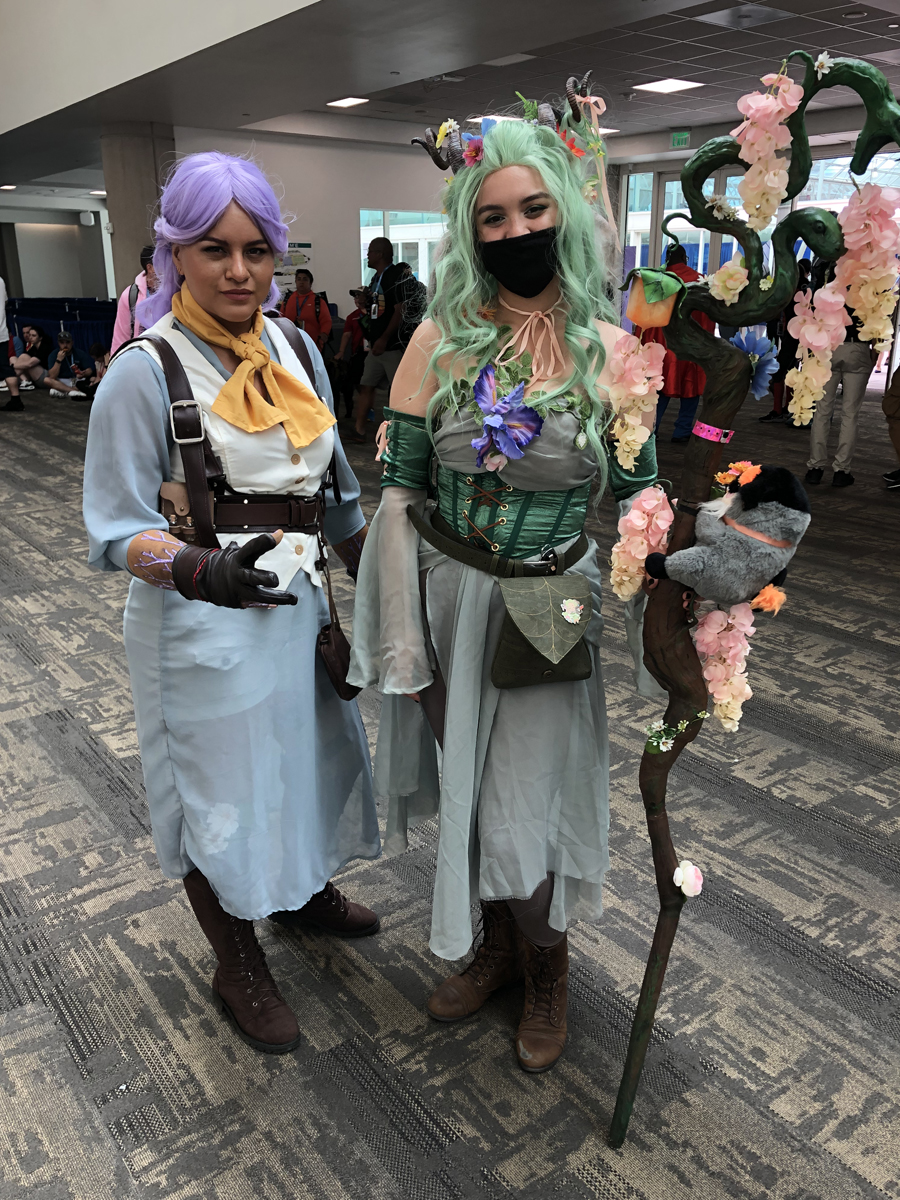 Even with Imogen around, there could only be chaos and trouble wherever Fearne went (Critical Role).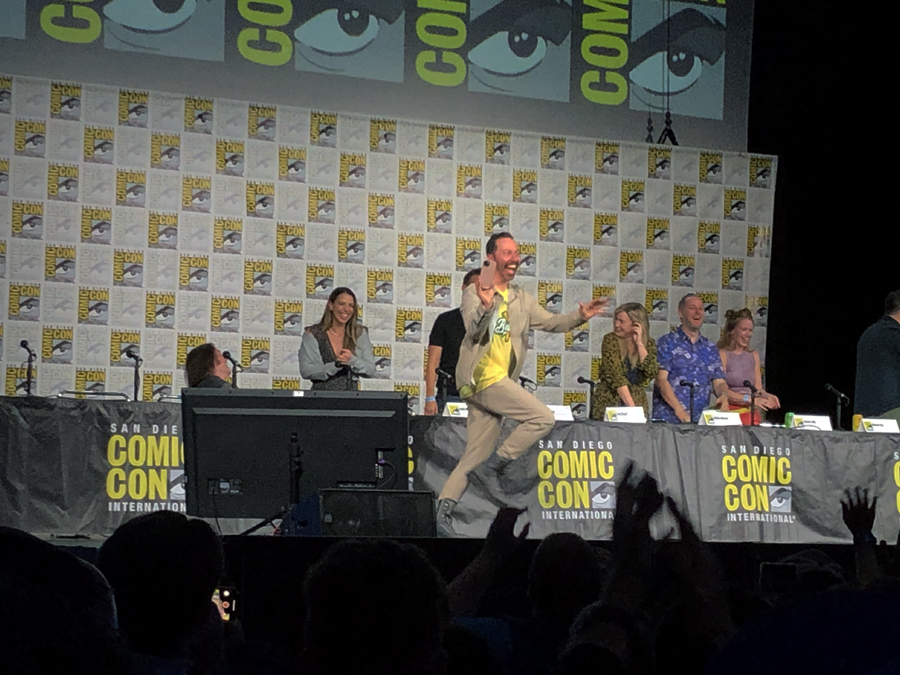 Sam Riegel video recording for the Critical Role Tik-Tok the fan reaction of his introduction.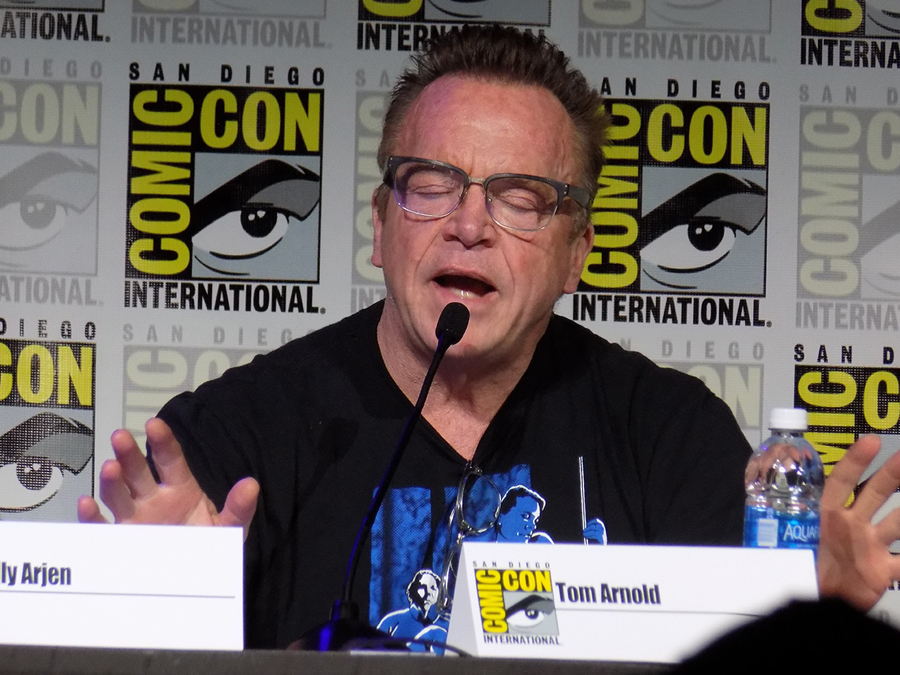 Tom Arnold brought the house down telling a hilarious story about Steven Seagal during the Developing TV/Film for Streamers panel.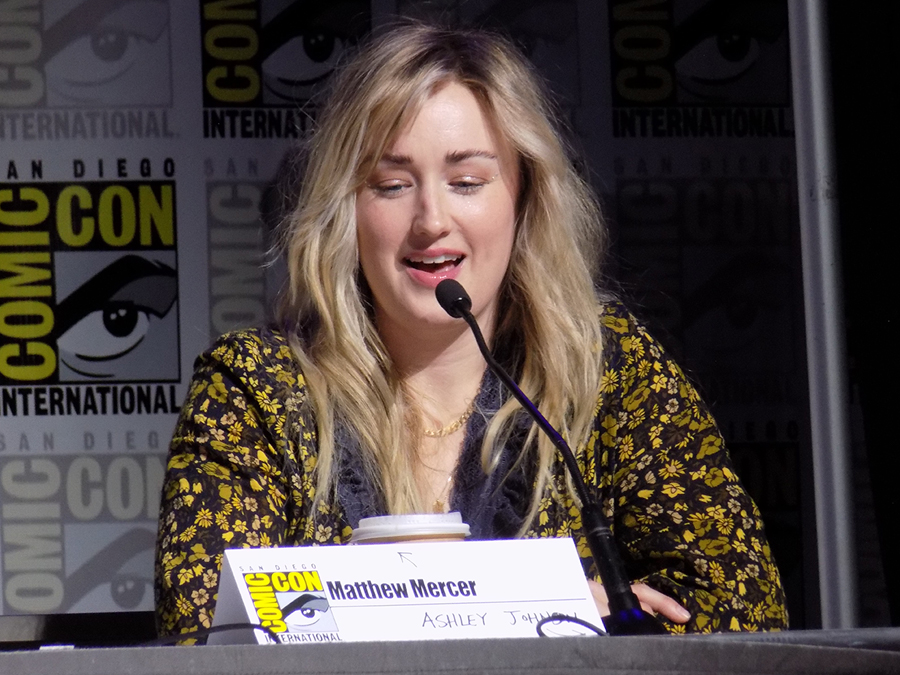 Matthew Mercer offered his name tag for Ashley Johnson to use temporarily during the Critical Role: Making Candela Obscura panel.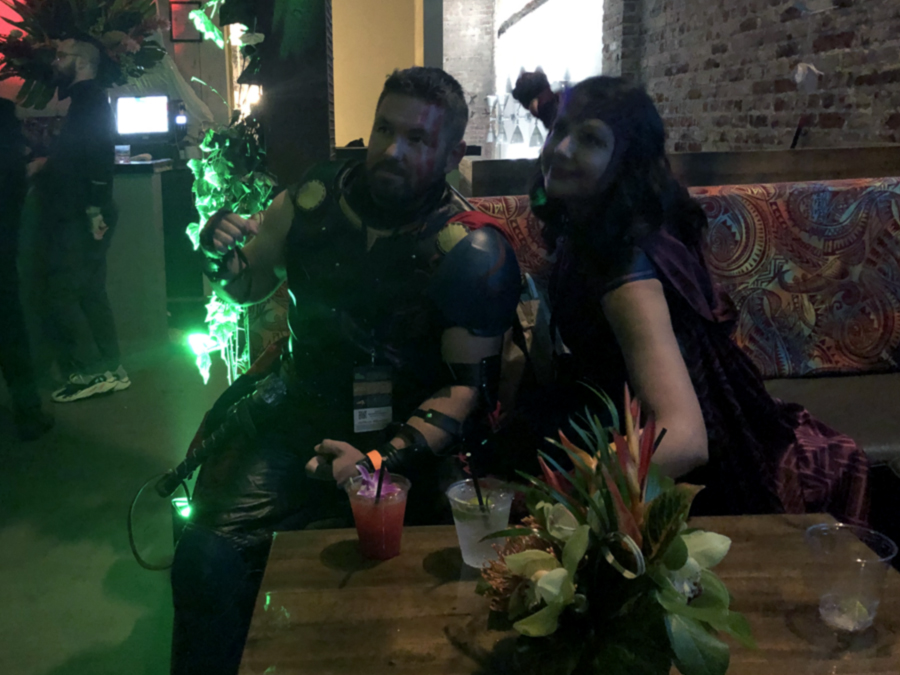 Thor and Scarlet Witch enjoying a drink in The Green Lagoon at The Hellfire Gala.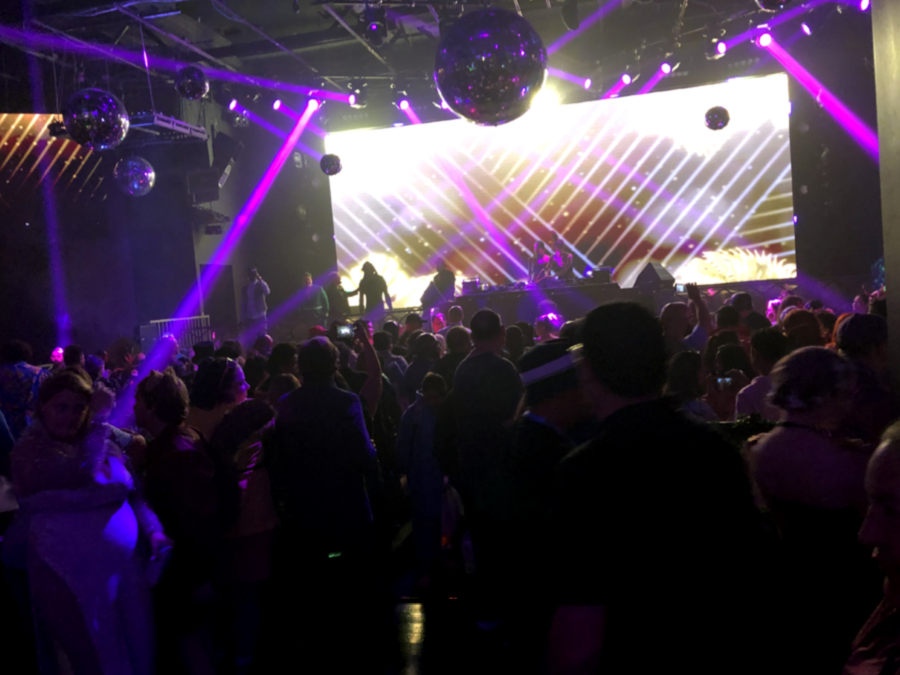 The dance floor was alive and rocking in The Hellfire Ballroom at The Hellfire Gala.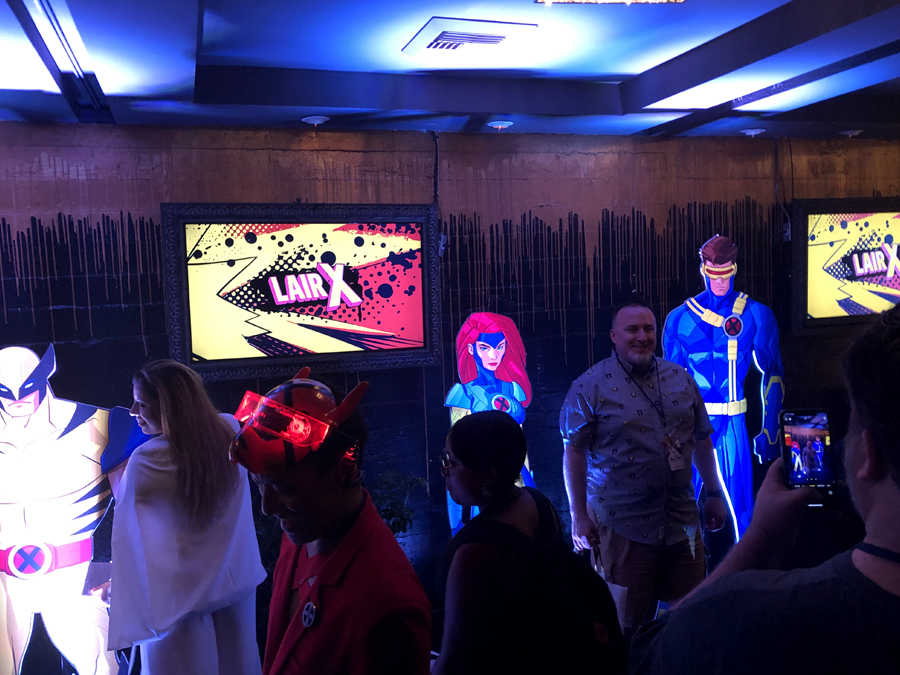 Just one of many photo op displays for fans to utilize in Lair X at The Hellfire Gala.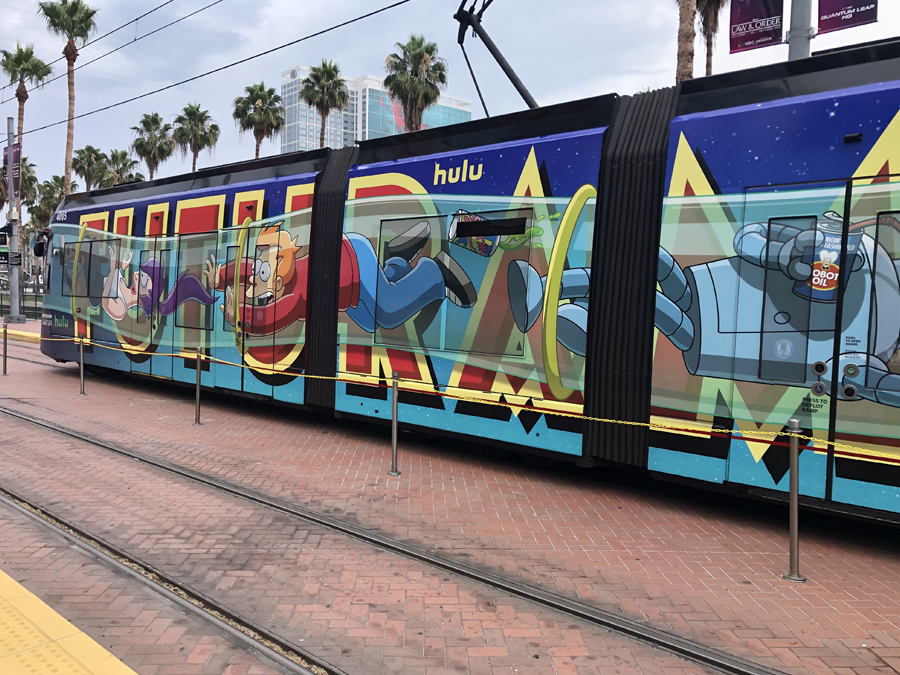 The trolleys that ran all over San Diego were wrapped up in promotion of programs like Futurama throughout the weekend.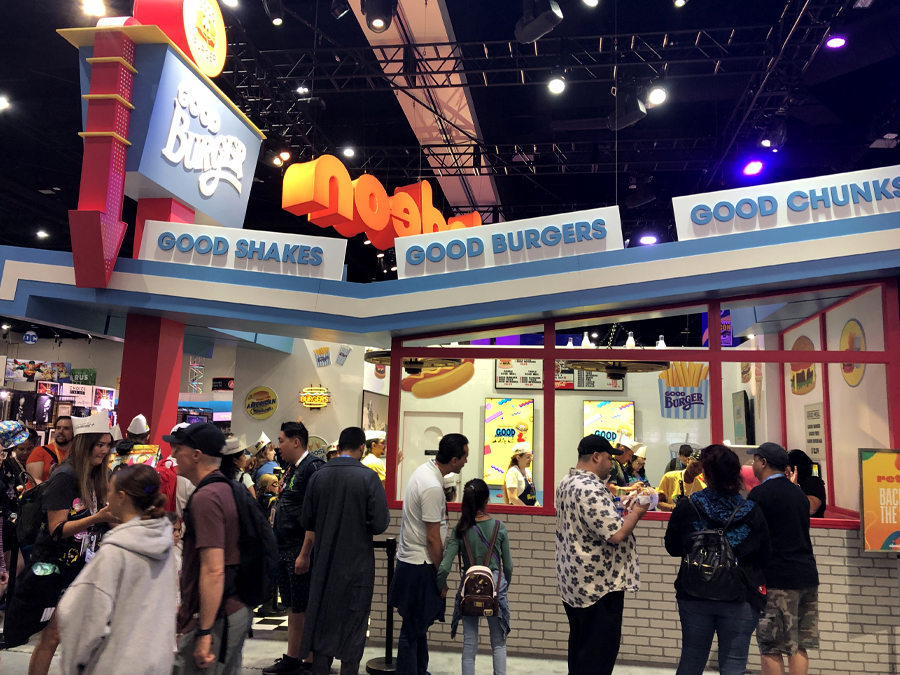 Part of the Nickelodeon booth was made to look like the Good Burger restaurant.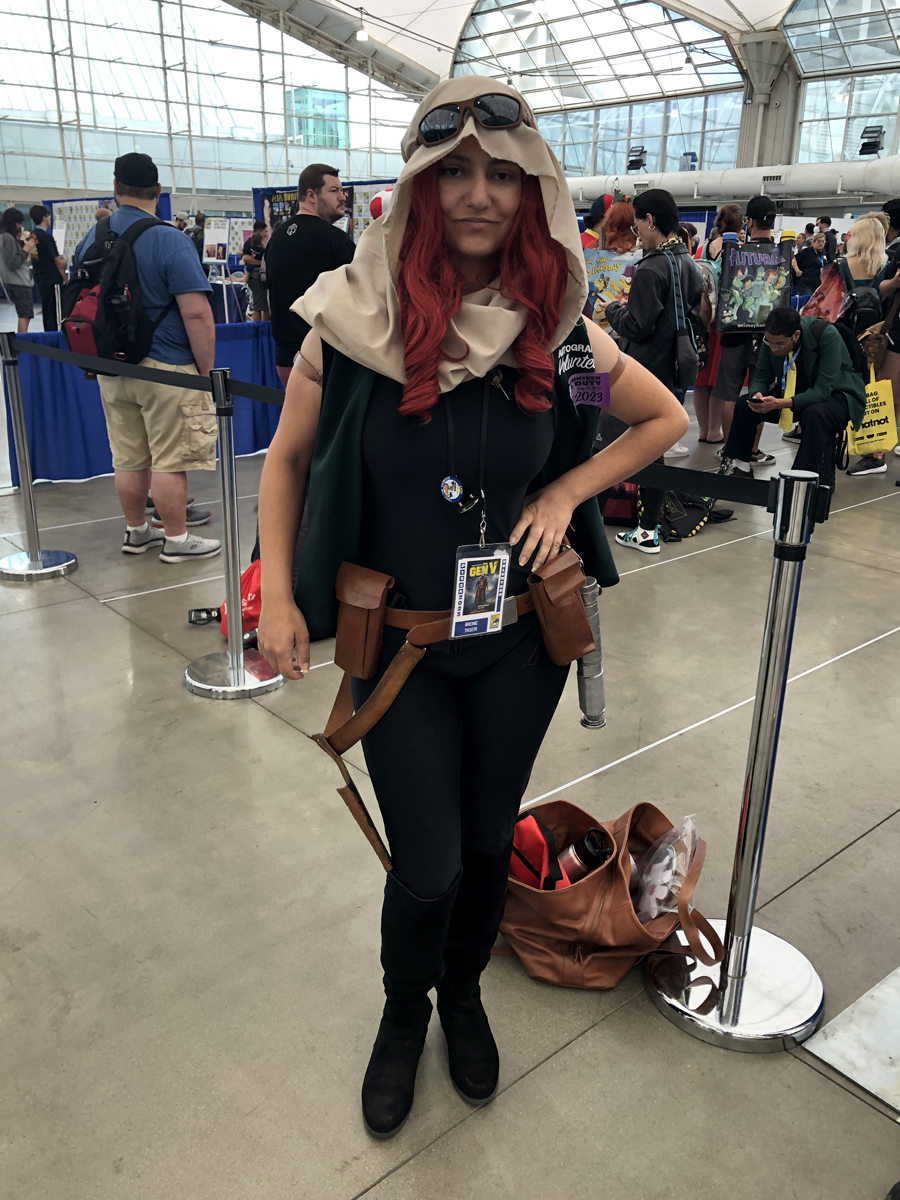 "I've discovered something. Charm is exhausting." (Mara Jade Skywalker, Star Wars)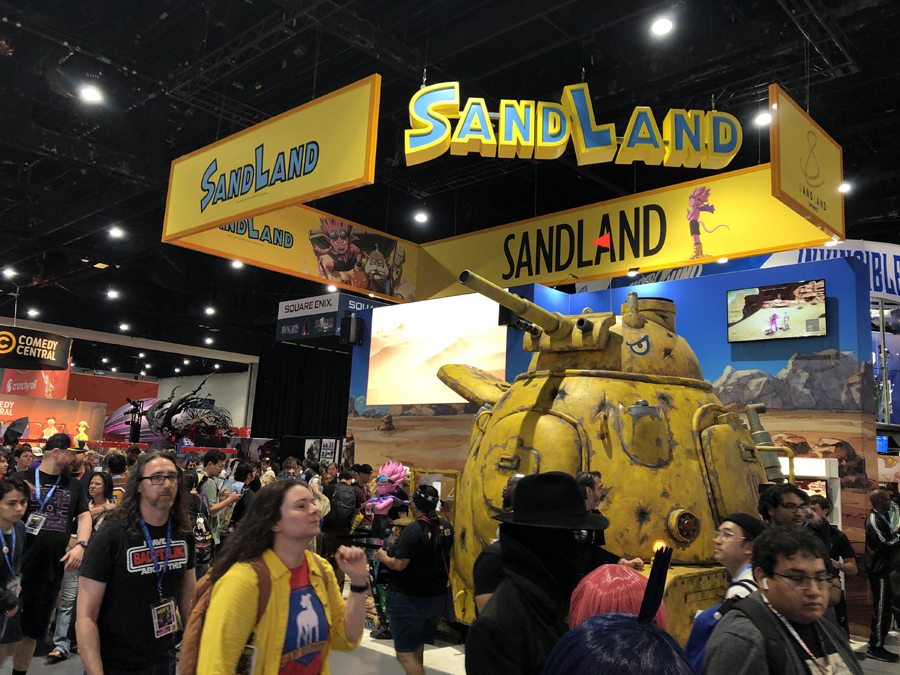 The Sand Land booth offered fans numerous photo ops and a chance to play a demo of the video game.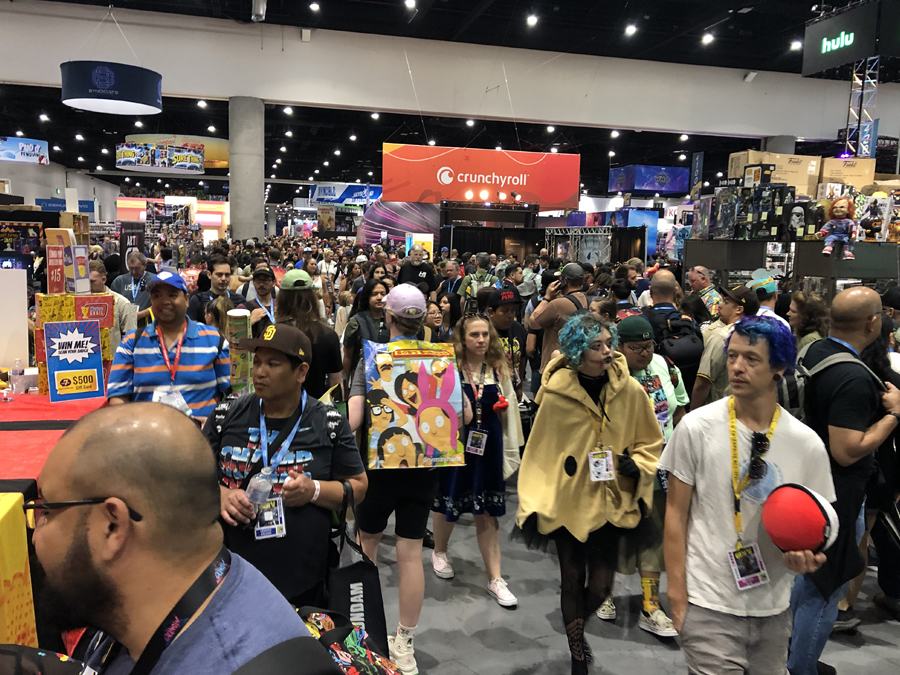 Even on the last day, the Exhibit Hall was packed to the gills with attendees.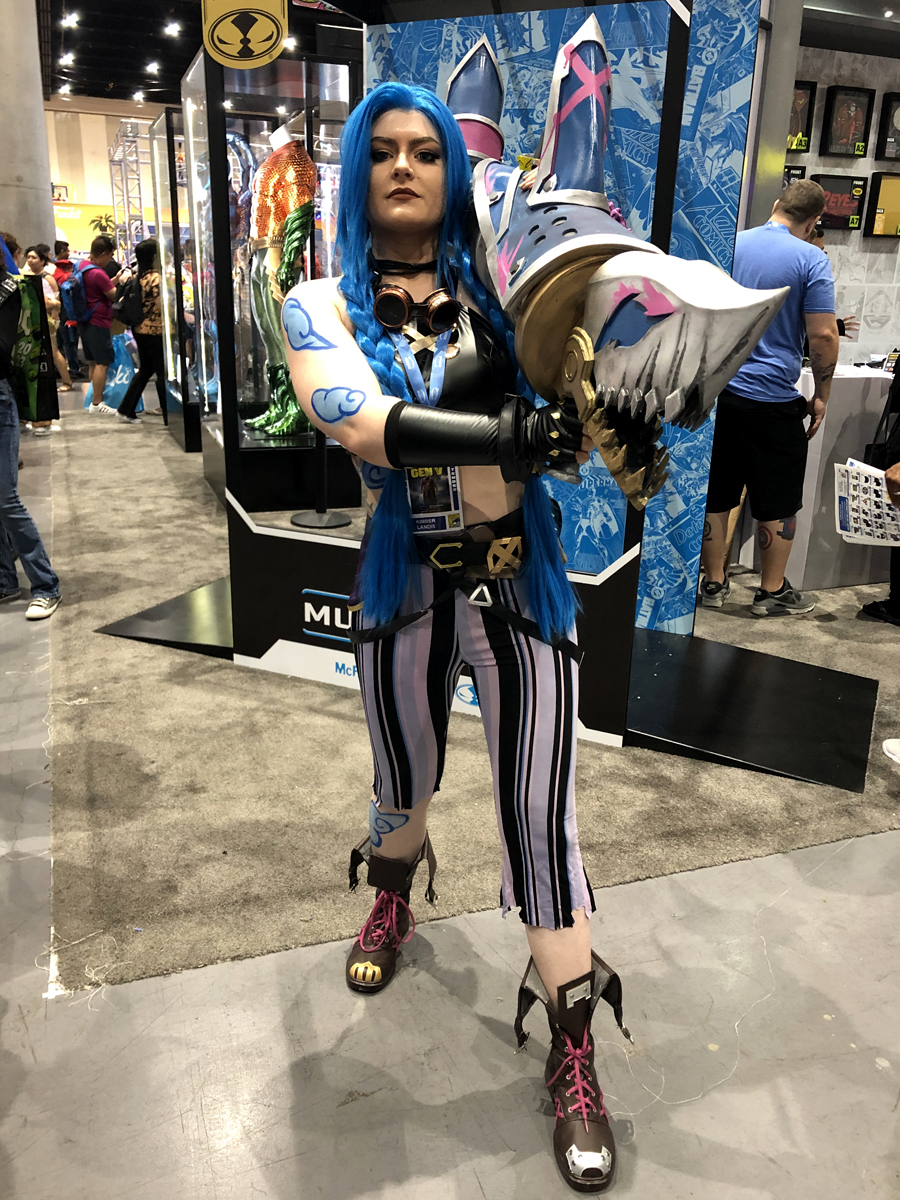 "Sisters, right? You can't live with them, can't stuff them back in the old babymaker." (Jinx, Arcane)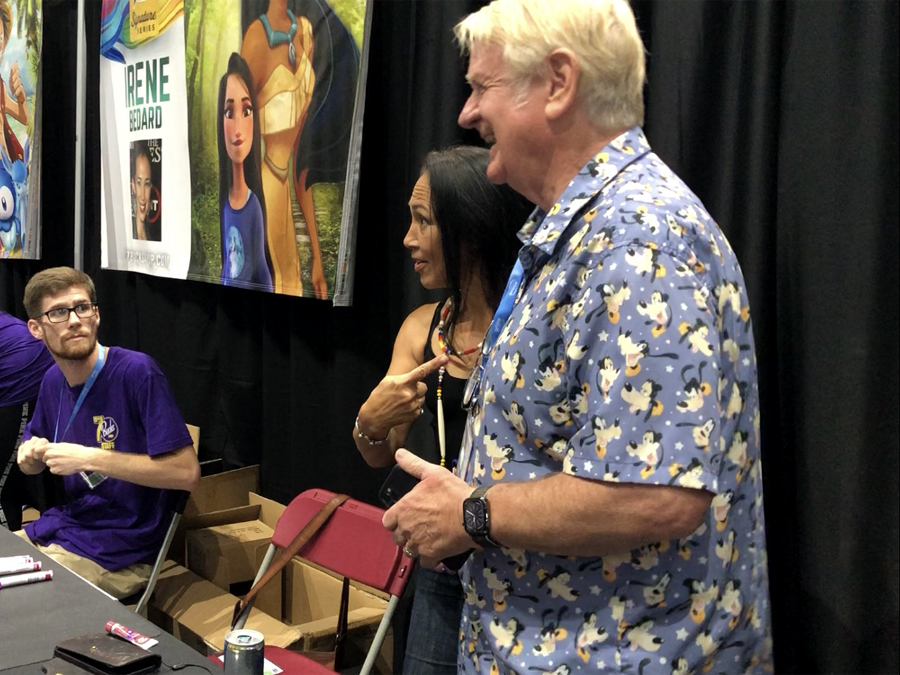 Irene Bedard (Pocahontas) received a surprise visit from Bill Farmer (Goofy) during her autograph signing at one of the 7 Bucks A Pop booths.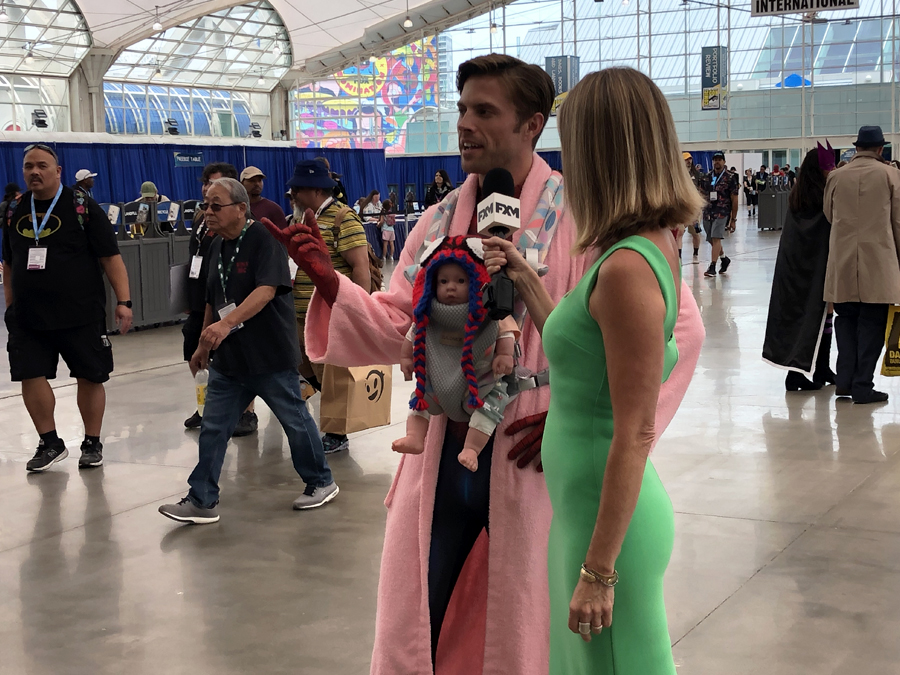 Peter B. Parker (Spider-Man: Across the Spider-Verse) being interviewed for FX Movie Channel while keeping Mayday comfy.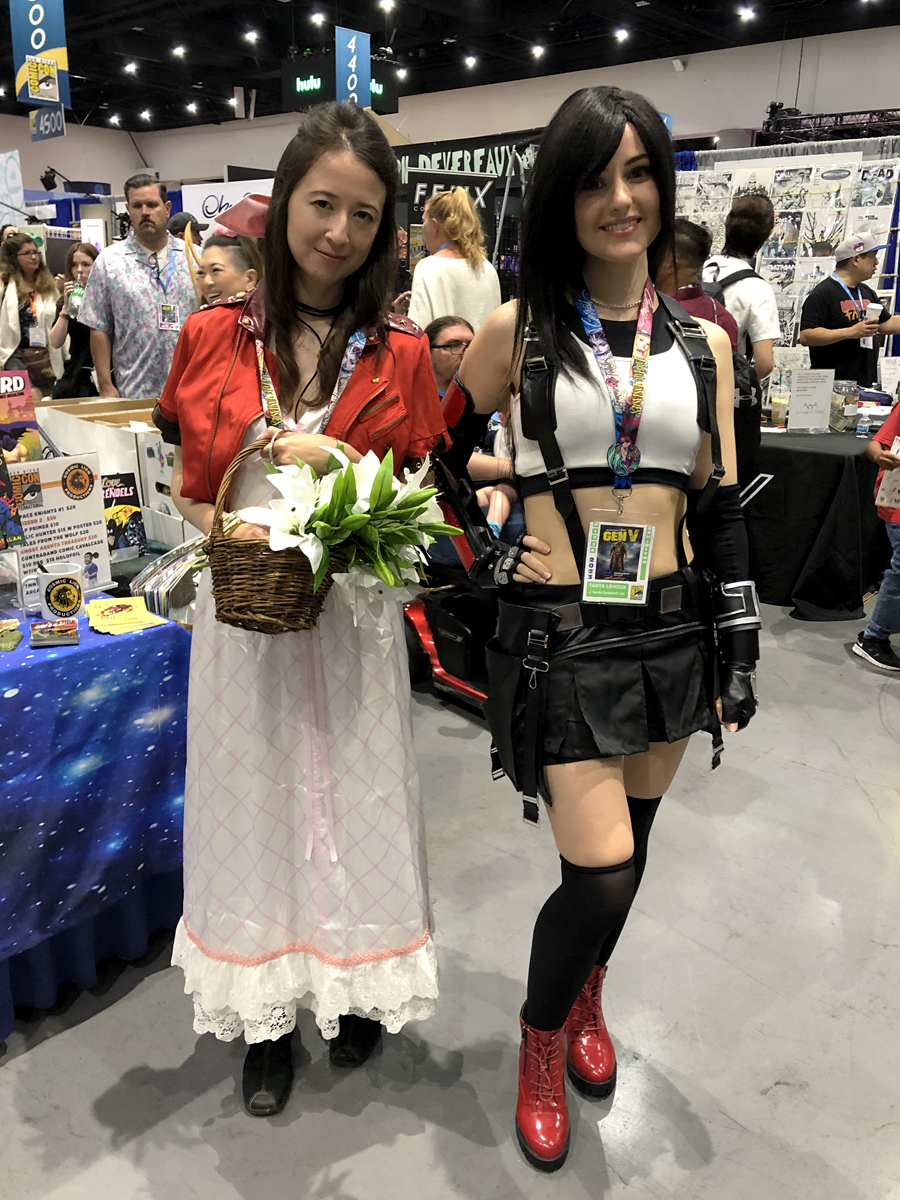 Aerith and Tifa having a girls' day out on the Exhibit Floor (Final Fantasy VII).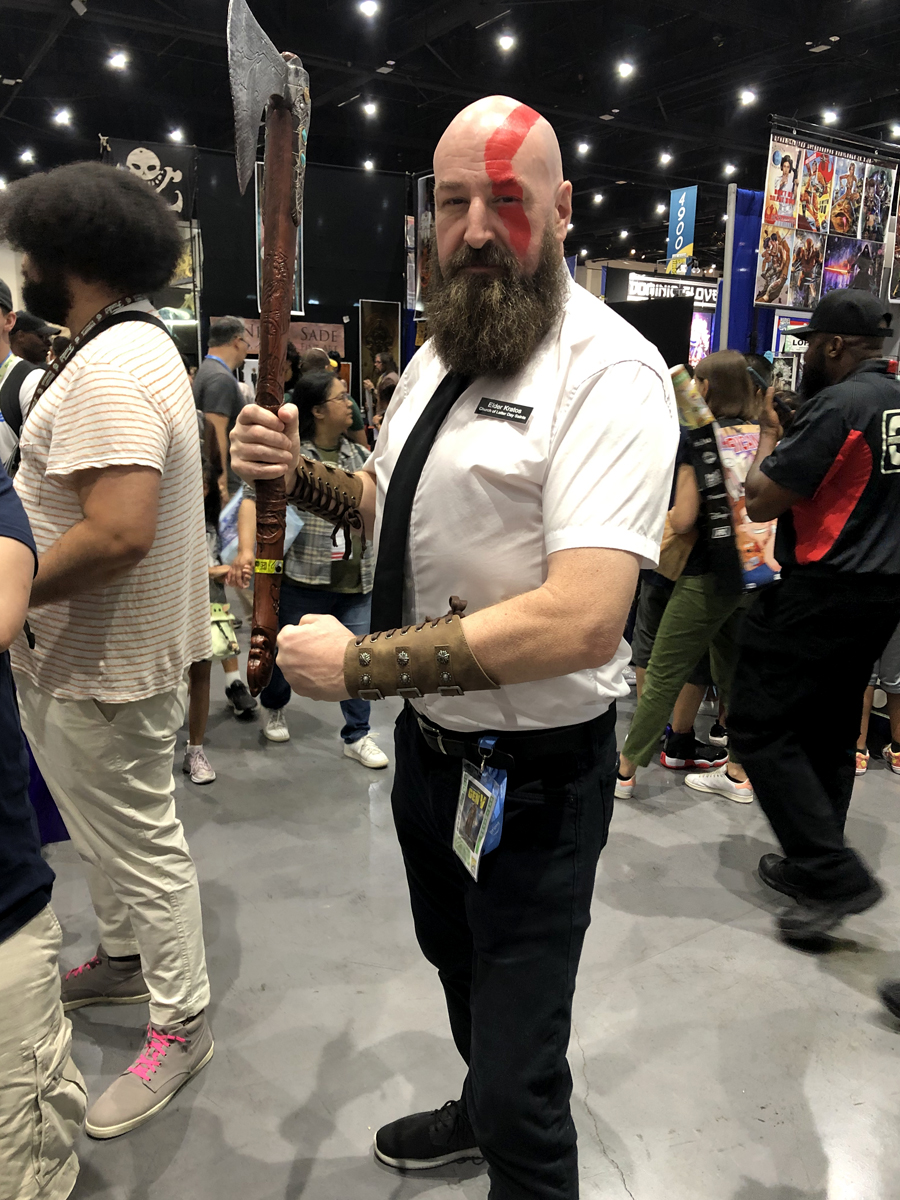 Kratos as the God of War/Book of Mormon crossover we never thought we wanted, but would gladly receive.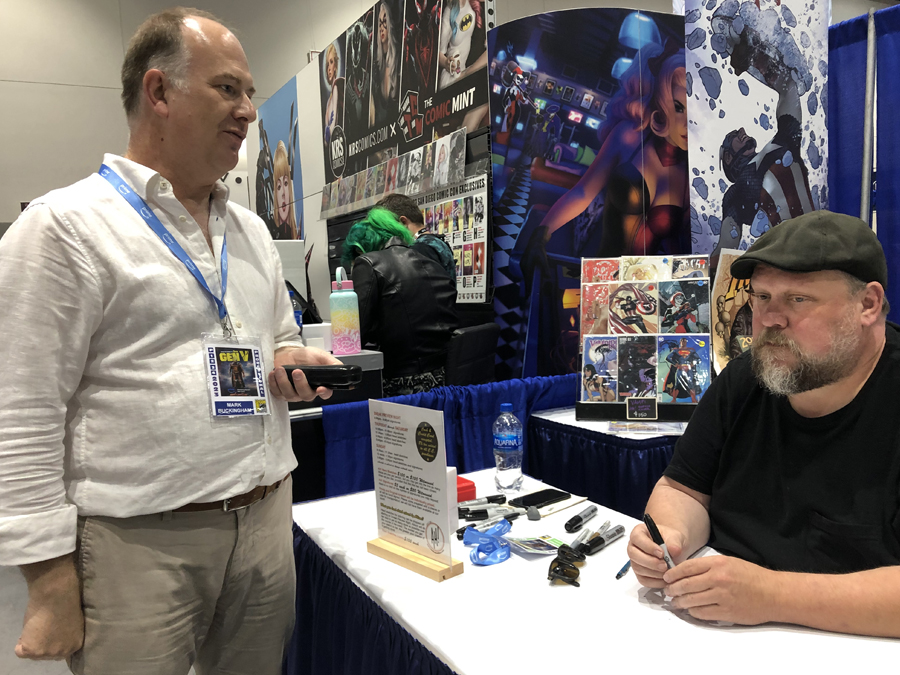 Mark Buckingham (Fables) dropping by for a chat with Adam Hughes (Fairest) amongst comic book artists at the latter's booth.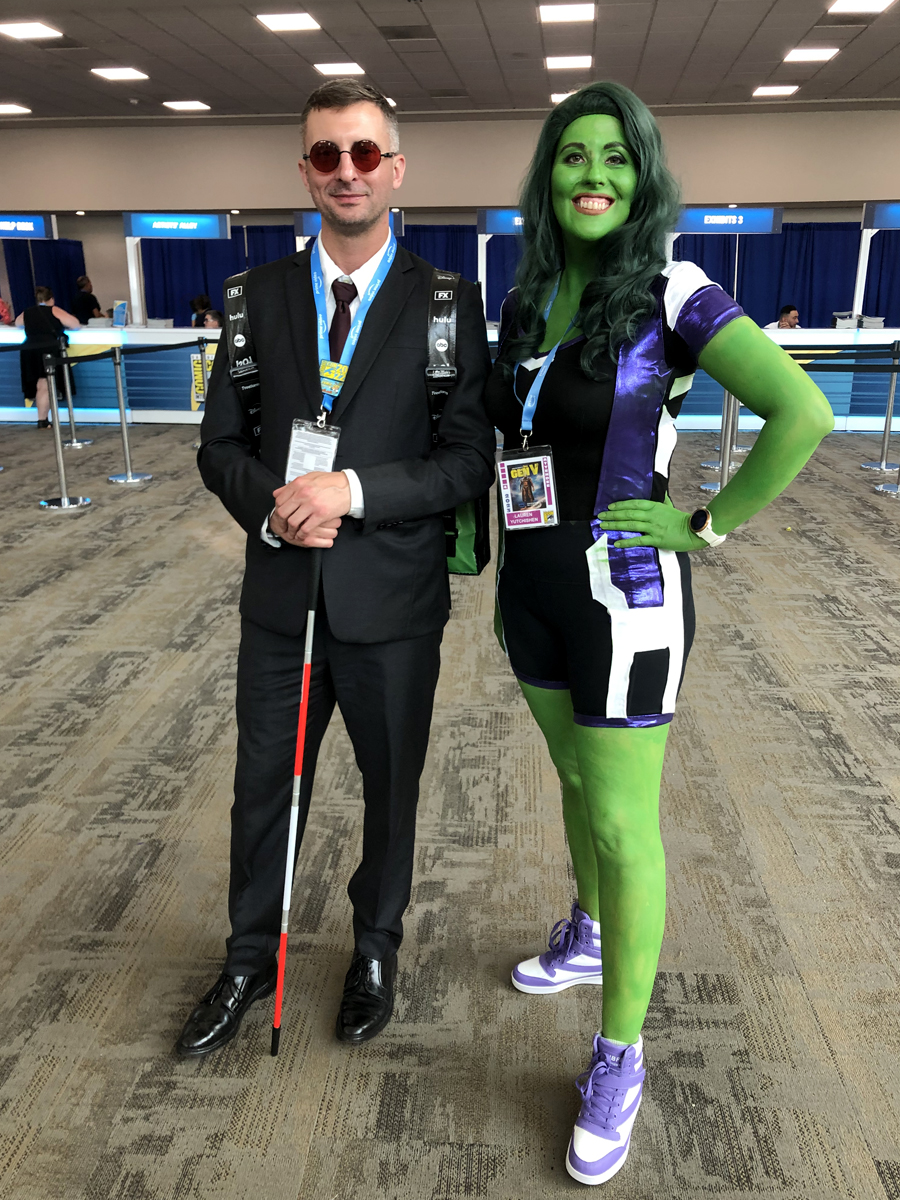 Matt Murdock and Jennifer Walters going out on a date, it would seem (She-Hulk: Attorney at Law).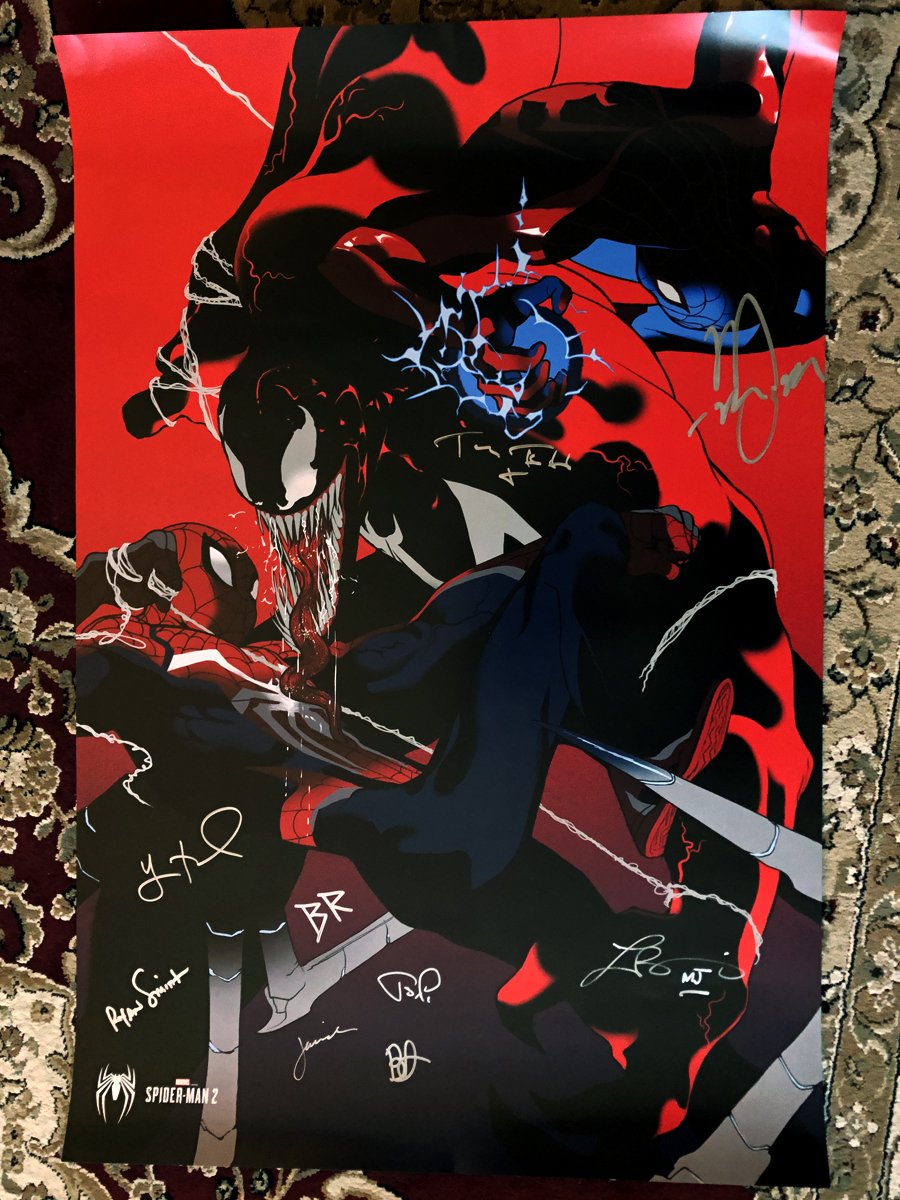 The Spider-Man 2 post signed by Bryan Intihar (Insomniac Games creative director), Jon Paquette (narrative director), Jacinda Chew (senior art director), Ryan Smith (game director), Yuri Lowenthal (Peter Parker), Nadji Jeter (Miles Morales), Tony Todd (Venom), Laura Bailey (Mary Jane Watson), and Bill Rosemann (Marvel Games creative director).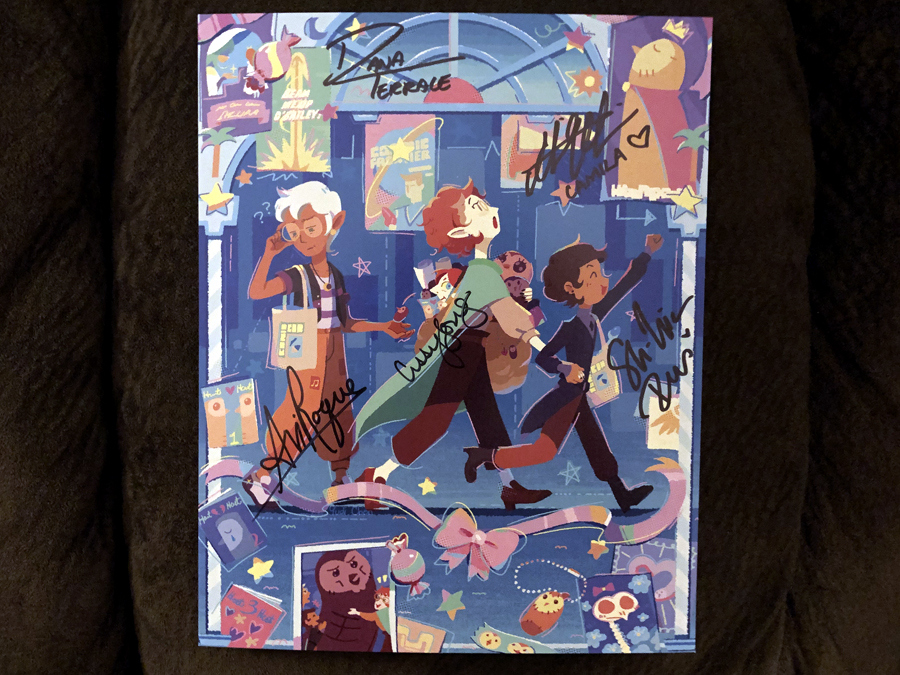 Comic Con exclusive The Owl House lithograph pre-signed by Dana Terrace (creator) and signed by Sarah-Nicole Robles (Luz), Cissy Jones (Lilith), Avi Roque (Raine), and Elizabeth Grullon (Camila).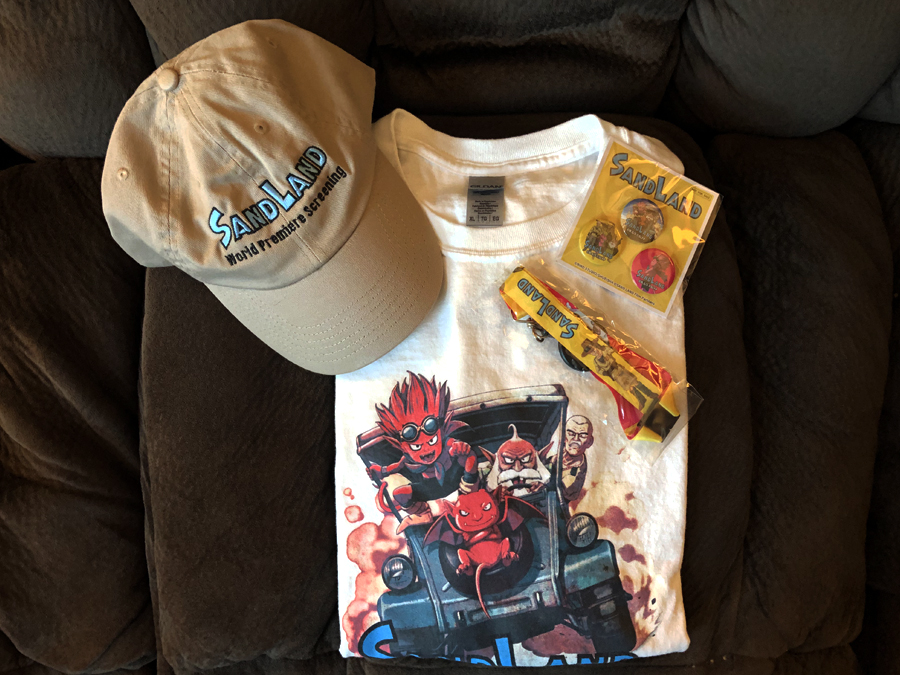 The swag attendees of the Sand Land world premiere received.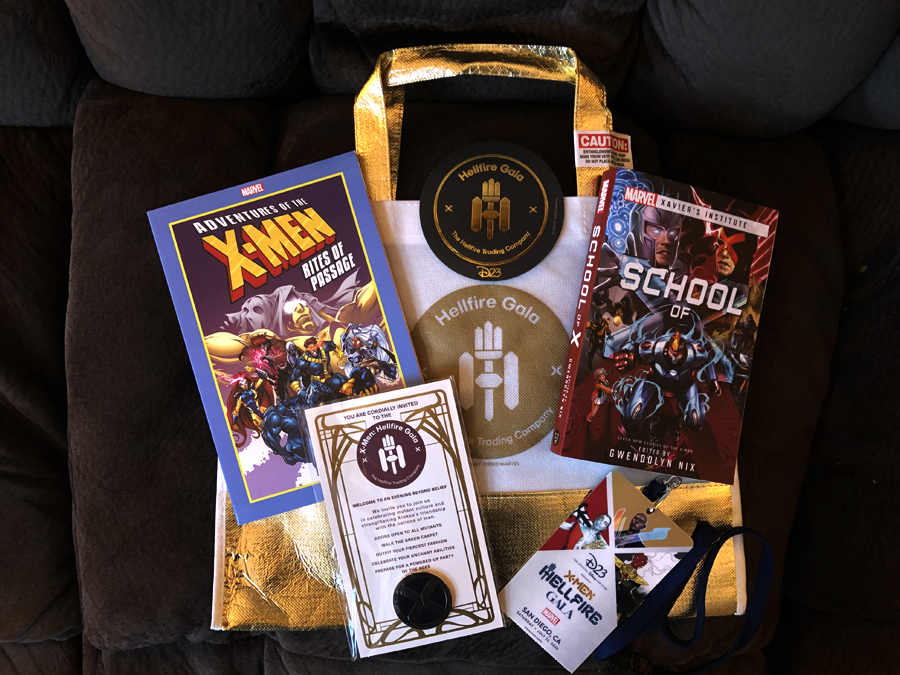 The gift bag of goodies attendees of The Hellfire Gala received.