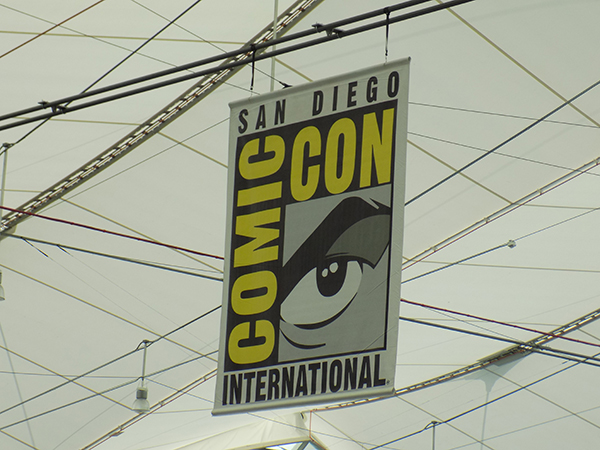 There's nothing like July in San Diego, California as hundreds of thousands flock to the city for the mecca of comics books and pop culture that is the San Diego Comic Con. From July 18-21, 2018, downtown was the hotbed of entertainment. From comic books to movies to television to video games to animation and beyond, this was the place to be. And even if one wasn't able to be among the over 170,000 that got into the convention center itself there was still plenty that could be found and done throughout the weekend to keep cool against the summer sun.
As with years past, I made sure to enter the convention with a game plan so that I could get the most out of my experience. There was a moment on the first day that very nearly derailed my plans quite badly, but fortunately things afterward managed to make up for it, including a couple really neat surprises. If nothing else, this year continues to showcase why, despite the heavy crowds and the occasional confusion with security and staffers as to where to go, the San Diego Comic Con is the most fantastic event to attend.
Celebrate the 10-Year Anniversary of Star Wars: The Clone Wars
Ten years ago, Lucasfilm launched Star Wars: The Clone Wars, an animated series of adventures taking place between the prequel films Attack of the Clones and Revenge of the Sith. Despite a rocky start with a theatrical film that was critically savaged, the television series was quite beloved and only got better with each progressive season. The show's cancellation in March 2013 was seen as a casualty of the Disney acquisition of Lucasfilm and while Star Wars Rebels proved to be an outstanding successor, fans still yearned for The Clone Wars. Thus a celebration of the series took place at Comic Con, packing well over 2,500 fans in one of the biggest rooms outside of Hall H and Ballroom 20.
Present for the momentous occasion were executive producer Dave Filoni, producer Athena Portillo, Ashley Eckstein (Ahsoka Tano), Matt Lanter (Anakin Skywalker), and music composer Kevin Kiner with Nerdist managing editor Amy Ratcliffe serving as moderator. After showcasing the very first trailer to The Clone Wars film, Filoni talked about the genesis of the series and how involved George Lucas himself was when mapping out the stories each season. The neat bit was that Filoni's original concept design for the series and pictures of Lucas participating in the story sessions were displayed.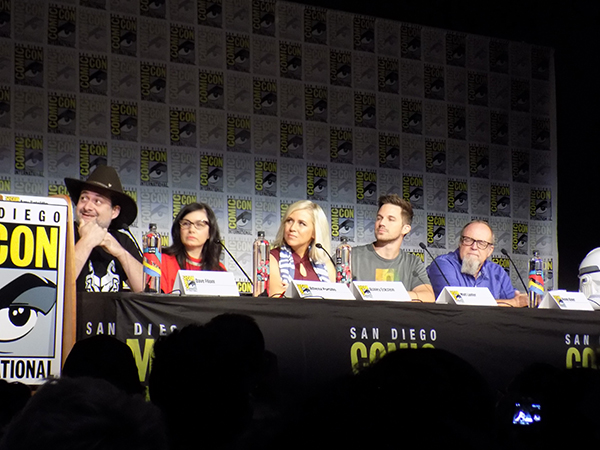 While Filoni did most of talking, going over some of the more unique stories explored in the series while displaying his concept artwork for them, the others still got chances to discuss key moments they were involved in. Portillo explained how the production team would work to try to achieve whatever Filoni and the story team wanted to create. Kiner would touch upon looking for ways to create music that echoed John Williams' epic themes while still able to create his own. Lanter discussed being able to develop the arc of Skywalker's fall from heroic Jedi to eventual Sith lord. Eckstein, wearing an Ahsoka-inspired dress from her fashion line Her Universe, touching on the character's evolution from initially being despised to becoming an overwhelming fan favorite in the whole of Star Wars.
Near the end of the panel, they went over some of the story lines that would have been explored had the series not been cancelled. After screening the final few minutes of the fifth season finale "The Wrong Jedi", Filoni, Latner, and Eckstein talked briefly about the impact the series had on them, the people they worked with, and the fans they've met over the years. All of this, of course, was leading up to the surprise reveal that the series was coming back. After the trailer played, the room was on fire with excitement with even some of the panelists getting emotional. And then they played it again to end the panel proper. All attendees received a ticket which, when brought to the Comic Con Redemption Room, was used to score a poster promoting the series return.
The panel was a lot of fun to attend. Filoni did a nice job being informative about the creative process without sounding droll. Whenever they did get to speak, the rest of the panel got to talk about some great stories. Prior to the big finale, this would have been a fine panel as it was. The trailer put it over the top as the crowd reaction was one of the strongest I've experienced at Comic Con, and I've been in the middle of some awesome crowds. Star Wars: The Clone Wars will return within the next year or so through Disney's forthcoming direct-to-consumer streaming service.
Supergirl 1984: The Warner Archive Collection Blu-Ray!
Following the critical and commercial disappointment of Superman III, father and son producers Alexander and Ilya Salkind decided they needed to take a different approach in an attempt to bring the Superman franchise back to its former glory. Thus they went with making the first English language superhero film with a female lead in Supergirl. However, the film was a critical disaster and a box office bomb, resulting in the Salkinds losing the Superman film license. Over the years, Supergirl would develop a bit of a cult following, in part by Helen Slater's impressive performance as the title character and some enjoyable, if cheesy, effects. As such, Warner Archive Collection selected it for a remastered Blu-ray release.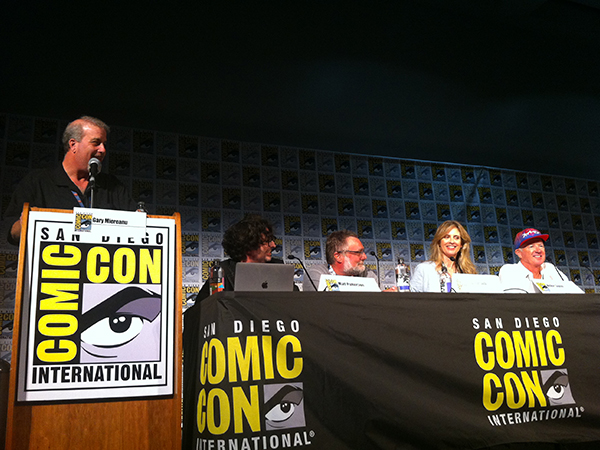 Five days ahead of the Blu-ray release, a panel was held in honor of the film with Director of Publicity for Warner Bros. Animation in Gary Miereanu serving as moderator and featuring Warner Archive Podcast hosts DW Ferranti and Matthew Patterson, Helen Slater (Supergirl), and Marc McClure (Jimmy Olsen). Ferranti and Patterson talked a bit about the restoration process in bringing the "International Cut" to Blu-Ray, noting that there's a scene where wires were visible and because it was originally shown that way they didn't delete it so that fans could retain the appeal of enjoying the film's quirkiness. They also explained that the added "Director's Cut" was on a DVD because the only surviving element they could get was the mastered standard definition that had been discovered in the StudioCanal archives and released by Anchor Bay in 2000.
Having been the only actor to appear in all four Christopher Reeve Superman films and Supergirl, McClure got a moment to convey how Reeve and Slater were ideal in portraying Superman and Supergirl respectively in performing with them. He also enjoyed how he got to do just a little bit more in Supergirl, as was exemplified with the brief screening of the magical tractor scene. But in truth, much of the panel was centered on Supergirl herself, Slater, as everyone on the panel, even McClure, asked her questions. She got to explain how awed she was getting to be in a movie alongside the likes of Peter O'Toole, Faye Dunaway, and Peter Cook in what was essentially her first real acting gig outside of an ABC Afterschool Special. Slater related some fun stories of learning from O'Toole about acting while making the film. She also remembered how slightly embarrassed she was when her mother sewed her a costume to wear to one of the auditions.
Near the end was when they opened to audience questions. As with past Warner Archive Collection panels, five who asked what were deemed good enough questions would score early copies of the Blu-Ray. I managed to be one of the five when I asked Slater, given that Supergirl was essentially the first superhero film with a female lead, if there were any attempts to add a feminist approach to the genre. Finding the question very interesting, she did admit that the film was developed more in fantasy, along the lines of an Ugly Duckling-type of a girl learning how to fit into the world, and not really incorporating feminism. Other fans questions included Slater's impressions of Melissa Benoist, star of the current Supergirl television series, and McClure's thoughts on the Salkinds given their troubled history with some of the cast and crew on the Superman film franchise despite its initial success, which allowed for a brief moment to recognize Margot Kidder who passed away months earlier.
This was a very nice panel. It was very clear that everyone had honest appreciation for the film, even with its flaws, and spoke quite positively about it. Slater was given the spotlight almost from the start and was quite graceful in how she spoke about her memories of the film and in answering questions from everyone. And the behind-the-scenes stories told were quite fun to hear. The Warner Archive Collection Blu-Ray release of Supergirl is now available primarily through online retailers such as Amazon.
Hasbro My Little Pony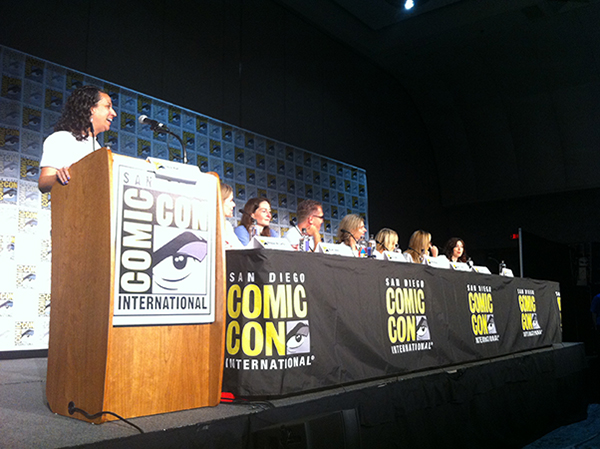 If you've read my previous Comic Con reports, you know that I like going to the My Little Pony panel every year whenever I can. It's more than because I'm a fan of the series, with it's impressive storytelling that is attractive to audiences of all ages and genders as well as some of the loveliest animation currently on television. The panel is just oodles of fun to attend as everyone is clearly having a good time and the fans are just as excited to not only know about what's to come from Equestria, but also to interact with the cast and crew of the beloved series. This year's panel was certainly no different in that it continues to be all sorts of fun to attend.
In a change up from the previous years, producer Eliza Hart served as moderator while writer/producer Mike Vogel hung out in the crowd. Hart brought a different kind of enthusiasm and energy in comparison. On the panel this year were writer/producer Meghan McCarthy, writers Nicole Dubuc and Josh Haber, and voice cast members Cathy Weseluck (Spike), Andrea Libman (Fluttershy and Pinkie Pie), and Tara Strong (Twilight Sparkle). They talked about the present arc for season eight in Twilight opening a school following the events of the theatrical film as well as the continuing growth of news characters to showcase, such as students dubbed the Young Six, along with development of some of the established characters. There was also a cute and goofy moment where, since the cast and crew didn't want to reveal too many spoilers, Hart asked the actresses to reveal character secrets.
They then showed a trailer for the next Equestria Girls special, The Other Side, which sees the human girls discover a portal into Equestria proper. McCarthy only teased a little about the special, which was later noted as airing sometime in spring 2019, but it was clear that the premise had been built up since Friendship Games. Returning to discussions on season eight of the core series, they showed a wonderful musical clip from an upcoming episode introducing a new character in a kirin named Autumn Blaze. After the scene played they brought out the surprise guest voicing the character, Rachel Bloom. The Golden Globe winning creator/actress of the hit CW series Crazy Ex-Girlfriend talked briefly about how much fun it was to see herself as a pony, what a great song it was she got to sing, and briefly explaining the difference between acting on screen and through her voice.
Taking advantage of Bloom's background in improv acting, they decided to do an improvisational skit for the audience. The writers came up with the prompts and the actresses performed as their characters, though Bloom was assigned to voice Shining Armor to hilarious results. Afterward they moved over to fan questions, with the continued tradition of kids getting priority over the teens and adults. Some of the questions asked include what each panelist's cutie marks would be, how many parties does Pinkie Pie have planned (she responded with a number that was well over a gazillion), does Discord have a family, and if we'll see a reformed Chrysalis. The panel closed out with animatics to a musical sequence for the next holiday special "Best Gift Ever".
The pure joy I get going to a My Little Pony panel at Comic Con is infectious. The panelists are clearly having a good time and the fans take great pleasure in interacting with the cast and crew in a friendly environment. The inclusion of an improvisational skit to take advantage of Bloom's presence was a great breath of fresh air that made the panel all the more wonderful. The second half of season eight to My Little Pony: Friendship is Magic has resumed with new episodes airing every Saturday morning on Discovery Family.
ZAG Heroez Miraculous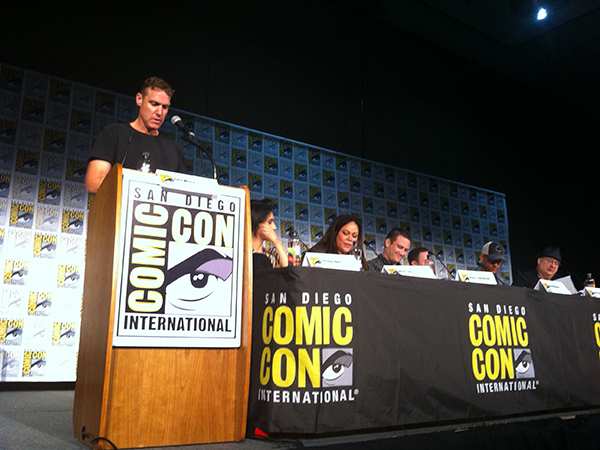 Last year, I attended a panel for Miraculous: Tales of Ladybug & Cat Noir for the first time. The French CG animated series highly influenced by the magical girl genre popularized in Japan has developed a super huge following, in particular with female audiences. The panel exhibited just how great the Miraculous fandom was, overcrowding the room with fans screaming nearly every five seconds at just about everything that was said. It was one of the most fascinating spectacles I had been in the middle of and decided to attend it again this year. Making it all the more interesting was that it was scheduled back-to-back with My Little Pony, allowing for a very unique opportunity to compare two fandoms whose panels packed their rooms to capacity every time out.
English voice director Ezra Weisz once again moderated the panel and took his fantastic high enthusiasm to another level, pumping the fans up to go crazy even when doing something like leading them on to a sing-a-long of the main theme. The panel this year consisted of just members of the English voice cast, though it was the main players in Cristina Vee (Marinette/Ladybug), Mela Lee (Tikki), Bryce Papenbrook (Adrien/Cat Noir), Max Mittelman (Plagg), and Keith Silverman (Hawk Moth). They would later be joined by Joe Ochman (Mayor Bourgeois) and Jessica Ángeles (Marinette/Ladybug in Latin American broadcasts). Producer Jeremy Zag was unable to be present, but Weisz was able to get him on the phone at the beginning to reveal that he was working on the show's third season as well as the forthcoming feature film and announcing the development of a live stage musical.
Technical issues caused some things in the panel to get moved around, leading to a fun moment where Silverman as Hawk Moth attempted to akumatize the technician, before they were finally able to settle with some selected script readings of fourthcoming episodes. The cast read two scenes from "Sandboy", one of which featured the seemingly anticipated first to feature Tikki and Plagg together, and then from "Malediktator", showcasing Ladybug and Cat Noir contending with an akumatized Mayor Bourgeois. In between the readings of the two episodes, they aired ahead of its online premiere the completed form of the Zag Chibi short "Rooftop Dinner" that was first shown in storyboards last year. After the script readings, they showed off clips from some of the season two episodes that have yet to air in the United States.
They started wrapping up by featuring Vee and and Ángeles comparing how they would speak their lines in English and Spanish. This was followed by a teasing video message from Zag, in which he was joined by The Greatest Showman director Michael Gracey, revealing that he would be involved in the forthcoming feature film. They also announced that the live stage musical is scheduled to be running around March 2019. Due to time, they could only get to two fan questions to end the panel. The first about Hawk Moth changing up his tactics due to his continued short-comings led to a great improvised moment of Silverman playing Hawk Moth akumatizing himself. The other question was a cute question of what each panelist's own personal Miraculous would be, a couple humorously answering they would be their own dogs. All attendees were given a Miraculous key chain, randomly chosen to be either Ladybug or Cat Noir.
In spite of the technical issues that seemed to have moved things around, this panel continued to showcase what a spectacle it still was to attend. The fandom also continued to make it all the more fascinating. The panelists were clearly having some fun, in particular Silverman when he got to improvise some moments, and we got to hear some intriguing surprises like Michael Gracey's involvement in the franchise. Scheduling it back-to-back with My Little Pony was an interesting choice, but it did showcase that each had a fantastic following with their panels exhibiting them quite nicely. The second season of Miraculous: Tales of Ladybug & Cat Noir is scheduled to resume in the United States this December streaming through Netflix.
Invader Zim: Enter the Florpus!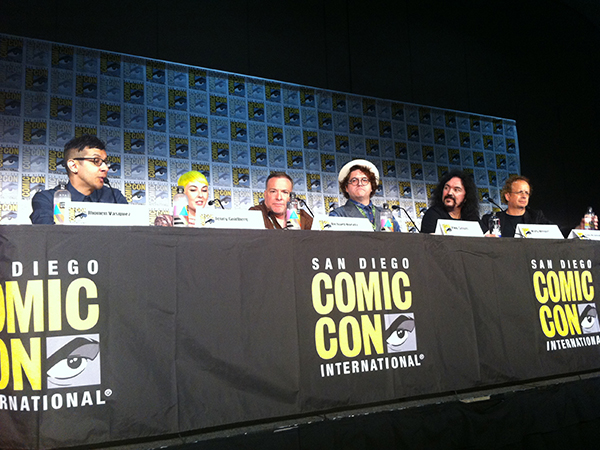 In 2001, Nickelodeon took a chance and enlisted Jhonen Vasquez, then best known for his dark comedy comic book Johnny the Homicidal Maniac, to develop an animated series that would appeal to a slightly older audience. The result was Invader Zim, telling the exploits of an extraterrestrial's attempts to conquer Earth. While numerous behind-the-scenes hardships resulted in the series getting cancelled after two seasons, it was nonetheless widely acclaimed and would go on to become a cult classic. As Nickelodeon began reviving some of their more popular animated properties over the years, it seemed only a matter of time before Invader Zim was given another chance at global domination in the television film Enter the Florpus!
Hector Navarro, host of the Nickelodeon Animation Podcast, moderated the panel that included Vasquez, art director Jenny Goldberg, and cast members Richard Horvitz (Zim), Rikki Simons (Gir), Wally Wingert (Almighty Tallest Red), and Kevin McDonald (Almighty Tallest Purple). Alongside his original early concept designs for the show, Vasquez said that his making the hilarious Teenage Mutant Ninja Turtles short Don vs. Raph was the foundation for his eventual decision to revisit Invader Zim as he had fun again for the first time in a while. According to Goldberg, though, the process of making the revival film was just as difficult as it was to make the series as, at the time of the panel, they were still in the process of getting animation back on the first act and finishing color on the third act.
It was noted that much of the crew on Enter the Florpus! had grown up on the original television series, many of them having gone on to some success themselves. Among those recognized was supervising producer Breehn Burns, director of the popular web series Bravest Warriors. Having been constantly asked to voice their characters for years, Horovitz and Simons talked about some of the strange things they encountered in the fandom, such as the painful places fans would put Invader Zim tattoos. Wingert and McDonald got to bring up humorous behind-the-scenes stories, such as how McDonald recalled Nickelodeon executives thought an improvised line had been intentionally written by Vasquez to be dark and Wingert explaining how an animation screw up led McDonald having a popular line originally recorded by Wingert.
Goldberg explained a bit at how the visual look was updated from last seen sixteen years ago while still maintaining the original design. This was exemplified with model sheets comparing how they looked then to now being displayed on screen, piquing the interest of fans as they examined the changes as carefully as they could with the brief amount of time the visuals were shown. Fan questions were chosen from Twitter, resulting in some funny questions receiving funny answers. Among the questions included whether or not the Tallests were actually regular sized Irkens in mech suits, how Zim bathes himself if rain harms him, and which character they would choose if they had to get a tattoo of one on their butt. The panel capped off with the screening of the teaser trailer, which got the fans howling with delight.
Words can't really describe just how funny and entertaining the Invader Zim panel was. Everyone on the panel was clearly having a good time, always finding an opportunity to throw in a joke or say something witty. There wasn't too much discussion about Enter the Florpus! itself, though that's largely due to them apparently not being far enough done to actually say any more than they could without spoiling it. Nevertheless, I think everyone was just having a blast reminiscing about Invader Zim and just getting very excited about the return. Invader Zim: Enter the Florpus! was originally planned to broadcast on Nickelodeon sometime in fall 2018, but it might get pushed given where production is at presently.
Celebrating 90 Years of Mickey Mouse with D23: The Official Disney Fan Club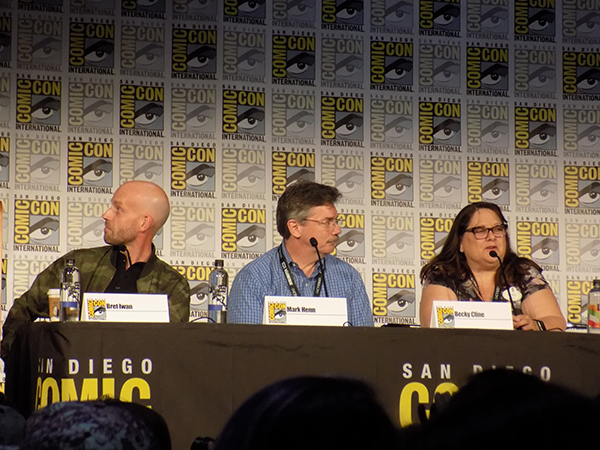 In 1928, Walt Disney and Ub Iwerks created a character named Mickey Mouse. Initially developed as a replacement to Oswald the Lucky Rabbit and one Disney would have full ownership of, Mickey would change the face of entertainment as a result of his third short Steamboat Willie becoming the first synchronized sound cartoon released. In the decades that followed since his inception, Mickey Mouse has transcended from his original role of cartoon character to studio mascot to top billing Hollywood star to cultural icon and beyond. 2018 marks the character's 90th anniversary and Disney decided Comic Con was as good of a place as any to celebrate the special occasion.
After a trailer and an appearance from D23 Vice President Michael Vargo to quickly promote the D23 program, the panel proper began with a nice video that showcased Mickey from the past 90 years. Disney Archivist and D23 contributor Justin Arthur served as moderator with the panel consisting of Walt Disney Archives director Becky Cline, legendary animator Mark Henn, and present official voice of Mickey Mouse in Bret Iwan. The panelists took turns going over Mickey in as close to a chronological order as they could with Cline explaining the historical context, Henn revealing the evolving animation styles and techniques, and Iwan talking of the voice actors who brought life to and shaped the character's personality.
In discussions regarding the character's early years, Henn noted that Walt Disney was too embarrassed to serve as reference model for the animators, but was talked into being one for Frank Thomas in developing a walk for the short The Pointer. Cline talked briefly about the popular Charlotte Clark plush dolls. This led to further discussion of the original Mickey Mouse merchandise, specifically the more curious items from one of the first catalogs such as undies, pocket knives, and costumes that in retrospect looked terrifying. Mention of Walt Disney insisting on voicing Mickey for the Mickey Mouse Club introductions long after handing the reigns to Jimmy MacDonald led to a screening of the original "Mickey Mouse Club March". Iwan couldn't help but jump in and voice Mickey whenever his lines came up at the end.
Henn was eventually able to talk about animating Mickey. He noted how challenging it was to draw the character, particularly on Get a Horse! as he had to essentially unlearn everything he had been taught so that they could draw in the original Ub Iwerks style over Fred Moore. Iwan noted how his interest in the Fantasmic! show and his attempts to recreate it with his brother using the soundtrack would be the foundation for his becoming the fourth official voice of Mickey. Wrapping up the panel, Cline brought up the Mickey portraits that John Hench painted to commemorate special anniversaries from 1953 to 2003 with Paul Felix doing the portrait for the 80th anniversary in 2008. For the 90th anniversary, Henn was selected and his portrait was physically unveiled to the attendees along with showing a time-lapse video of his painting the portrait. All attendees received a packet of magnets of some of the Hench portraits as well as a hand fan for the panel.
This was a very nice, quite informative panel that did what they could to jam 90 years of Mickey Mouse into one hour. I think Arthur did a good job in trying to give all three equal spotlight time, as Cline could have easily dominated the panel with the amount of historical information she had. The inclusion of clips from various programs helped put whatever they talked about into perspective and it was clear everyone had great fondness and admiration for the character. I really liked the reveal of Henn's portrait to cap things off while it was great to see the fun Iwan had when he got to play around with Mickey's voice.
Quick Draw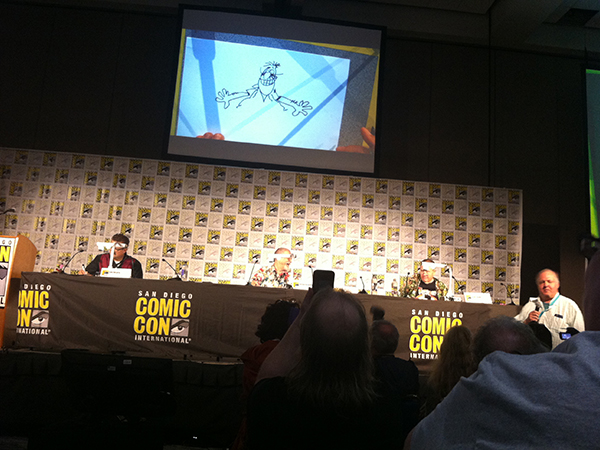 The Quick Draw is such a beloved annual Comic Con tradition that it has no problem packing over 2,500 attendees into one of the biggest rooms of the convention to watch Sergio Aragonés and Scott Shaw draw silly cartoons in seconds. It's oodles of fun and absolutely hilarious. Part of the appeal is the witty banter that gets thrown around between them and host Mark Evanier. And the rotating third person, this year being Lalo Alcaraz, adding flavor to it all continue to make this a must-attend event of Comic Con. Good clean fun that continues to leave all fans rolling on the floor, laughing with tears in their eyes.
Some of the fun drawings thought up included a Quick Draw tradition of having the audience coming up with an implausible couple and the artists drawing what the offspring would be like. Aragonés scored the nuttiest by drawing what the baby of Betty Boop and Howard The Duck looked like. Another fun moment was to illustrate the dangers of riding a scooter through the convention, specifically if the artists themselves were using them. One of the more wacky was the artists given something pre-drawn and then finish the illustration based on audience suggestions with the biggest laugh being Aragonés drawing "Donald Trump". Alcaraz had some projector issues a couple of times, but it didn't really disrupt the flow of things. He had some pretty good ones with regards to how some women would react to being in a relationship with a cartoonist.
Another Quick Draw tradition was for a couple of guests in attendance to try to figure out three words based on the illustrated clues the artists gave them. This year featured voice actors Fred Tatasciore and John Mariano. Tatasciore managed to completely rip through the challenge, quickly guessing his words "fake", "anxiety", and "hide". He did so well that Aragonés threw up incorrect words to try to throw him off at one point. The only one that took him more than a minute to figure out was "fake". Mariano had a more difficult time with his words "steel", "bitter", and "deja vu", in particular "bitter" to the point that eventually Evanier had the audience reveal what it was. The artists tried illustrating how something would taste bitter, but Mariano just couldn't figure it out.
A very special guest in attendance was Joye Murchison Kelly, the first female to write superhero comics, albeit as a ghost writer, writing on Wonder Woman for three years beginning in 1945 while working as a secretary for co-creator William Moulton Marston. Also known as Joye Hummel, the 94-year-old was attending her first comic convention this year, on hand to be a recipient of the Bill Finger Award during the Eisner Awards as a means by the industry to give her her long overdue recognition. She was taken aback by the fanfare she received throughout the weekend, even during a hilarious event like the Quick Draw. After a brief discussion with Kelly, Evanier had the artists draw how disastrous a date with Wonder Woman would be for themselves.
The joy of the Quick Draw has and will always be looking forward to seeing what the artists come up with on the spot. What we do know is that we can expect them to be silly and hilarious, leading to an hour of everyone just having an absolutely good time. What I also like about the Quick Draw is how clever the artists can be at times with whatever they come up with. Some of the more amusing are ones that let you think about it even after its time to move on to other things, which I tend to find usually belong to the rotating third guest and Alcaraz was no exception this year. If ever one gets a chance to attend anything like the Quick Draw, it is well worth checking out.
Cartoon Voices I
Another Comic Con tradition is the Cartoon Voices panels. Twice a year, Mark Evanier gathers together a collection of voice actors to spotlight them and show off their talents before a live audience. The first generally takes place immediately after Quick Draw so Evanier doesn't have to do much to set up shop. And just like Quick Draw, the panel packs the room almost every time out, even in one that's able to hold 2,500 attendees. I haven't been to Cartoon Voices too often in recent years largely because most of the talent gathered have been present before on numerous occasions. This year offered up a fresh set of voice actors, so I decided to check them out this time around to see how they would do.
For the first panel, the collected voice actors consisted of Julie Nathanson (present voice of Belle in various Disney projects), JP Karliak (title character in The Boss Baby: Back in Business), Kari Wahlgren (Jessica and Rick's space ship in Rick and Morty), John Mariano (Bobby from The Goodfeathers in Animaniacs), Matthew Mercer (Leon Kennedy in various Resident Evil projects), and Roger L. Jackson (Mojo Jojo in The Powerpuff Girls). To start, each introduced themselves by listing off some of their more well known voices and then offering up an obscure voice job they did. The interesting obscure factoids was among the few Jackson listed off, mentioning that for one project he had to come up with a least a hundred different sounding dogs and a hundred different sounding cats. Evanier jokingly asked if we could hear all of them.
Evanier then asked each of the panelists to talk about a moment where they were starstruck to be in the same room as someone. The most amusing was when Nathanson mentioned how she had wanted to meet James Earl Jones and when she did she was so nervous she embarrassingly asked him to say her name. It was during Karliak talking about his friendship with mentor Bob Bergen and how the latter would work for voice actor rights that the looming voice actors' strike was brought up, in regards to residuals not being received from content being played through streaming services like Netflix. A member of the negotiating committee, Karliak was given a moment to explain how important the issue was to voice actors present and future. Evanier noted that the hardships would be further explored in another, more serious voice acting panel he hosted every year called the Business of Cartoon Voices.
They eventually moved on to the highlight of every Cartoon Voices panel, the blind script reading. Evanier would give each panelist a bland script, this year being a telling of Rapunzel, and assign roles. The actors were given the liberty to perform and improvise however they wish. Evanier mentioned that, as a voice director himself, he'd give direction as he saw fit, but usually let the actors go to town. His one direction was having Mariano perform the King as Burgess Meredith. The actors were absolutely hilarious from the start and only got funnier as they played with different voices for their characters. The house was brought down when Walgren, as Rapunzel, starting singing pop songs and the rest of the panel eventually started dancing to them. Evanier brought on Gregg Berger (Cornfed in Duckman) at the end to fill in for an unassigned part to really put the whole thing even further over the top.
It was great to see a fresh cast of voice actors partake in the Cartoon Voices panel. It's all the more fun when unique approaches to improving a scene are made and these guys clearly are having a blast doing so. I was primarily interested in seeing how Mercer, and to an extent Wahlgren, do in this environment, but it was just as fun watching Nathanson and Karliak go to town with their performances, Karliak in particular. While I do feel there was a missed opportunity to see how Evanier and Mercer might play up their connection through Dungeons and Dragons, Evanier having developed the 80's cartoon series and Mercer running Critical Role, the hilarious antics of the Rapunzel reading more than made up for it.
Talks Machina with Critical Role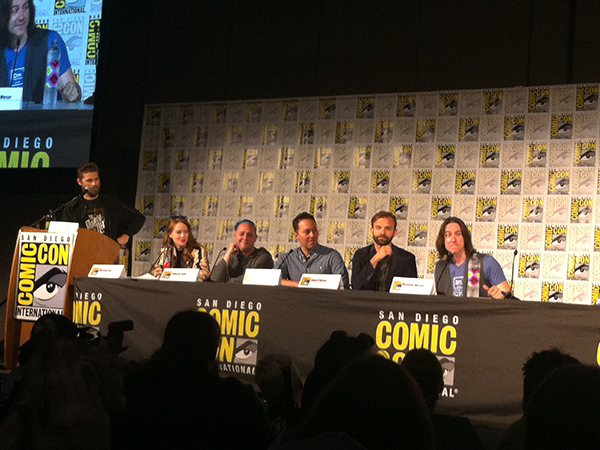 Last year, I sat in on the Talks Machina with Critical Role panel, which at the time was scheduled ahead of the Quick Draw. It was my introduction to what would become a highly addictive, yet no less majestic world of voice actors playing Dungeons and Dragons. At the time of the panel last year, which happened as the first campaign was coming to a close, the popular Geek and Sundry Internet series was really starting to emerge in the mainstream. Coming into this year's panel, which is six months into the new campaign, the show is becoming a pop culture phenomenon with high profile guest stars such as Joe Manganiello (True Blood) and Khary Payton (The Walking Dead), comic books published by Dark Horse, art books, a campaign settings book based in the narrative's world of Exandria, and even a billboard in Los Angeles. As such, Critical Role was given one of the biggest rooms of the convention, filling to capacity over 2,500 attendees.
After a great video that featured the entire cast explaining the code of conduct in the form of airline instructions, moderator Brian W. Foster came out to introduce the available cast members Marisha Ray (Beau), Taliesin Jaffe (Molly), Sam Riegel (Nott), Liam O'Brien (Caleb), and Matthew Mercer (Dungeon Master). Ashley Johnson (Yasha) was in New York filming the upcoming season of Blindspot while Laura Bailey (Jester) and Travis Willingham (Fjord) were on leave at the time after Bailey gave birth to their first child. Mercer announced that, following the success of the first six-issue comic, Dark Horse would be publishing more, this time covering the pre-stream sessions of the first campaign. They showed off the panels that would introduce Johnson's Pike and Jaffe's Percy.
They then moved on to subtly discussing the events of the last couple of episodes, trying not to spoil too much. They mentioned how the tragic circumstances were certainly unexpected, but it allowed for storytelling opportunities to emerge. It did allow for Mercer to bring up how in a pre-Critical Role game he ran with Jaffe, the entire party were nearly killed facing ghouls and only two managed to survive after quickly assessing how far south the battle went in the first round. Ray noted that she had started dating Mercer at the time (they have since gotten married right after the first campaign ended) and it was that very same game that introduced her to Dungeons and Dragons. They brought up how the games were now being run in a new studio as well as new dedicated streaming channels on Twitch and YouTube. Ray noted that original content for the new channels are coming, but is focusing on bite-size material first since the cast was down a few at the moment.
Turning over to fan questions to end the panel, a lot of the fans asked about some of the differences between playing in the first campaign and now in the second. A good question brought up was how the cast handled separating themselves from their characters in real life. I managed to ask an incredibly geeky question in reference to the first campaign characters making a cameo in Amazing Spider-Man: Renew Your Vows that, since was directed at Ray, left her dumbfounded. Jaffe, the big comic book nerd of the bunch, jokingly wondered if I was on the payroll of Jody Houser (current writer of Renew Your Vows), who had said she would troll him during the weekend. It did lead to Riegel making a hilarious remark that had Mercer feign walking out due to what was being referenced from the first campaign. Right after me was the most adorable little girl asking O'Brien what his favorite monster was, causing everyone in the room to die of cuteness overload.
Part of the joy in discovering Critical Role was how much the world of Exandria and its characters seem to touch the audience at the core. Utilizing fantastic storytelling from all involved with great drama and excellent improvised comedy, it's no wonder the show is on the verge of breaking through in pop culture. This panel, which can be viewed on YouTube in nearly its entirety, showcased just how beloved the show was and how appreciative the cast were at such a wonderful opportunity for their fun little game to have won the hearts of its fans. Critical Role streams live every Thursday on Twitch, YouTube, and Project Alpha with the full episode uploaded on the Geek and Sundry YouTube channel the following Monday.
Cartoon Voices II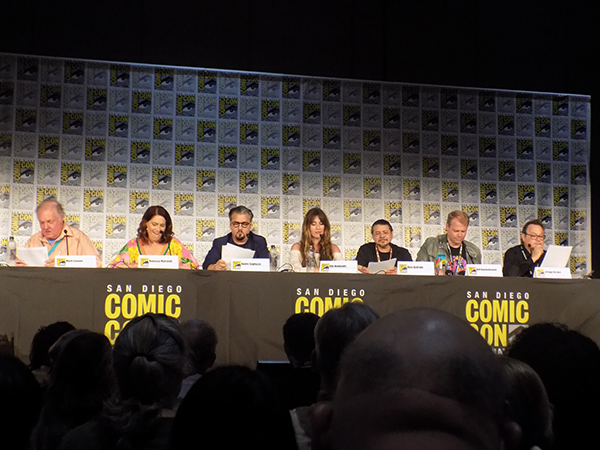 With the first Cartoon Voices taking place on a Saturday, the second would take place on a Sunday. This one would generally be a little low key, often taking place in a smaller room and being more in tune with how the programming on the last day of the convention would be catered to children and families. Nonetheless, Mark Evanier would still bring together some of the finest voice actors, a different collection from the previous day's panel, to display their craft to hilarious results.
The second set of voice actors featured Vanessa Marshall (Hera in Star Wars Rebels), André Sogliuzzo (King Bumi in Avatar: The Last Airbender), Elle Newlands (Moria Thaurissan in the World of Warcraft video games), Dino Andrade (Speedy Gonzales in New Looney Tunes), Kiff VandenHeuvel (Older Han Solo in Star Wars Forces of Destiny), and Evanier would later add Gregg Berger. In terms of obscure voicing projects, Andrade had the funniest in that he managed to voice one of the little critters in the 1985 horror comedy House while working as a member of the film's Foley team, hired by director Steve Miner while wearing high heels to make its sound effect.
When the actors each talked about a moment they were in awe of working with someone, Sogliuzzo got to explain a bit about the friendship he has with Al Pacino since working with him on the latter's documentary Looking for Richard, essentially becoming his go-to voice double and even picking him to be the voice of Tony Montana for the Scarface: The World Is Yours video game. Newlands had a very amusing story about just how nervous she was doing ADR for Rob Reiner on his latest film Shock and Awe that a certain body part was quivering right in front of the director. After Berger joined the panel, Evanier had them all run through some voicing exercises. After Sogliuzzo did an exercise in screaming, Andrade talked about how he disliked a particular company because they ended every audition with extreme screams.
Before getting into the script reading, Evanier gave Andrade an opportunity to talk a bit about his first wife famed voice actress Mary Kay Bergman, the affect her passing had on him and how he would recover and rediscover love. Andrade encouraged helping and finding help in suicide prevention with Evanier adding how the late Lorenzo Music would work on the suicide prevention hotline one night a week, leading to fun reactions from callers upon recognizing his voice. This round of voice actors read from the same Rapunzel script as the first round, but that made it all the more fun to be able to compare how each group approached the material. Evanier didn't really have any direction for this group, so they seemingly had a little more freedom to go in whatever direction they wished when they read their lines. One hilarious bit was when Marshall and Newlands acted like they were in a hip-hop music video.
The second round was another breath of fresh air for the Comic Con tradition, both in general and in comparison with the first round. This group had some fun, but they also took time to educate the attendees about how hard their profession can be. Andrade stood out the most both in his approach to voicing and in some of the information he revealed, about the job and in his personal life. Some of the funniest material came from Newlands, in particular her embarrassing story of working for Rob Reiner. While I kind of liked the first group just a little bit better, the second group was just as good.
Marvel Animation Presents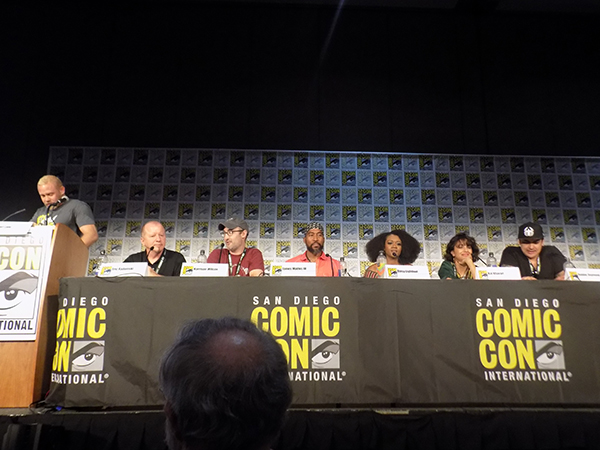 In recent years, Marvel Animation has been building off of the success of the Marvel Cinematic Universe to attract the younger audience into learning more about the Marvel superheroes at large. Whether it is adapting an existing story from the comic books or developing a tale unique for animation, Marvel seemed to have fond a formula that was working as the shows have now become the centerpiece of Disney XD. And there's plenty for fans to get excited about with what they have planned in the months to come.
Serving as moderator was Senior Vice President of Animation and Family Entertainment in Cort Lane with initial panelists being Senior Vice President of Production and Marvel Animation Creative Director in Eric Radomski and Senior Director of Development and Production in Harrison Wilcox. Spotlighting the forthcoming Black Panther's Quest season of Avengers Assemble, they also brought out voice actors James Mathis III (Black Panther) and Daisy Lightfoot (Shuri). After showing impressive clips from the first couple of episodes, they got to talk about the approach the show would be taking in showcasing Black Panther as well as exploring the sibling relationship between T'Challa and Shuri.
As the panel was designed to go beyond just Avengers Assemble, they brought out their first surprise panelist in voice actress Kathreen Khavari (Ms. Marvel). Though she voiced the character on Avengers Assemble, she was primarily promoting her voicing the character again for the upcoming television feature Marvel Rising and how it was a great opportunity for the younger generation of Marvel heroes, heroines in particular, to be in the lead. After showing a clip from the film, they moved over to Marvel's Spider-Man and how things were picking up for the second season. This brought out the other surprise panelist in voice actor Robbie Daymond (Spider-Man), who talked about how excited he was for the roster of villains being introduced as part of the four-episode arc "Bring on the Bad Guys", which started airing the next day and showed a clip from in the meantime.
They moved on to the Marvel Team-Up Live skit they've been slowly introducing into the panels at various conventions. Lane would ask for a series of adjectives, nouns, and verbs from the audience that would be used to fill in the blanks for a script the voice actors read in character, resulting a very funny performance. It turned out great as a result of what was incorporated. They spent what time they had left on fan questions, one of which did touch upon what influence the Black Panther film had on how T'Challa and Shuri would be presented for animation. Mathis and Lightfoot noted that the animation had actually been done while the film was being made, so they had a chance to develop their own iteration of the characters.
The panel was a nice mixture of informative about what's to come and entertaining with the Marvel Team-Up Live skit. There was clear interest from the voice actors, in particular Mathis and Lightfoot as they see the success of the Black Panther film as driving interest in the animated iterations. Marvel's Avengers: Black Panther's Quest is set to premiere on September 23 on Disney XD, Marvel's Spider-Man continues to air new episodes every Monday on Disney XD, and Marvel Rising will premiere in late 2018 on Disney Channel.
Signings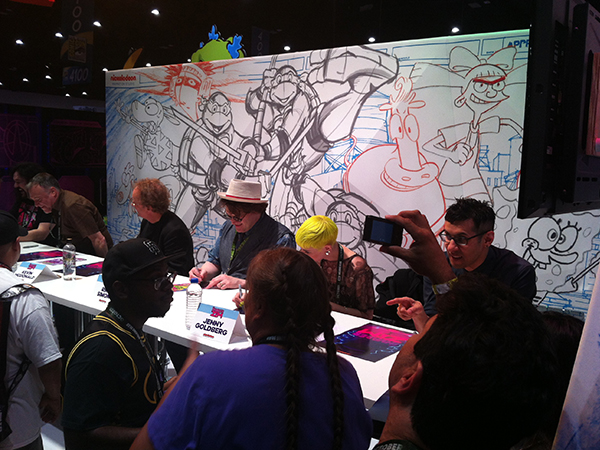 While I had thought about meeting Helen Slater prior to Comic Con, I definitely wanted to meet her after the Supergirl film panel. If nothing else than to get my early copy of the Blu-Ray I had won signed by her. Upon seeing that I was one of the winners of the Blu-Ray, we had a nice little chat about Supergirl in general as well as just how exhausting the convention could be even after only one day. She was a pleasure to meet and a very nice woman to talk to. Her's wasn't the only signature I got on the Blu-Ray cover as I also managed to get one from Marc McClure at the end of the panel before he was rushed off by the convention staff.
I almost missed an opportunity to get into the Invader Zim signing that occurred in the Nickelodeon booth following the panel. Initially my one chance to get a ticket was right as the doors opened on the first day, but apparently the printer was down and they couldn't print any then. Fortunately, someone was considerate enough to hold a ticket back that when I asked just before the signing happened they were kind enough to give it to me. Just another reason the Nickelodeon booth is one of my favorites at Comic Con. Didn't get to interact with the panel due to the slight attempt at sign and go with selfies, but Jhonen Vasquez and I did note our agreement that Nickelodeon should have left their logo be blue as opposed to the trademark orange on the poster being signed so that it looked cool and flowed better.
To help out my brother and his wife, I decided to pick up as many Twin Peaks signatures as I could get as they were big fans of the cult classic series. It was actually quite fun to meet Sherilyn Fenn (Audrey Horne), Kimmy Robertson (Lucy Moran), Chrysta Bell (Tammy Preston) and more while sharing with them my "mission". But it wasn't until I got to the table that I kind of wished I paid better attention to the list of actors present. Because it wasn't until I got to Amy Shiels (Candie) that I realized, from looking at the 8×10 photos she had available, that she was also the voice of Lunafreya in Final Fantasy XV. We had a nice little talk about this and I even threw in getting a picture with her as a bonus to my "mission".
One person I wanted to find time to meet to rectify a missed opportunity at a photo with was author Timothy Zahn. Regarded as one of the architects of the Star Wars expanded universe, Zahn created Grand Admiral Thrawn, a beloved villain arguably at the level of respect and popularity to Darth Vader, who managed to cross into the Disney-established canon as a major antagonist in Star Wars Rebels. I met Zahn fourteen years ago to get a copy of Survivor's Quest signed, but totally didn't think about getting a photo then. This year, Zahn would be available the whole weekend along with early copies of his latest book Thrawn: Alliances, which featured a convention exclusive slipcover. Before getting our picture taken, he personalized my copy of the new book and we talked briefly of how exciting it was to see Thrawn successfully brought over into the Disney-established canon.
Other autographs I managed to get were an early copy of the Gravity Falls: Lost Legends graphic novel signed by Alex Hirsch and artist Dana Terrace, the guide to life DuckTales: Solvine Mysteries and Rewriting History book signed by authors Rob Renzetti and Rachel Vine, and The Adventure Zone: Here There Be Gerblins graphic novel signed by Justin McElroy (Taako).
Cosplay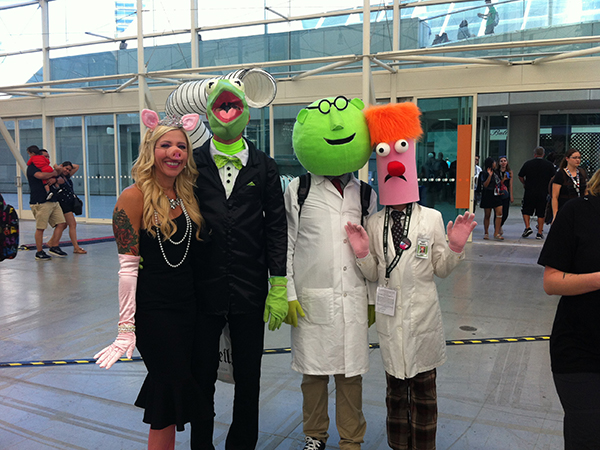 It's a tradition of virtually every convention for there to be many out and about dressed up like their favorite characters, willing to pose for cameras and be admired by other fans. Going through the photos I took, I found it curious that I didn't take too many pictures of cosplayers this year compared to previous ventures. I still had a good many, but I noticed I was apparently interested in those dressed as Astrid Hofferson (How to Train Your Dragon), Chloe Price (Life is Strange), and any of the characters from Critical Role. Though I will say that my personal favorite of the whole convention were a group of four dressed as Miss Piggy, Kermit, Dr. Bunsen, and Beaker. It was a great display of clever design in being able to get so much out of so little material.
As mentioned, I was apparently interested in those dressed as Astrid to the point that I literally stopped whatever I was doing and had to get a picture of the cosplayers. One of them went with the first film appearance while the others were more towards the second film, including my favorite that had a great battle axe and a Stormfly plushie. The only other cosplayer to make me do that this year was one who dressed as a very cute Aerith Gainsborough from Final Fantasy VII and Kingdom Hearts. I also seemingly made an unconscious point to look out for any one cosplaying as characters from Atlantis: The Lost Empire, managing to catch a cute Kida and a couple as Kida and Milo.
Finding folks dressed as characters from Critical Role was not going to be too hard, particularly when we were all going to be attending the panel. What was a lot of fun was seeing cosplayers dress up as the characters from this current campaign given the amount of detail that had to be put into some of those designs. After the panel, we tried to gather all of the cosplayers for one giant group shot outside of the room. For the longest time we couldn't get find someone cosplaying as Beau, even though we had seen at least four prior to the panel. One eventually showed up and turned out to be a great shoot before we were all eventually told by security to move it along so that we didn't crowd up the hallway.
Other interesting cosplayers who stood out to me included a woman and four children she was with wearing hoodies stylized after Twilight Sparkle, Rainbow Dash, Rarity, Pinkie Pie, and Applejack (My Little Pony: Friendship is Magic). There was a great Doc Brown (Back to the Future) I managed to see while waiting in line to get in one morning. Among the various Star Wars cosplayers that were present ahead of the Star Wars: The Clone Wars panel, we liked two girls cosplaying as Ahsoka Tano who posed together, even mimicking the Wonder Twins pose. There was a cute girl dressed as Supergirl from the current television series that I caught outside the Convention Center and I really liked one girl dressed as Merida (Brave) stylized for World of Warcraft and even encountering someone dressed as a night elf.
Random Sightings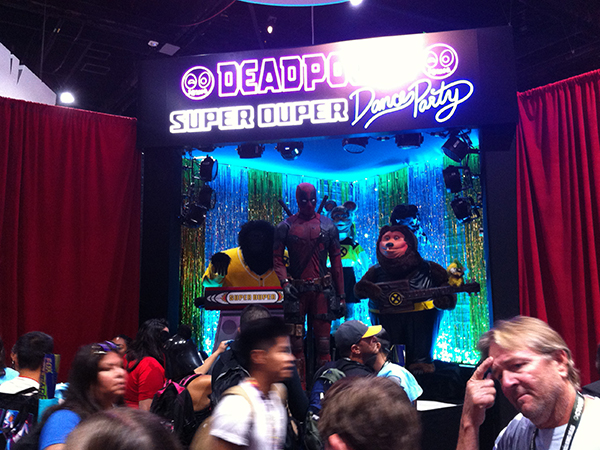 One of my Comic Con traditions every year would be to visit Chris Sanders (director of How to Train Your Dragon) and see what new material he had for sale. This year saw a new sketchbook on sale, which was an automatic buy for me. While he was busy conversing with fans and admirers, which has generally been the case with each progressive year, I did get a chance to speak with his wife Jessica regarding the book series they write together in Rescue Sirens. According to her, the writing of the second book is taking longer than they anticipated as they found themselves getting busier of late and thus finding little time to write. She did assure me that it was on the way.
While waiting in line to get into the convention center on the second day, we noticed there were folks handing out doughnuts. It was certainly a nice gesture, until we realized that the folks handing out doughnuts turned out to be cast members of Star Trek: Discovery. I saw this as an opportunity and managed to run into one of the cast members I really wanted to meet in Anthony Rapp (Paul Stamets). Certainly one of my favorite moments this year in getting my picture taken with him, getting to talk about the stage musical If/Then he starred in with fellow original Rent alumni Idina Menzel, and receiving a doughnut from him.
It's common practice for attendees to sit through a panel ahead of one they really want to ensure having a seat as opposed to waiting in line and potentially not getting in. This was how I discovered Critical Role. This year, ahead of the Quick Draw was a fascinating panel called IGN's Heroes of Fandom. It explored how a few celebrities and known personalities utilized the Internet and their fandom for groundbreaking and even world-changing ways. While the popular panelist was Supernatural star Misha Collins, it was fun to see Final Space creator Olan Rogers and actress Milana Vayntrub, who voices Squirrel Girl in Marvel Rising and will also play her in a forthcoming live-action New Warriors series. Vayntrub even wore Squirrel Girl attire throughout.
The Dark Horse booth included displays for some upcoming titles being published. The two obvious eye-catchers were Frozen: Breaking Boundaries and The Incredibles 2: Crisis in Mid-Life! and Other Stories, both of which have since had their first issues released. I was curious at the absence of How to Train Your Dragon: Dragonvine, which was the second graphic novel director Dean DeBlois wrote that would serve as a bridge between the second and third films. When I asked a booth staffer, we concluded that it had been delayed from its original February date to later in the year. Retailers presently have it scheduled for wide release on September 4.
Comic Con served as an opportunity for folks to see Teen Titans Go! To The Movies a couple weeks ahead of its release. The thing was that getting a ticket to one of its two screenings required going through the lottery system similar to how one might try to get into a limited signing. Furthermore, the theater playing the film had at best a capacity of 100, so clearly not everyone was going to get in. Which, according to my uncle, presented quite the moral conundrum for those who succeeded in scoring a ticket while surrounded by sobbing children who didn't.
Separate from the main Fox booth, Fox Home Entertainment pulled something really fun and silly to promote the Deadpool 2 Blu-Ray, which has since been released and includes an unrated cut that fans got a chance to see early at Comic Con through the lottery system. What they did was set up a stage that looked like Deadpool's strange version of Chuck E. Cheese's and at random points throughout the convention they would activate and play Dolly Parton's "9 to 5". Fans would often crowd the area around the booth trying to wait for the animatronics to start up again so they could video record the spectacle. I happened to be at the right place at the right time on the last day of the convention.
---
Watch over 100 minutes of exclusive highlight footage
from the 2018 San Diego Comic Con below:
---
Below are exclusive pictures from the 2018 San Diego Comic Con.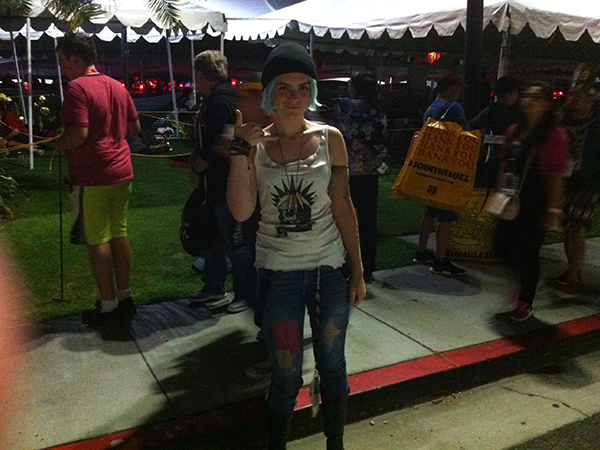 Chloe Price (Life is Strange) out and about on preview night.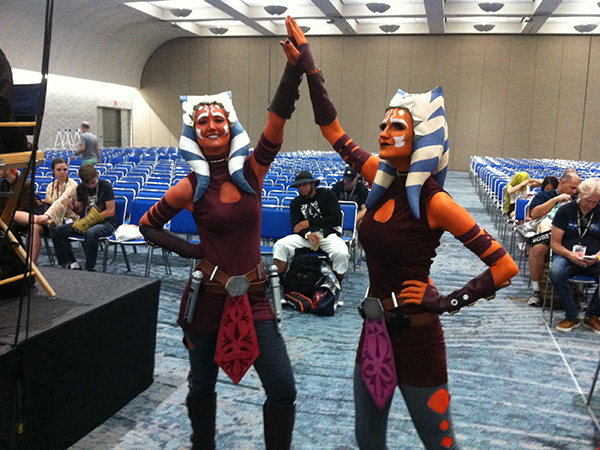 Ahsoka Tano clones? Cosplayers pull the Wonder Twins pose
ahead of the 10th Anniversary of Star Wars: The Clone Wars panel.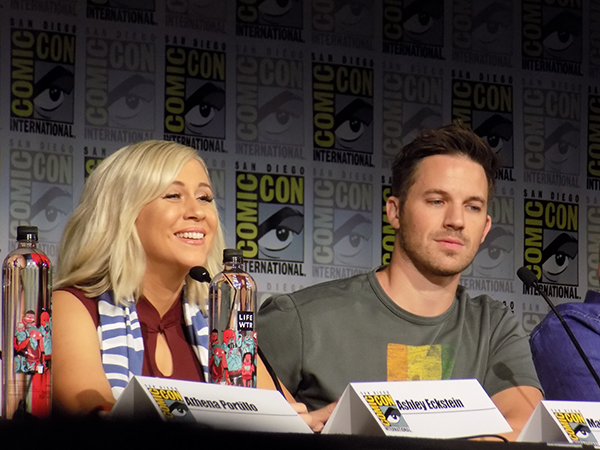 Ashley Eckstein (Ahsoka Tano) and Matt Lanter (Anakin Skywalker) talk voicing iconic characters
at the 10th Anniversary of Star Wars: The Clone Wars panel.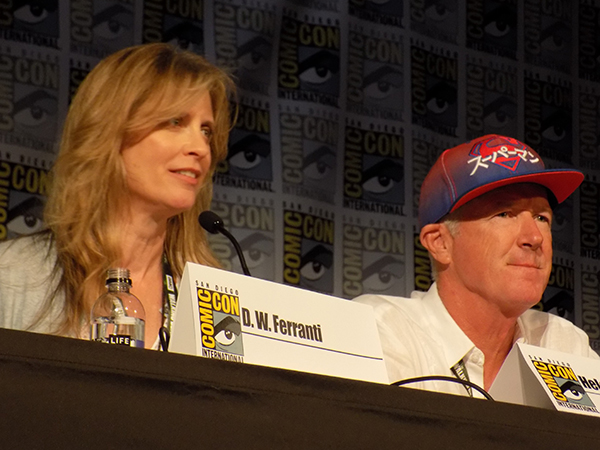 Helen Slater (Supergirl) and Marc McClure (Jimmy Olsen) share fond memories at the Supergirl 1984 panel.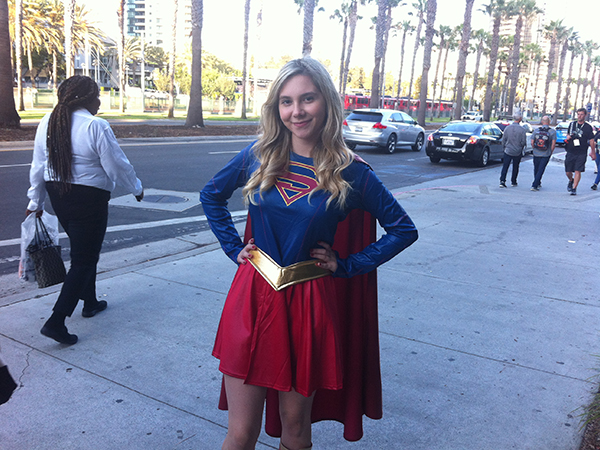 A cute cosplay of Supergirl from the current TV series out and about.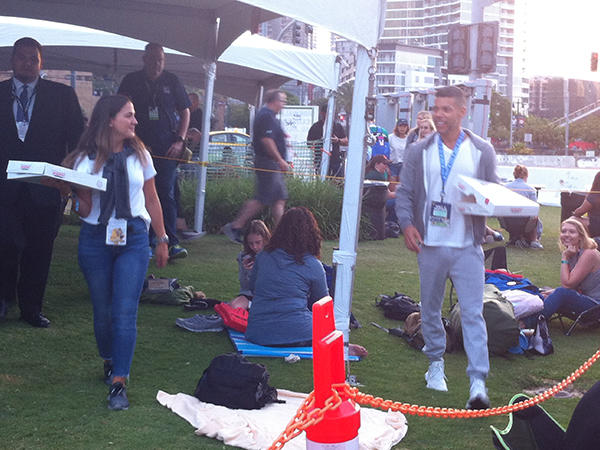 Cast members of Star Trek: Discovery handed out doughnuts to attendees waiting in line.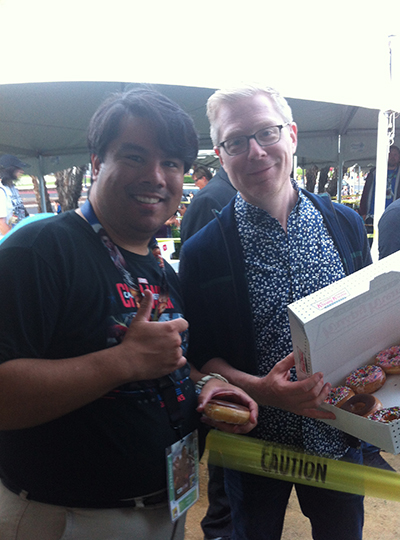 Dan receiving a doughnut from Star Trek: Discovery actor Anthony Rapp (Paul Stamets).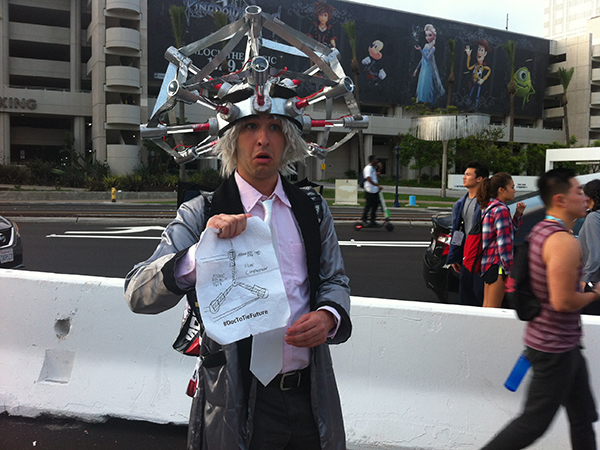 Great Scott! Doc Brown is out and about.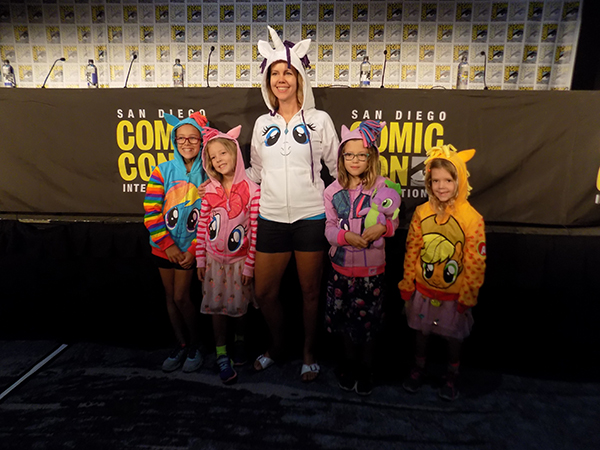 Fans displaying their homemade hoodies to five of the Mane Six ahead of the Hasbro My Little Pony Panel.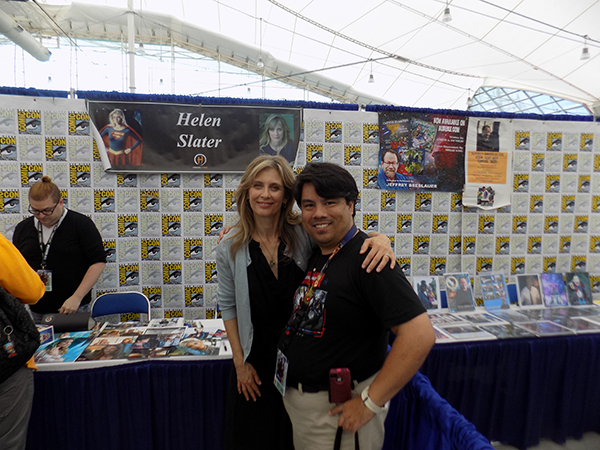 Dan with the original Supergirl in Helen Slater.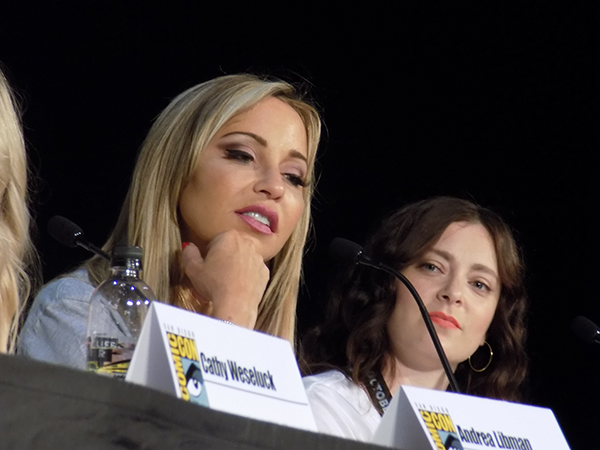 Tara Strong (Twilight Sparkle) and special guest Rachel Bloom (Autumn Blaze)
improvise a scene at the Hasbro My Little Pony panel.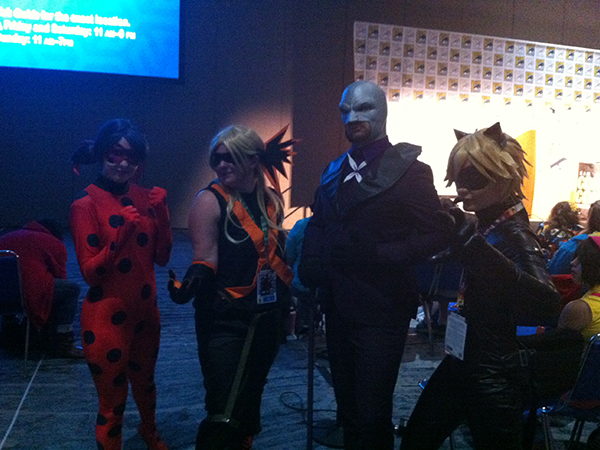 Fans cosplaying at Ladybug, Rena Rouge, Hawk Moth, and Cat Noir ahead of the ZAG Heroez Miraculous panel.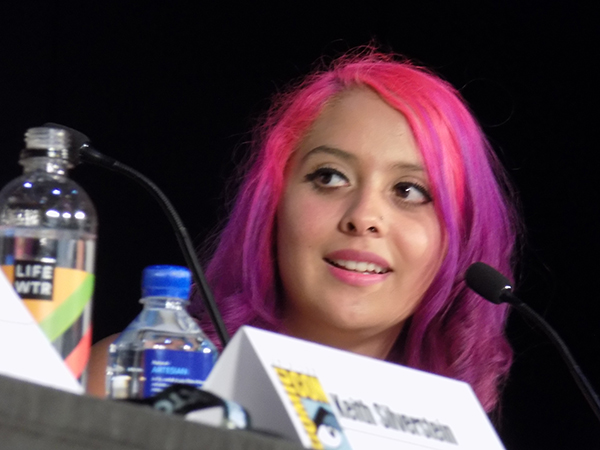 Jessica Ángeles (Marinette/Ladybug in Latin American broadcasts)
compares voicing in different languages at the ZAG Heroez Miraculous panel.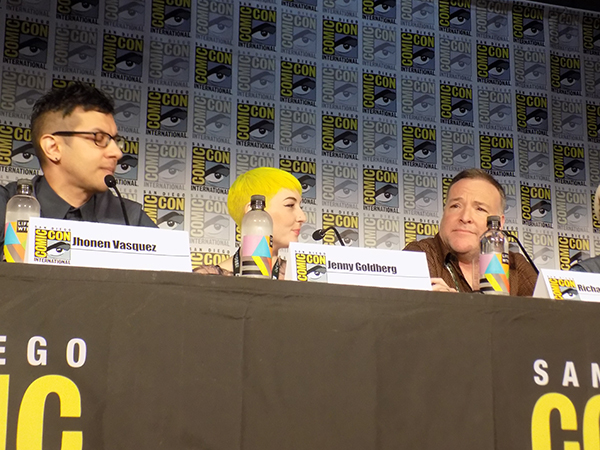 Jhonen Vasquez (Creator), Jenny Goldberg (Art Director) and Richard Horvitz (Zim)
discuss returning to a cult classic at the Invader Zim: Enter the Florpus! panel.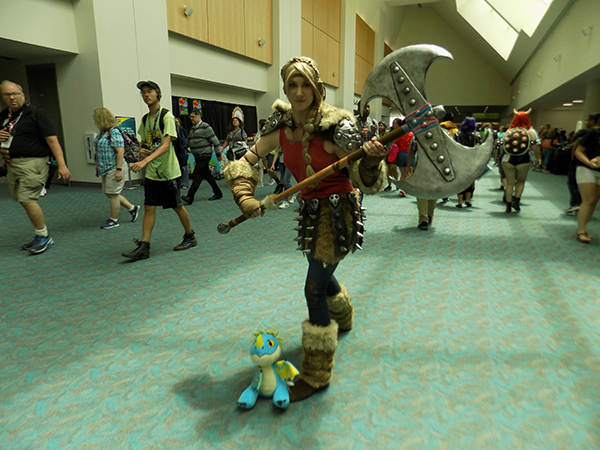 Astrid and Stormfly (How to Train Your Dragon) are not to be taken lightly.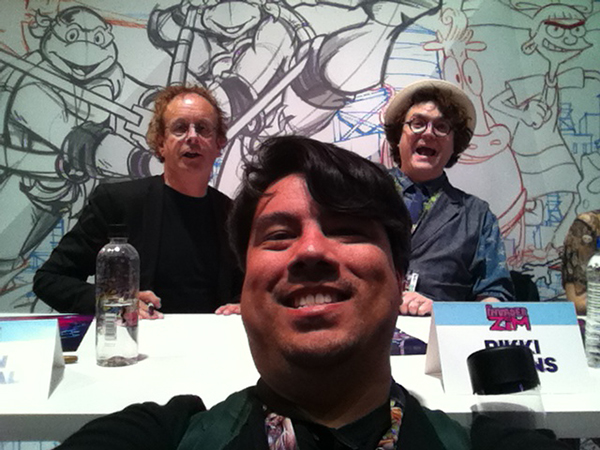 Dan with Kevin McDonald (Almighty Tallest Purple) and Rikki Simons (Gir) at the Invader Zim signing.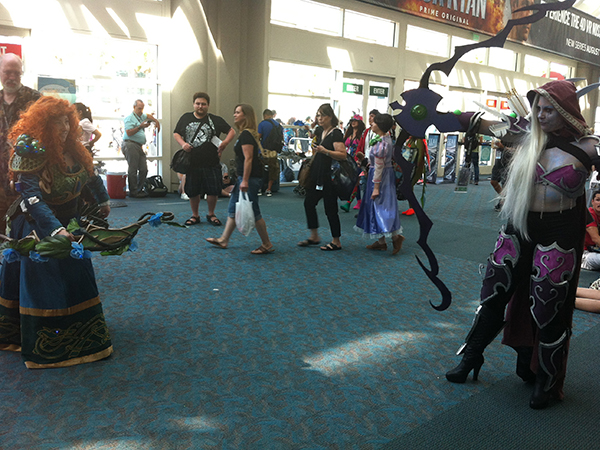 Merida (Brave) crossing into World of Warcraft and encountering a night elf.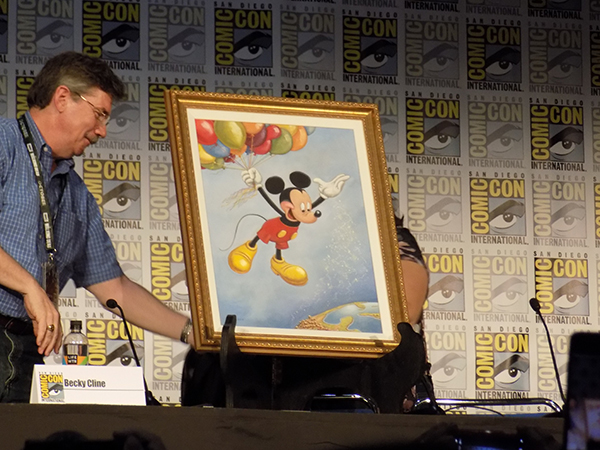 Mark Henn (Mickey's Christmas Carol) unveils his 90th anniversary portrait of Mickey Mouse
at the Celebrating 90 Years of Mickey Mouse panel.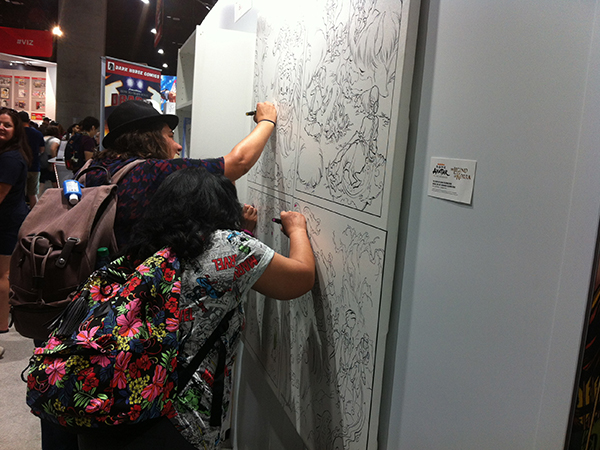 Attendees getting to color enlarged panels from Avatar: The Last Airbender comics at the Dark Horse booth.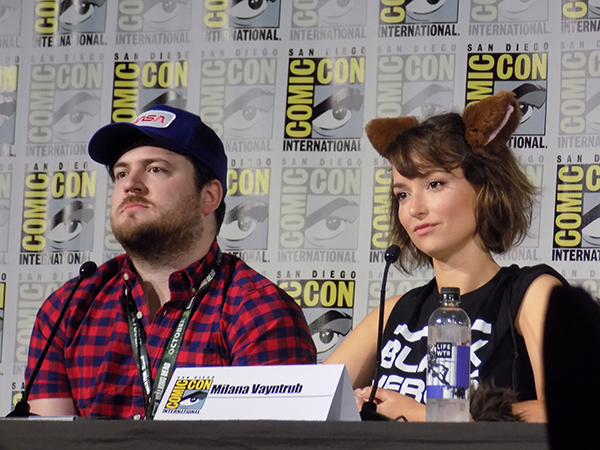 Olan Rogers (Final Space Creator) and Milana Vayntrub (Voice of Squirrel Girl in Marvel Rising)
talk about utilizing fandom for world-changing ways at the IGN's Heroes of Fandom panel.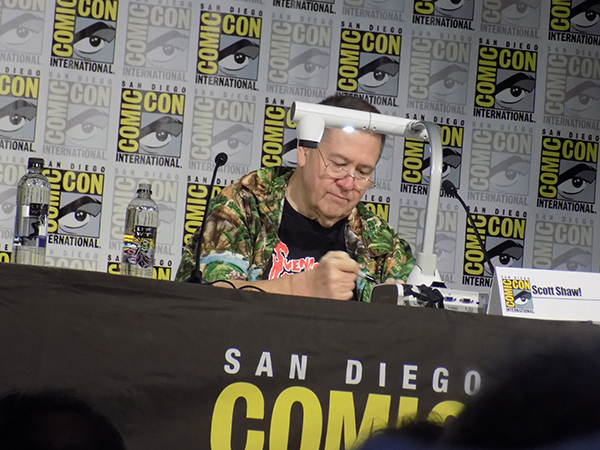 Scott Shaw about to illustrate at the Quick Draw.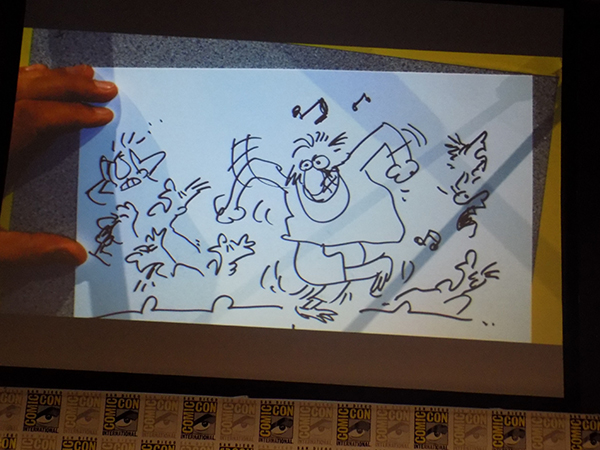 Sergio Aragonés illustrates himself being a disastrous contestant on America's Got Talent at the Quick Draw.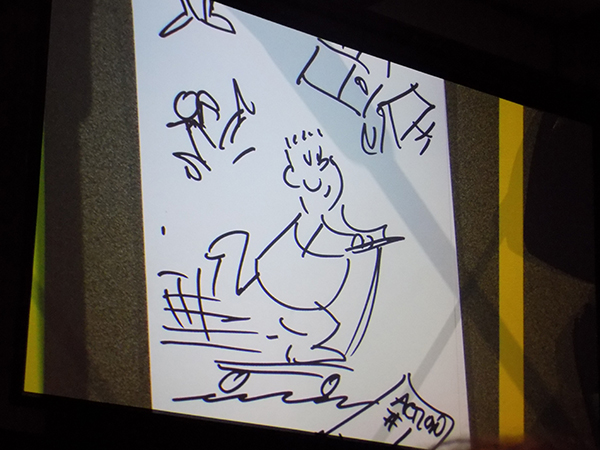 Scott Shaw illustrates why scooters aren't allowed inside the convention center at the Quick Draw.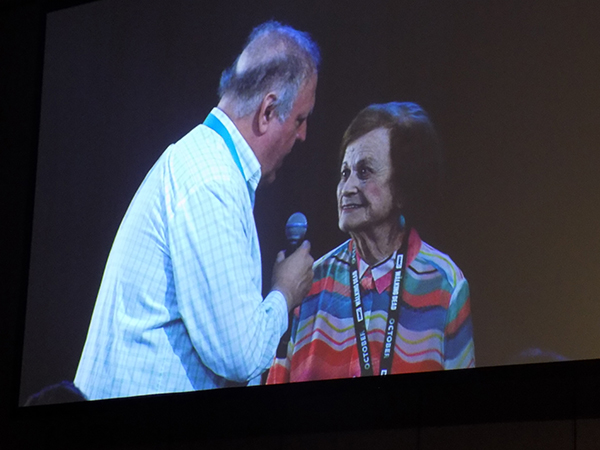 Mark Evanier interviews first female Wonder Woman writer Joye Murchison Kelly at the Quick Draw.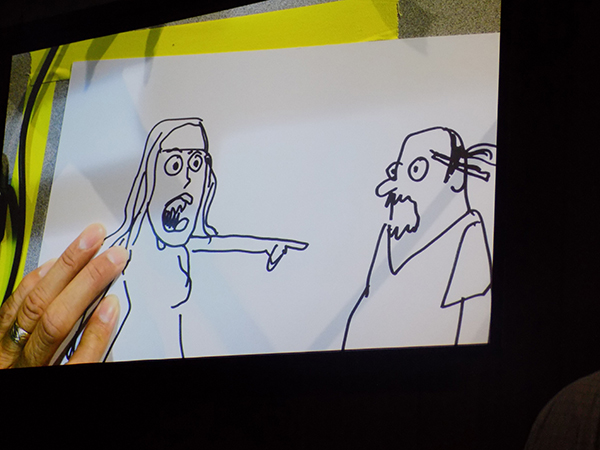 Lalo Alcaraz illustrates a bride angrily discovering she's marrying a cartoonist at the Quick Draw.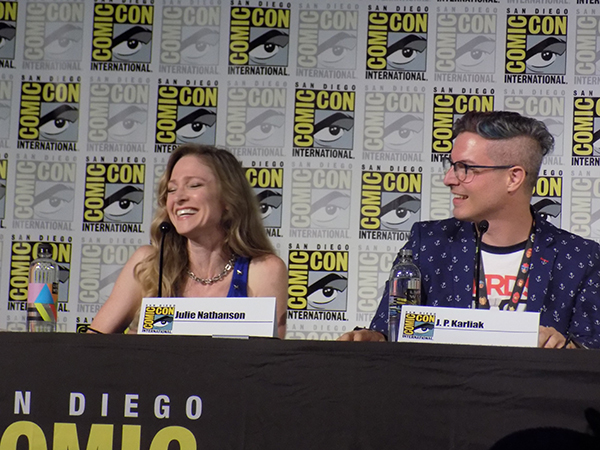 Julie Nathanson (present voice of Belle in various Disney projects) and JP Karliak
(title character in The Boss Baby: Back in Business) reminisce over obscure voicing gigs
at the Cartoon Voices I panel.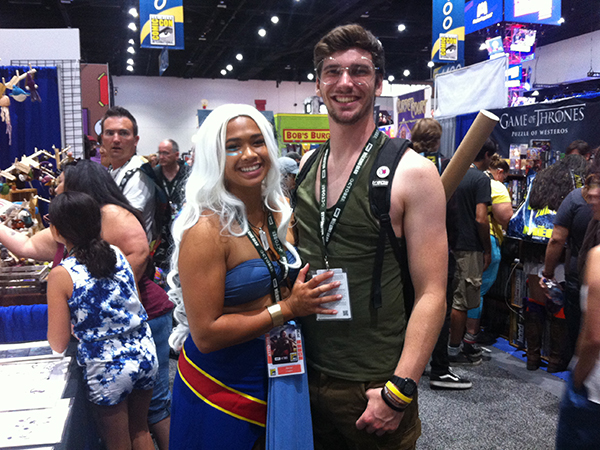 Kida and Milo (Atlantis: The Lost Empire) exploring the exhibit hall together.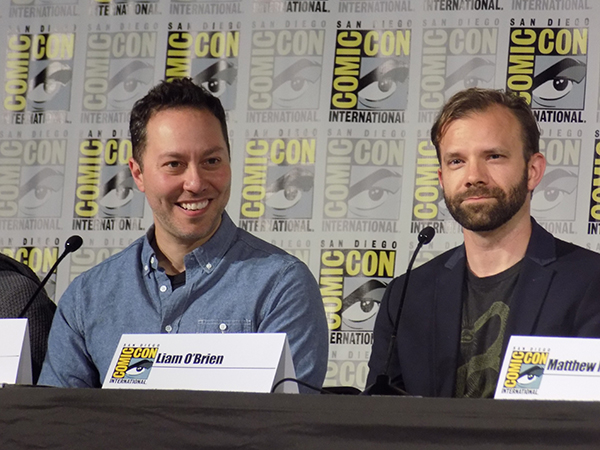 Sam Riegel (Nott) and Liam O'Brien (Caleb) talk about developing their second campaign characters
at the Talks Machina with Critical Role panel.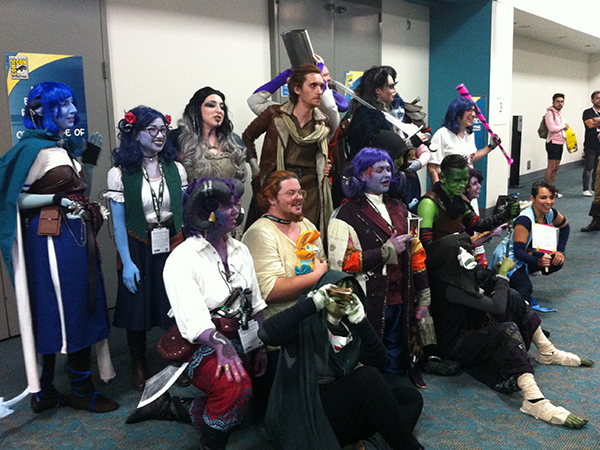 A handful of Critical Role cosplayers gather for a group photo after the Talks Machina with Critical Role panel.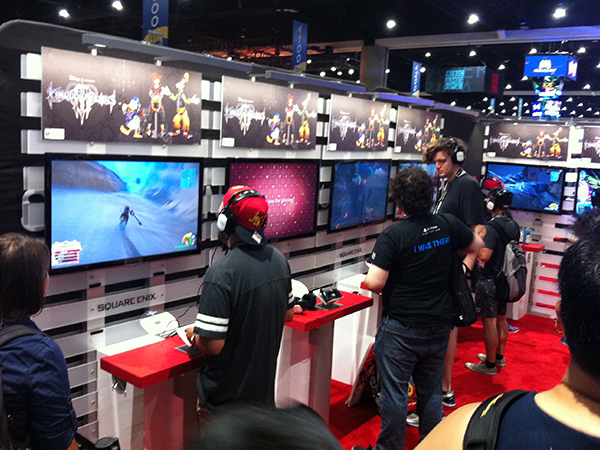 Lucky fans got to play a demo of Kingdom Hearts III at the Square Enix booth.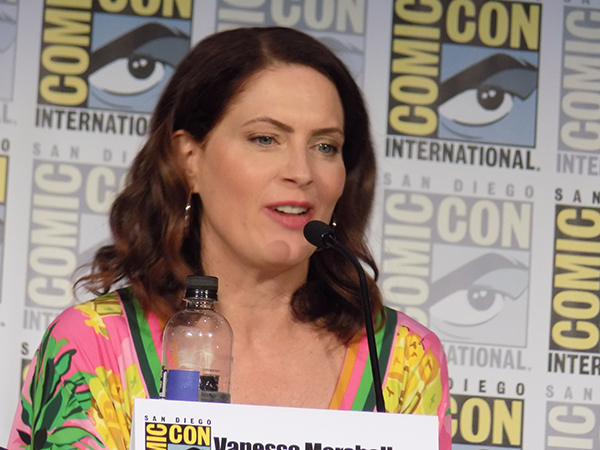 Vanessa Marshall (Hera in Star Wars Rebels) explains an obscure voicing gig at the Cartoon Voices II.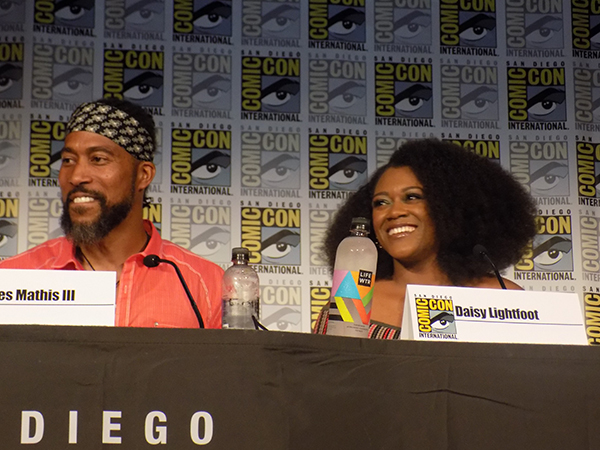 James Mathis III (Black Panther) and Daisy Lightfoot (Shuri) talk
Marvel's Avengers: Black Panther's Quest at the Marvel Animation Presents panel.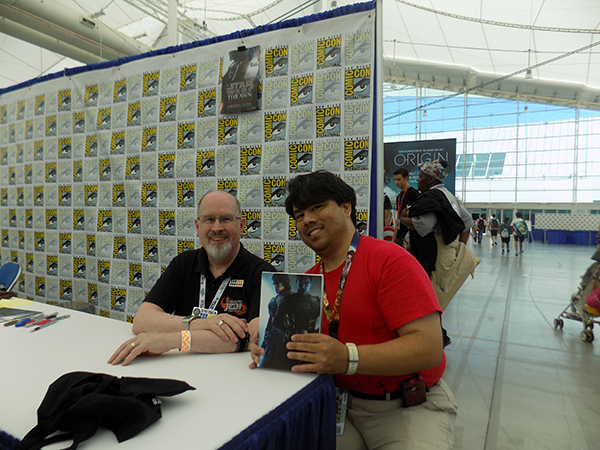 Dan with author Timothy Zahn and an early copy of Star Wars – Thrawn: Alliances.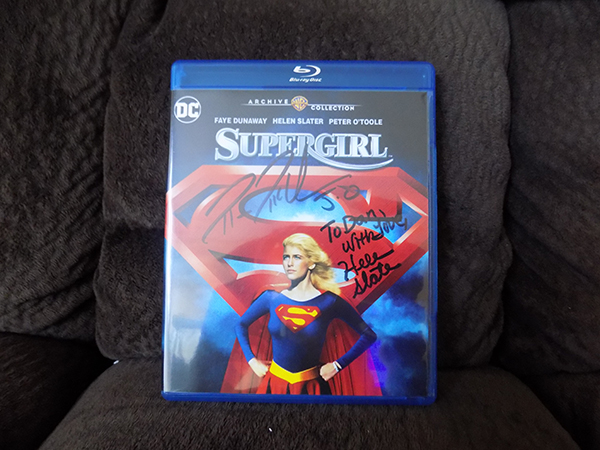 Autographed Blu-Ray of Supergirl signed by
Helen Slater (Supergirl) and Marc McClure (Jimmy Olsen).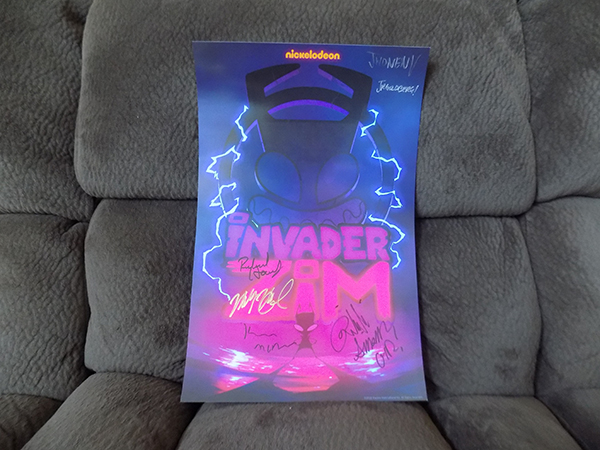 Autographed poster of Invader Zim: Enter the Florpus! signed by
Jhonen Vasquez (Creator), Jenny Goldberg (Art Director), Richard Horvitz (Zim),
Rikki Simons (Gir), Wally Wingert (Almighty Tallest Red), and Kevin McDonald (Almighty Tallest Purple).