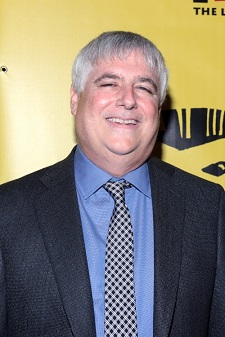 For the release of Moana on video, we were pleased to be able to talk with Dave Metzger, who did all the score orchestrations and song arrangements for the movie.
Dave Metzger is a musician with a long track record of success. Among his strengths are his versatility, his exquisite attention to detail, and his ultimate dedication to being a "team player." He is just as at home composing broad lyrical music for a 100-piece symphony orchestra as he is laying down synth grooves for contemporary urban tracks.
He was the sole orchestrator on films such as Training Day, August Rush, Tarzan, Shooter, Brother Bear, Planes, and others, for which he also contributed additional compositions. Dave has also worked on Broadway, receiving a Tony award nomination for his orchestration of Disney's The Lion King.
In 1997, Dave developed a close working relationship with Grammy award-winning film composer Mark Mancina, and has arranged and orchestrated all of Mancina's projects ever since. Through his work with Mark and Disney studios, among others, he has had the pleasure of arranging music for artists such as Phil Collins, Idina Menzel, Tina Turner, Elton John, Melissa Etheridge, John Legend, and more.
Dave's client list began expanding in 2008, and now includes composers such as John Powell, Hans Zimmer, Alan Silvestri, Christophe Beck, Henry Jackman, and others. In 2013 Dave was matched up with Bobby Lopez and Kristen Anderson-Lopez to arrange and orchestrate the songs for the massive Disney hit Frozen. The movie won the Academy Award for best Animated Feature Film, and the song "Let It Go" (performed by Idina Menzel) won for Best Song.
One of the songs he arranged and orchestrated for Moana, "How Far I'll go" was recently nominated for an Oscar.
For Animated Views, he kindly accepted to talk about the making of the soundtrack of the movie, based on a truly respectful approach to South Pacific musical traditions.
---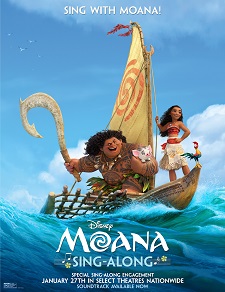 AnimatedViews: Can you tell me about the overall process of working on Moana?
Dave Metzger: It definitely was very complex. Part of the reason for that is Disney's desire to always be culturally accurate and that's the reason why they wanted to bring in somebody from the area that the film is based on. In that case, they brought in Opetaia, who lives in New Zealand but is an islander. So, part of the complexity then comes from the fact that he lives in New Zealand and then Lin-Manuel lives in New York and of course Mark lives down in California. So, because the physical nature of having the three composers living so far apart around the world, it just became difficult to get everybody together at the same time. And of course, it was complicated by Lin's fabulous success with Hamilton, so he had a lot of demand on his time. But it wasn't anything that couldn't be overcome. Usually, all the artists live in approximatively the same time zone, which was not the case here. But we survived!
AV: What were the implications of those conditions on your work?
DM: For me personally, it was a little more manageable because I was still working mainly with Mark, who was kind of the organizer. Everything would go through Mark and then also through me. He and I have worked together hand in hand for 20 years. We have a whole process that we developed over those decades. So, once we got to the point that we were working on Moana together, it wasn't really anything beyond our normal experience. It was more about integrating the other guys' ideas and contributions.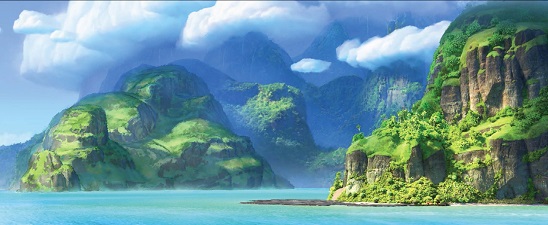 AV: Can you explain your role as the arranger of the songs?
DM: Sure. As an arranger, I'm not writing the melody or the fundamental chord changes. Part of my job is to mold those elements of the melody and the rough chord structure and refine them a little bit. Take, for instance, "You're welcome." You know, Lin wrote the song and provided a pretty basic vocal track, kind of a drum machine groove and chord changes that were pretty much block chords. So, then, my job was to take that and expand it out into the complete rhythm section that ended up being what is in the song, to write all the horn parts and the strings parts. That was all conceptualized by me. It didn't exist in the demo that Lin provided.
AV: What were your sources of inspiration for that particular song?
DM: I grew up in a jazz tradition. I came up kind of as a jazz musician when I was young in my 10s and very early 20s. I played a lot of jazz. I was Maynard Ferguson, the trumpet player's main arranger for a couple of years. I have a real jazz background. So, I sort of immediately went there when I heard the song and reached back to those days. And also part of it was Maui's character. I tried to capture his bravado. You know, he has a large opinion of himself! So I tried to make a rollicking, kind of brash song that's also seducing to Moana. Something exciting and kind of brash in a way!
AV: What kind of percussion did you appeal to?
DM: Mark and I also tried to bring elements from the South Pacific. You know, Lin delivered a very jazzy song and the first thing that we set was 'how are we gonna make this in any way related to the South Pacific?' So Mark's idea was to bring in Opetaia's ensemble Te Vaka and we came to Warner Bros. and recorded some ethnic percussion. Mark then took some audio files from this recording session and fit them into the song. So the answer to our question was to add this underlying bed of log drums. And when came the time to record the whole song with live musicians, we went back and did another pass with L.A. musicians playing the same kind of percussion, so that it wasn't just a loop, you know, going throughout the whole thing.

AV: Speaking of ethnic percussion, can you tell me about the song "We Know the Way", that sounds more traditional?
DM: That song was actually the reason why Te Vaka had come to Warner Bros., to lay out some percussion tracks for that particular song. So, the ethnic side of it was already established, as well as the groove. And then, part of my contribution to the arrangement was giving it the more epic orchestral sound that people expect from Disney films. So, I took the bed of percussion, Mark played the guitar, along with George Doering who is a famous studio guitar player, and then I did the mock-up for the orchestra. And then, two years later, we went in to record the song with live musicians. We recorded multiple passes of live percussionists playing all sorts of ethnic drums including giant taikos. I remember we had six passes of three players on that song. We recorded the rhythm section separately and then laid in the orchestra on top of that.
AV: How did you approach that pretty strange song that is "Shiny"?
DM: That was kind of a multi-pass effort. Lin wrote the song as a tribute to David Bowie. It was actually before he had died, I believe. So it was a little "spacy". The first pass, Mark went through and did a really traditional Bowie approach to it. It's hard to believe but it was actually farther out than what we ended up with! Then, after living with that for a few months, it was finally decided that it needed to be tamed down a little bit. At that point I went back and went through the whole, everything Mark had done and sort of pulled out different elements. There was no epic percussion the first time we were doing it. So, I added some more of those elements to the arrangement and tried to make it more part of the movie, to tie it in to the sonic template that we were working with.
AV: You've arranged many ballads for the movies. How do you approach that genre that's so vital for the success of a film?
DM: You know, it's kinda funny. For me, it's almost instinctual. I think I've listened to so many Disney films, not only growing up but also when I had children, before even starting working on the films myself. I think there's a little part of me that just exists from listening to them so much. Those are kind of the easiest things for me to do! Because I just sort of feel like I know what they should be and I just follow my instincts. I kind of have a style that I maybe developed that seems to match up fairly well with those kinds of songs. I kind of see in my head how the flow should go and then I start working…
AV: How does it translate in "How Far I'll Go"?
DM: To me, it's a very classic Disney moment. I think Lin did a fabulous job. I really love it. As I always do, I looked at it dramatically. I always pay a lot of attention to the lyrics because to me that's truly what the song is trying to say. And my job is to reinforce what's being said, making it a big orchestral moment as well.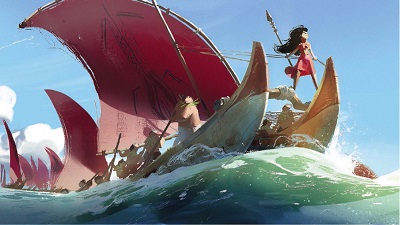 AV: In addition to the classic film orchestra, what kind of special instruments did you appeal to for the score?
DM: We of course had ethnic woodwinds, even if all the flutes that we used didn't come from the South Pacific. But in general, we tried to stay to that region. Pedro Eustache is phenomenal. He brought to the session hundreds of different woodwinds to choose from! We also used some conch shell that I bought and played myself. One spot in particular is the Kakamora cue. In the movie, you can see they have that big conch shell on their boat, so we used that sound. But also in other spots in the movie. But the big thing is the percussion. It allowed us to stay true to the culture. You can't just do a big orchestra. So, we really researched a lot of the different instruments from the South Pacific. Mark and I have been through pretty much every continent in the world and we had done something before on Polynesian music. We also rented a few percussion instruments from Emil Richards, who has an amazing collection of instruments from all over the world. We had rented some of them for the troll sequence in Frozen, and also some for Moana. Because we needed some unique percussions to cross over, sound a little percussive but also have some pitch to play melodies. We used them as a Maui signature sound.
AV: Just like in Brother Bear, the choir is pretty important in the score of Moana.
DM: I agree, all the more since I did all the choir parts in Brother Bear, cues like Transformation. For Moana, we used two different choirs. One gathered by Opetaia, made of family and friends. We recorded in Los Angeles at the end of the process. The other one was the Pacifika Voices. We recorded them in Fiji, actually. Mark and I are really proud of that part of the score. What we did is: we looked at a scene of the movie and we watched what was transpiring. Then we would write short phrases in English on what we'd just seen. For instance, in the presence of the volcano throwing balls of lava, Te Kà, we wrote "giant balls of flame crossing the sky". We wrote about 20 phrases like that for different parts of the film. Then we would send those phrases to Opetaia and he would translate them in Tanganese, and we would also have him speak, recording him speaking those phrases. We listened to the way he phrased the words and we would write our vocal parts from that. So, what you hear in the film is not just "aaas and oooos", they're really lyrics talking about what's happening on screen, staying true to the language and the culture. I think it was a nice way to use the choir. As I told you, we tried to find an intelligent way to be sensitive to the culture and to pay tribute to it.
AV: What are you up to, now?
DM: I'm working on the Frozen musical, and then, I'll be working on Disney's Gigantic.
---
---
---
---
The art presented as illustration in this piece is taken from the excellent "Art of Moana" book by Jessica Julius and Maggie Malone, published by Chronicle. All our thanks to April Whitney for her kind help! Extra thanks to Jennifer Malone and Garth Burkhard at Disney.