In an industry-shaking deal reportedly between $50-60 billion, the Walt Disney Company bought most of the assets of 21st Century Fox. According to Deadline, Disney CEO Bob Iger said the deal will give Disney a "much larger international footprint" and enable it to "use cutting-edge technology and we know how important that is in this world."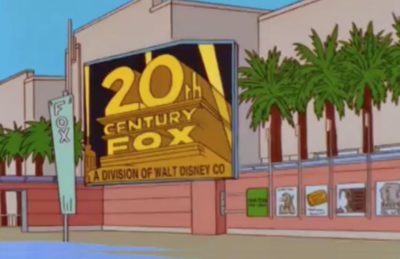 CNN reports that the deal includes: 20th Century Fox, Fox 2000, Fox Searchlight movie and television studios; majority control (60%) of Hulu; international media businesses, including 350 channels in 170 countries, Star India and 39% of the European pay-TV operator Sky; FX and National Geographic Partnersn Fox's regional sports networks; $13.7 billion of Fox's debt. Not included are the Fox broadcast network, Fox News, and Fox Sports. In addition, Iger has agreed to postpone his previously announced retirement, upping his contract through 2021.
Disney brings several franchises into their fold that they already have major investments in. They'll bring the film rights for the X-Men and Fantastic Four back to the Marvel; get the full rights to the original Star Wars film; and control of Avatar, which they recently based a land on in their theme parks.
Disney also takes over some interesting properties, like the longest-running American sitcom with The Simpsons, and the animation studio Blue Sky, responsible for such films as Ice Age and The Peanuts Movie.
In addition to everything else the Mouse House gets, analysts believe the move to acquire Fox could also improve Disney's already announced plans to move into the digital streaming business.